Despite the recent rapid rise of digital communication channels and an increased demand for self-service support, phone still continues to dominate as the most preferred support channel. In fact, according to a Salesforce study, 59% of consumers favor traditional phone calls to reach a customer support representative. Phone sales are also here to stay as one of the most efficient and cost-effective ways for businesses to promote and sell their products or services.
If you're looking to set up a call center business in 2023 and beyond, you've landed on the right page. While building your own call center – whether inbound, outbound, or blended – might seem too challenging to start, knowing exactly what to do will instantly blow your fears away.
Based on VoiceSpin's 15-year experience in the call center industry, we've decided to come up with a step-by-step guide on how to start a call center and walk you through every phase of the process.
How to Start a Call Center Business in 10 Steps
1. Set Your Call Center Goals
Just like with any other business, building a call center requires careful planning. Before you actually start setting up your own call center, have a clear understanding of why you want to start a call center and outline the goals you are looking to achieve. Make sure, however, that these goals are specific, realistic, achievable given your current budget and resources, and align with your broader business objectives.
On top of that, setting goals will help you establish clear criteria for measuring performance (we'll talk about call center metrics and KPIs in more detail below) and the overall success of your call center.
2. Decide on Call Center Type
Inbound vs. outbound vs. blended call center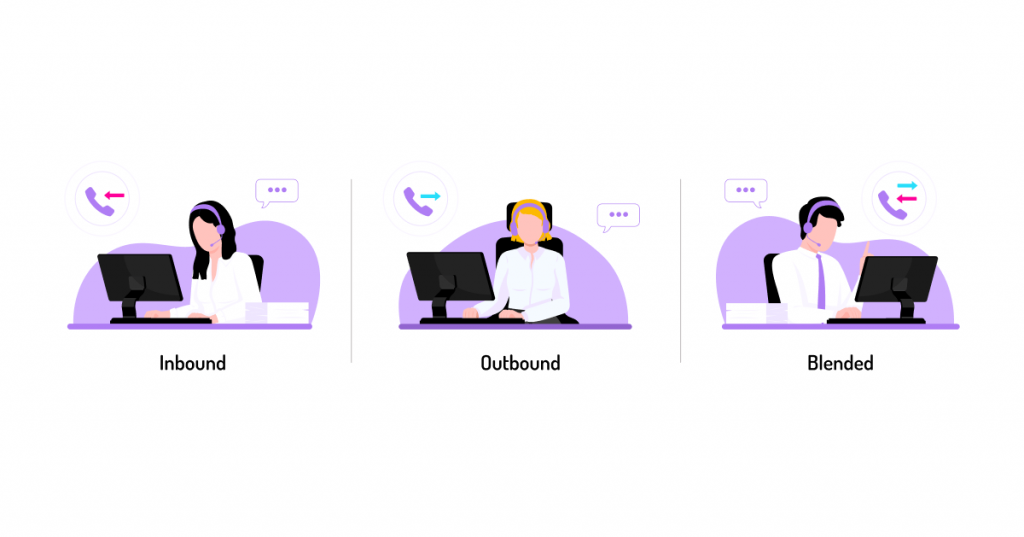 Inbound call center
Inbound call centers primarily deal with incoming calls from existing customers, clients, or prospects. Businesses set up inbound call centers for general customer service, technical support, processing orders, payments, returns, and exchanges, handling upgrades and renewal requests, appointment scheduling, and inbound sales. The most typical industries to benefit from inbound call centers are e-commerce and retail, travel and hospitality, healthcare, finance, and insurance.
Outbound call center
In outbound call centers, agents are placing outbound phone calls to prospects or customers. Outbound call centers are commonly used for lead generation, telemarketing, sales campaigns, appointment setting and reminders, debt collection, market research and CSAT surveys, etc. For providing outbound call center services, you need call center software with auto dialing capabilities that will enable you to automate the dialing process, so that agents don't have to dial each number manually.
Blended call center
Blended call centers (also known as hybrid call centers) combine both inbound and outbound calling capabilities and are best suited for businesses that have relatively equal volumes of incoming and outgoing calls. Luckily, many call center software providers offer a fair share of features to support both inbound and outbound calling activities. E.g., VoiceSpin call center solutions are perfectly suited for inbound customer support and outbound sales teams alike.
On-site vs. remote vs. virtual call center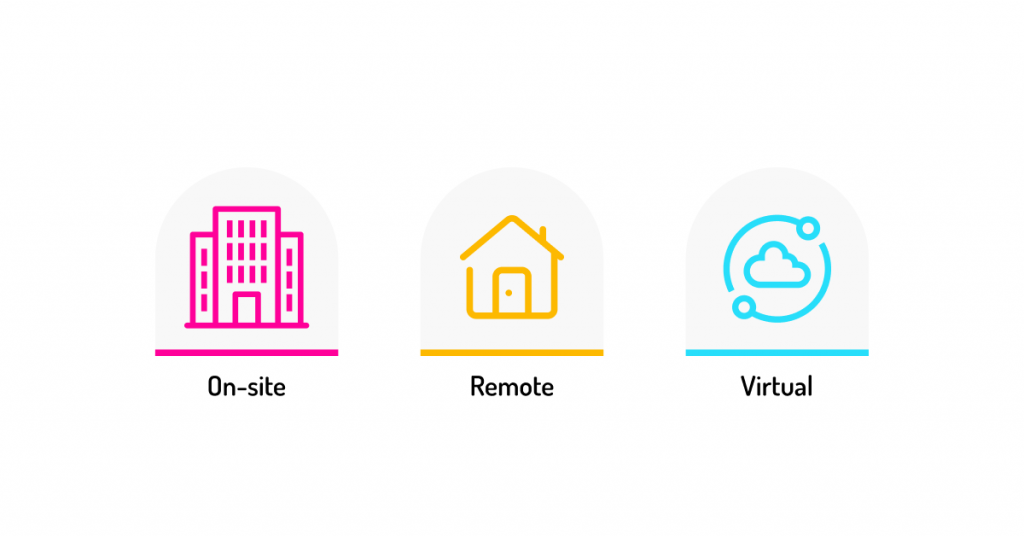 On-site call center
In a traditional on-site call center, agents are going to work from a physical location, which might be the best option for fixed-location businesses and those with large teams. Improved team collaboration, direct supervision, and increased data security are some of the advantages that will follow. However, there are also certain downsides to selecting on-site deployment, such as higher operational costs, a rather limited talent pool, and a lack of flexibility of remote working.
Remote call center
Remote call centers are entirely offsite call centers, typically powered by outsourcing. This might be an ideal option for small businesses and startups that would like to avoid paying for physical office space, office equipment, and hardware, making remote call centers much more cost-efficient compared to on-premises solutions. That also provides you with access to a broader talent pool while allowing greater flexibility for agents.
Virtual call center
Similarly to remote call centers, virtual call centers aren't tied to one geographical location, with agents often being distributed across multiple regions, working from various remote locations. Virtual call centers run on cloud-based VoIP call center software, allowing agents to access the system and work from nearly everywhere, as long as there's a stable internet connection. That offers businesses access to an even broader talent pool, easy scalability, and cost-efficiency.
Call center vs. omnichannel contact center
Call center
If you're looking to set up a traditional call center where agents will only handle voice communications, you would basically need to purchase a business phone system with call-handling features like IVR, call routing, call forwarding, call transfer, call queueing, call recording, call reporting and analytics, click-to-call, auto dialing, etc.
Omnichannel contact center
If you're planning to handle customer interactions across multiple communication channels, you may want to set up an omnichannel contact center that integrates both voice and digital communication channels like email, live chat, SMS, social media, and Instant Messaging apps. With an integrated solution, agents will be able to manage all interactions from one platform, with no need to switch between the apps, eliminating the risk of communication silos.
Related article: A Complete Guide to Omnichannel Contact Center
3. Establish a Budget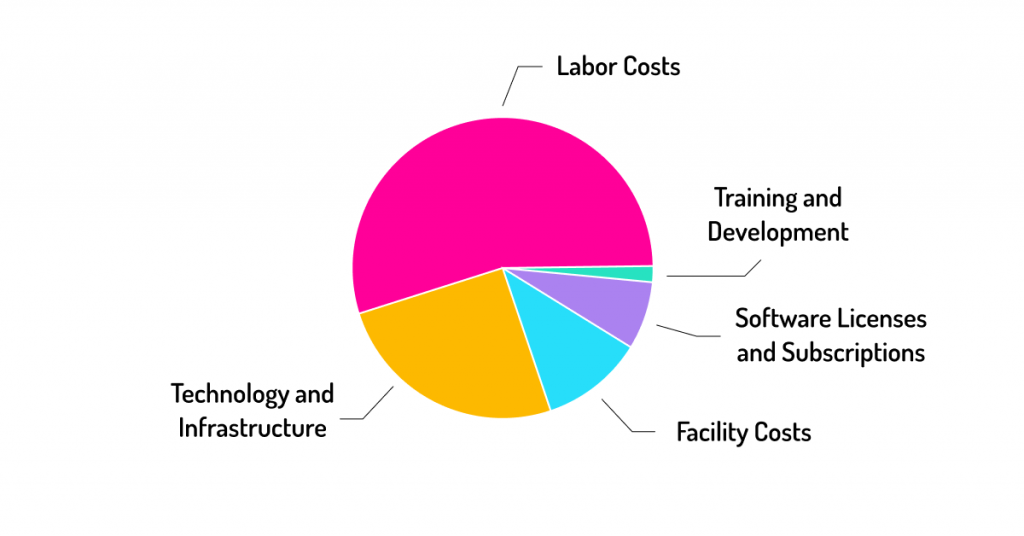 The total cost of setting up a call center will ultimately depend on a range of factors, such as the setup type, software and hardware, required features, the number of employees, etc. Here's what you should consider when putting together your budget:
Office space and hardware: In addition to office space and office equipment expenses, running an on-site call center will also require you to pay for the hardware and infrastructure, not to mention ongoing maintenance fees and updates. However, you can eliminate office and hardware expenses by setting up a remote call center.
Call center software: Take into account software licenses and set-up costs for on-premises tools and monthly subscription fees for cloud-based solutions. Pricing plans of cloud-based providers may differ based on the features offered in a specific pricing tier, the billing structure (fixed monthly fee, monthly fee per user, per-minute fee), and the number of users.
Employee salaries: Agent salaries may significantly vary based on location and experience level. Besides, you may also encounter additional expenses that may come up later, such as rewards and incentives for top-performing agents, ongoing training costs, or expenses for holding team-building events, to name a few.
Training and customer support: While most call center software providers include basic employee training and some level of customer support in their subscription plans, custom in-person training and 24/7 dedicated omnichannel customer support may require extra expenses, adding up to your overall costs.
4. Select Call Center Software Provider
On-premises vs. hosted vs. cloud-based
Once you're clear on what type of call center you are going to run, it's finally time to choose a call center software provider that will align with your business goals, IT resources, budget, and scalability needs.
Despite the popularity and increased adoption of cloud-based call center solutions, on-premises tools are still a large part of the industry. So, if you're looking to own and manage the entire call center infrastructure, including hardware and servers, choose one of the on-premises call center software providers. With hosted call center tools or cloud-based solutions, the provider will manage all of that for you. These solutions are also easier scalable, more flexible, and can be quickly adapted to your evolving business needs.
Next, depending on whether you need to manage inbound calls or make outbound calls, you will need to evaluate potential providers based on the range of inbound/ outbound call center features they are offering. These are some of the fundamental features to pay attention to when evaluating call center software vendors:
Inbound call center features
Inbound call handling: Automatic Call Distribution (ACD), Interactive Voice Response (IVR), and advanced call routing options are some of the most basic features to look for when choosing an inbound call center software. E.g., with skill-based routing, you can ensure that inbound calls will be routed to the most appropriate agents based on their skill set, allowing for faster issue resolutions and improving your FCR scores.
Call queue management: Call queue management capabilities are essential for call centers with typically high inbound call volumes. E.g., VoiceSpin's queue callback feature enables callers to request a callback from an agent instead of having to wait on hold until an agent becomes available to handle their request. That helps reduce the number of dropped calls and improves customer service experience.
Call recording and monitoring: The ability to record customer calls for compliance, quality assurance, and agent training purposes is a must-have feature for inbound call center solutions. Managers and supervisors should also be able to monitor calls in real time to evaluate call quality, assess agent performance, and identify agent training and coaching opportunities. In addition, features like call whispering and call barging are also valuable for supervisors.
Integrations with CRM systems: The software's ability to integrate with CRM (Customer Relationship Management) systems and other business apps is critical, as it provides agents with a 360-degree customer view, including the history of previous interactions, enabling agents to deliver more contextual and personalized interactions. That will also reduce manual work for agents, eliminate the need to switch between apps, and improve team performance.
Outbound call center features
Auto dialing capabilities: For sales-oriented outbound call centers, auto dialing capabilities are key. E.g., VoiceSpin's outbound call center software provides auto dialing as part of its call center package. The AI auto dialer enables agents to place hundreds or even thousands of outbound calls with minimal human input and minimizes agent idle time between calls thanks to predictive dialing, improving the efficiency of your outbound calling efforts.
Lead and campaign management: Lead and campaign management features are also essential for outbound call center teams. Agents should be able to easily manage lead lists and outbound calling campaigns. VoiceSpin's call center software can also automatically score and prioritize leads and connect them to the best-fitting agents based on the probability of making a successful sale, improving conversion rates of outbound calling campaigns.
Local caller ID: Local presence dialing and local Caller ID are must-have features for running outbound calling campaigns in multiple, geographically distributed locations. Since people aren't likely to answer calls from unknown numbers, being able to display a local number on the Caller ID will instantly increase your Call Answer Rates, meaning your sales agents can engage in more conversations and convert more leads.
Reporting and analytics: Reporting and analytics features are equally important for both inbound and outbound call centers. By leveraging reporting tools, call center managers can monitor critical call center metrics and KPIs, evaluate the effectiveness of calling campaigns, keep tabs on agent performance, uncover inefficiencies in the process and operations, and make more data-driven decisions on the necessary improvements.
5. Get Call Center Hardware and Equipment
If you opt for setting up an on-premises call center, you will need to invest in call center hardware and equipment. That may include a physical PBX (Private Branch Exchange) system, dedicated servers and data centers, telephony hardware, networking equipment, power supply systems and backup generators, desktop computers, headsets and VoIP phones, desks, office chairs, and other office equipment. All of that might require significant upfront investment that should be considered in your budget.
When setting up a cloud-based call center, you can eliminate the need for expensive hardware, making it an attractive option for smaller businesses. Thus, to set up and run a cloud-based call center, you would only need a high-speed internet connection with sufficient bandwidth for uninterrupted connection, computers, laptops, or other devices agents will use to access the call center software system, headsets, hardware VoIP phones, or softphones, and office equipment. The rest is managed and maintained by a cloud-based call center provider.
6. Determine Your Staffing Needs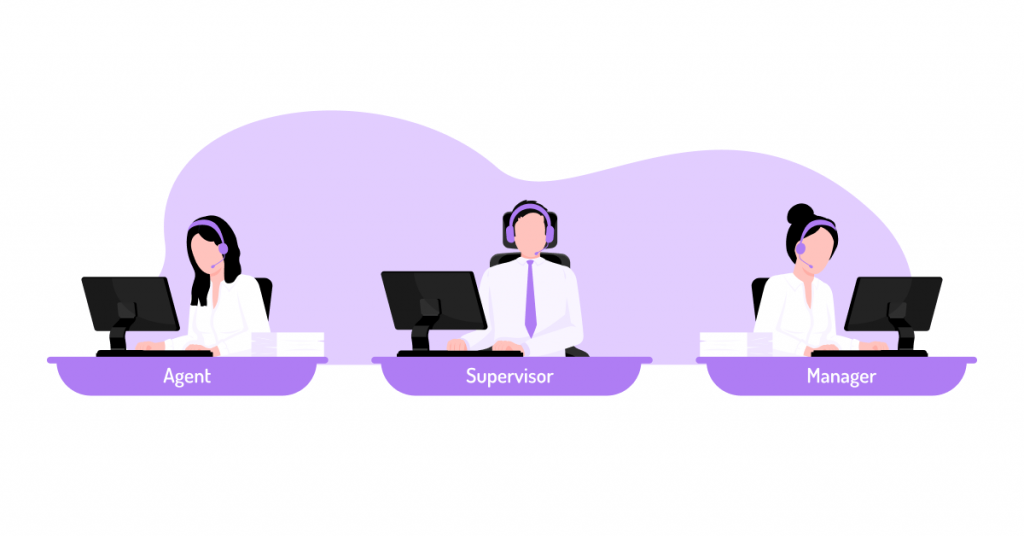 To run a successful call center, you need the right number of employees to handle inbound/ outbound calls and meet your performance goals. If you hire too few employees, your call center is going to be understaffed, resulting in long wait times for callers, an increased number of abandoned calls, and lower customer satisfaction scores. Hire too many – and agents are going to be underutilized, adding up to your overhead costs.
To estimate the number of required employees, you may need to take into account call volume, the average wait times and call handle times, the average number of missed/ abandoned calls, and other metrics and factors. You'll also need to clearly define positions to be filled. While roles and titles may differ, the basic ones are:
Call Center Agent: Call center agents are at the frontline of your call center, representing your business, directly communicating with prospects and customers, providing the necessary information, resolving requests, handling customer complaints, or selling your products or services. Agents report to supervisors.
Call Center Supervisor: Supervisors are responsible for managing and supporting agents, arranging and providing training and call coaching sessions, measuring agent performance and ensuring they adhere to call center quality standards, giving regular feedback to agents, etc. Supervisors report to the call center manager.
Call Center Manager: Call center managers set goals, performance expectations for agents and supervisors, and SLAs for a call center, plan and manage call center staffing levels (including recruitment, onboarding, and scheduling), conduct quality monitoring and call center Quality Assurance, analyze call center metrics and KPIs, etc. Managers report to the business owner.
7. Hire a Call Center Team
Call center jobs aren't for everyone. Most of the time call center agents have to spend interacting with people (who may be frustrated or even abusive), answering their questions, helping them resolve issues, or selling products and services. When searching for, selecting, and interviewing potential candidates, hiring managers shouldn't only focus on a person's industry experience and familiarity with call center software systems and CRM tools. On top of that, it's important to look for those who possess a variety of soft skills that are much-needed to succeed in the role, such as:
Excellent communication skills: Along with active listening, clear verbal and written communication skills are fundamental for call center employees. Agents should be able to convey information in a clear and concise way that is easy for others to understand and act on.
Empathy and emotional intelligence: An ability to demonstrate empathy and emotional intelligence when interacting with customers helps build rapport and trust with customers, which is why empathy and EI are vital skills to take into account when evaluating potential hires.
Conflict-resolution: Challenging interactions and conflicts with dissatisfied customers or even colleagues are bound to happen. A candidate's problem-solving and conflict-resolution skills and an ability to address customer complaints and de-escalate tense situations are a must-have.
Ability to multitask: As agents may need to quickly switch between inbound and outbound calls or manage multiple communication channels (in the case of omnichannel contact centers), an ability to efficiently multitask and transition between various tasks is an essential skill to look for.
Stress management: Agents would often need to work in high-pressure environments where they must handle challenging customer interactions, deal with irritated customers, and meet their performance metrics, making an ability to effectively manage job-related stress crucial.
8. Build Your Onboarding and Training Processes
In call centers, employee onboarding is often a lengthy and complicated process. But when done right, it results in many long-term benefits for call centers, such as improved engagement, increased agent efficiency, and reduced turnover rate. A Glassdoor survey found that organizations with a strong onboarding process are able to improve new hire productivity by over 70% and retention by 82%.
However, building a highly efficient call center team doesn't end with proper onboarding. You should create a consistent process of ongoing learning through regular training and coaching initiatives. These are some of the examples of what your agent training materials, resources, and activities may include:
A comprehensive internal knowledge base with FAQs
Live or pre-recorded agent training webinars
A library of successful customer interactions pulled from call recordings
A library of scripts and canned responses for handling different types of calls
Call-handling procedures, call flow, and call escalation protocols
On-the-job training through live call whispering during customer interactions, etc.
9. Know How You Will Measure Call Center Performance
Based on your call center type (inbound/ outbound), your specific goals and objectives, and analytics capabilities of your call center software, you may track a different set of metrics and KPIs (Key Performance Indicators) that will allow you to measure the overall efficiency of your call center operations and performance of individual agents. These are some of the most common and most critical metrics and KPIs you may want to keep close tabs on:
The Average Handle Time (AHA): The Average Handle Time represents the average time it takes for an agent to handle a customer call, including hold time, talk time, and after-call work time. Along with other metrics, it's a key indicator of how efficiently agents are able to handle customer inquiries. A high AHT may mean inefficient call routing or poor agent training.
The Average Speed of Answer (ASA): The Average Speed of Answer shows the average time callers have to wait in the queue before their call gets connected to an agent. A high ASA indicates that a call center may need to work on improving its operational efficiency and call management process, adjust staffing levels, or implement self-service options.
First Call Resolution (FCR): First Call Resolution Rate measures the percentage of customer issues resolved during the first interaction and shows how efficient your agents are in handling customer requests. A low FCR rate suggests that agents need more training or that they simply lack access to the necessary information and tools to resolve issues on the first call.
Call Abandonment Rate: Call Abandonment Rate is the percentage of calls terminated by customers before being connected to a customer support representative. A high abandonment rate is commonly caused by insufficient staffing levels, forcing callers to wait on hold for a considerably long time, poor call routing, and lack of callback options.
Customer Satisfaction (CSAT) Score: Customer Satisfaction (CSAT) Score measures the overall customer satisfaction with your product, service, or customer service and shows whether your call center is meeting customer expectations. A low CSAT score related to your service quality might mean that you need to work on improving your ASA, AHT, and FCR rates.
Conversion Rate: Conversion rate is an essential metric for sales-focused outbound call centers, which shows the percentage of outbound calls that resulted in a successful outcome (a closed deal, a booked appointment, etc.). A low conversion rate might be an indicator of low lead list quality or that the agents require more training.
Related article: Top 10 Outbound Call Center Metrics Your Call Center Should Measure
10. Build a Supportive Call Center Environment
Call centers are known to have traditionally high employee turnover rates due to the intense and stressful nature of the job, which is a huge problem for businesses. Not only is it because hiring, successfully onboarding, and training new agents takes time, much effort, and financial resources, but also because when agents leave – that may disrupt your call center operations and negatively impact the morale of the remaining team members. That is why it's essential to build and consistently maintain a positive and supportive workplace environment within your call center. Here's what you can do:
Allow for flexible scheduling and remote work options to help agents achieve a better work-life balance.
Maintain a psychologically safe environment where agents are encouraged to share their opinions and suggestions.
Regularly provide and collect feedback from agents through one-on-one meetings.
Hold team-building events in and out of the office to boost employee morale and engagement.
Develop and implement an employee recognition program and reward top-performing agents.
Related article: How to Build an Efficient Call Center Environment to Drive Agent Performance
Set up Your Omnichannel Contact Center with VoiceSpin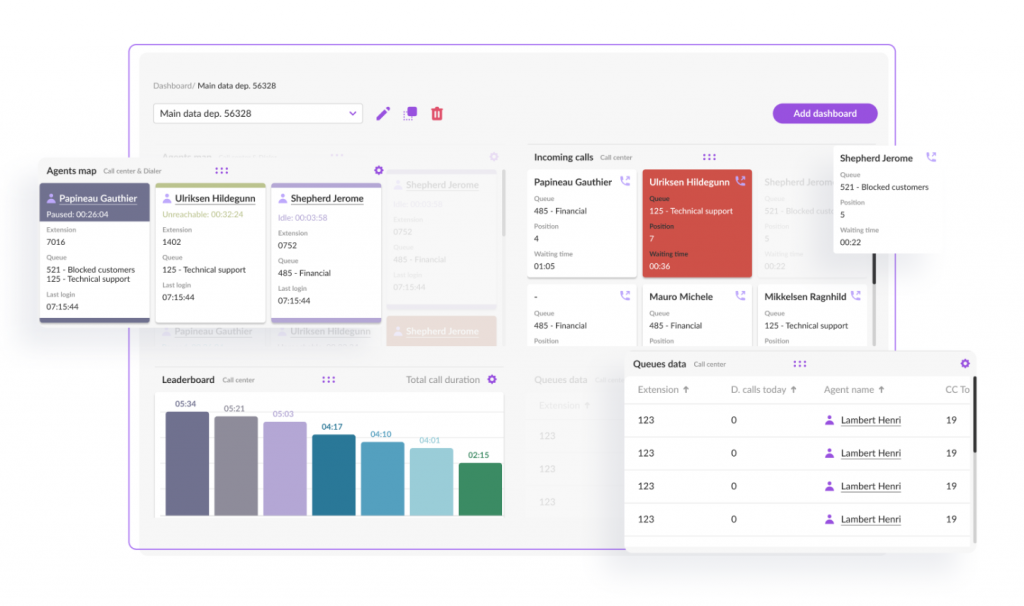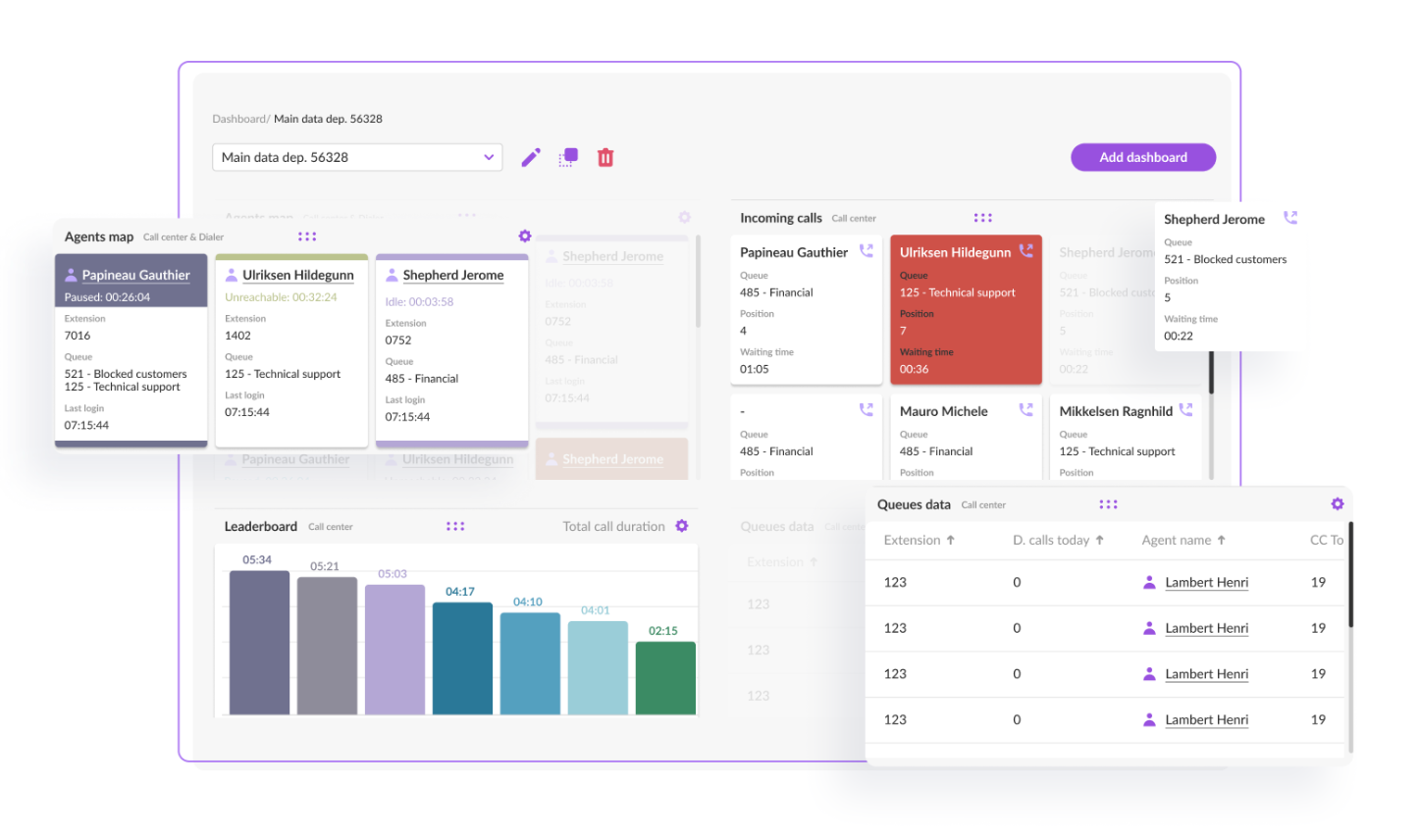 That all being said, why should you start your journey with VoiceSpin? Whether you're just looking to set up your call center from scratch or researching alternative options to upgrade your current call center tech stack, VoiceSpin's AI-powered contact center solutions might be the right fit for both customer support and sales-oriented teams, empowering them with the tools they need to support clients across multiple communication channels or sell faster and more efficiently. What's more, you can seamlessly integrate your contact center with your CRM or other business tools to keep all data in sync and enable your teams to be even more productive.
Book a demo call now to get a tailored walkthrough of the features and how to get started.