Boost your sales team's potential and connect your agents to potential customers through intelligent lead scoring with VoiceSpin's innovative auto dialer software. Increase call conversion rates, drive more sales, and improve your team's productivity by focusing on the most promising leads.
Simplify Your Sales Workflow
AI auto dialing software easily automates the entire contact center workflow – from creating leads and campaigns, through dialing and assigning leads to agents, to lead status updates in your integrated database (CRM, ERP, etc.). Optimize and manage at the macro-level through automation.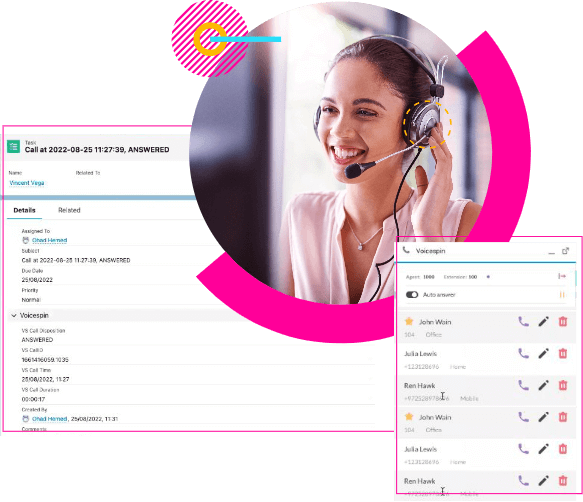 Save hours of your agents' time by simplifying the routine process of manual dialing
Your business will not lose clients' data anymore
Connect specific leads to the most appropriate agents with smart queues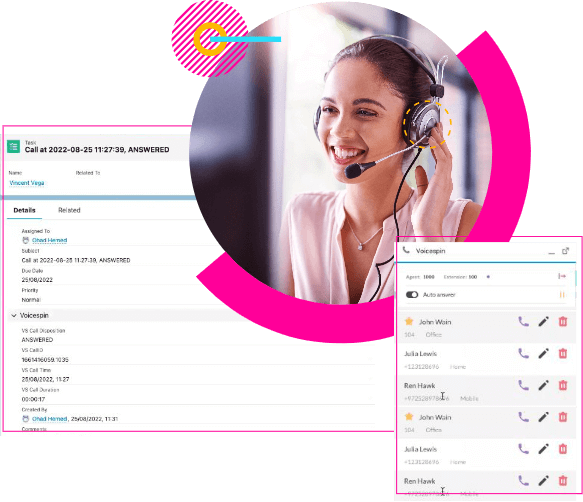 Connecting With the Leads

Predictive dialing can increase utilization to 57 minutes per hour (5% idle time)
They offer 100% lag free connectivity and 99.9% uptime
Up to 42% of sales agents lack the data they need before making a call without auto dialers
Having an auto dialer can increase talk times of agents by as much as 200–300%
Reach More Leads. Faster.
Before a new shift starts, our AI dialer scans and removes all the 'bad' numbers, including invalid, unconnected, and out-of-coverage. With clean lead lists, agents can hit the ground running as soon as they start their next shift.
VoiceSpin's outbound technology increases reachability through its advanced functionalities:
Local caller ID
Dynamic caller ID
Spam detector
CLI routing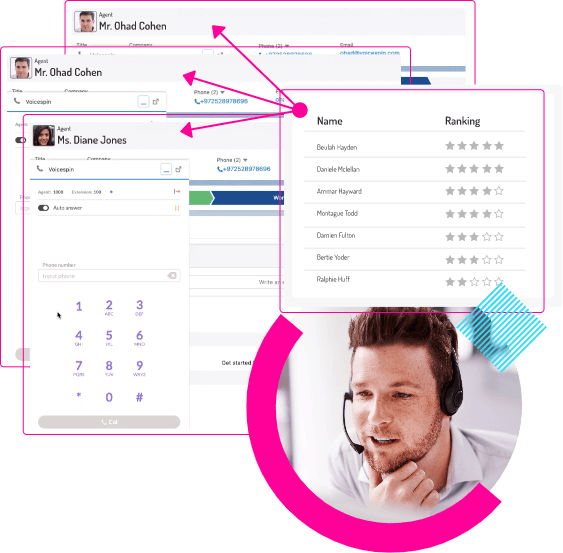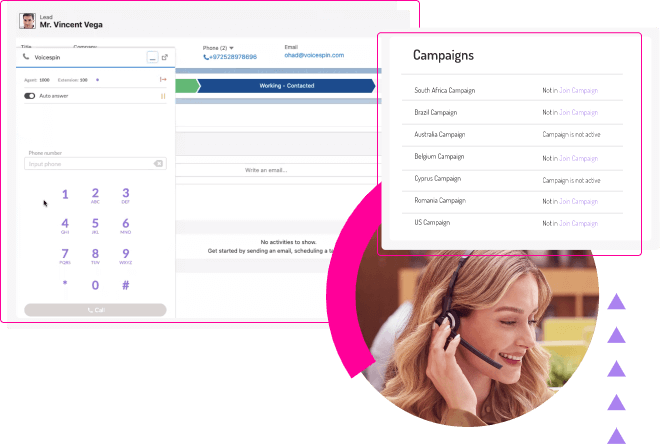 More Uptime Means More Sales
Auto dialers typically add lag time to prevent calls from being directed to unavailable agents.
VoiceSpin's unique AI Auto Dialer solution provides a much higher level of accuracy. Machine learning calculates the average call completion rate to predict when exactly an agent will be available. It automatically dials the next number, effectively eliminating idle time between calls. 
Your call center is kept at optimal efficiency through:
Smart queuing
Machine learning ID
Lead/agent matching
Lead prioritization
Agents Call, CRM Stores Data
In sales, every second counts. Your agents shouldn't waste their time manually logging calls, managing data in spreadsheets, or getting lost between windows on their monitors.
Our AI Auto Dialer fully integrates to 50+ CRMs and seamlessly connects to CRM prioritizations while logging call details and recordings to the appropriate record.
This integration means:
Process automation
Clear documentation
Automated omnichannel outreach
Advanced analytics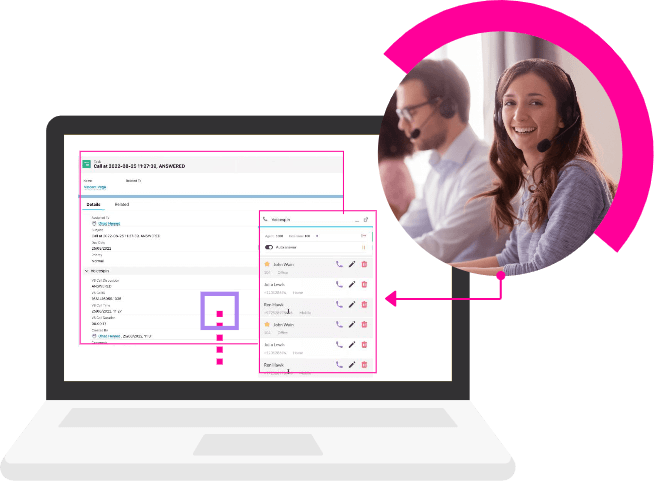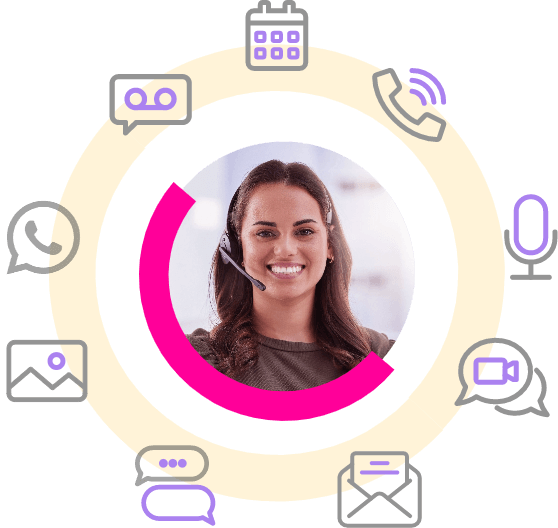 Outbound Omnichannel Automation
The AI dialer is part of a network of omnichannel outbound tools in our call center suite. Combined with our other optimized tools, your call center efficiency will grow exponentially together with your sales.
As more communication channels become available, our call center continues to integrate with the latest technologies to provide the most robust outbound solutions:
Integrated agent panel
Bulk SMS
Speech analysis
Customized reporting

Numbers
Reachability Scan

Smart
queuing

Native CRM
integration

Machine learning
optimization

Answering Machine
Detection

Filtering DNC/
DND List

Smart
Matching

Automated
SMS

Real-time Call
Monitoring

Scheduling
Call Back

GMT
Recognition

Lead
scoring
1000s of customers do not lie.
See why Outbound Sales Call Centers choose Voicespin time and time again.
1000s of customers do not lie.
See why Outbound Sales Call Centers choose Voicespin time and time again.
Integrated agent panel
Bulk SMS
Speech analysis
Customized reporting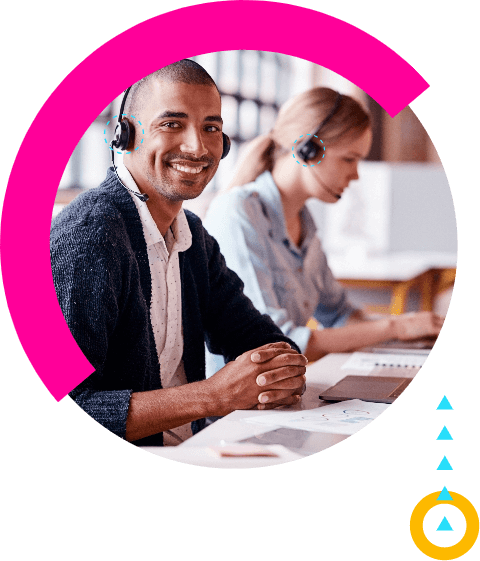 What is an AI Auto Dialer?
AI auto dialer is an auto dialer system that uses artificial intelligence (AI) algorithms to automatically bulk-dial multiple numbers and help agents eliminate the effort of manually dialing number after number. Once the call is connected, the dialer routes it to an available call center agent. AI-powered auto dialing tools minimize agent idle times, improve agent efficiency and call center productivity.
What is the difference between a predictive dialer and an auto dialer?
An auto dialer is a general term for automatic dialing systems used in outbound call center software solutions. A predictive dialer is a specific type of auto dialer that uses algorithms to predict when an agent will be available to take the next call based on factors like the average speed to answer, the average call duration, and the number of available agents. Predictive dialing tools ensure no agent time is wasted, improve call connect rates, and increase sales.
What is the best auto dialer software?
While there are numerous auto dialer software tools available, the best one will depend on your specific business needs and the size of your team. When reviewing your options, pay attention to features like the types of auto dialers supported, call recording, reporting and analytics capabilities, and whether the tool can be seamlessly integrated with your CRM system.
How much does an AI Auto Dialer cost?
When choosing an outbound call center solution with an AI auto dialer, cost often becomes the deciding factor for businesses. It may greatly vary based on the provider's pricing model, the tool's features, the number of users, and other factors. At VoiceSpin, you can get an AI auto dialer solution as part of an omnichannel contact center software starting from $77/user per month.
Are auto dialers illegal?
Using auto dialers is legal as long as your call center complies with regulations and laws, which may differ from country to country. In the U.S., for example, it is regulated by the Telephone Consumer Protection Act (TCPA), which restricts the use of auto dialers for making unsolicited telemarketing calls and requires obtaining prior consent from the person being called. It's always best to check with your local laws before using an auto dialer.
Compliance was an expense I thought we'd just have to live with forever but when we realized there are solutions to streamline our Quality Assurance process, even since GDPR came into play, I was delighted. We've decreased compliance-related costs by around 30%!
Pizza Hut Israel
Lots of companies claim their support teams are fantastic, but we've been truly impressed by VoiceSpin's support services. Always responsive and quick, usually with a simple solution and I can reach them at any time. Downtime is a thing of the past for us.
Lead Capital Markets
Implementing the AI Dialer has been a game changer for us, we've been able to reduce staff costs and increase sales by approx 35% over the past 12 months. Our call center staff are talking to better leads and generally wasting less time.
MemoGlobal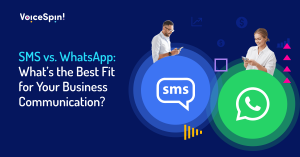 Did you know that (according to Statista's 2023 data) there are currently over 6.92 billion smartphone users across the globe? That means around 86% of the world's population owns a smartphone – and the number of smartphone
Read More »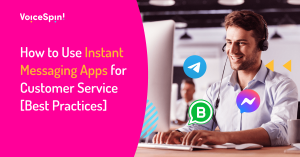 Instant messaging is a convenient way for consumers to get quick and efficient customer support through communication channels they are already actively using in their daily lives to connect with their friends and families. While for businesses,
Read More »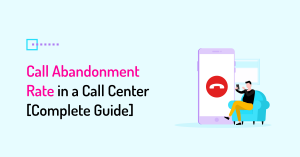 Call Abandonment Rate is a critical measure of both customer satisfaction and operational efficiency in the call center environment. This article takes a deeper look into Call Abandonment Rate, how to calculate and monitor it, and provides
Read More »