Insightly VoIP Integration with VoiceSpin's Telephony
Insightly VoIP integration with VoiceSpin's telephony system adds an additional layer of automation to your team's workflow and enables you to unlock new capabilities of your CRM.
Outbound calls initiated to your leads or customers
With Insightly VoIP phone integration, you can initiate outbound calls to prospects or customers based on specific actions in your CRM, such as when you create a new record or update certain fields on existing records.
Boosted engagement through triggered SMS
Send out SMS messages via VoiceSpin by enabling specific trigger events. Set up your filters, create templates, and personalize your messages to ensure increased engagement with your audience.
New leads automatically added to your AI dialer lists
Insightly VoIP integration with VoiceSpin's phone system means your leads can be automatically added to your specific AI auto dialer lists, so agents don't have to waste time doing it manually.
What is
Insightly CRM

+

VoiceSpin

Integration?
Integrating Insightly CRM with VoIP capabilities through VoiceSpin is an excellent way to streamline your communications and automate agent workflows, eliminating the amount of manual work for your team and improving its overall efficiency.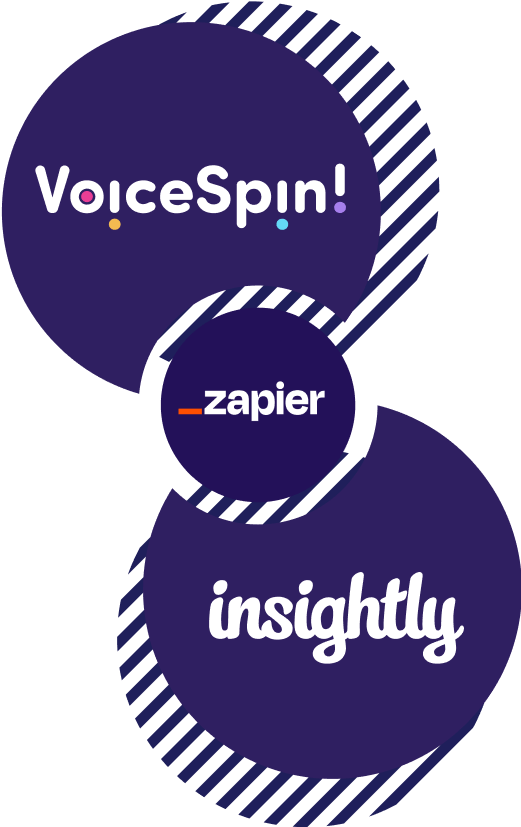 How to set up Insightly VoIP phone integration with VoiceSpin?
You can set up Insightly VoIP integration with VoiceSpin's outbound call center software by connecting the two systems through Zapier. Simply log in to your Zapier account (or create it if you don't have one yet), authorize access to share the information between your Insightly and VoiceSpin accounts, and then select specific actions you'd like to integrate between the systems to enable workflow automations for your team. For any assistance, you can always ping our customer support team at support@voicespin.com.
Not a VoiceSpin customer yet? Our sales team will be happy to give you a detailed insight into how VoiceSpin's cloud-based call center solution can help your business easier manage customer communications, expand your outreach efforts, and enable you to convert more leads into customers through powerful AI-driven call center features. Book a 30-minute demo session with one of our sales reps to learn more.
If you aren't yet using Insightly CRM and are only researching different Customer Relationship Management systems to find the best fit for your business, you might want to consider Insightly CRM for a variety of reasons. A user-friendly interface, rich integration capabilities and workflow customization options, and affordable pricing, among others, make Insightly CRM a great CRM platform for SMBs and medium-sized businesses.