Microsoft Dynamics 365 CRM VoIP Integration by VoiceSpin
Click to call your leads and customers right from your Microsoft Dynamics 365 CRM and enable seamless workflow automations by integrating it with VoiceSpin's VoIP phone system.
Click-to-call right from your MD 365 CRM
With Dynamics 365 click-to-call integration, you can instantly call your prospects or customers in just a few clicks right from within your CRM, with no need to switch between the systems or dial numbers manually.
Log outbound calls in your CRM
Set up custom triggers to initiate outbound calls, such as when a lead is created or updated in your CRM. Call logs are synchronized between the platforms, with no manual call logging required.
Instantly add leads to your AI dialer lists
Whenever you create new leads in your CRM system, they will be automatically added to your specific AI dialer lists, saving your agents time and effort so they can focus on more critical tasks.
Automate your outreach with triggered SMS
Reach your leads or customers directly on their mobile devices and boost engagement by sending SMS messages triggered by custom events. With easily customizable templates and variables, you can personalize your messages for each recipient.
What is
Microsoft Dynamics 365
+
VoiceSpin
Integration?
By integrating your Microsoft Dynamics 365 CRM with VoiceSpin's telephony system, you can empower your CRM with click-to-call capabilities and leverage workflow automations to enable your sales team to focus on what matters most – engaging with your leads and customers.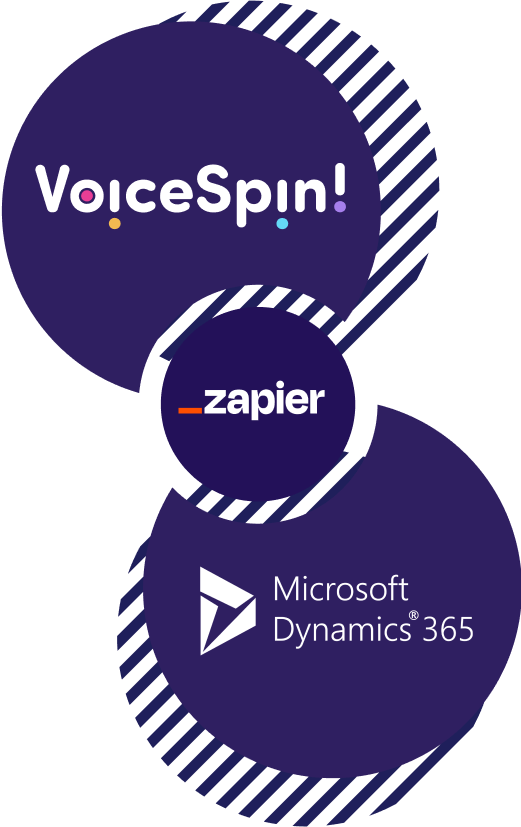 How do I integrate Microsoft Dynamics 365 with VoiceSpin?
To enable workflow automations for your team, connect your Microsoft Dynamics 365 CRM to VoiceSpin's VoIP phone system through Zapier. Simply go to your Zapier account (or create it if you don't have one yet) and select the actions you'd like to integrate between MD 365 CRM and VoiceSpin that would be best suited to your team's workflow. To enable direct click-to-call from your CRM, reach out to our support team at support@voicespin.com for details.
What are the benefits of Microsoft Dynamics 365 VoIP integration?
The benefits of integrating your Microsoft Dynamics 365 CRM with VoiceSpin's VoIP telephony are pretty straightforward – make outbound calls to your prospects and customers directly from your CRM through click-to-call, drive more engagement, and enhance your agent workflows with automations that allow for increased efficiency.
How much does the integration with Microsoft Dynamics 365 cost?
No additional costs are required for VoiceSpin's customers to integrate with Microsoft Dynamics 365 CRM. Not a VoiceSpin customer yet? Book a 30-minute demo session with one of our sales reps to get insight into how VoiceSpin's VoIP call center software can help your organization streamline communications with leads and customers, engage with more prospects, and improve your sales conversions through advanced call center features.