It takes a great deal of time and effort to cultivate and maintain a highly efficient, positive, and productive call center environment and workplace culture. But you'd be surprised at how much of an impact the well-being of your call center agents has on their ability to do their jobs well – delight customers or hit their sales targets.
What is a call center environment, and how do you actually build it in a way that fosters engagement and drives better agent performance?
In this blog, we're about to explore the key steps you can take to create an efficient call center working environment where your agents can put their talents to the best use while helping you achieve your call center's objectives.
How Does Call Center Environment Impact Agent Performance?
The link between the two is obvious. It's safe to say that call center jobs are inherently stressful and demanding. Having to deal with large inbound call volumes, handling customer complaints, interacting with frustrated customers, and facing rejection from cold calling prospects are some of the most common challenges call center agents encounter in the workplace.
If you aren't addressing these challenges properly by improving your call center work environment, that may lead to increased agent burnout, lowered productivity, and eventually higher turnover rates, which can also affect your bottom line.
On the other side, a well-designed, supportive working environment where agents are equipped with the best tools and resources and where they feel valued and appreciated helps handle these challenges and directly impacts contact center agent performance, job satisfaction, productivity, engagement, motivation, and morale.
On top of that, highly engaged, satisfied, and productive agents are more likely to deliver excellent service experiences to your customers and meet their performance goals.
9 Steps to Building a Highly Efficient Call Center Environment
How to improve a call center environment and make sure each call center agent within your team feels comfortable and empowered working in your organization? Here's what call centers should pay close attention to if they want to build a truly positive, productive, and efficient call centre environment that drives better agent performance.
1. Ensure a comfortable and healthy workplace
Unless your call center agents are working remotely, creating a physically comfortable and healthy workplace is crucial. Paying attention to things like desks and chairs, adequate lighting, air quality, climate control, and noise levels might seem insignificant, but it can go a long way in building a productive call center environment your agents enjoy working in.
Ergonomic furniture, professional equipment, natural lighting, a high-quality climate control system, and a quiet and distraction-free environment can make agents feel dramatically better at work and contribute to their overall workplace well-being. That ensures they can better concentrate on their daily tasks, whether it's resolving customer support issues or making outbound sales calls, and demonstrate better performance.
Try answering these questions to assess the comfort level of your call center workspace and uncover improvement opportunities:
Is the furniture comfortable enough to work for hours at a time?
Is the office temperature easily regulated?
Is there proper ventilation? What about the quality of air in the office?
Is the lighting adequate and adjustable to minimize eye strain?
Are agents crammed into tight spaces, or is there enough room for everyone?
Is there a break room where agents can revitalize during their time away?
Is there a noise reduction strategy in place to minimize distractions?
Are agents equipped with noise-canceling headsets to help them concentrate on calls?
2. Build a stress-free working environment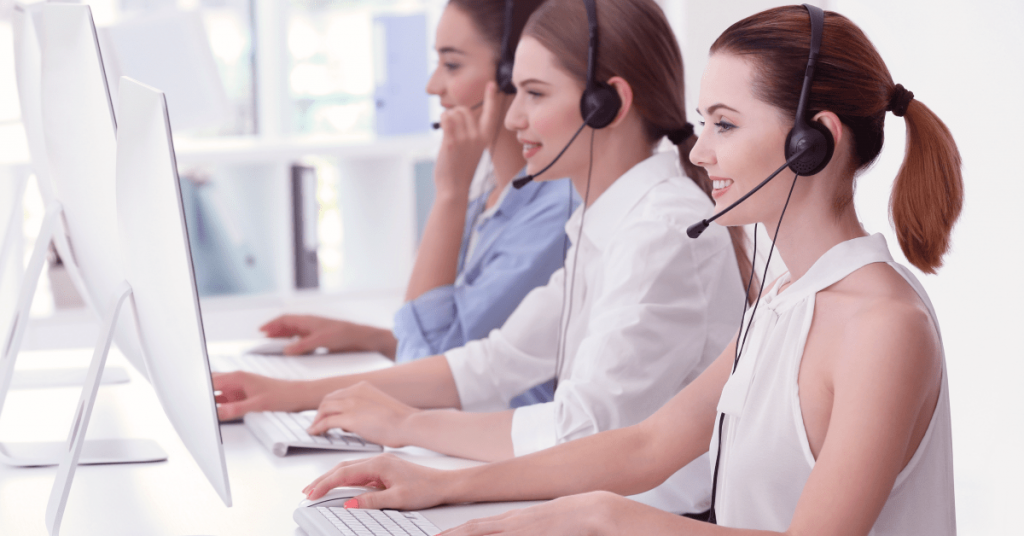 Reducing job-associated stress is a common challenge in call center environments. Failing to do it may result in low morale, increased burnout and absenteeism, high employee turnover, poor-quality service delivered to your customers, and missed sales opportunities. Unfortunately, many call centers and contact centers aren't prioritizing their employees over numbers, putting their needs on the back burner.
So what makes call center jobs so demanding?
Intense nature of the job: Call center reps are literally tied to the phone during the entire workday and often have to handle heated situations, resolve various complaints and complicated issues, and deal with angry or even abusive customers, adding to the mental strain.
Pressure of performance targets: Agents are always expected to be productive and efficient, maximize their talk times, increase FCR rates, reduce the Average Handle Time, and meet other performance targets – all while delivering the highest customer service quality.
While you can hardly change the nature of the job, you can definitely better manage the way you set performance targets and KPIs for your team. First and foremost, you should set performance goals and targets that are realistic and achievable based on industry benchmarks and historical performance data. Setting unrealistic targets or conflicting KPIs (such as increasing FCR and reducing AHT at the same time) can only demotivate agents and add to their stress levels.
3. Allow for optimal scheduling and workload management
Strategic scheduling and efficient management of contact center agent workloads can make a difference between fostering a productive contact center environment and an overwhelming one. It's essential for maintaining productivity and agent satisfaction, mitigating workplace fatigue and burnout, and ensuring agents are able to deliver top-notch service experiences to your customers.
Here are some tips to help you better manage your team's scheduling and workload:
Call volume forecast: Use call center analytics tools to keep track of historical data and consistently analyze trends and patterns to more accurately predict seasonal call volume spikes and peak hours.
Optimal staffing levels: Based on your call volume forecasts, allocate appropriate resources to handle increased call volumes efficiently. Avoid scheduling newcomers during peak periods.
Flexible scheduling: Offer flexible scheduling options (that can include part-time shifts, split shifts, or rotating schedules), taking into account agent preferences to help them avoid burnout and remain engaged while maintaining a better work-life balance.
Breaks and idle time: Your call center reps are human beings, and they should be treated as such. Though you might naturally want to minimize idle time, your agents should still have an opportunity to take short breaks and revitalize during the day.
Agent cross-training: Cross-train agents to handle various call types to enable more flexibility in scheduling and workload management. When call volume is high, cross-trained agents can balance the workload across the team.
Review and optimization: Continuously analyze key performance metrics, agent feedback, and customer satisfaction to identify improvement opportunities. Adjust your resource allocation, scheduling algorithms, and shift patterns as needed.
4. Support remote and hybrid workplace environments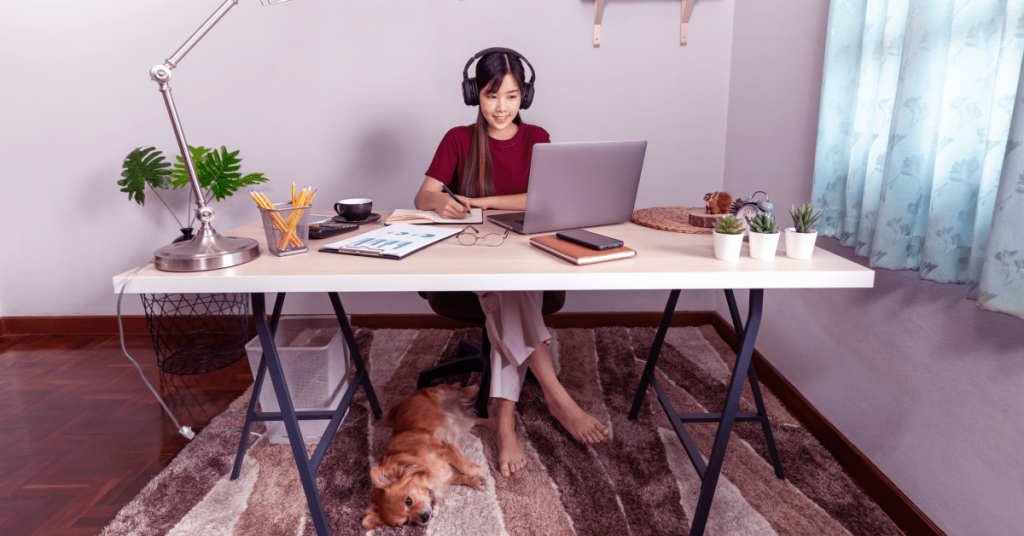 During the COVID-19 crisis, many call centers, as well as lots of businesses and organizations from just about every industry, have turned to remote work models to keep their employees safe and their businesses afloat. Even though the pandemic times are over, remote and hybrid work environments are here to stay for the long term. Luckily, by implementing cloud-based call center software, you can easily add remote agents to your team, whatever physical location they are working from.
Managing remote call centers effectively does come with certain challenges, such as difficulties in building efficient communication and maintaining high engagement and motivation levels, to name just a few. But providing employees with remote and hybrid work opportunities pays off in terms of increased employee satisfaction, productivity, and retention.
In fact, the 'State of Remote Work Report' by Owl Labs revealed that remote work is becoming an increasingly attractive option for many employees. According to the findings, 86% of workers said being able to work from home – at least some of the time – would make them happier, 85% said it would help them better balance work and life, and 81% mentioned it would lower their stress. In addition, 62% of workers said they feel more productive when working remotely.
5. Foster a culture of open communication and collaboration
Even though your call center reps spend most of their workday talking to other people on the phone, being able to freely and openly communicate with other team members, contact center managers, and supervisors is a vital part of building a positive and supportive workplace environment. And that becomes particularly important if you have remote agents on your team, who might feel isolated by not being able to interact with their peers and managers as they would in an office environment.
Promoting a culture of open communication, feedback-sharing, and collaboration can indeed bring about a bunch of benefits to your workplace environment:
Increased engagement and performance: Apparently, it helps improve employee morale and engagement. It also makes agents feel more motivated to contribute their efforts towards reaching company goals, resulting in increased job satisfaction and improved agent performance and productivity.
Knowledge sharing and learning: Open communication and collaboration activities encourage agents to share their knowledge, experiences, and best practices with peers. Not only can other team members learn something new in the process and improve their skills, but they can use that experience to deliver better service to customers.
Two-way feedback exchange: When agents are encouraged to share honest feedback, it makes them feel heard, valued, and supported. And when they also receive regular constructive feedback from their managers or supervisors, they have a better understanding of their performance expectations and company objectives.
Conflict mitigation and prevention: Workplace conflicts create a toxic environment. Transparent communication in the workplace helps resolve potential conflicts and prevent them in the future. That ultimately builds stronger relationships between the team members and enables even better collaboration.
That being said, how can you actually go about building that culture of open communication and collaboration? One of the most efficient ways for call center managers and team leaders to facilitate an open dialogue with their team members is through conducting regular one-on-one meetings. Team-building activities in and out of the office and various company events are also great for keeping the team connected and collaborative.
6. Empower agents with the right call center technology
Equipping agents with robust call center technology is the foundation of building a highly efficient call center environment. Are the tools your call center reps are currently using outdated and ineffective? Do your agents have to constantly switch between multiple disjointed systems? Can they leverage the power of automation, AI, and machine learning technologies to optimize their workflows and reduce the amount of manual work required?
The quality and usability of the call center technology and tools your agents utilize in their day-to-day activities directly impact their performance, productivity, and ability to do their jobs well. If you're looking to improve your team's tech stack, consider contact center software solutions that offer the following features and capabilities:
Intelligent call routing
Inbound call center teams who handle customer service requests rely on call routing systems. The way these systems are able to efficiently direct incoming calls to the right customer service reps impacts not only agents' performance, but also the overall quality of interactions and customer satisfaction levels. That is why your call center software should support advanced call routing options, such as intelligent routing that matches callers with agents who have the most relevant skills and knowledge to handle specific types of inquiries.
If you want to go one step ahead, consider call center software solutions that support predictive call routing that takes into account more variables and historical data, including the caller's past behavior, purchase preferences, persona type, and other factors to predict the specific skills and agent's personality traits needed to serve that caller in the most efficient way. That ensures agents will always deal with the most relevant requests, improving your FCR rates and customer satisfaction levels.
Read more about predictive call routing and other call center automation technologies and trends in our article Call Center Automation Trends for 2023 and Beyond.
CRM integration
To enable high agent productivity, your call center software should seamlessly integrate with your CRM. With proper CRM integration, your agents won't have to waste time switching between the two systems and looking up customer information while trying to resolve customer issues. They will have instant access to customer profiles with the history of previous interactions, customer preferences, call recordings, and other available information.
Armed with a 360-degree customer view, agents can provide quick and efficient support while delivering more contextual and personalized service experiences. Besides, all data and call activity will be synced, eliminating the need for agents to manually enter customer data or log calls in the CRM, saving them time and effort and allowing them to focus more on interacting with customers instead of handling administrative tasks.
Predictive dialing
Outbound-oriented call centers cannot operate efficiently without using auto dialing software solutions. Long gone are the days when manual dialing was the only way to manage outbound calls. The introduction of auto dialing solutions has made the outbound dialing process easier and much more efficient. But when it comes to handling large outbound call volumes, AI-powered predictive dialer tools can be a true game-changer for your reps, especially for high-velocity sales teams.
Predictive dialers initiate multiple outbound calls per agent to ensure that once an agent completes their current call, they can jump right into handling the next one, minimizing agent idle time between interactions and increasing agent talk times by up to 300%.
Predictive dialers can boost your sales team's productivity and efficiency, helping them reach their sales goals faster. No wonder the adoption of predictive dialer tools is going to rapidly grow. According to a report by Grand View Research, the global predictive dialer software market size is expected to hit USD 12.2 billion by 2028 (compared to USD 1.03 billion in 2020).
7. Improve your agent onboarding process
The value of having an efficient and well-thought-out call center agent onboarding process in place should never be underestimated – and that goes true not only for call centers. Just take a look at some of the statistics on the importance of proper employee onboarding:
Strong onboarding can improve the productivity of new hires by over 70%.
Only 12% of U.S. employees believe that the company they work for has a good onboarding process.
69% of employees are more likely to stay with a company for three years if they received a great onboarding experience.
Employees who receive effective onboarding feel 18 times more committed to their organization.
Onboarding is crucial in call centers, where it's usually a long and complicated process. A well-planned onboarding program can help your new hires get up to speed quickly, build more confidence, and ensure their long-term success within your call center.
And what's even more important, proper onboarding ensures your newly hired reps have all the knowledge, skills, and tools they need to deliver consistent customer service and customer experience. That is why the time, resources, and effort you put into onboarding your new team members is well worth the investment.
8. Provide agent training and learning opportunities
While onboarding is only the first step, agent training should go far beyond that. Especially considering that your call center agents are at the frontline of your business and are often the face of your brand to your customers, you need to ensure they are well trained and equipped with the right communication skills, call handling, problem-solving, conflict resolution, and other skills required to handle customer interactions in the most efficient way.
Apart from that, if you want to build a truly productive and engaging call center environment, give your reps even more opportunities to develop, grow professionally, and succeed in their career. Agents who see opportunities for advancement and professional growth are more likely to stay with the organization.
E.g., LinkedIn Learning's Workplace Learning Report revealed that 94% of employees admit they would stay at a company longer if it invested in their learning and development.
9. Recognize and reward agent performance
Though employee recognition stands last on our list, it's a vital step in building and maintaining a call center working environment that fosters employee motivation and productivity. And it's the one that is very often overlooked by employers, while even a simple 'thank you' can make a difference. The 2023 Employee Engagement Trends Report by Reward Gateway found that 66% of U.S. employees agree their work well-being would improve if they were simply thanked more for their hard work.
The same study revealed that 60% of employees want their employer to increase their investment in employee reward and recognition. If you're not recognizing and rewarding your agents properly, whether for outstanding contributions or the basic day-to-day input, you are missing out on the opportunity to improve their workplace well-being and job satisfaction.
What are some of the best ways to recognize and reward your call center agents? Here are a few ideas to consider:
Performance-based incentives: Provide performance-based incentives when your reps are meeting or exceeding their performance targets.
Peer recognition program: Implement a peer recognition program where agents can nominate and acknowledge their teammates for their outstanding contributions.
'Employee of the Month' award: Introduce the 'Employee of the Month' award and recognize your best employees publicly.
Employee appreciation events: Hold special events dedicated to appreciating your team members, such as an annual employee appreciation day or week.
Employee spotlight: Spotlight individual agents or teams on social media or through internal company newsletters, share their success stories, or showcase outstanding achievements.
Over to You
Creating an optimal call center environment for your agents might be challenging, but the time and effort you put into it will pay off in the long run, setting your call center up for success. Since technology plays a fundamental role in this process, make sure to invest in the right call center software that can enhance your team's productivity while making their workplace experience seamless, less stressful, and more satisfying.
Empowering your team with VoiceSpin's cloud contact center software solutions can contribute to building a highly productive and efficient environment within your call center in many ways:
Omnichannel contact center capabilities will allow your agents to efficiently support your customers across various customer service channels.
Integrations with the leading CRM systems will ensure your reps always have the right context at their fingertips to serve customers quickly and effectively, with no extra hassle.
An AI-powered auto dialer featuring predictive dialing and an intelligent lead/agent matching system will optimize the outbound calling process and take your sales team's performance to a whole new level.
Workflow automation will save your team hours and eliminate the amount of tedious manual tasks, letting them focus on more productive activities.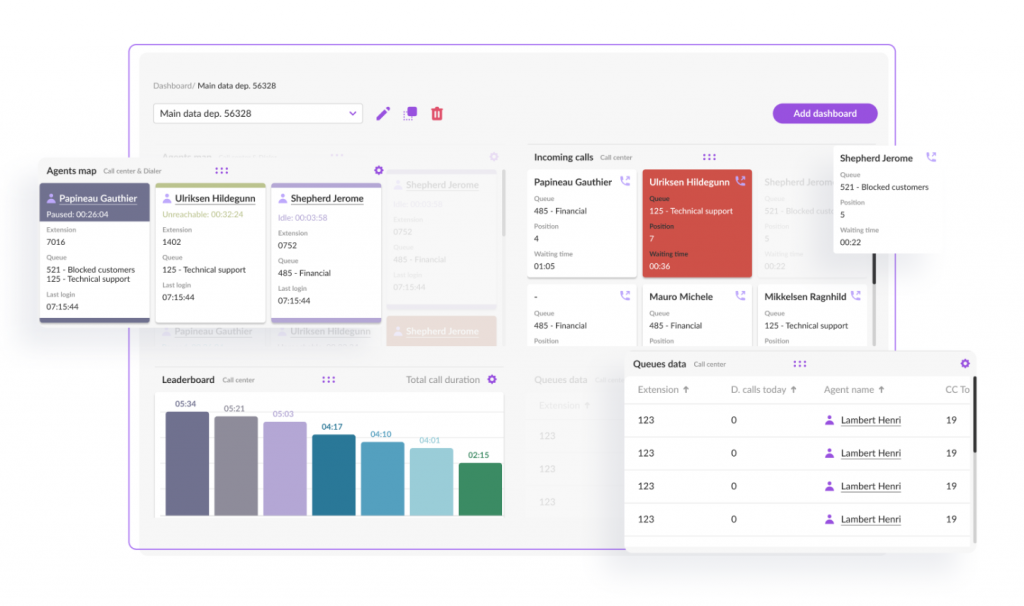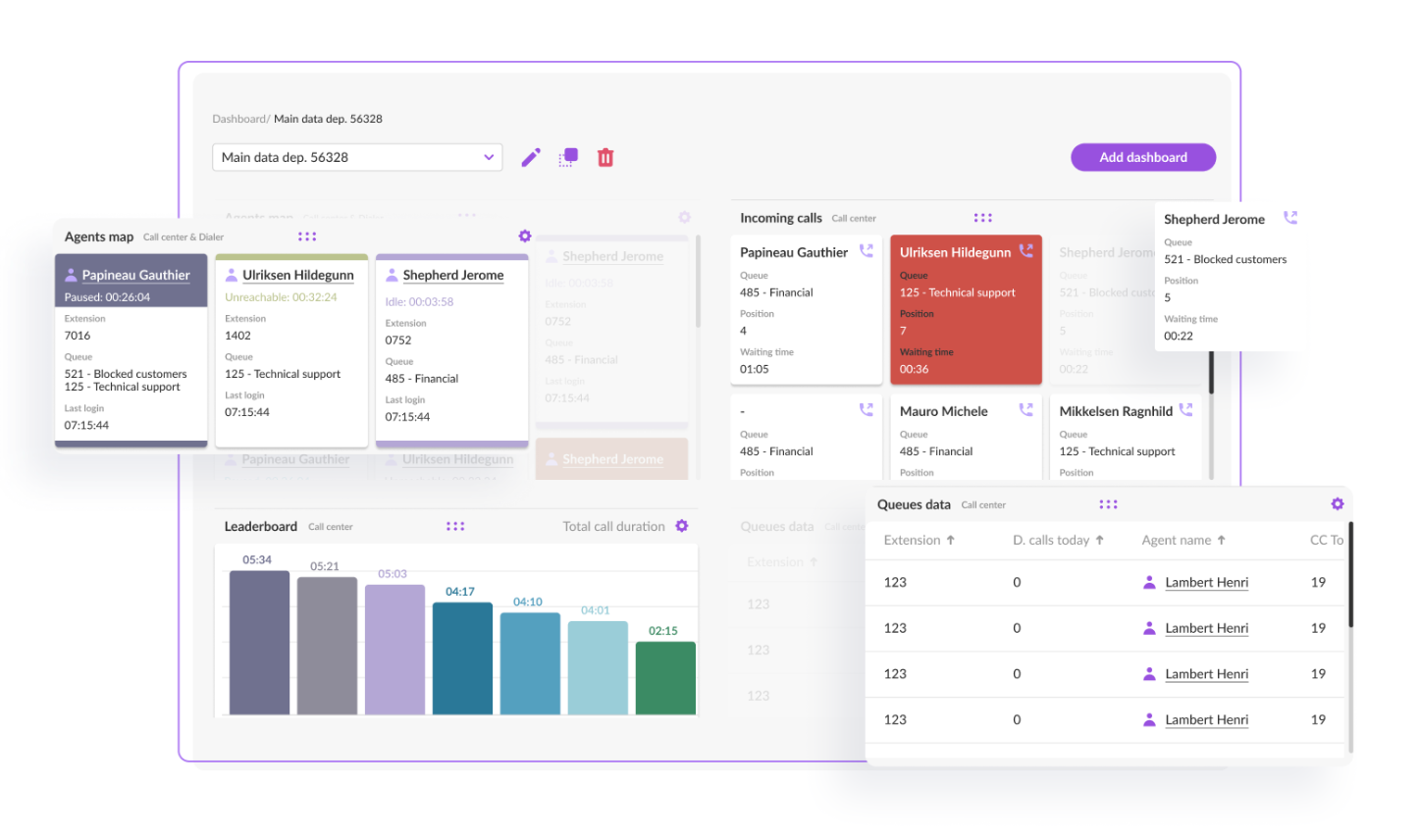 Book a 30-minute demo to learn more about these and tons of other features of VoiceSpin's contact center software solutions that can improve your call center environment, boosting the performance and productivity of your customer service and sales teams.