Pipedrive VoIP Integration  with VoiceSpin's Telephony System
Maximize your sales team's efficiency with workflow automations enabled by integrating your Pipedrive CRM with VoiceSpin's VoIP phone system.
Make calls from your Pipedrive CRM
Set custom triggers for initiating outbound calls to your prospects or customers, such as when you create a new lead, a new deal or update an existing deal, while instantly logging all calls in your CRM.
Drop new leads to your AI dialer lists
With VoiceSpin's Pipedrive dialer integration, new leads from your CRM will be automatically added to your specific AI auto dialer lists CRM, taking the manual work out of your agents' routine.
Boost engagement with triggered SMS
Leverage the power of trigger-based SMS messages sent from your Pipedrive CRM via VoiceSpin. Set up specific filters, build templates, and customize your SMS messages to increase your outreach engagement.
What is
Pipedrive
+
VoiceSpin
Integration?
VoiceSpin's VoIP Pipedrive integration is a way to enhance your CRM with call center features and boost your sales team's efficiency and productivity by automating their workflows and reducing the amount of tedious manual tasks in their pipeline.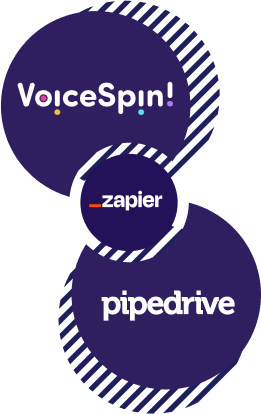 How do I integrate Pipedrive VoIP?
Pipedrive CRM integrates with VoIP software providers to empower sales teams with call center features and automations. VoiceSpin's integration with Pipedrive CRM is currently available through Zapier. To enable integration, log into your Zapier account, connect it to your VoiceSpin account, select specific actions you'd like to integrate between VoiceSpin and Pipedrive, and you're good to go. For any questions, feel free to get in touch with our support team at support@voicespin.com.
What are the benefits of Pipedrive VoIP integration?
By integrating your Pipedrive CRM with VoiceSpin's VoIP software capabilities, your sales team can take advantage of seamless automations that will simplify their workflow, help engage more leads, and improve sales.
How much does the integration with Pipedrive cost?
VoiceSpin's telephony integration with Pipedrive doesn't require additional costs for VoiceSpin's customers. Not a customer yet? Book a 30-minute demo with our sales reps to get a detailed overview of VoiceSpin's call center software, its advanced capabilities, and how it can help your sales team reach more leads, scale your outreach efforts, boost engagement, and drive more sales conversions