Outbound calling is an important part of a company's marketing and sales strategy that can help increase brand awareness, and improve sales, conversion rates, and revenue. Many businesses rely on outbound calling to reach out to more potential customers, expand their marketing reach, and accelerate their sales pipeline. Outbound sales calls can also help businesses generate more revenue from existing customers by leveraging up-sales and cross-sales opportunities.
What is an Outbound Call?
An outbound call is initiated by a company, rather than a customer. Outbound calls are typically made by outbound call center agents or sales reps to reach prospects or customers for specific purposes, such as lead generation, up-selling or cross-selling, feedback collection, or proactive customer service. They are made by agents using outbound call center software tools featured with different types of dialers.
What is the Difference Between Inbound and Outbound Calls?
Unlike inbound calling, with incoming calls initiated by customers, outbound calls are made by call center agents. While inbound calls are mostly customer service related, outbound calls are predominantly made for lead generation and sales purposes. The main goal of inbound calls is to support customers (technical support, billing, etc.), resolve issues, and handle customer complaints and improve customer experience. The main goal of outbound calls is to reach out to a large number of prospects to drive new sales for a business.
What is the Role of Outbound Calling, and Why is it Important?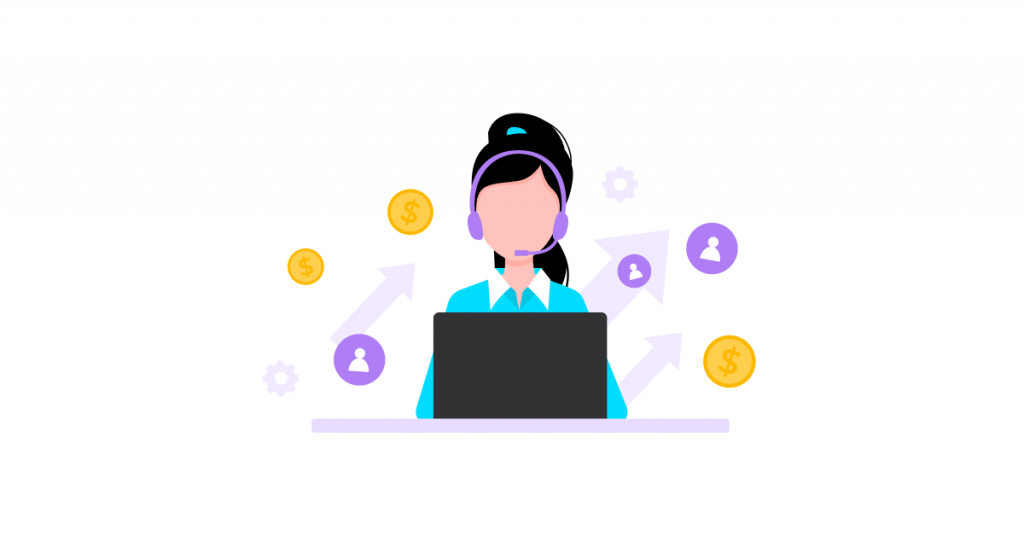 With a well-thought-out outbound calling strategy, businesses can generate more qualified leads, convert more prospects into customers, increase customer lifetime value through up-selling and cross-selling, improve customer retention by managing renewals, and boost overall sales. Outbound agents can also reach out to customers to conduct customer surveys and follow up with customers to ensure their needs are being met, which helps improve customer satisfaction.
Types of Outbound Calls
Lead generation, warm and cold calls: Agents can make large volumes of outbound calls for cold outreach to generate and verify sales leads.
Sales calls to existing customer: Sales team can call customers to up-sell or cross-sell a company's products or services, offer upgrades, or promote special deals.
Proactive customer service: Agents can proactively reach out to customers to inform them of potential issues, service outages, delays, etc.
Follow-ups and scheduled callbacks: Agents can call customers to follow up on previous interactions and make scheduled callbacks.
Customer retention calls: Sales team can make outbound calls to current customers to remind them of upcoming renewals and prevent customer churn.
Conducting market research: Agents can reach out to a specific target audience to conduct surveys and gather market research.
Customer feedback collection: Customer support agents can call customers to collect product or service feedback and get valuable customer insights.
Debt collection: Agents reach out to individuals or businesses for debt collection efforts and negotiating payment options.
Appointment scheduling: Agents can call potential customers to schedule appointments for sales meetings or consultations.
What is Outbound Cold Calling?
Outbound cold calling can be an effective way for businesses to generate new leads, drive sales, and expand the customer base. Outbound cold calls are usually addressed to prospective customers who haven't previously demonstrated interest in a company's offerings. The goal of such calls is to generate interest in the company's products or services, bring in new sales leads, and convert them to revenue-generating accounts.
When making outbound cold calls, businesses need to be aware of the legal requirements and regulations they should follow and comply with, such as the National Do Not Call Registry and the Telephone Consumer Protection Act (TCPA) in the U.S., which protect consumers from unwanted telemarketing calls.
Technology to Drive Outbound Call Success
Outbound call centers rely on various software technologies to drive the success of outbound calling campaigns, improve the efficiency of sales teams, increase revenue and customer experience. These technologies can include different types of automated dialers, call recording, call monitoring, AI-powered tools and speech analytics, CRM integrations, and more. Some of the most helpful outbound call center solutions are:
Call Center Dialers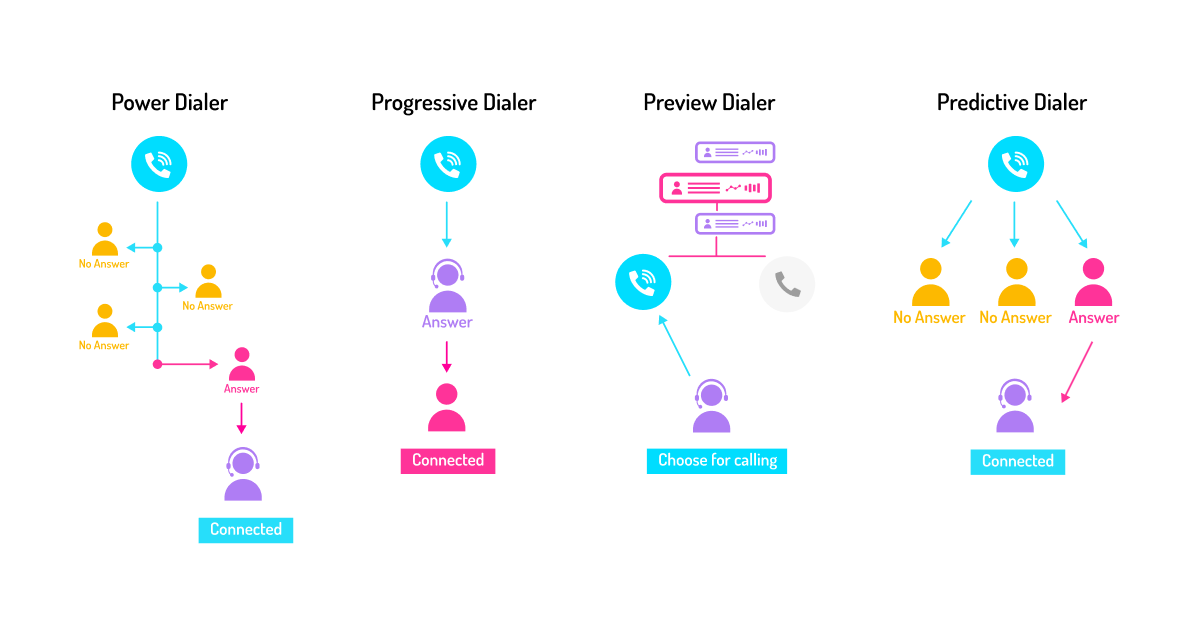 Call center dialing systems, or automated dialing systems, can be classified into preview dialing, power dialing, predictive dialing, and progressive dialing solutions. Call center dialers, also referred to as outbound dialers, can automatically call a list of phone numbers and connect the calls to available agents. That significantly improves the efficiency and productivity of agents, increases the number of calls made per hour, and reduces agent idle time.
Speech and Call Analytics
Speech recognition and analytics tools can monitor calls in real time and provide valuable call insights that can further be used to improve agent performance. E.g., with tools like an AI-based speech analyzer featured with speech transcription and keyword spotting capabilities, call center managers can instantly see where agents require additional training. It can also help prevent compliance issues, which can be costly and damaging for companies.
CRM Integrations
Integrating call center tools with a business's CRM system provides agents with a comprehensive view of all the available information about potential clients before or during the call. That enables more meaningful, contextual, and personalized conversations with leads and prospects, enhances the efficiency of outbound calling campaigns, and helps increase sales conversion rate.
Ways to Measure Outbound Call Effectiveness
Consistently measuring and analyzing outbound call center metrics and Key Performance Indicators (KPIs) is crucial to ensuring the call center operates at an optimal level. Having a full view of call center metrics and agent KPIs helps identify areas of improvement and where coaching is necessary. Some of the vital KPIs outbound call centers should be regularly tracking are:
Answer Success Rate (ASR): The percentage of successfully connected calls compared to the number of attempted ones.
Average Call Duration (ACD): The average time agents spend on phone calls with prospects or customers.
First Call Close (FCC): The number of sales an outbound agent generated on the first call with a customer.
Calls per Agent: The average number of calls made by an agent, or the number of calls per hour particularly.
Sales Conversion Rate: The percentage of outbound calls that resulted in a sale out of the total number of calls.
Cost per Call: The cost associated with each call made by agents, a metric that measures the overall efficiency of an outbound call center.
Agent Occupancy Rate: The percentage of time agents spend on calls with customers compared to their total time logged in.
Check the top 10 outbound call center metrics and how to measure them in our article.
How to Choose the Right Outbound Call Center Software for Your Business
With a variety of contact center software solutions available in the market today, selecting the right tool might be a challenge for businesses. When choosing the software for outbound calling, consider the list of features and functionalities critical for your business, such as automatic dialing, call recording, speech analytics, real-time reporting, etc.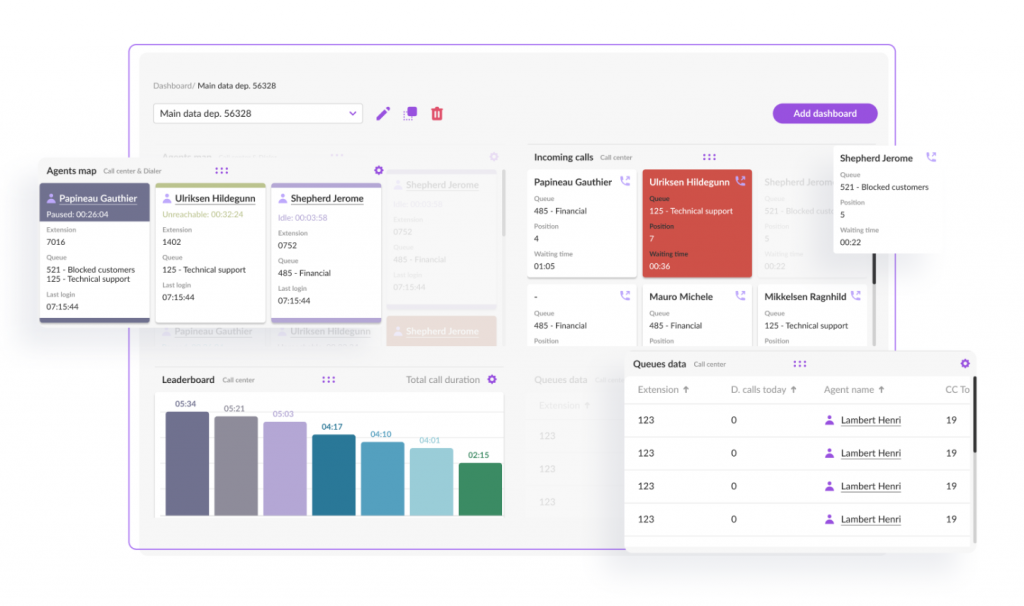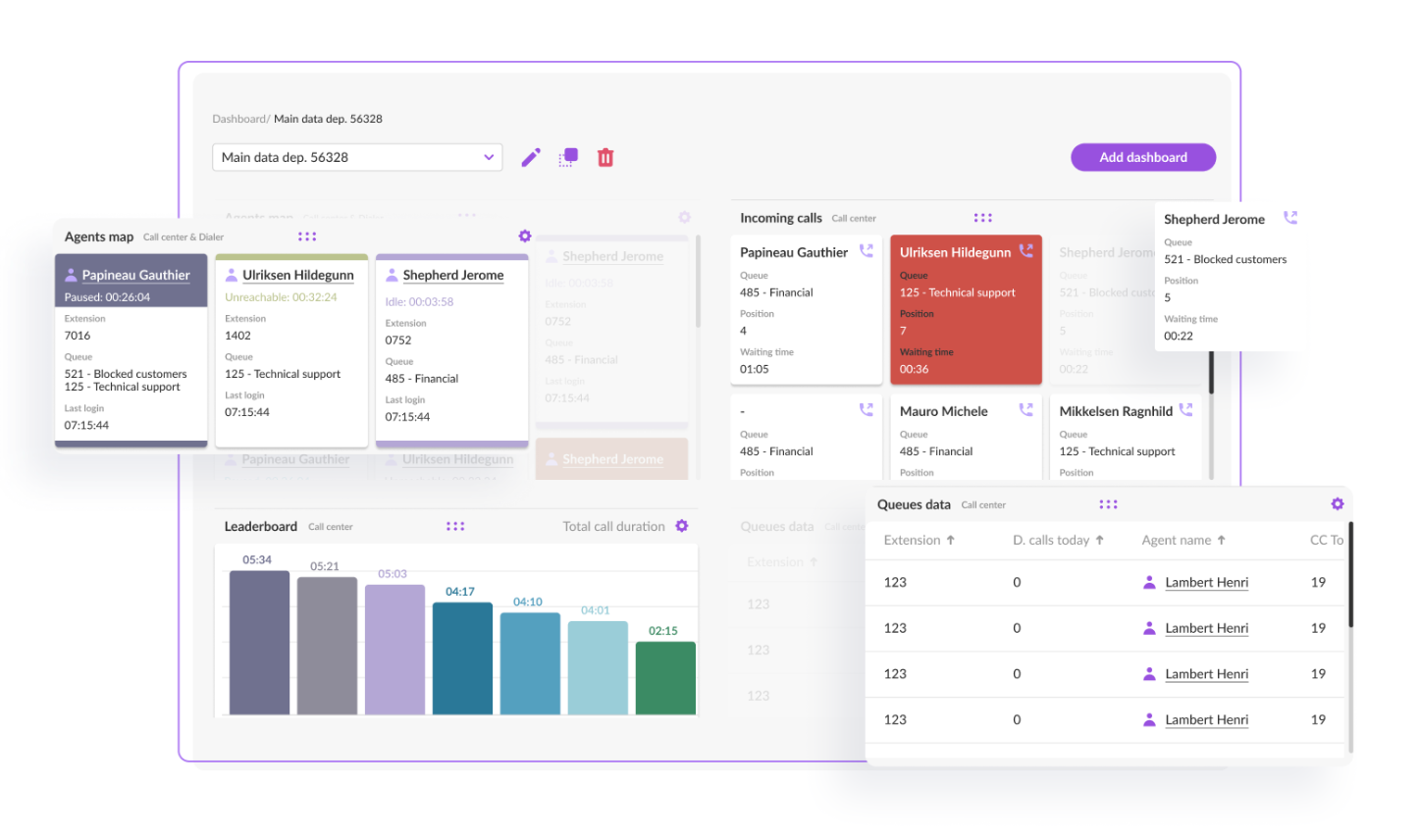 Some other key factors to pay attention to are the software's scalability, flexibility, and how it can adapt to your future business needs (e.g., if you want to increase your sales outreach over time). Having 24/7 customer support can also be a deciding factor.
FAQs
What does an outbound call mean?
Outbound calls are outgoing calls made by agents in outbound call centers. Unlike an inbound call, initiated by a customer and received by a contact center rep, an outbound call is initiated by an agent using outbound call center software. Outbound calls are often referred to as 'cold calls' even though they aren't necessarily directed towards cold leads.
How to effectively manage outbound calls?
To efficiently handle outbound calls, agents should be adequately trained and equipped with advanced contact center tools. They should also know how to find the right balance between following call scripts while keeping conversations natural. Some critical skills that can improve the efficiency of making outbound calls are active listening, strong communication skills, objection handling, persuasive speaking, and the ability to keep conversations engaging without being too salesy.
How many sales calls should an outbound call center agent handle?
The number of calls an outbound call agent can handle daily will depend on several critical factors. These are the quality of calling lists, speed of the dialer, connect rates, average talk time, calling environment, agent skills, types of products or services sold, and the complexity of the sale. As a general industry standard, a sales rep can make around 100 calls per day, but this can vary based on the industry.