A low call answer rate is a common challenge for outbound call centers. While that may occur due to several factors – lack of local presence is one of the reasons why leads aren't picking up incoming calls from unknown phone numbers.
Enabling local presence dialing when running outbound cold calling campaigns and reaching out to potential leads can help call centers overcome this challenge and increase call answer rates by up to 400%, according to research.
Looking for a contact center solution?
Powerful AI dialer, bulk SMS, and more tools for running an omnichannel contact center.
What is Local Presence Dialing?
Local presence is a feature of call center dialer software systems that allows call center agents or sales teams to dynamically use local area codes when making outbound cold calls to prospects or calling customers.
Local presence dialing has proven to significantly increase call pickup rates as people are more likely to answer phone calls from local numbers rather than toll-free numbers or long-distance numbers.
How Does Local Presence Dialing Work?
When sales reps initiate outbound calls, the local presence dialing software automatically selects a local number from the pool of numbers with a local area code. A prospect who receives the call will see a local number on their caller ID. It means that a sales team can dial both domestic and international leads from local numbers.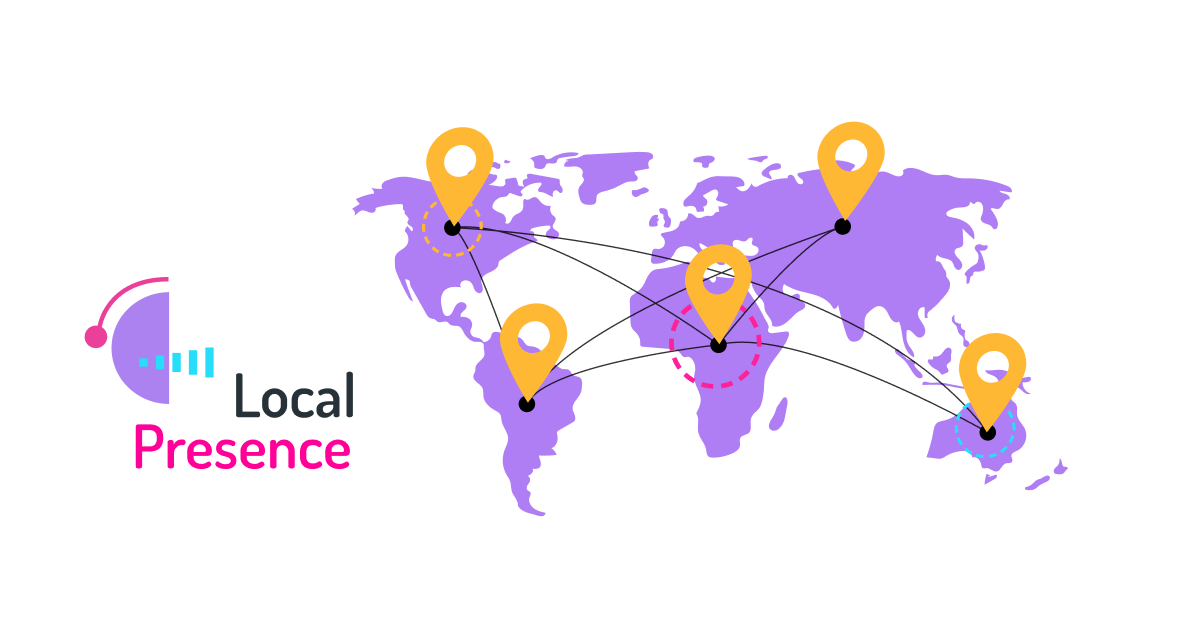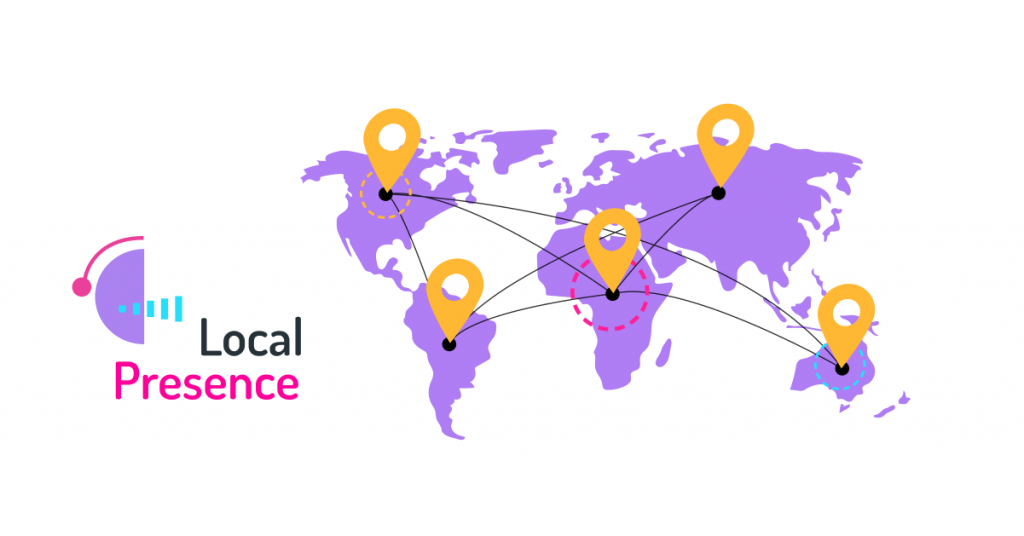 E.g., whether salespeople are dialing prospects in New York, London, or Dubai, with the local presence option enabled, prospects will always see a local number on their caller ID.
Local presence dialing also employs technology that can recognize the geolocation of a number being dialed and ensure the prospect will see the number on their caller ID that is either in the same area code or in a nearby area code.
Local presence should not be confused with number spoofing, which involves deliberately falsifying the originating phone number, name, or other information displayed in the recipient's caller ID, often aimed to mislead or deceive the recipient. Spoofed calls can appear to be coming from local numbers, well-known business names, or even from the recipient's own number, which is often used by scammers.
Why Use Local Presence Dialing?
When running outbound cold calling campaigns, the goal is to make sure more calls are being picked up by the recipients. However, most people would turn down a caller with a toll-free number or an unfamiliar caller ID, considering it an unwanted spam call.
By using local presence numbers, a sales rep appears to be physically located in the same area as the prospect being called. Thus, using local presence number results in several benefits:
Reduces the number of calls being declined or ignored;
Assists in building more trust with prospective customers;
Helps to increase call answer rates by up to 4 times;
Improves the efficiency of outbound calling campaigns;
Enhances sales team's productivity and increases sales.
Who Should Use Local Presence Dialer?
Auto dialing systems that support local presence dialer capabilities and local caller ID are mostly used by outbound call center agents that make cold sales calls. It is particularly beneficial to companies that sell products or services to consumers or businesses in multiple regions within a country or internationally, but want to establish a local presence in specific markets.
Some industries commonly using local presence dialing include telecommunications, technology, software, financial services, and healthcare. However, in general, any business with contact center operations that relies on outbound sales calls to generate leads and drive more sales can use auto dialer software empowered with the local presence feature to increase their outreach and improve the effectiveness of their outbound sales efforts.
FAQs
Can small businesses use local presence dialing?
Local presence dialing can be used by businesses of any size, including small businesses that operate in a specific geographic area or target customers in a particular region. It is an efficient and cost-effective way for small businesses to create a sense of trust with prospects, increase call pickup rates, and ultimately increase revenue.
Are there any legal restrictions to using local presence dialing?
There is a common misconception in the call center industry that using local presence dialing is illegal. While there are certain guidelines regarding the use of local presence dialing, it is generally a legal practice, since it involves using available local phone numbers. However, it is illegal to use a number that already exists, which is known as call number spoofing or caller ID spoofing.