Call whispering is a valuable feature for call center managers and supervisors that is often offered by call center software providers. Since today's consumers have become more demanding than ever and want to interact with knowledgeable and well-trained representatives who are able to handle their issues on the first call, call whispering is one of the call center features that empowers agents to deliver that quick and highly efficient support consumers have come to expect.
What is Call Whispering in a Call Center?
In a call center environment, call whispering (or call whisper) is a call-handling feature of call center solutions that provides agents with conversation-specific information either directly before an agent takes the call through automated call whisper messages or during the live interaction through manager-led in-conversation caching. Call whisper is a common feature of both inbound and outbound call center software solutions.
Looking for a contact center solution?
Powerful AI dialer, bulk SMS, and more tools for running an omnichannel contact center.
Call whispering benefits both customer service and sales teams in a contact center. During customer service calls, call center managers can participate in the conversations without the customer being aware of their presence and assist agents in handling challenging interactions, which helps streamline the call-handling process, train new agents, and improve the overall efficiency of call center operations. During sales calls, managers can guide agents in their conversations with prospects, helping to adjust the sales pitch and improve conversions.
How Does Call Whispering Work?
Call whisper messages
In call centers, a call whisper feature can refer to call whisper messages. A call whisper message is a quick announcement that is delivered to the agent before an inbound call is answered. That may either be a display text message, a pre-recorded voice message, or a text-to-speech generated verbal message that includes details about the caller, their account number, location, reason for calling, or any other relevant information retrieved from the CRM and IVR (Interactive Voice Response) inputs to provide agents with more context before handling the incoming call and help them prepare better for the conversation.
Live call whispering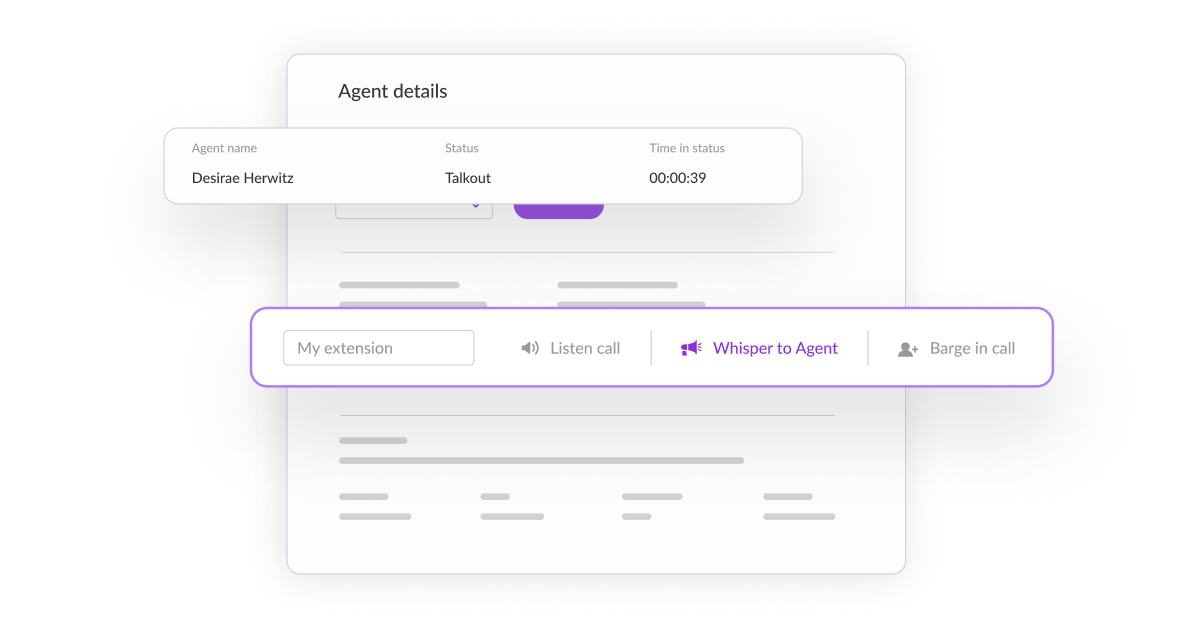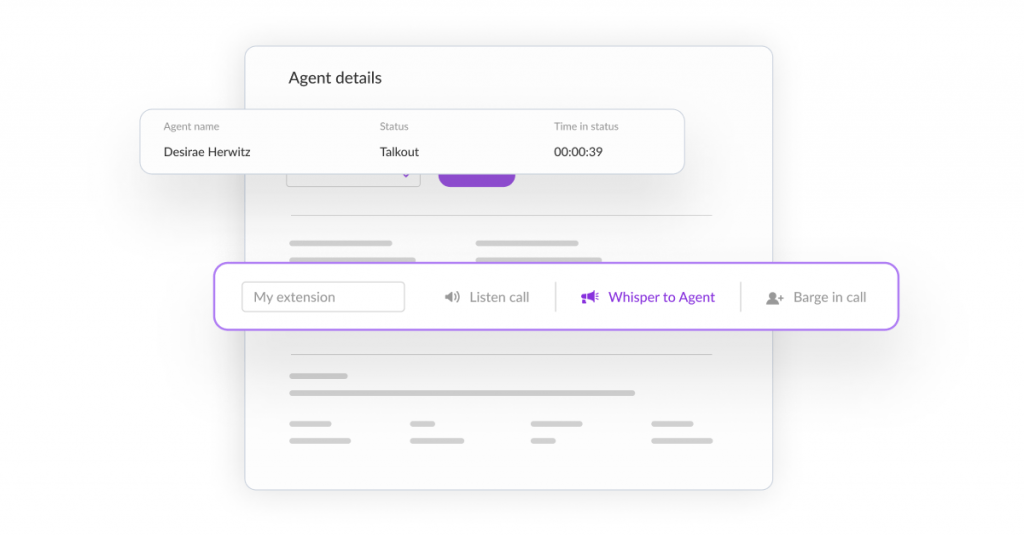 In the case of live call whispering, a manager or a supervisor would look at the list of active phone calls and select one they want to supervise. They would then listen to the ongoing agent-customer conversation through real-time call monitoring and join in the call through the live-mode call whisper function if they decide to intervene. That enables the manager to talk to an agent during the interaction and provide them with helpful tips on how to best handle the call without the customer knowing as the customer would only hear the representative's voice.
The Benefits of Using Call Whispering in Call Centers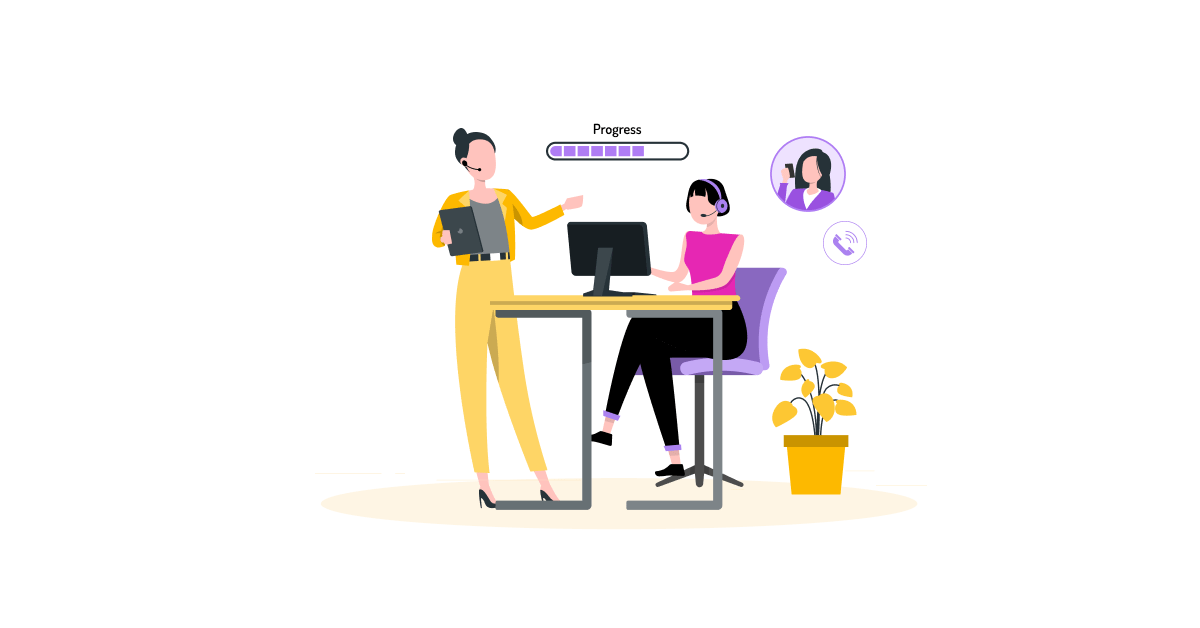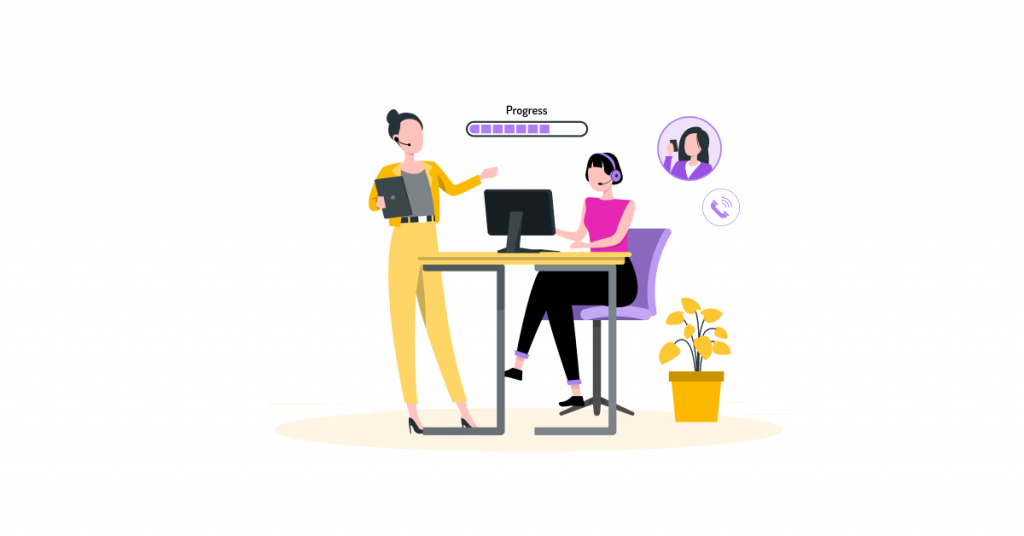 Improves call center coaching
The most straightforward and noteworthy benefit of the call whisper feature is that it improves agent training and call center coaching by enabling managers to proactively assist new call center agents who are still learning the ropes through real-time guidance right when they are on a call. Agents in the onboarding and training phase can quickly learn in a live setting and gain more confidence when dealing with challenging interactions, knowing that there is a manager on the line who can assist them when needed.
Enhances agent performance
Agents who may be struggling to handle specific issues or deal with certain types of customers or those who are still learning the ins and outs of the company's products and services can instantly benefit from call whispering, which facilitates timely advice from a manager, a supervisor, or a more experienced colleague. That helps agents improve their call-handling skills, learn how to better handle certain issues, and enhances overall agent performance.
Increases First Call Resolution (FCR)
Call whispers presented to agents prior to accepting the call arm them with more context about the caller and the reason for their call before they are connected. That ensures agents are better prepared for each call and are able to deliver a more personalized customer experience and handle issues more efficiently on the first interaction, improving the call center's First Call Resolution (FCR) rate.
Reduces the Average Handle Time (AHT)
When agents are faced with challenging interactions or complex calls, timely help from a manager through call whispering helps them speed up the issue resolution process, ensures agents don't need to put customers on hold, and thus reduces the Average Handle Time. That also helps eliminate call transfers and avoid escalating calls to upper management while also reducing the number of customer callbacks.
Boosts customer satisfaction
Since agents are better equipped to handle each call even before the call is connected through call whisper messages containing all the critical information about the caller and their history with the company, they can deliver more personalized experiences, which contributes to increasing overall customer satisfaction, helping call centers improve their Customer Satisfaction (CSAT) Scores.
Improves conversion rates
Call whisper is an equally valuable feature for outbound call centers. While providing outbound call center agents with ready-made sales scripts and training them to handle objections is essential to ensuring successful call outcomes, whether it's a booked appointment, a converted lead, or a closed deal – call whispering during outbound calls enables managers to offer timely assistance whenever an agent struggles to deliver the sales pitch effectively and ultimately helps improve conversion rates.
Disadvantages of Call Whispering and What to Avoid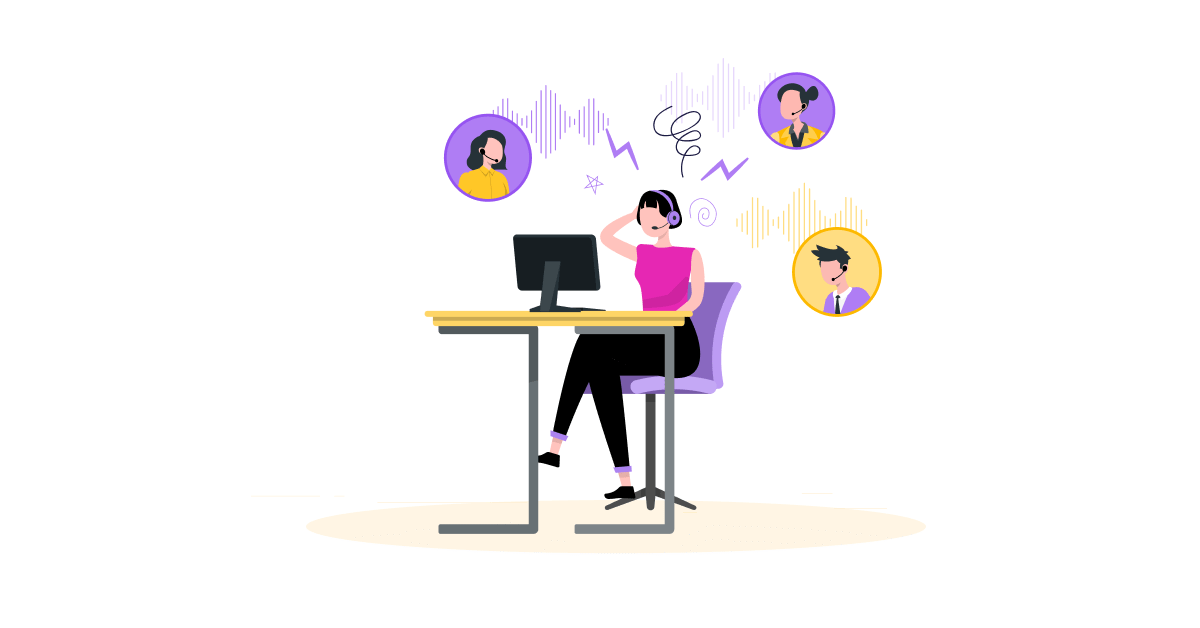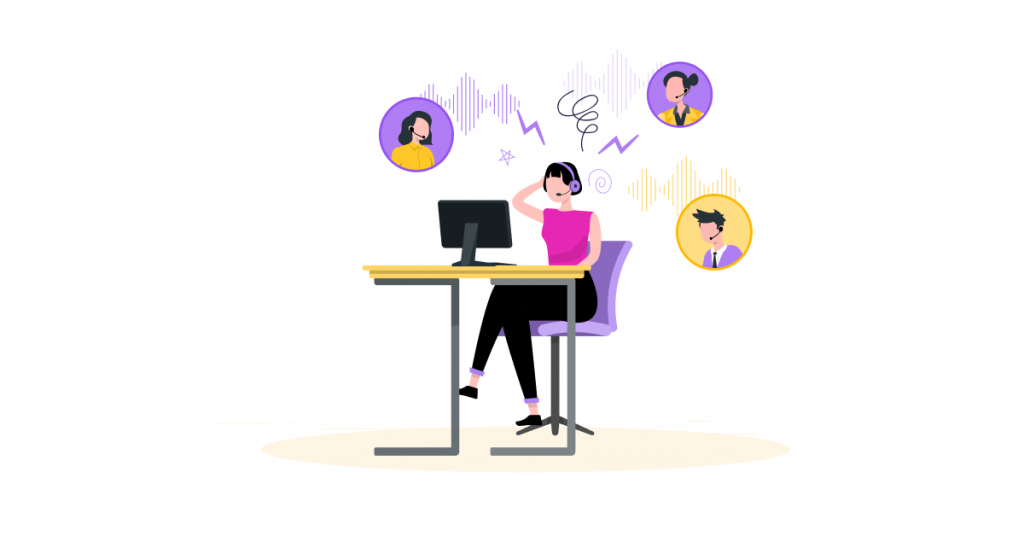 While a call whisper system provides numerous benefits, managers should be aware of the potential drawbacks of using the call whispering feature in call center operations. Since it enables managers to speak directly to agents as the conversation is happening, some agents might get distracted.
As agents aren't fully present in the conversation while listening to the manager's advice, that may also lead to a certain delay in the agent's response, which may negatively affect overall customer experience. Therefore, managers should provide only brief and concise instructions to minimize agent distractions during the call and avoid delays in their responses to the customer.
Call Whisper Vs. Call Monitoring, Call Barging, and Call Takeover
Call monitoring
Call monitoring is often a broader term that encompasses several call center features, including call listening, call whispering, call barging, call recording, and sentiment analysis. Typically, call monitoring specifically refers to the process of listening in on live calls in real time (with or without the agent's knowledge) with the purpose of evaluating the overall call quality, assessing agent performance, identifying agent knowledge gaps, and uncovering training and coaching opportunities. That may also mean analyzing call recordings after the call is completed. In the case of call whispering, on the other hand, a manager or a supervisor not only listens in but also joins an active call and guides an agent throughout the conversation.
Sentiment Analysis
Additionally, call monitoring often involves sentiment analysis. By incorporating sentiment analysis into call monitoring practices, contact centers can gauge customer sentiment throughout interactions based on Natural Language Processing (NLP), Machine Learning (ML), and computational linguistics, evaluate customer satisfaction, assess agent performance, and identify improvement opportunities. Speech analytics capabilities are often part of AI speech analytics software tools, such as VoiceSpin's AI Speech Analyzer, which allows call centers to automate the entire process of sentiment analysis monitoring, QA and compliance monitoring, and performance monitoring.
Call barging
While in call whisper only the agent hears the manager or a supervisor who has entered the active call – in the case of call barging, both the agent and the customer can hear and interact with the person who has joined the conversation, essentially turning it into a three-way conference call. To ensure call center compliance adherence, call barging should commonly be used with the consent of all parties involved, meaning that customers should be informed at the beginning of the call that a manager or a supervisor may join the call for call quality assurance or agent training purposes.
Call takeover
Unlike call barging, where both an agent and a manager are participating in the call, call takeover is a call center feature that allows managers to entirely take over the call, disconnect the agent from the conversation, and interact directly with the customer to resolve their issue. That may be the case when an agent is unable to handle the call effectively, and the customer becomes frustrated, aggressive, or abusive and demands to speak to the agent's supervisor. This way, the supervisor can take over the call and remove the pressure from the initial agent.
The Future of Call Whispering and the Impact of AI
The traditional call whispering feature of call center software solutions is likely to evolve into AI-powered whispering in the near future in response to advancements in call center technology, increased demand for call center automation, and changing customer expectations in terms of improved personalization.
Artificial Intelligence (AI) and Machine Learning (ML) algorithms integrated into call center systems are going to be increasingly utilized to analyze customer interactions in real-time and deliver automated whispering suggestions to agents based on customer's previous interactions, emotion recognition and sentiment analysis, and conversation patterns, guiding agents on how to best handle each interaction. Not only will it make agents more efficient, but it can also free up the manager's time that they would spend listening to live calls.