Call center compliance regulates call center operations and the way call centers interact with customers and handle their sensitive personal information. Failing to follow and adhere to call center compliance standards may lead to numerous negative consequences for both call centers and customers. These may range from costly financial penalties and long-term reputational damage to poor customer experiences, increased complaints, and lost customer trust. That is why mitigating compliance issues becomes a priority for today's contact centers.
What is Call Center Compliance?
Call center compliance is a set of rules, legal regulations, and guidelines that are designed to govern the operations of call centers and contact centers and help ensure they adhere to legal and ethical standards, maintain fair and transparent communication practices, and protect customer data, privacy, and sensitive information.
Looking for a contact center solution?
Powerful AI dialer, bulk SMS, and more tools for running an omnichannel contact center.
With numerous laws that require contact center compliance, it might be challenging for contact centers to stay updated on each and remain compliant, which may result in a number of compliance issues.
Actual Compliance Regulations for Call Centers in 2023
Depending on the industry and location, call center compliance regulations may significantly vary. Below are some actual and most common compliance regulations call centers must adhere to in order to remain compliant, with most of them being related to regulating outbound call center operations.
Payment Card Industry Data Security Standard (PCI DSS)
Payment Card Industry Data Security Standard (PCI DSS) is designed to protect sensitive payment card information during payment transactions and prohibits contact centers from recording and storing this information.
General Data Protection Regulation (GDPR)
General Data Protection Regulation (GDPR) applies to organizations operating within the European Union or handling personal data of EU citizens across the world. It requires contact centers to obtain consent from customers before recording calls and provide a legitimate reason for recording.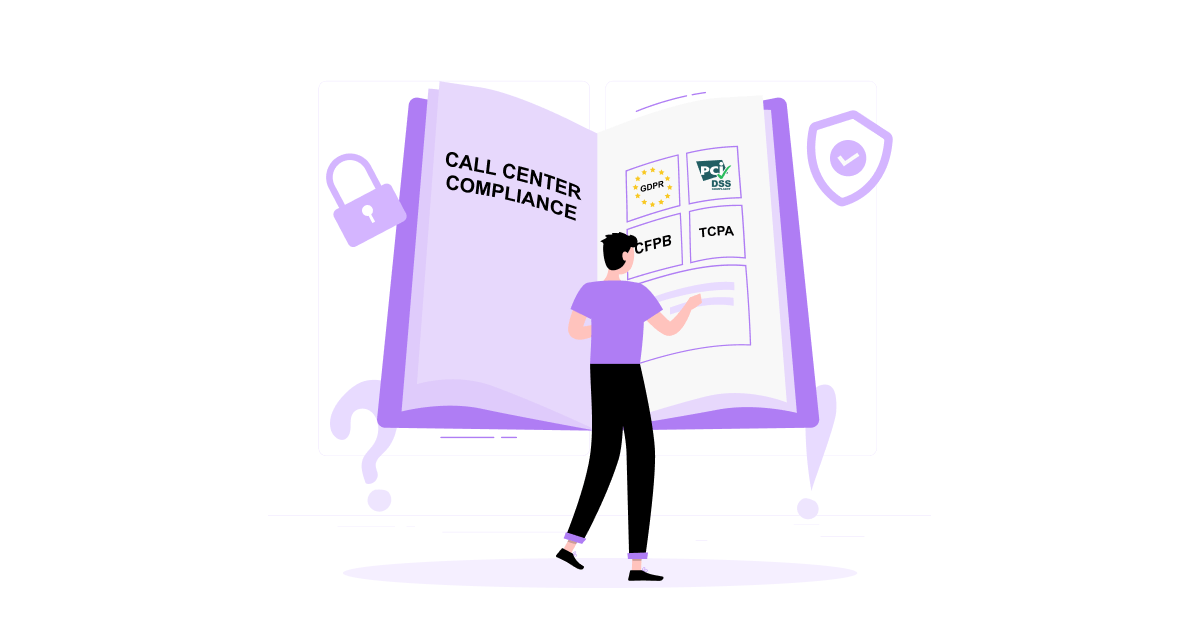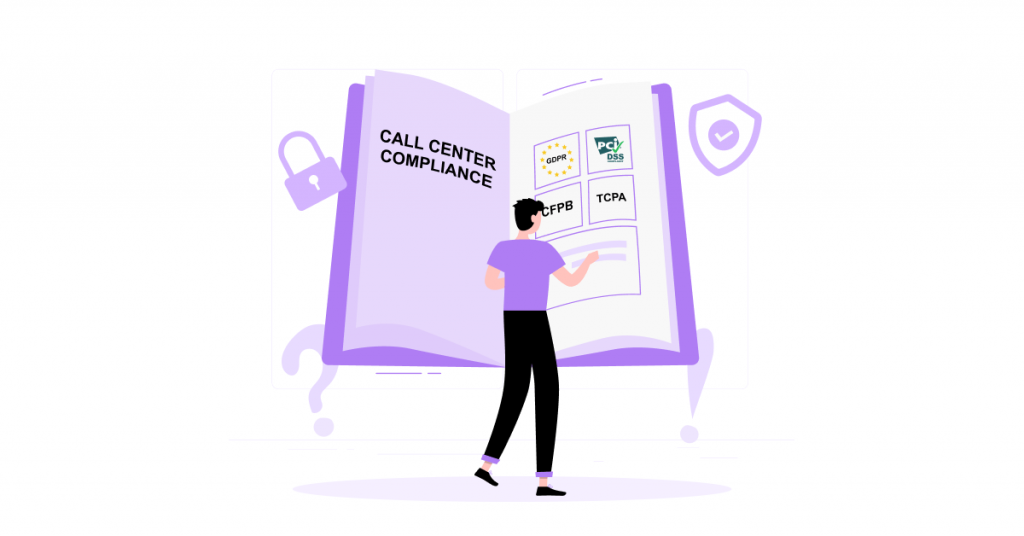 Call Recording and Monitoring Consent
In counties like the U.S., Canada, and Australia call centers are also obligated to obtain consent either from one party or both (customers and call center agents) to monitor and record calls and allow customers to opt out if they are uncomfortable with this.
Do Not Call Registry (DNC)
Do Not Call Registry (DNC) is a list of phone numbers where individuals can register to opt out of receiving unwanted telemarketing calls. Countries like the United States, Canada, India, and Singapore have their national DNC lists. Violating DNC regulations can lead to heavy fines.
The Telephone Consumer Protection Act (TCPA)
The Telephone Consumer Protection Act (TCPA) is a U.S. federal law that regulates telemarketing calls and the use of auto dialing call center systems and pre-recorded voice messages. TCPA is aimed to protect consumers from intrusive sales calls.
The Telemarketing Sales Rule (TSR)
The Telemarketing Sales Rule (TSR) regulates telemarketing activities in the U.S. to protect consumers from deceptive practices and requires telemarketers to disclose all material restrictions, conditions, or limitations to purchase, receive, or use products or services offered to consumers.
The Fair Debt Collection Practices Act (FDCPA)
The Fair Debt Collection Practices Act (FDCPA) is a U.S. federal law that regulates the actions of third-party debt collectors when collecting debts on behalf of another person or entity to ensure ethical, fair, and non-abusive practices in debt collection.
The Health Insurance Portability and Accountability Act (HIPAA)
In the U.S., call centers that handle patient information on behalf of healthcare providers and organizations are obligated to comply with the Health Insurance Portability and Accountability Act (HIPAA) that sets standards for the security and privacy of sensitive patient health information.
The Impact of Non-compliance in Contact Centers
Depending on the severity, cases of non-compliance may result in a range of negative consequences for call centers that can be damaging and long-term. Thus, call centers that fail to comply with laws and regulations may face:
Penalties, hefty fines, and legal actions
Negative publicity and reputational damage
Increased customer dissatisfaction and complaints
Loss of customer trust and decreased customer loyalty
Disruptions in call center operations
Poor employee morale and decreased employee engagement
In contrast, when call centers consistently adhere to compliance regulations and keep customer data secure and protected, it helps them build reputation, reliability, and win customer trust while delivering better experiences.
Best Practices for Ensuring Call Center Compliance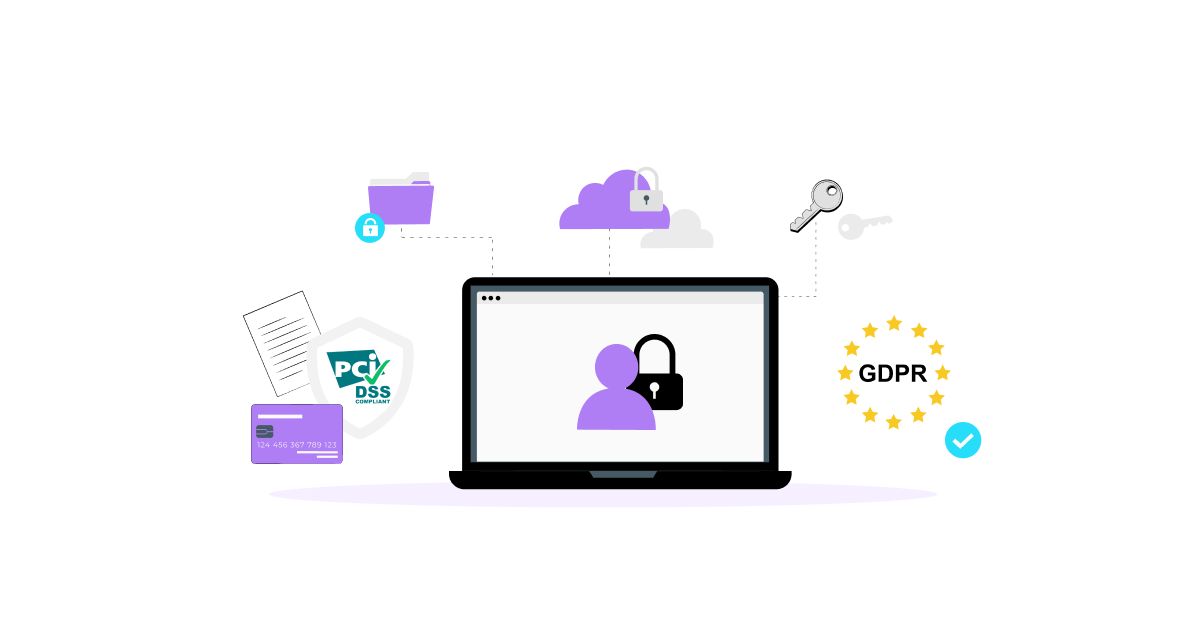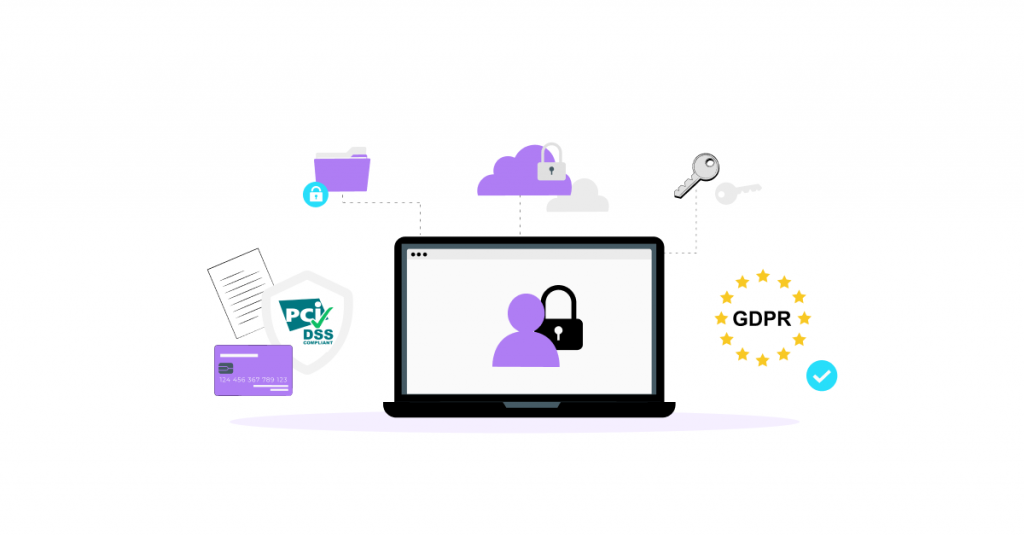 Following these best practices can help inbound and outbound call centers avoid the negative impact of non-compliance.
Developing a compliance policy
The first step to ensuring regulatory compliance in a call center is creating and enforcing a comprehensive compliance policy, making it easily accessible across the entire call center, and raising awareness among the agents by emphasizing the importance of following this policy. It should serve as the guidance for agents that clearly outlines:
The importance of maintaining compliance in a call center.
All the relevant rules, applicable laws, and regulations a call center must adhere to.
Procedures for obtaining, handling, and storing sensitive customer data.
Guidelines for recording and monitoring customer interactions.
Procedures for addressing data breaches and security accidents.
Guidelines for handling customer complaints related to compliance violations.
The consequences of violating the compliance policy, etc.
Providing ongoing agent training
The next step is providing ongoing call center compliance training and call coaching to ensure agents are well aware of the existing compliance policy and know exactly how they should handle customer interactions and gather and process sensitive customer information to ensure compliance. This also helps raise responsibility and accountability in call center agents and prevent call center compliance issues from happening in the first place. Call centers should also have dedicated team members to conduct regular compliance monitoring and call coaching to ensure the compliance policy is being consistently followed.
Utilizing call center scripts
Using call center scripts is one of the most efficient ways to maintain compliance in customer interactions, both inbound and outbound. Call center scripts are pre-written responses and guidelines that help agents navigate through customer conversations and stay compliant. While blindly following ready-made scripts in every customer interaction isn't the best practice to follow as it might make agents sound too robotic and impersonal, negatively contributing to the overall customer experience – adhering to call center scripts is essential in specific cases, such as when sales agents are making outbound calls.
Using compliant call center software
Using call center compliance software is particularly critical for outbound call centers where agents are predominantly involved in making outbound sales calls and are using auto dialer software tools. To ensure compliance with regulations, auto dialer systems must support DNC compliance to ensure the dialer does not initiate outbound calls to the numbers in the Do Not Call Registry, preventing call centers from violating DNC regulations.
Compliant call center software solutions also include a number of features to help call centers remain compliant, including call recording and real-time monitoring, call script management, robust data encryption, access controls, etc.
Leveraging AI speech analytics tools
Call center speech analytics and speech-to-text analytics tools help call centers maintain compliance by automating the entire process of monitoring customer calls. E.g., VoiceSpin's AI Speech Analyzer automatically screens 100% of your inbound and outbound calls for compliance monitoring, eliminating the need for managers and supervisors to do it manually and saving them hours of time and effort.
The system flags any instances of compliance violations, such as when sensitive information is being shared or particular risk keywords are being mentioned in the conversation and sends real-time alerts to managers. Managers can then take timely measures and eliminate the risks of compliance violations and avoid penalties associated with them, which also helps call centers save on compliance costs.
Ensuring regular compliance monitoring
Compliance is a continuous, ongoing process. As industry regulations may be subject to changes and updates, call centers should regularly and consistently monitor, keep track of any changes in compliance requirements, and adjust their policies accordingly. That helps to proactively prevent non-compliance issues, maintain customer trust, and avoid costly fines and legal penalties that may be damaging to a contact center's bottom line.