SugarCRM VoIP Integration
by VoiceSpin Contact Center
Enhance your team's productivity and leverage seamless workflow automations by integrating VoiceSpin's VoIP phone system with your SugarCRM.
Make and log outbound calls in your CRM
Set custom triggers in just a few clicks to initiate outbound phone calls to your prospects or customers. All calls will be automatically logged in your SugarCRM tool.
Add new leads to AI dialer lists
With SugarCRM dialer integration, your incoming leads can be automatically added to your specific AI auto dialer lists, so agents don't have to do it manually each time.
Send triggered SMS messages
Effortlessly send SMS messages triggered by specific events to your potential leads or existing customers. With ready-made, easily customizable templates, you can tailor your messages to enhance engagement.
What is
SugarCRM

+

VoiceSpin

Integration?
Integrating your SugarCRM with VoiceSpin means you can improve your team's efficiency and take advantage of workflow automation capabilities that take a large portion of the manual work out of your agents' daily routine.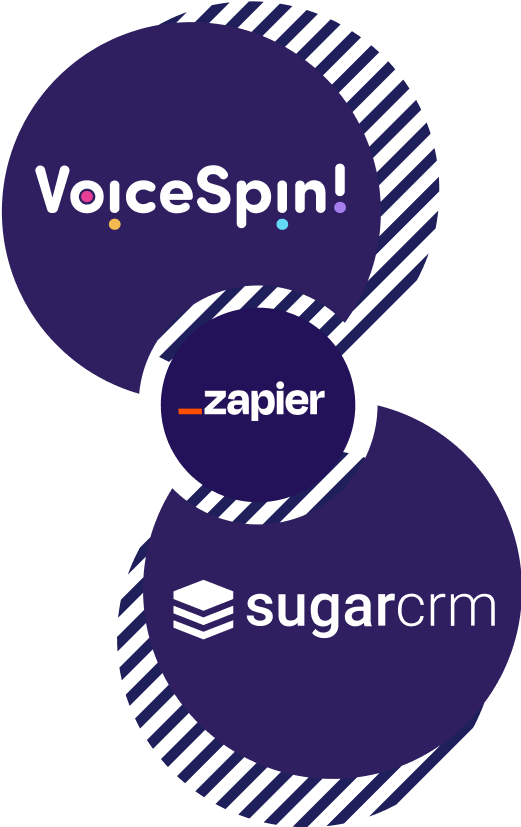 How do I integrate SugarCRM VoIP?
SugarCRM can be integrated with VoIP telephony through VoIP software providers. To integrate your SugarCRM with VoiceSpin's VoIP features, you need to create a Zapier account first, if you don't have one yet, and connect it to your VoiceSpin account. In your Zapier account, select the actions you would like to integrate between SugarCRM and VoiceSpin that would best fit your team's workflow. Contact our support team at support@voicespin.com is you need any assistance. 
What are the benefits of VoIP SugarCRM integration?
By integrating your SugarCRM with VoiceSpin's VoIP call center software, you can take advantage of automated call logging and trigger-based SMS messaging, giving your agents additional tools to automate their workflows and improve efficiency.
How much does the integration with SugarCRM cost?
The VoiceSpin's SugarCRM integration comes at no additional charge for VoiceSpin's clients. If you aren't using VoiceSpin's contact center software solution yet, feel free to get in touch with our sales team and book a 30-minute demo session to learn more about how it can help your business support customers better, engage with more leads, and improve your outbound sales.