It's no secret that today's consumers want to interact with brands they are dealing with through their preferred channels and expect a seamless customer experience across all of them. This is why omnichannel contact centers have been recognized by businesses as the future of customer support.
In fact, according to Aberdeen Group, companies with strong omnichannel customer engagement strategies have an average customer retention rate of 91% compared to 33% for companies with weak omnichannel strategies.
Looking for a contact center solution?
Powerful AI dialer, bulk SMS, and more tools for running an omnichannel contact center.
In this comprehensive guide, we'll dive deep into everything you need to know about omnichannel contact centers, including their benefits, differences between multichannel and omnichannel, must-have features, best practices, and more.
What is an Omnichannel Contact Center?
An omnichannel contact center integrates multiple communication channels, including voice and digital channels, into a single unified platform to provide customers with a consistent, frictionless customer service experience.
Omnichannel contact center solutions may offer customer support across various channels (though not necessarily all of them), such as:
Phone and video
Email support
Live website chat
SMS text messaging
Social media (Facebook, Twitter, Instagram, etc.)
Instant messengers (WhatsApp, WeChat, etc.)
Self-service channels (chatbots, FAQs, Knowledge Bases)
In a fully-integrated omnichannel cloud contact center, a customer may reach out to a business through one channel – and the conversation can be seamlessly continued in another channel without losing the context of the previous interaction.
For example, a customer starts a conversation through WhatsApp, then switches to phone support and gets a flawless support experience without having to repeat their question or re-explain an issue to a new customer service agent.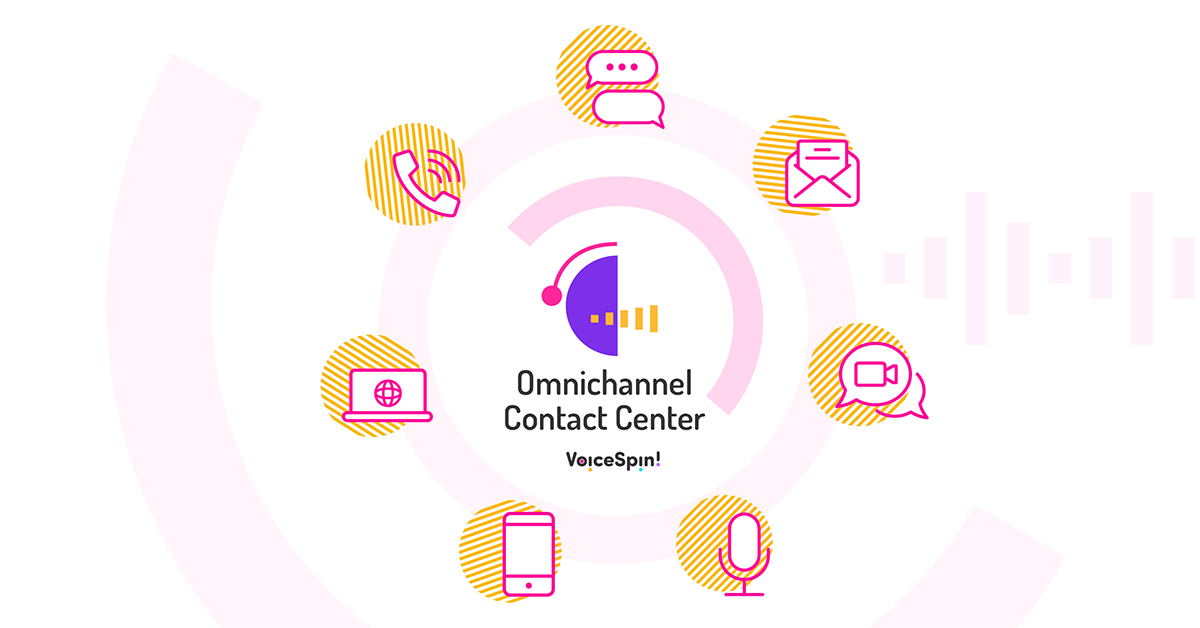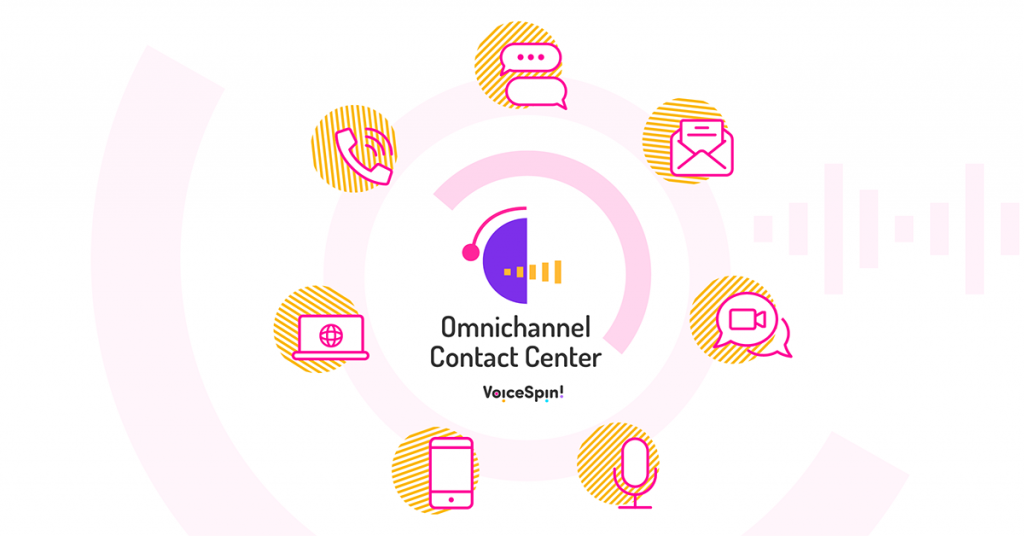 Who Needs Omnichannel Contact Centers?
Since modern consumers are typically hyper-connected and got used to using multiple channels to interact with brands, omnichannel contact centers are becoming the norm for businesses.
Research from McKinsey shows that more than half of customers engage with three to five channels during each journey they take toward making a purchase or resolving a request.
Overall, any business, big or small, that wants to support customers through different channels and deliver a seamless customer experience across all of them can benefit from using an omnichannel contact center solution.
Some particular examples of industries where omnichannel contact centers are essential to include, but are not limited to:
E-commerce businesses
Retail businesses
Travel and hospitality businesses
Healthcare organizations
Banks and financial service providers
Insurance companies
Telecommunication providers, etc.
What is the Difference Between a Multichannel and Omnichannel Contact Center?
Despite the fact that omnichannel contact centers have been around for a while now, multichannel and omnichannel contact centers are still often considered the same.
However, even though both involve managing multiple communication channels, the key difference between them is how these channels are managed and how that translates into the customer experience.
In a nutshell, a multichannel contact center may offer several communication channels to customers, but these channels are handled separately, which makes it hard for businesses to deliver a consistent CX.
An omnichannel contact center centralizes all communication and customer data in a single platform, enabling agents to provide a unified experience even if customers are jumping from channel to channel.
| | Multi Channel | Omni Channel |
| --- | --- | --- |
| Channels | Support multiple communication channels. | Support multiple communication channels that are unified. |
| Integration | Each channel runs separately, in isolation from the rest, often with different teams managing each channel. | All communication channels are integrated and managed centrally by a single customer support team. |
| Software | Each channel might be managed with different software. | All channels are managed with a single omnichannel software. |
| Customer data | Customer data is siloed by channel with no unified view of the customer and their journey. | Customer data is centralized and synced across channels, giving agents a full view of the customer and their journey. |
| Customer experience | When switching between channels, customers may have to repeat themselves to resolve an issue. | When switching between channels, customers get a consistent CX since agents have access to the history of previous interactions. |
Top Benefits of Omnichannel Contact Center
Now that you clearly understand how omnichannel contact centers are different from multichannel ones, let's explore some of the specific benefits of using an omnichannel contact center software platform to manage your customer interactions and how it can make things easier and, without doubt, more convenient for both customers and contact center agents.
Let's take a look at the top 5 benefits you can get from omnichannel contact center platforms:
Faster issue resolution time
More personalized experience
Increased customer satisfaction
Enhanced agent efficiency
Improved reporting and analytics
1. Faster issue resolution time
Accenture revealed that 89% of customers get frustrated because they have to repeat their issues to several agents before getting their issues solved. With an omnichannel solution in place, agents always have the context of previous interactions and don't need to ask customers repetitive questions, while customers don't have to tell the whole story over again if they switch channels. That means issues get resolved faster, saving agents and customers time and effort.
2. More personalized experience
A survey by Microsoft found that more than 75% of consumers expect customer service representatives to have visibility into previous interactions and purchases. Since omnichannel systems collect and sync data across channels in real time, agents always have a 360-degree customer view of the entire customer journey. That enables agents to deliver more personalized support and provide tailored recommendations and offers to customers.
3. Increased customer satisfaction
According to Salesforce, 85% of customers expect consistent interactions across departments, yet 60% say it generally feels like they're communicating with separate departments, not one company. Omnichannel contact centers solve that challenge, allowing agents to deliver a consistent CX, whether customers reach out to your service, sales, or marketing teams. That ultimately increases customer satisfaction and improves customer experience.
4. Enhanced agent efficiency
An omnichannel strategy isn't only beneficial to customers, but it also adds value to agents. Omnichannel solutions automate routine tasks (such as routing inquiries to appropriate agents) and reduce the need for agents to switch between different tools and platforms and look up relevant customer information. That saves a great deal of time and improves agent efficiency and productivity.
5. Improved reporting and analytics
With a multichannel solution, each communication channel may have its own metrics and KPIs, which makes it difficult to get an overall picture of the contact center's performance. In the case of omnichannel solutions, all metrics and KPIs are standardized and tracked across all supported channels, giving managers deeper insights and a more comprehensive view of the overall call center performance – all from a single place.
Must-Have Features of an Omnichannel Contact Center
Omnichannel cloud contact center software solutions may offer various features and functionalities, and the choice of an ideal contact center solution for your team will depend on the specific needs and requirements of your business.
In particular, it depends on whether you are looking for primarily inbound or also outbound capabilities and what channels your customers actually prefer using to interact with your brand. Below are some of the most critical features of omnichannel cloud contact center solutions:
Channel integration
Omnichannel routing
Advanced reporting and analytics
Built-in AI capabilities
Third-party integrations
24/7 customer support
Channel integration
An omnichannel contact center software solution should have the ability to integrate multiple communication channels into a single platform. That ensures your agents can support your customers across various channels, manage all interactions from a single interface with no need to switch between the systems, and provide a consistent service across all channels.
Omnichannel routing
Just like call routing in inbound call centers, omnichannel routing ensures that customer inquiries are automatically routed to the most relevant agent or department based on the customer's preferences, previous communication history, current context, and agent skills. That ensures customer requests are routed to the most appropriate reps who are best equipped to handle their inquiry.
Advanced reporting and analytics
Advanced reporting and analytics is an essential feature of omnichannel contact center tools. The software should enable managers to track the key contact center metrics and KPIs across all communication channels, giving them a complete view of what is happening, how channels are performing, what needs to be improved, and where agents might need additional training and coaching.
Built-in AI capabilities
Today's omnichannel cloud contact centers can incorporate various Artificial Intelligence capabilities to improve operational efficiency and enhance CX. That could include, for example, predictive analytics, speech analytics and voice recognition to transcribe customer calls and enable real-time speech-to-text translation, NLP and sentiment analysis, AI-powered chatbots, and more.
Third-party integrations
Obviously, a robust contact center solution should seamlessly integrate with popular CRM systems and other critical third-party apps your business is already using. That can enable lots of time-saving automations that minimize manual data entry for agents and maximize agent productivity.
24/7 customer support
If you are running an omnichannel contact center, and especially if your business operates globally, your customers are probably expecting round-the-clock support. That's why it's important that you can also get 24/7 support from your contact center provider, whenever you have questions or issues with the service.
How To Set up an Omnichannel Contact Center
1. Determine your preferred channels
When setting up an omnichannel contact center, you should first think of what communication channels you'd like to integrate based on your customer journey. Though the idea behind omnichannel as a customer service function is to unify multiple support channels, your target customer base would prefer some channels over others, so you don't necessarily need to integrate all of them.
2. Choose your contact center software provider
While there are numerous omnichannel contact center software providers out there, selecting one that would be the best fit for your business might be challenging. Research your options by evaluating the set of features, available integrations, software security, reliability, flexibility, and scalability (whether you'll be able to integrate more channels in the future).
3. Set up the software and train your agents
Once you've selected your contact center software provider, set up the tool, integrate your CRM system, and connect your communication channels. It's also essential to train your customer service agents to manage the system in the most optimal way to ensure they can easily navigate the tool, locate the necessary information, and deliver excellent experiences to your customers.
Omnichannel Contact Center Best Practices
Deliver a consistent cross-channel experience: Make sure customers have a consistent experience even if they switch between multiple channels, so they don't have to repeat themselves to different agents.
Leverage customer data for personalization: Use the available customer data and the history of previous interactions to personalize the experience and tailor future communications based on customer preferences and behaviors.
Optimize your internal knowledge base: Build a comprehensive internal knowledge base for your agents, ensuring they can always refer to it and get the most accurate answers and up-to-date information.
Regularly collect feedback and act on it: Gather feedback and insights from your customers and agents on a regular basis to understand where your omnichannel strategy needs improvements and adjustments.
Consistently monitor key metrics and KPIs: Keep track of the most critical contact center metrics and KPIs across all channels to be always in the know about how your contact center is performing.
The Future of Omnichannel Contact Centers
Numerous researches have proven the rapid global growth of the contact center software market, and the trend doesn't seem to stop in the near future. Research by Fortune Business Insights found that the global contact center software market size is projected to grow from $30.74 billion in 2022 to $78.75 billion in 2029, at a CAGR of 14.4% in the forecast period.
According to the research, that growth is largely driven by the increased implementation of omnichannel contact center solutions as businesses are seeking ways to provide enhanced customer experiences, ensure customer satisfaction, and retain customers in a highly competitive environment.
Paired with the increasing consumers' demand for a seamless, uninterrupted experience no matter what channels they use throughout their journey when interacting with brands, the adoption of omnichannel contact center software solutions will definitely proceed at an accelerated pace.
Embrace an Omnichannel Strategy to Get a Competitive Edge
Whatever industry your business operates in, your customers would most probably appreciate the ability to interact with you through multiple channels, including text messaging, which is currently on the rise.
That's why we've built VoiceSpin Messaging, an omnichannel business messaging platform that is part of VoiceSpin's VoIP contact center solution. In addition to managing inbound and outbound phone calls, you can now use VoiceSpin Messaging to engage and support your customers across email, WhatsApp, Facebook Messenger, and other popular instant messaging apps and social media channels.
Reach out to our sales team today and book a personal demo to learn more about how you can enhance your omnichannel strategy with VoiceSpin Messaging, an all-in-one omnichannel communication solution, and manage all your messaging channels from a single, unified inbox with every piece of communication stored in your CRM.