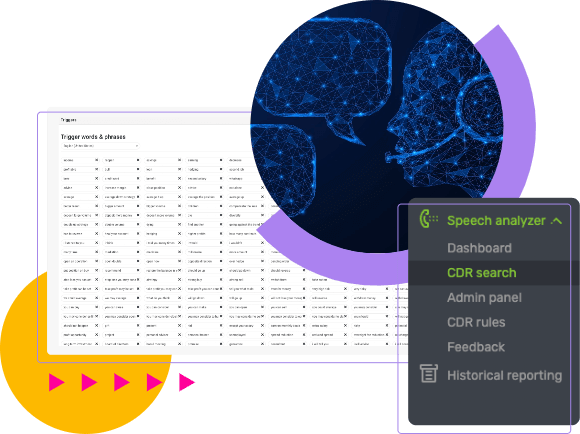 Improve your contact center customer experience while increasing sales and reducing costs with VoiceSpin's AI-based speech analytics software. Take your agents' performance to the next level with conversational intelligence.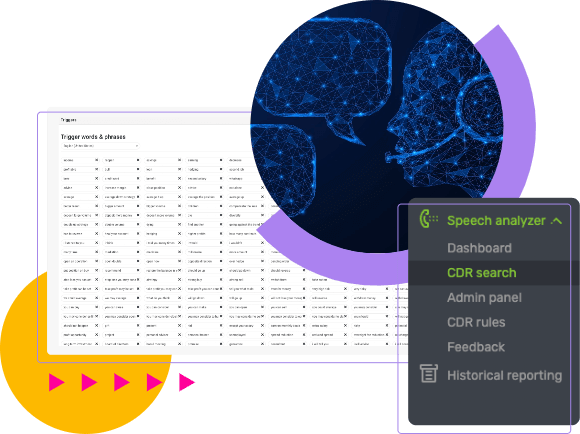 Fast and Easy Integration With Your CRM
Uncover Efficiency Opportunities
Artificial intelligence, machine learning, and deep learning technologies combined in our AI-powered Speech Analyzer provide contact centers with many benefits:
Save hours and hours on QA with more accurate results
Clear direction to supercharge your agent coaching
Save on compliance and QA costs with automation

Connecting With the Leads

Minutes Training and Deployment
Languages for Transcription and Translation
Keyword Spotting Saves Hours of Manual Effort
Decide when you want to enable speech-to-text transcription and whether to transcribe only the agent's speech or the customer's too.
Customize reporting according to your needs – from specifying the words to be reported to the frequency of sharing reports.
The resulting speech analysis helps spot your team's weaknesses and identify agents that require additional training. And what's more, AI and machine learning improve the analyzer's judgment over time.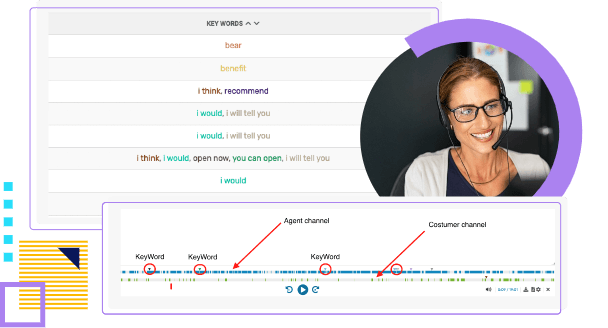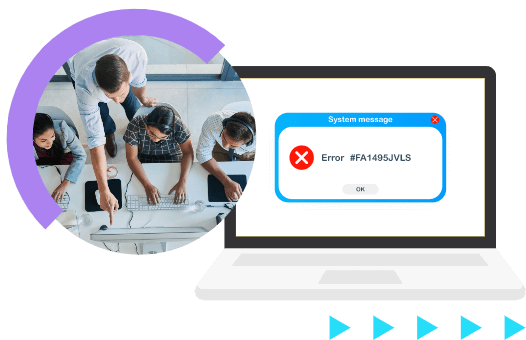 Stay Compliant without
the Hassle
Companies spend millions of dollars each year on resolving non-compliance issues. A proper speech analytics tool will prevent those issues with real-time warnings through stop lists, whispering functions, and manager alerts.
VoiceSpin's speech analytics solution will even be able to locate phone calls where specific phrases are omitted altogether.
Speech Analyzer continues to learn and improve through AI and machine learning to become even more efficient at flagging keywords and omissions.
Multi-Layer Reporting and Advanced Analytics
Automated reporting makes your data easily readable and actionable. Hundreds of hours of customer calls are shown in a chart, giving you hundreds of hours to focus on sales.
Managers can create personalized views and panels while setting smart rules for notifications at the frequency of their choice.
The customer data is always available in the system whenever you need to dive in deep and get to the bottom of the numbers.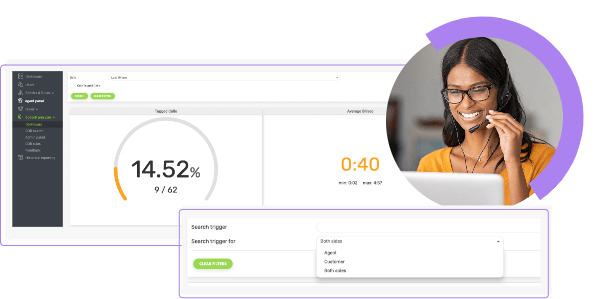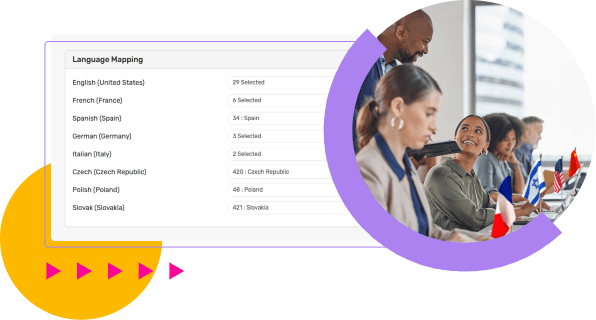 Automatic Translation for
120 Languages and Dialects
One manager for multiple language desks can enjoy easy translations of transcriptions and see all conversations in a single language.
Highly accurate automated transcriptions are seamlessly synchronized with the translation software, and both languages are stored in the CRM contact record and can be easily accessed by managers and agents.
Give your managers all the tools they need to coach agents at as many desks as needed.
Sentiment Analysis
Compliance
Monitoring
Predictive
Compliance Issues
Performance
Monitoring
Fraud
Detection
Multi-Layer
Reporting
API
Integration
Keyword
spotting
QA Monitoring
Dialect
Recognition
CDR Search
Flexible Rules
Reporting
Dashboard
Automated Alerts
Foul Language
Detection
CRM Integration
Automatic
Transcription
Automatic
Translation to 120+
Languages
Post Call Analytics
Enable Conversational
Intelligence
Call center speech analytics software enables you to connect with prospects and returning customers and improve customer satisfaction at a much deeper level through a collaborative effort from all your business components.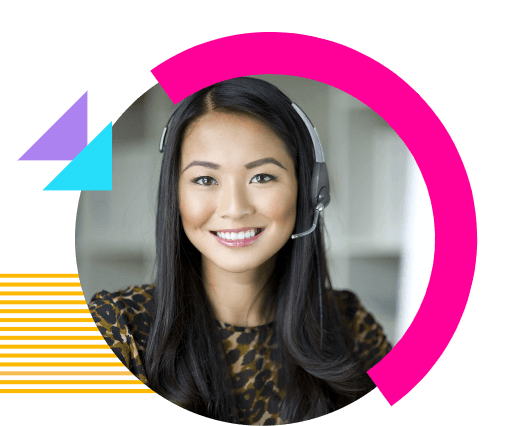 What is speech analytics software?
Speech analytics software, often referred to as voice analytics software, is used to process and analyze human speech to uncover valuable insights. That may include identifying keywords and detecting certain types of language patterns. Speech analytics tools typically use voice recognition, natural language processing (NLP) algorithms, and other AI-based services that allow transcribing speech to text and analyzing spoken conversations.
What is speech analytics in a call center?
Speech analytics solutions are widely used in today's call centers. Speech analytics and speech recognition tools are often part of advanced call center software solutions. They allow analyzing spoken language in customer interactions for various purposes, such as identifying areas for improvement in customer service, agent coaching, tracking sales trends, detecting potential fraud and compliance violations, etc.
What are speech analytics use cases?
In a contact center or call center environment, speech analytics can be used for specific purposes, such as call quality assurance, agent performance monitoring, call center optimization, generating more sales, etc. For example, by analyzing customer-agent conversations, managers can easier identify where agents need additional training to deliver a better customer experience. Speech analytics tools can also help prevent compliance issues, which may result in severe penalties if overlooked.
What is speech to text analytics?
Speech to text analytics, also known as speech recognition, transcribes spoken language into written texts using machine learning and natural language processing technologies. It can also convert the speech in one language into the written script in another language in real-time, which can be particularly helpful when managing a multilingual contact center.
What are the benefits of using speech analytics software in call centers?
Using call center software that includes speech analytics capabilities, like VoiceSpin's AI-based speech analyzer, can give your call center a competitive edge. That enables you to deliver a better customer service experience while boosting your agent performance. You can also save on compliance costs and improve your overall call center's efficiency and productivity.
Compliance was an expense I thought we'd just have to live with forever but when we realized there are solutions to streamline our Quality Assurance process, even since GDPR came into play, I was delighted. We've decreased compliance-related costs by around 30%!
Pizza Hut Israel
Lots of companies claim their support teams are fantastic, but we've been truly impressed by VoiceSpin's support services. Always responsive and quick, usually with a simple solution and I can reach them at any time. Downtime is a thing of the past for us.
Lead Capital Markets
Implementing the AI Dialer has been a game changer for us, we've been able to reduce staff costs and increase sales by approx 35% over the past 12 months. Our call center staff are talking to better leads and generally wasting less time.
MemoGlobal