Keap Contact Center Integration By VoiceSpin
VoiceSpin's Keap integration (formerly known as Infusionsoft) allows you to enrich your Keap CRM with call center capabilities and additional workflow automations, making it an even more powerful sales platform.
Create Automated Workflows for Your Sales Team
VoiceSpin's call center integration with Keap by Infusionsoft is an excellent way to instantly power up your sales team and boost their performance by pushing data between the platforms through Zapier.
Send triggered SMS messages internationally
Keap by Infusionsoft SMS integration with VoiceSpin allows you to send SMS messages, SMS reminders, and notifications to your leads and customers internationally via VoiceSpin's VoIP telephony, no matter where they are located.
Sync new leads with your AI auto dialer lists
With VoiceSpin's AI dialer integration, newly created leads in your Keap CRM will be automatically added to specific AI dialer lists in your VoiceSpin account, with no need to waste time adding them manually.
Call your leads and customers to close more deals
Leverage VoiceSpin's VoIP telephony and call recording software to expand your outreach efforts. Set specific actions, such as when a new contact is created or updated in your Keap CRM, to initiate outbound sales calls and close more deals.
What is
Keap

+

VoiceSpin

Integration?
Integrate your Keap account with VoiceSpin's telephony through Zapier in just minutes, with no coding required. Set up custom actions and triggers to push data between the systems and create seamless workflow automations to enhance your sales team's efficiency.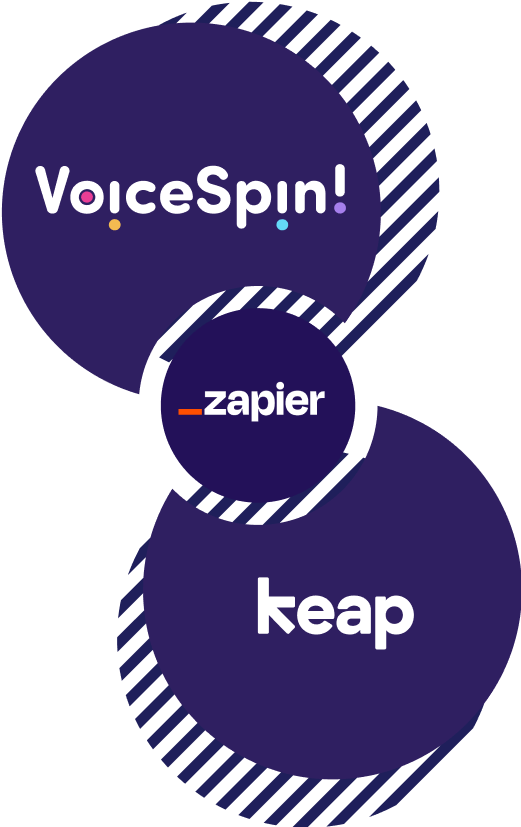 What is the difference between Infusionsoft and Keap?
Keap is a CRM and sales and marketing automation platform formerly known as Infusionsoft until 2019 when the company officially changed its name. Since then, Infusionsoft has been renamed to Keap Max Classic.
Keap is more than just a CRM platform – it combines email marketing and text marketing automation, sales pipeline management, lead management, invoicing and payment processing, and much more in a single platform. In addition, affordable pricing makes it a great tool for SMBs with limited budgets.
What is Keap Max Classic integration with VoiceSpin?
By integrating Keap Max Classic with VoiceSpin's telephony through Zapier, you can add some extra functionality to your Keap Max Classic platform and set up helpful workflow automations. Once you connect the two systems through Zapier and create your first Zap, you can enjoy the integration.
Does Keap by Infusionsoft have an auto dialer?
Though there is no built-in Keap auto dialer, the platform can be integrated with various third-party VoIP providers to enable auto-dialing functionality.
Does Keap by Infusionsoft have SMS?
Keap has its own SMS capabilities that allow businesses to send automated text messages to their leads and customers as part of their sales and marketing campaigns, however, it's currently only available in the U.S.
How to send automated SMS in Infusionsoft?
To use automated SMS in Infusionsoft (Keap), you can either use its built-in text messaging options or integrate it with third-party VoIP providers such as VoiceSpin's VoIP call center solution to enable international SMS messaging.
How much does Keap by Infusionsoft integration with VoiceSpin cost?
The VoiceSpin's integration with Keap does not require additional costs for VoiceSpin's customers. If you aren't yet leveraging VoiceSpin's contact center solutions, feel free to reach out to our sales team by scheduling a 30-minute demo session – and one of our sales reps will help you discover how VoiceSpin's advanced call center software features can maximize your sales team's potential.