Due to increased flexibility, scalability, and cost-efficiency, cloud-based contact center solutions are becoming increasingly popular among businesses and organizations across various industries. As an alternative to on-premises contact center solutions, CCaaS tools help streamline customer communications and enable businesses to deliver omnichannel customer service experiences while lowering overall contact center operational costs.
What is Contact Center as a Service (CCaaS)?
Contact Center as a Service, also known as CCaaS, is a cloud-based contact center software platform that is entirely hosted and maintained in the cloud. CCaaS solutions typically unify multiple communication channels, including voice and digital channels like email, SMS, live chat, social media, and Instant Messaging apps, into a single platform, empowering businesses to handle customer interactions across all touchpoints and deliver omnichannel customer experience. Similarly to other SaaS applications, Contact Center as a Service is provided on a monthly or annual subscription basis.
Cloud-Based vs. On-Premises Contact Centers
Traditionally deployed on-premises contact centers require physical in-house infrastructure that needs significant upfront investment into hardware, software license, and ongoing maintenance. Though on-premises contact centers offer specific advantages, such as complete data control and security, these solutions are generally more costly, less flexible, and more difficult to scale up or down.
As an alternative to on-premises deployment, many businesses have opted for hosted contact center solutions or entirely cloud-based platforms that offer faster setup, greater flexibility and scalability, and cost savings, making them preferred solutions for SMBs and mid-sized businesses.
Cloud contact centers don't require upfront investments as all the infrastructure (including data centers and hardware) is owned, managed, and upgraded by a cloud contact center software provider. By implementing CCaaS solutions, businesses can use contact centers on a pay-as-you-go basis, paying only for the features and capabilities they need and scaling up or down instantly based on demand.
Contact Center vs. Call Center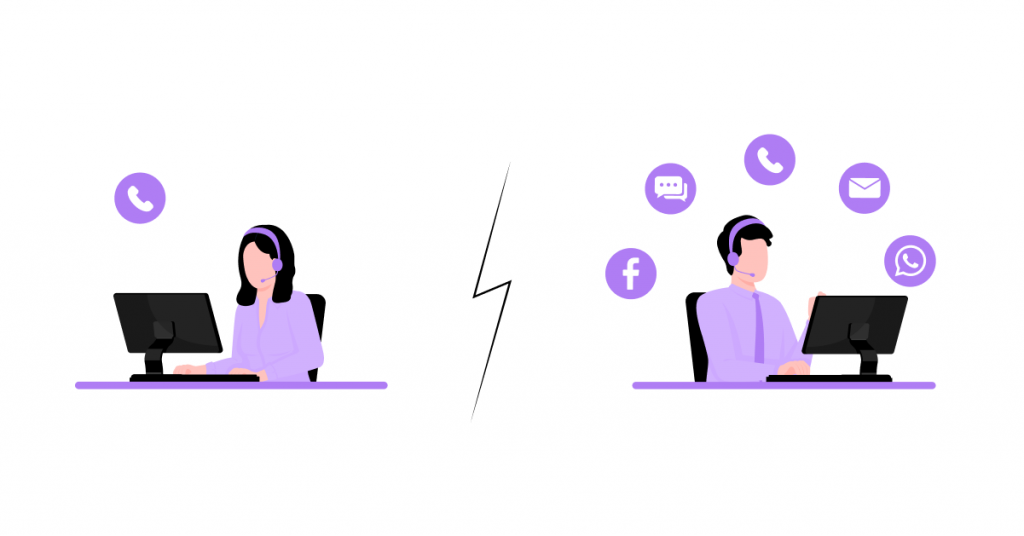 While the terms contact center and call center are often used interchangeably, these communication solutions have district differences.
Call centers handle only voice interactions over the phone, enabling businesses to manage inbound calls and make outbound calls. Call center software solutions may offer inbound call management features that allow handling inbound call volumes effectively and routing incoming calls to the most relevant agents. These are mostly used by customer service teams. Call center software may also provide outbound calling capabilities, enabling agents to make hundreds of outbound calls through auto dialing tools. These solutions are ideal for sales-oriented teams.
The increased adoption of digital communication channels and changing consumer preferences have caused traditional call centers to evolve into contact centers. With contact center software, businesses can handle customer interactions across multiple communication channels (phone, email, chat, social media, etc.), giving their customers more communication options and enabling them to interact with businesses through the channel of their choice.
CCaaS vs. UCaaS Solutions
While CCaaS and UCaaS (stands for Unified Communications as a Service) both employ similar technologies and serve the purpose of improving business communications, their use cases are different. CCaaS is built to support external communication and keep customers connected to a business's support team. UCaaS, on the other hand, is focused on supporting internal communication and keeping team members connected within an organization.
Contact Center as a Service (CCaaS)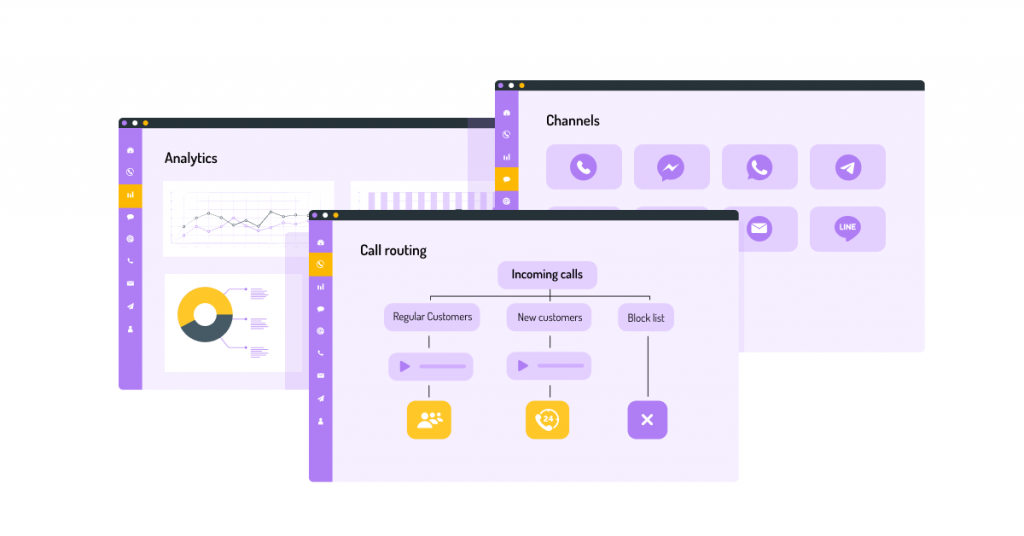 Contact Center as a Service (CCaaS) solutions are primarily designed for customer-facing teams, with features and functionalities focusing on handling customer communications across channels and enhancing customer support experience.
CCaaS software tools may offer features like call routing and call queueing, Interactive Voice Response (IVR), outbound calling and auto dialing, real-time call monitoring, reporting and analytics, omnichannel capabilities, workforce management, easy integration with CRM and helpdesk systems, and more.
All these features and capabilities enable customers to interact with businesses on their preferred channels while allowing contact center agents to deliver quick, efficient, and personalized support experiences.
Unified Communications as a Service (UCaaS)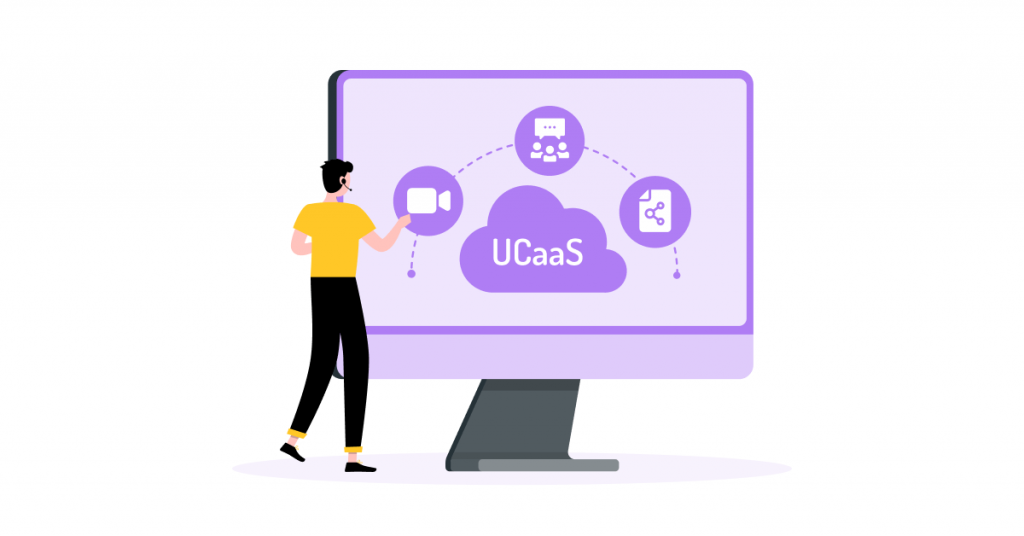 Unified Communications as a Service (UCaaS) solutions are built to help businesses and organizations improve communication and collaboration among employees. With a UCaaS solution, companies can leverage one platform that will integrate all of their communication channels instead of using several different disjointed tools from multiple providers.
UCaaS platforms may include features like VoIP audio calls, video conferencing, team chat and instant messaging, email and SMS messaging, and various collaboration features like file sharing, screen sharing, and task management, events, and third-party integrations and APIs with CRM systems and project management tools.
Improved team collaboration, enhanced employee experience, and workforce optimization are some of the key benefits businesses can expect from implementing UCaaS solutions into their internal business processes.
CCaaS
UCaaS

Primary Use
CCaaS is used by customer service and sales teams to manage communications with customers and prospects across various channels.
UCaaS is used within an organization to enable seamless internal communication between employees and improve collaboration.

Best For
Businesses with a high volume of inbound and outbound external communications across multiple channels, that prioritize customer experiences.
Businesses looking to unify their internal communication channels and improve communication and collaboration between employees and departments.

Key Features
– Call routing and IVR
– Omnichannel support
– Reporting and analytics
– AI-powered support
– VoIP audio calls
– Video conferencing
– Chat and messaging
– Team collaboration tools

Top Benefits
– Increased customer satisfaction
– Enhanced customer experience
– Improved agent efficiency
– Improved internal communication
– Better team collaboration
– Improved workforce optimization
CCaaS and UCaaS can be implemented together (and some providers offer both) to ensure seamless cross-organizational communication and collaboration and enable quick and efficient customer issue resolution and superior customer service experiences.
The Key Benefits of CCaaS for Businesses
CCaaS solutions are becoming the preferred deployment model for organizations, replacing traditional on-premises contact center infrastructure and accounting for the increasing CCaaS market growth. According to a report by Fortune Business Insights, the global contact center as a service (CCaaS) market size is projected to grow from USD 4.07 billion in 2021 to USD 11.76 billion in 2028. Below is an overview of the key CCaaS benefits:
Fast and easy setup
Unlike on-premises contact center solutions, which may require months to deploy, CCaaS solutions allow businesses to get their contact center up and running faster – typically within days – and with much less effort. In addition, CCaaS providers handle all the system maintenance, updates, and upgrades, so there is no need for businesses to hire specialized IT professionals in-house.
Flexibility and scalability
CCaaS tools offer much greater flexibility and scalability. That means businesses can easily scale their operations up or down based on demand. For example, you may need to add more agent seats during seasonal fluctuations in call volumes or more functionality (e.g., more features or channels) as your business grows. With CCaaS, it can be done almost instantly, and you only pay for what you consume.
Uptime and stability
Downtime can disrupt contact center operations and negatively impact contact center performance due to a team's inability to handle customer interactions in cases like severe weather conditions, power outages, or equipment failures. CCaaS software solutions are known for 99.999% uptime, which means enterprise-level reliability, by being able to cover unplanned contingencies without interrupting service delivery and ensuring business continuity.
Cost efficiency
Having to purchase costly equipment and software licenses and hire a dedicated workforce for maintaining on-premises infrastructure makes hardware-based contact centers more expensive. On the contrary, CCaaS eliminates the need for these expenses by enabling businesses to pay a predictable monthly subscription fee based on actual usage, which means significant cost savings.
Omnichannel CX
Omnichannel capabilities of CCaaS solutions allow businesses to centralize customer interactions from all channels into a single platform. That arms contact center agents with the necessary context, enabling them to resolve customer issues efficiently and deliver exceptional customer service and personalized experiences, regardless of the channel customers choose to interact with a business. That ultimately contributes to increased customer satisfaction.
Remote work capabilities
As organizations continue to transform their work environments to remote and hybrid working models, CCaaS enables this transformation in contact centers. CCaaS platforms are entirely cloud-based, which means agents can work remotely from any location and any device, as long as they have a stable internet connection, without having to be present at their desks from 9 to 5 to handle customer interactions. It also means that agents can work across multiple time zones and geographic locations, enabling businesses to provide round-the-clock multilingual support.
Increased agent productivity
Cloud contact centers that integrate multiple channels in a single platform enable contact center agents to conveniently manage customer conversations across channels in a unified interface, so they don't have to constantly switch between tabs and different systems. With CCaaS tools, agents can also automate many tasks and workflows, and save time that they can spend on more productive activities.
Common Features of CCaaS Tools
These are some of the most common features and functionalities offered by Contact Center as a Service solutions:
ACD and call routing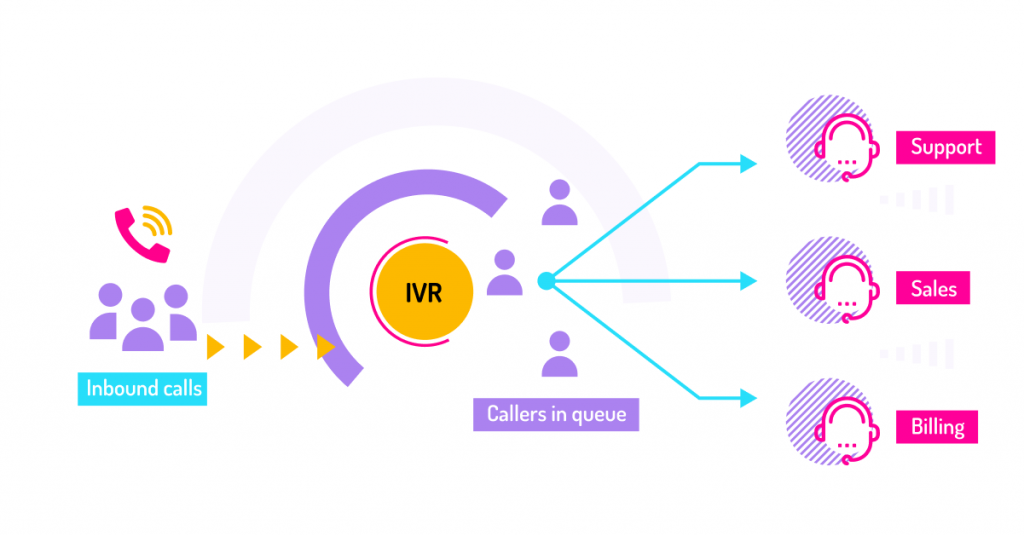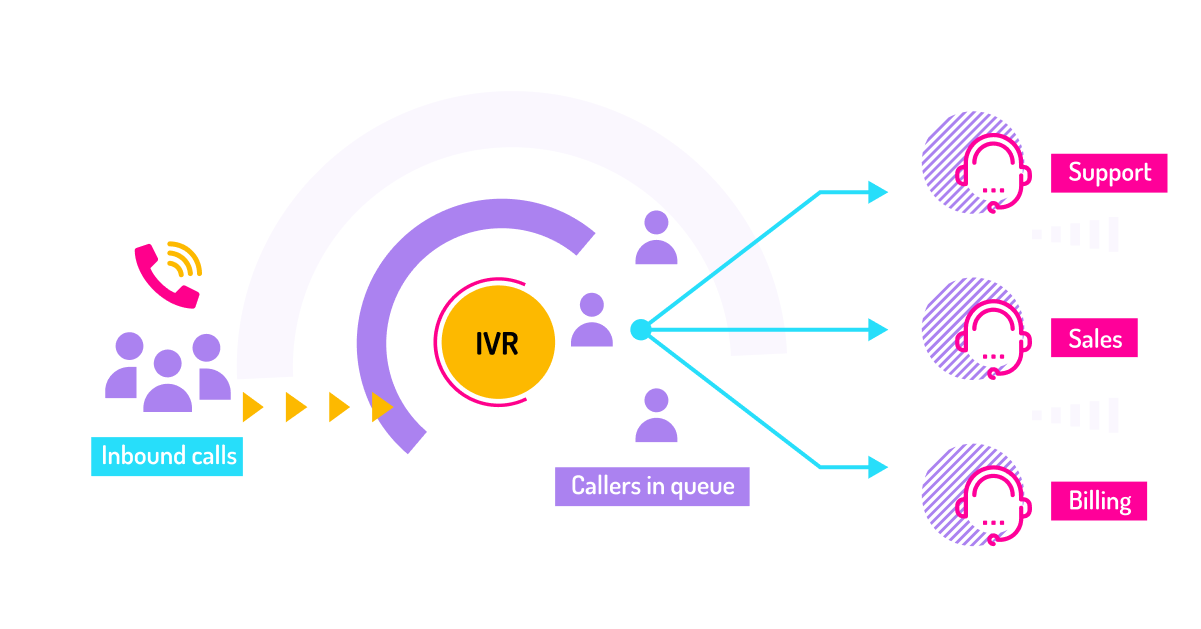 Powered by computer telephony integration software, Automatic Call Distribution is the core inbound call management feature of CCaaS platforms. Based on predefined call routing rules and IVR inputs from callers, an ACD system streamlines inbound call handling by routing incoming calls to the relevant departments or agents, reducing wait time for callers and eliminating call transfers. E.g., skills-based routing directs callers to agents with the most relevant skills and expertise required to handle their request, allowing for faster issue resolutions and improved First Call Resolution (FCR) rate.
Interactive Voice Response (IVR)
Interactive Voice Response (IVR) is a common inbound call management feature of Contact Center as a Service solutions. IVR enables callers to interact with an IVR menu through keypad inputs or voice responses and provides businesses with additional context (i.e., a caller's intent or the type of issue they are experiencing) to route inbound calls to appropriate teams or available agents in a more efficient way. In addition, IVR self-service menus can help callers receive information and resolve issues independently without needing to escalate to a live agent.
Call queue management
Inbound call queue management features allow CCaaS tools to manage large inbound call volumes in an organized and effective manner without having to hire additional staff. When inbound calls are placed in appropriate call queues, callers experience fewer transfers. Moreover, with a queue callback feature, callers can request a return call from an agent when they reach their turn in the queue and hang up instead of wasting time on hold. That reduces customer frustration associated with long hold times and the number of abandoned calls while improving customer experience.
Outbound calling
Modern CCaaS software solutions typically include automated outbound calling capabilities and allow businesses to handle large outbound call volumes through auto dialing features. These are especially critical tools for sales-oriented teams, involved in making outbound calls to prospects or customers for outbound lead generation, lead qualification, and sales purposes. Auto dialers automate the process of placing outbound phone calls, eliminating the need for manual dialing and saving agents time and effort.
Power dialers: Power dialers are the type of auto dialers that allow agents to run outbound calling campaigns and automatically call phone numbers of prospects or customers from predefined lists. The dialer automatically dials the next number on the list once the agent completes their previous call so that agents don't have to manually select the next number to call.
Predictive dialers: Predictive dialers utilize AI and Machine Learning (ML) algorithms to predict agent availability based on real-time and historical call metrics and dial multiple numbers per agent simultaneously to ensure an agent is connected to the next call as soon as they complete their previous interaction. Predictive dialers reduce agent idle time between calls and improve the efficiency of outbound calling campaigns by ensuring agents spend more time engaging in conversations instead of waiting for calls to come in.
Omnichannel support
CCaaS tools typically integrate multiple communication channels, allowing customers to engage with businesses in the way they prefer while enabling agents to manage communications across all channels from a single interface. That also means that agents can deliver seamless omnichannel experiences to customers regardless of the channel a customer chooses. E.g., VoiceSpin Messaging unifies voice and digital communication channels, including email, live chat, social media, WhatsApp, and other Instant Messaging apps into a single platform, allowing agents to manage interactions from all these channels through one dashboard.
Self-service bots
In addition to integrating multiple channels, many CCaaS software providers incorporate self-service tools like AI-driven chatbots and voice bots. These conversational AI solutions that employ automatic speech recognition, Natural Language Processing (NLP), and other Machine Learning (ML) technologies enable businesses to offer conversational self-service to their customers. E.g., AI chatbots can answer customer questions and resolve simple inquiries with zero agent intervention, freeing up agents to handle higher-priority requests. According to stats published by Outgrow, 74% of customers would choose a chatbot over a human agent to look for answers to simple questions.
Contact center reporting
Reporting and analytics are important capabilities of CCaaS software platforms. They allow contact center managers to track critical metrics and KPIs to better understand how each channel is performing and where improvements are needed to deliver better support experiences to customers. Managers can also track metrics across teams and individual agents to assess agent performance and identify training and coaching opportunities. Overall, by being able to access comprehensive contact center metrics and KPIs through CCaaS reporting tools, managers can make more data-driven decisions.
A few metrics and KPIs that businesses can track with CCaaS software are:
Cost per Call
Channel-specific Metrics
CRM integrations
Many Contact Center as a Service solutions can be integrated with third-party tools such as CRM systems, databases, helpdesk software, collaboration tools, and other business applications. That allows automating agent workflows and synching customer data across the systems and provides agents with a 360-degree customer view, including the history of previous purchases and interactions. CRM integration also enables screen pops that display customer information on the agent's screen, enabling agents to handle interactions faster and more efficiently and reducing the Average Handle Time.
Choosing the Best CCaaS Platform
Choosing the right CCaaS provider will ensure that your team can effectively manage inbound and outbound communications, engage with prospects and customers, and support them in an efficient way no matter which channel they use to contact you, which is detrimental to the success of your contact center operations. Below are the most critical factors to consider when evaluating cloud CCaaS providers:
Omnichannel capabilities
According to a report by Salesforce, 78% of consumers prefer to use different communication channels depending on the context, while 71% have used multiple channels to start and complete a single transaction. When researching CCaaS providers, look for solutions that will allow you to integrate multiple channels (phone, email, live chat, social media, etc.) that your customers expect you to be on.
A truly omnichannel contact center software solution will not only allow you to offer multiple communication channels to customers, but it will also ensure that these channels are integrated into a single platform so that agents can provide a unified and consistent experience across all customer touchpoints.
Industry-specific features
Based on your business requirements, industry specifics, and the nature of communications with customers and prospects, you might need to look for specific features. E.g., if you are looking to implement a CCaaS solution primarily for handling inbound interactions, features like IVR, intelligent call routing, and omnichannel capabilities might be of priority. If your team mainly handles outbound communications, you might want to opt for solutions that support auto dialing, local caller ID, and other outbound call center software features that are critical for running efficient outreach campaigns.
Advanced AI features
AI-powered features are becoming integral to Contact Center as a Service software solutions. These are, for example, AI chatbots and virtual assistants, AI dialers, speech analytics, speech recognition, and sentiment analysis. These tools can streamline and automate your processes, enhance customer experience, and improve the overall efficiency of your contact center operations.
Thus, if you'd like to have access to advanced AI contact center features, look for CCaaS providers that incorporate Artificial Intelligence, Natural Language Processing, and other automation capabilities in their solutions. E.g., VoiceSpin's AI Speech Analyzer can automate the entire process of quality management and performance monitoring in a contact center. It can also help prevent non-compliance issues with keyword flagging and real-time warnings.
Ease of scalability
You might start as a small call center with 20 agents and gradually grow into an omnichannel contact center with 100 agents and multiple communication channels as your business evolves. Before committing to a CCaaS provider, make sure to research how easy it will be to scale your operations, add new agents, and incorporate new features and channels in the future when your demands and requirements change.
Data security and compliance
Data breaches and compliance violations can harm contact center's reputation and lead to costly penalties. When researching CCaaS software providers, it's critical to ensure that the provider complies with industry regulations and offers robust data security measures to protect sensitive customer information, such as data encryption, security protocols, two-factor user authentication, access control, etc.
Integration options
One of the critical factors to consider is whether a CCaaS platform can be integrated with existing business systems that are critical to your operations. Going with a CCaaS solution that communicates with your existing business tools will make the CCaaS adoption process much faster and smoother.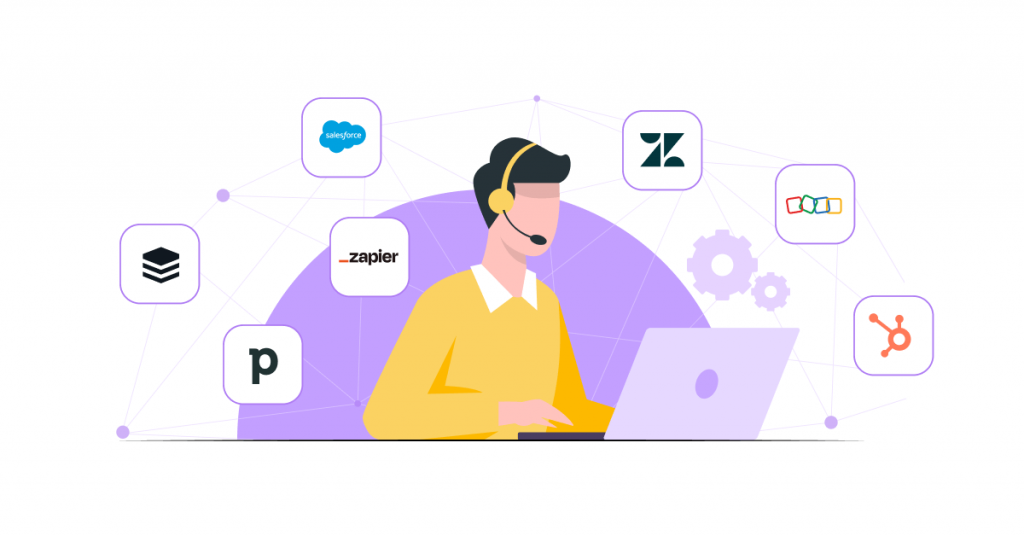 E.g., VoiceSpin cloud contact center software seamlessly integrates with 50+ CRM systems and business apps, including Zoho, HubSpot, Salesforce, Pipedrive, and other popular CRMs, as well as offers custom integration options through APIs. That helps simplify and optimize contact center operations, keeps all data in sync, and eliminates the need for agents to constantly switch between the two systems.
Customer support availability
CCaaS software solutions are complex systems, which means your team might require ongoing support and assistance. When evaluating CCaaS providers, pay attention to how easy it is to reach the provider's customer support team, what channels are available for customer support, and whether support is delivered 24/7, which might be critical to your operations. In addition, many vendors would also charge extra for premium support.
Choosing the right CCaaS software provider will significantly contribute to the overall success of your contact center.