BPO (business process outsourcing) call centers and contact centers have become a popular solution for businesses and organizations looking to manage their customer support or sales operations more efficiently, without needing to expand their in-house teams. Though outsourcing these operations to BPO call center providers may provide multiple benefits, it's also associated with certain risks and drawbacks businesses should be aware of before deciding to partner with a BPO call center.
What is a BPO Call Center?
BPO (Business Process Outsourcing) is a general term that refers to the process of outsourcing specific business functions or operations to third-party vendors or service providers (BPO companies) who will handle these functions or operations on behalf of the client company. Thus, a BPO call center is a team of BPO agents who manage inbound and outgoing calls for other businesses.
Businesses may choose to outsource their call center operations to BPO providers for several reasons. For example, having customer support activities handled by a BPO call center eliminates the need to hire and train an in-house team and enables businesses to devote more time and resources to core business functions. Some businesses also prefer to outsource to countries with lower labor costs, making BPO contact centers cost-efficient solutions.
Given the increased popularity and demand for outsourcing services, the BPO industry continues its steady growth. According to a study by Grand View Research, the global business process outsourcing market size is anticipated to expand and reach USD 525.2 billion by 2030.
How Does a BPO Call Center Work?
BPO call centers may handle various tasks, such as customer service, tech support, data entry, telemarketing and outbound sales, market research, etc. Most BPO contact centers represent multiple organizations simultaneously, and they need to make sure that people contacting them get the impression that they are interacting with a direct representative of the respective company.
A client organization choosing to outsource its business operations to a BPO service provider first needs to select one based on expertise, pricing, and other critical factors. The client then needs to provide the BPO company with all the necessary product/ service information, agent training materials, and guidelines to ensure that BPO call center agents are equipped with all the knowledge and resources they need to effectively handle customer interactions.
Services Offered by BPO Call Centers
Inbound Call Centers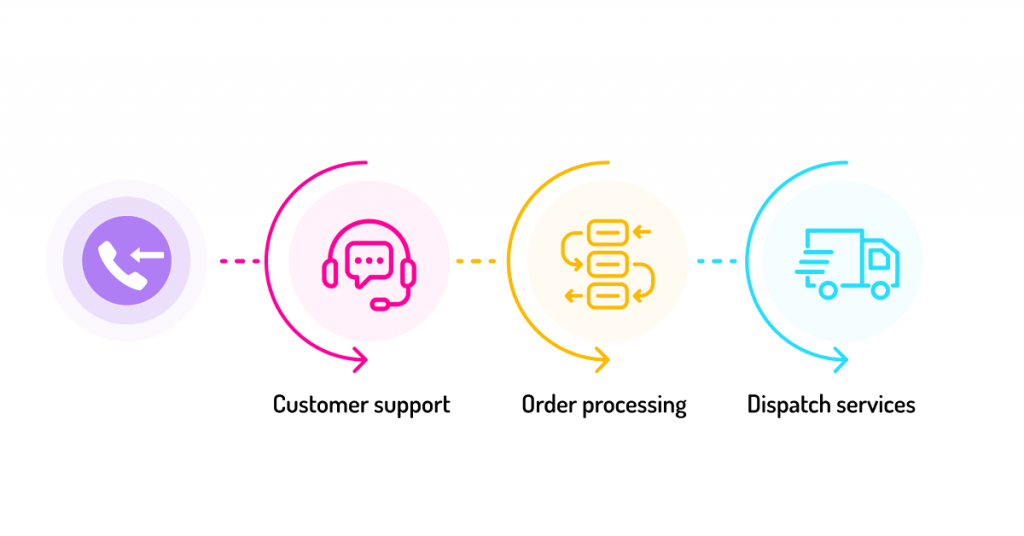 In an inbound call center, agents are responsible for managing inbound calls from existing customers or prospects. By outsourcing inbound call center operations to a BPO service provider, organizations can benefit from services like:
Customer support
BPO call centers can deliver basic customer service and support, including providing customers and prospects with relevant information about a company's products or services, resolving customer issues, handling customer complaints, scheduling appointments, or offering technical support and troubleshooting for IT-related issues. While large organizations typically have in-house customer support teams, smaller businesses with limited budgets usually outsource this process to BPO providers.
Order processing
Businesses that offer their customers the option of purchasing their products or services via phone or those (e.g., e-commerce businesses) that need assistance in managing their order processing tasks, such as order placement, payment processing, order tracking, and managing returns and refunds, rely on BPO call centers to handle these processes and operations. That eliminates the need for businesses to build internal departments and offers the flexibility required during high call volume periods.
Dispatch services
BPO call centers commonly assist businesses with inbound call center dispatch services that involve coordinating and dispatching resources in response to customers' needs, ensuring seamless routing of incoming calls to the appropriate departments or individuals. Quick and accurate dispatch services are important for industries where timely resource deployment is critical (such as field services, transportation, maintenance, etc.). A typical example is a taxi service company.
Outbound Call Centers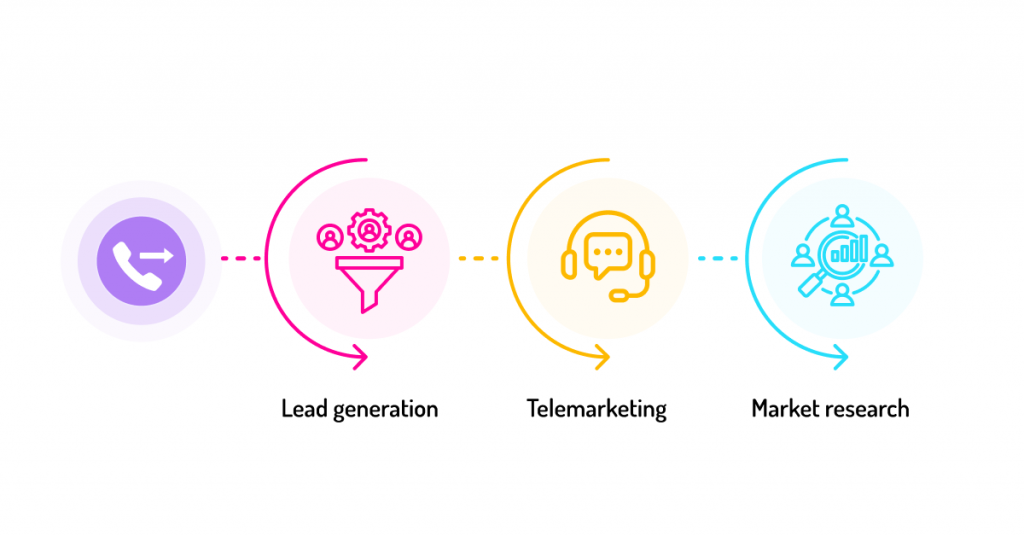 In outbound call centers, agents are involved in placing outbound calls to prospects and customers, primarily for generating leads and proactive customer outreach. Below are some of the examples of BPO services offered by outbound call centers:
Lead generation
As many businesses from across various industries heavily rely on cold calling for generating and qualifying new leads to drive their business growth, outbound call center lead generation services are very often outsourced to BPO call centers. These call centers would reach out to potential prospects, collect and verify prospect information, and qualify leads, assisting businesses in their outbound lead generation efforts, and eliminating the need to hire additional agents for that.
Telemarketing and sales
Though telemarketing is a highly efficient and cost-effective strategy for promoting a company's products or services and generating sales for a business, it may yield a low ROI if agents aren't experienced enough in cold calling sales that requires skills like persuasive communication and objection handling. That is why companies often partner with BPO call centers that already have sales agents with the right skills to efficiently promote and sell a company's products, leverage up-selling and cross-selling opportunities, and close deals.
Market research and surveys
BPO call centers may conduct market research and customer surveys to gather valuable insights into consumer preferences and pain points or market research data, helping businesses make more data-driven decisions on their product or service improvements. Since market research calls only require agents to ask customers pre-written questions, which doesn't require extensive agent training, outsourcing these calls to BPO call centers is a quick, straightforward, and cost-efficient process.
BPO vs. KPO Call Centers
When it comes to outsourcing call center operations, there are two types of outsourcing that businesses can employ: BPO and KPO. KPO (Knowledge Process Outsourcing) refers to the process of outsourcing critical business- and -information-related functions. KPO is an offshoot of BPO, and it's often utilized in cases when an organization requires a higher-level, specialized expertise.
Thus, KPO call centers and contact centers focus on more knowledge-intensive processes that require agents to have deep industry expertise, advanced technical knowledge, and analytical and problem-solving skills and often need more technologically advanced systems to handle operations. KPO contact centers may provide business research, data analysis, content development, creative design, etc.
Pros and Cons of Working with a BPO Call Center
Advantages of working with BPO call centers
It helps businesses reduce costs
Hiring a BPO call center is often a cost-efficient way for businesses to handle their customer support or outbound sales operations, as they don't need to invest in setting up a call center from scratch or building dedicated customer service or sales departments.
It allows delivering 24/7 support
Today's consumers increasingly demand businesses to deliver 24/7 support. Partnering with a BPO call center enables businesses to provide that round-the-clock customer support consumers have come to expect, as many BPO call centers operate across the globe in multiple geographical locations, covering all time zones.
It reduces the need for hiring and training agents
Finding the right talents, recruiting, onboarding, and training call center employees can be a time-consuming and challenging process. With BPO call centers, businesses can gain access to a highly skilled and trained workforce without needing to invest much time and resources for extensive recruitment and training.
It provides access to advanced technology
Businesses providing BPO call center services usually invest in advanced call center technology solutions, including auto dialing solutions for outbound calling, call center analytics tools, and CRM systems, which allows them to deliver quick and efficient customer support or run successful outbound cold calling campaigns on behalf of their clients.
It offers enhanced flexibility and scalability
BPO call centers can usually quickly and effortlessly scale their operations up or down based on customer demand, making them an attractive option for businesses that have fluctuating call volumes. BPO call centers also allow for greater flexibility, as you can choose from a range of services in accordance with your specific needs.
Drawbacks of working with BPO call centers
It may result in a lost connection with customers
When a business chooses to outsource all customer support interactions to a third-party BPO call center, they are facing the risk of losing the personal connection with customers. Since customers will be directly interacting with a BPO provider, businesses may lack a deep understanding of their customers' needs, preferences, and pain points.
It may create data security risks
Data security is one of the major concerns for businesses when working with BPO providers, as they inevitably have to share sensitive customer information (such as customers' names and contact details) with BPO vendors. Though BPO call centers often have robust security measures in place, it still carries certain risks related to data security and privacy breaches.
You may face communication challenges
While it's easier to monitor the efficiency of operations and ensure quality control when you have an in-house team, you will have less direct control of your call center operations when outsourcing to a BPO vendor. It makes it more challenging to maintain high service standards and requires ongoing quality assurance monitoring.
BPO agents might lack product knowledge
Unlike in-house agents who can directly interact with other company departments and teams and easily get first-hand information about a company's products or services, BPO call center agents may not have sufficient information and in-depth product knowledge to efficiently handle customer interactions, which is why they may require extensive training.
You may face the risk of over-reliance
Large organizations may also become over-reliant on their BPO partners. As operations scale up along with the price charged by the BPO provider, at some point, it may become more cost-efficient to hire an in-house team. However, since setting up an in-house call center from scratch requires much time and effort, businesses often continue to rely on BPOs even though it's no longer cost-effective.
Steps to Consider Before Outsourcing Call Center Operations
Identifying your outsourcing needs
The first step a business should take when looking to outsource some of its operations is identifying what particular functions require outsourcing and why partnering with a BPO provider instead of handling these operations in-house would be the most appropriate option. That may be the case, for example, when an organization aims to reduce customer support costs (since BPO call centers are often more cost-effective) or wants to have their outbound sales operations handled by a provider with more advanced technology solutions that an organization lacks in-house.
Selecting an appropriate BPO service provider
Once the objectives are clear, the next step is evaluating potential BPO providers and choosing one. BPO call centers may specialize in various operations and cater to different industries – you might want to select the one that best suits your specific needs.
Besides specialization, location is the next essential factor to consider. While local BPO providers are easier to manage and coordinate with, partnering with an offshore BPO vendor will enable you to expand your global presence and provide 24/7 support in multiple languages. Finally, cost is the third factor to take into account. Ideally, the cost of outsourcing to a BPO provider should be less than creating an in-house department.
Consistently monitoring BPO performance
When partnering with a BPO call center provider, it's important to consistently monitor the provider's performance to ensure that they are delivering high-quality service to your customers and are meeting your SLA expectations.
That includes regularly tracking specific metrics and KPIs (Key Performance Indicators) relevant to the operations a BPO call center provides, such as First Call Resolution (FCR) rate, the Average Speed of Answer (ASA), the Average Handle Time (AHA), Call Abandonment Rate, and Customer Satisfaction Score (CSAT) for inbound customer support operations, and Conversion Rate, Dropped Call Rate, and other outbound call center metrics for outbound sales operations.
Recognizing when BPO isn't the best option
The final decision on whether or not to partner with a third-party BPO vendor and outsource contact center operations depends on a range of factors that are unique to every organization. If you find that building your in-house customer support or outbound sales department is a more preferred option for your organization, partnering with VoiceSpin might be the right decision.
VoiceSpin's outbound call center software solutions will enable your sales team to make hundreds or thousands of outbound calls with an AI-powered auto dialer and improve your sales conversions, while robust inbound call center features will empower your customer support team to handle customer requests quickly and efficiently.