Phone number masking is an essential VoIP feature that is leveraged by businesses to protect the privacy of personal contact information of both customers and call center agents during phone interactions and improve business communications. In today's business environment, phone number masking is becoming increasingly important, especially for industries like healthcare, finance, e-commerce, and service delivery.
What is Phone Number Masking?
Phone number masking, also known as call masking, is a feature of business phone system solutions that allows businesses and organizations to conceal the actual phone numbers of the parties involved in a call, replacing them with temporary or proxy numbers and safeguarding the privacy and security of the participants' real phone numbers. This way, call participants are able to interact without having to disclose their numbers, ensuring higher privacy of customer interactions.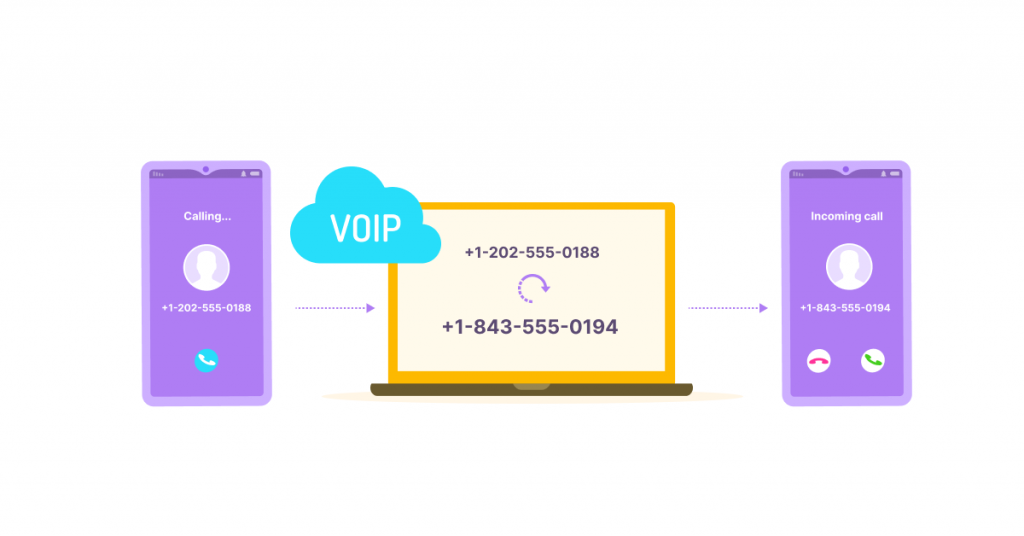 Phone number masking is a common feature of outbound call center software solutions. Many VoIP telephony providers, such as VoiceSpin, offer this capability as part of their outbound call center feature set. E.g., with a call masking feature enabled, agents can choose to display a designated phone number when making outbound phone calls to prospects or customers. Thus, recipients will be able to see the selected number on their caller ID instead of the agent's actual phone number or extension.
Businesses are often concerned about the legality of phone number masking services and using masked phone numbers in their outbound calling campaigns. While providing false or misleading caller identification information (known as caller ID spoofing) is prohibited in many countries by local laws and regulations, call masking is a completely legal practice in most countries, as long as masked numbers are not used with deceptive or malicious intent.
How Does Call Masking Work?
With call masking, users can make voice calls or exchange text messages by getting connected through a third-party phone number (known as a proxy or temporary phone number) for a specified period. The original phone number may be masked with an assigned phone number that may be either a local, toll-free, or international number. Below is an example of how call masking works for outbound calls:
An agent initiates an outbound call to a prospect or customer through the call center software interface.
The outbound call goes to an API proxy server, automatically generating a temporary phone number.
The call attempts to connect to the intended recipient by displaying the temporary number on the recipient's caller ID instead of the actual number.
The recipient accepts the call from a masked phone number (temporary number), and both parties communicate.
Once the interaction is over, the temporary phone number can be deactivated or returned to the pool to be recycled, meaning that it may be reassigned to other agents making outbound calls.
Benefits of Phone Number Masking
Protects the privacy of contact information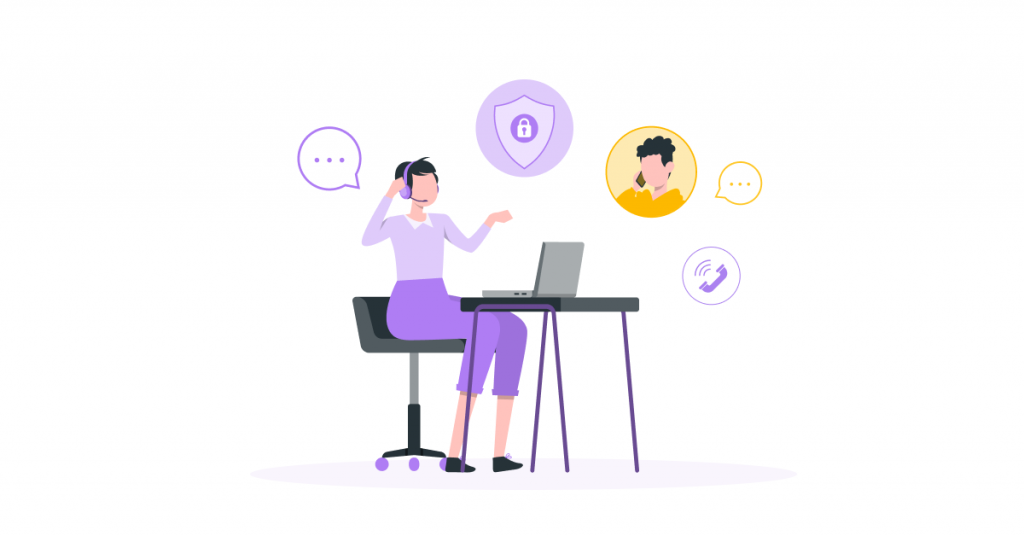 The primary benefit of phone number masking is protecting the privacy of contact information of both parties involved in the interaction since it enables the caller and the recipient to communicate without having to reveal their actual phone numbers. For example, remote call center agents who use their personal devices for business communications can benefit from call masking because they can call prospects or customers from a masked number without revealing their personal number.
Increases Call Answer Rate
Call masking is a particularly valuable feature in outbound call centers that allows businesses to mask outbound calls with a local number, instead of using their business phone numbers. E.g., when using auto dialer software for call center for running outbound calling campaigns, agents can enable local presence dialing that will display a local phone number on the recipient's caller ID. Since most people aren't likely to answer calls from unknown numbers, research proves that when they see a number with a local area code, they become more responsive and are more likely to pick up a call, increasing your Call Answer Rate and improving the efficiency of your outbound calling campaigns.
Helps comply with regulations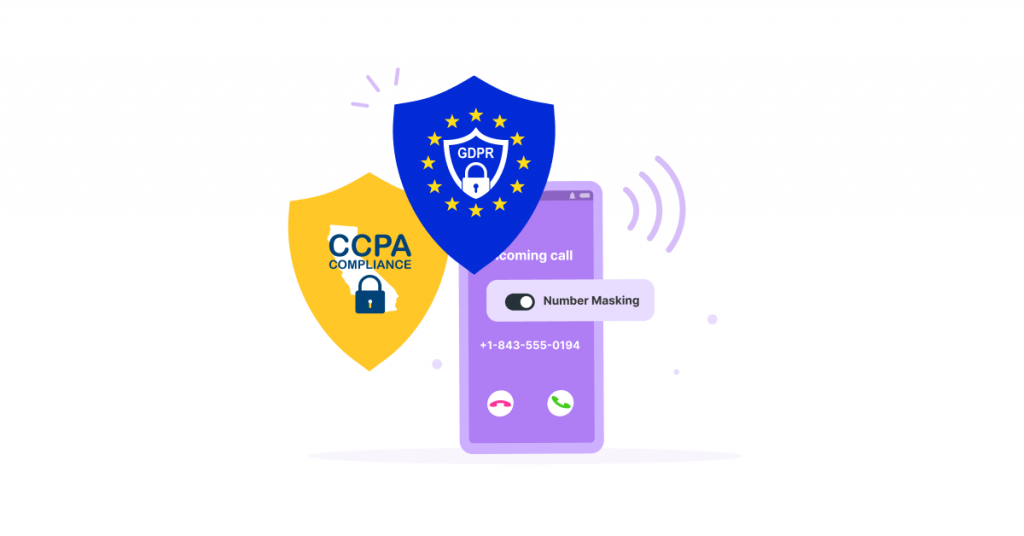 Protecting customer information may be a legal requirement in certain countries and regions. Thus, using phone number masking can help businesses and organizations ensure customer data security and comply with specific data privacy regulations, such as, for example, the General Data Protection Regulation (GDPR) in the European Union or the California Consumer Privacy Act (CCPA) in California. These regulations require businesses to protect consumers' personal information, including phone numbers, making call masking a valuable tool that helps remain compliant by ensuring that personal numbers are not exposed during communications.
Helps protect phone number reputation
Maintaining phone number reputation and preventing calls from being flagged as 'Scam Likely' or 'Spam Risk' is a common challenge in outbound call centers involved in running frequent outbound calling campaigns. Along with other measures, call masking helps businesses mitigate the risk of their business number being marked as a scam by phone carriers by using temporary numbers in outbound calling campaigns instead of a business's main phone number.
Industries that Use Phone Number Masking
Delivery services
Call masking and the usage of temporary phone numbers helps protect the privacy of the personal phone numbers of service recipients. Users can feel at ease, knowing that once a delivery is complete, a delivery service representative won't have access to their personal number and won't contact them again outside of business purposes.
Healthcare service providers
Patient data security and confidentiality are critical in the healthcare industry. Healthcare organizations and service providers can leverage VoIP telephony solutions that enable phone number masking to ensure that doctors and patients can interact in a secure environment while maintaining the privacy of the contact information of the parties involved.
Transportation and ride-sharing services
Transportation and ride-sharing service providers can use phone number masking to protect interactions between drivers and riders. With temporary phone numbers that function as an intermediary between clients and drivers, individuals get peace of mind when booking trips, knowing that their personal number is protected.
E-commerce businesses
Call masking is an important feature for e-commerce businesses. With a temporary phone number that is active for the entire duration of the transaction, e-commerce platforms can guarantee their customers that their contact information remains safe when they are making online transactions.
Real estate businesses
In the real estate business environment, real estate agents and prospects often communicate using their personal phones. With phone number masking, real estate agents can connect with potential property buyers without revealing their real numbers.
Financial service providers
Debt collection is a common use case for using call masking in the financial industry. For example, if debtors aren't answering phone calls, it will be difficult for debt collection agents to connect with them. A masked phone number conceals your business phone number, increasing the likelihood of your calls being picked up.