Driven by the growing need for streamlined processes, improved customer experiences, and reduced operating costs, call centers and contact centers have gone through a significant transformation over recent years. This is where AI-powered call center automation solutions came into play.
When implemented right, call center automation tools and technologies can boost customer satisfaction, help you improve overall operational efficiency by miles, and save costs – which had previously been much more challenging. On top of that, they give your business a competitive edge.
In this blog, we'll explore what's going to shape the future of call center automation and take a closer look at some of the major call center automation trends that are currently on the rise in the call center industry and are likely to get bigger in the coming decade.
What is Call Center Automation, and How is it Helpful?
Call center automation is basically the implementation and usage of call center automation technology and tools to simplify, streamline, and optimize existing processes, operations, and workflows, eliminating or significantly reducing the need for human intervention. These technologies typically involve AI and Machine Learning, Natural Language Processing, and Robotic Process Automation.
Call center automation solutions can make things easier for both customers and agents while also allowing call centers to improve critical metrics and KPIs and minimize support costs. For customers, it means getting their issues resolved faster (or even independently) and receiving a better service experience. For agents, automation means fewer repetitive manual tasks and improved efficiency and productivity.
Top 5 Call Center Automation Trends That Will Matter Decades Ahead
The implementation of call center automation tools driven by AI is rapidly increasing, impacting the future of the call center industry. In fact, according to a study by Grand View Research, the global call center AI market size is expected to reach USD 7.08 billion by 2030, expanding at a CAGR of 22.7% from 2022 to 2030. It means more call centers are going to adopt AI and automation technologies to streamline operations and drive their business growth.
Deloitte's Global Contact Center Survey also revealed that 79% of contact center leaders plan to invest in greater AI capabilities in the following years. Let's delve deeper into the top call center automation technologies that are currently used in call centers and are going to be adopted at a larger scale in the not-so-distant future.
1. Robotic Process Automation (RPA)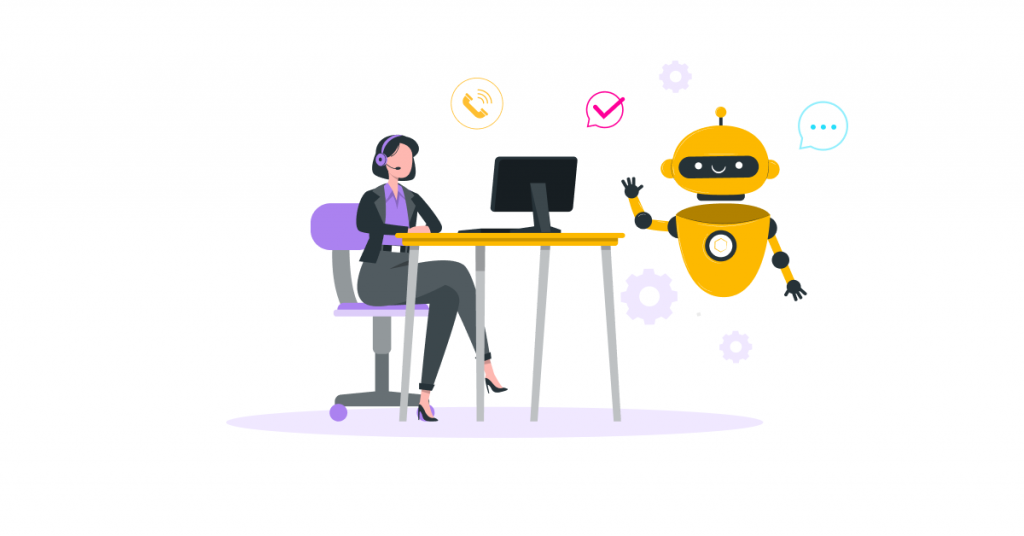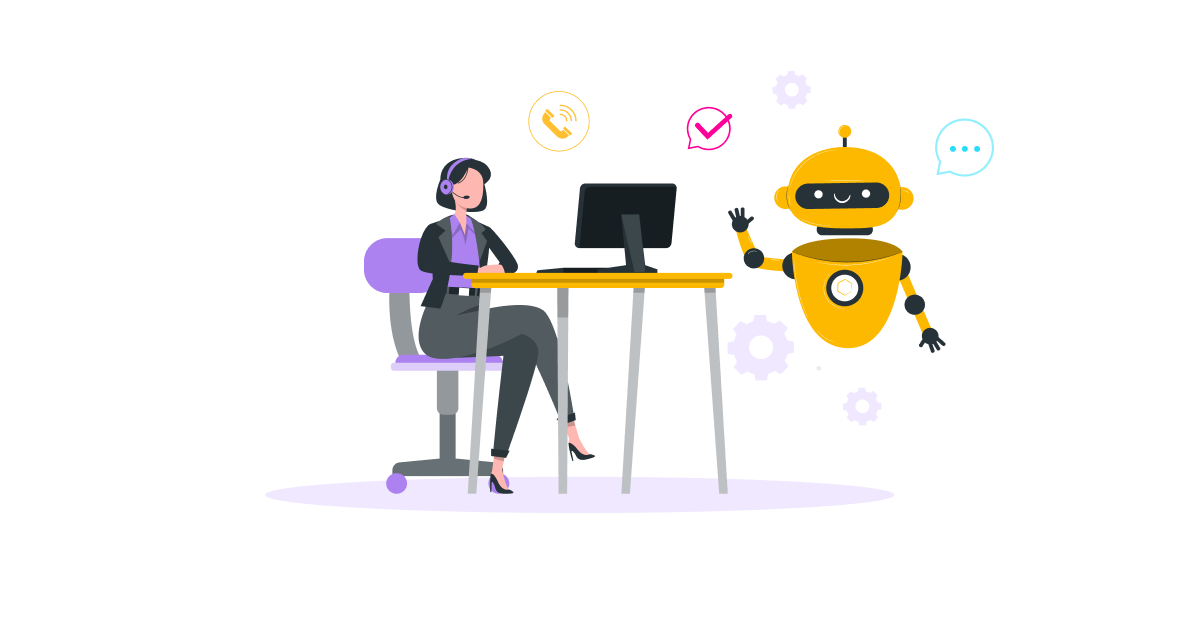 Robotic process automation (RPA) isn't a new concept in contact centers. Agents have always struggled with the abundance of repetitive tasks which are absolutely necessary yet seldom require any human intelligence and decision-making.
Call center robotic automation enabled call centers to optimize many operational processes and rule-based tasks, like routing calls, identifying customers, entering data and updating information in the system, scheduling follow-ups, and many more.
As AI technologies improve and advance, RPA will definitely continue to impact call centers, helping them improve operational efficiency and agent productivity. Research by Kearney actually found that AI and robotic process automation (RPA) solutions have the power to reduce human agent interaction time by 40% by 2027, freeing agents up to focus on more value-added tasks.
2. Predictive Call Routing
Modern call center solutions employ intelligent call routing systems that are aimed to automate the call routing process and route callers to the most appropriate agents based on their skills (known as skill-based routing) or other pre-defined routing rules and criteria. The caller is identified through the Interactive Voice Response (IVR) system, and based on the caller's selection, the call is connected to the agent who is best equipped to handle their type of inquiry.
With the power of AI, call routing systems have become even more sophisticated, turning into what is now known as predictive routing or predictive behavioral routing. The predictive routing technology evaluates a customer's past behavior, preferences, persona type, agent score, and other parameters to match the customer with the best-fitting agent who is most likely to serve the customer in the most optimal way.
Considering that 75% of customers expect companies to use new technologies to create better experiences, according to a Salesforce study – more call centers are likely to adopt predictive behavioral routing in the near future to deliver more personalized service experiences and improve CSAT scores.
3. AI-powered Voice Bots and Chatbots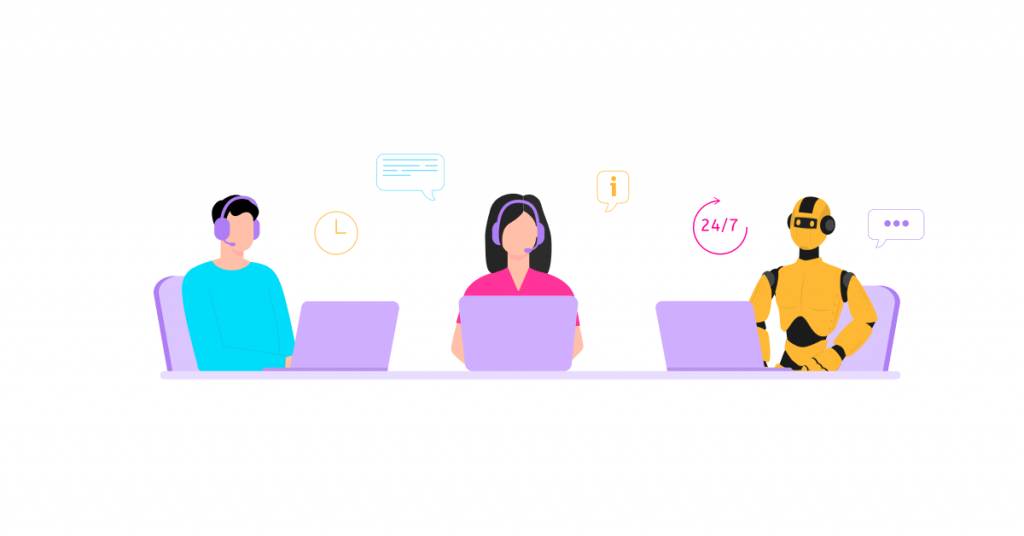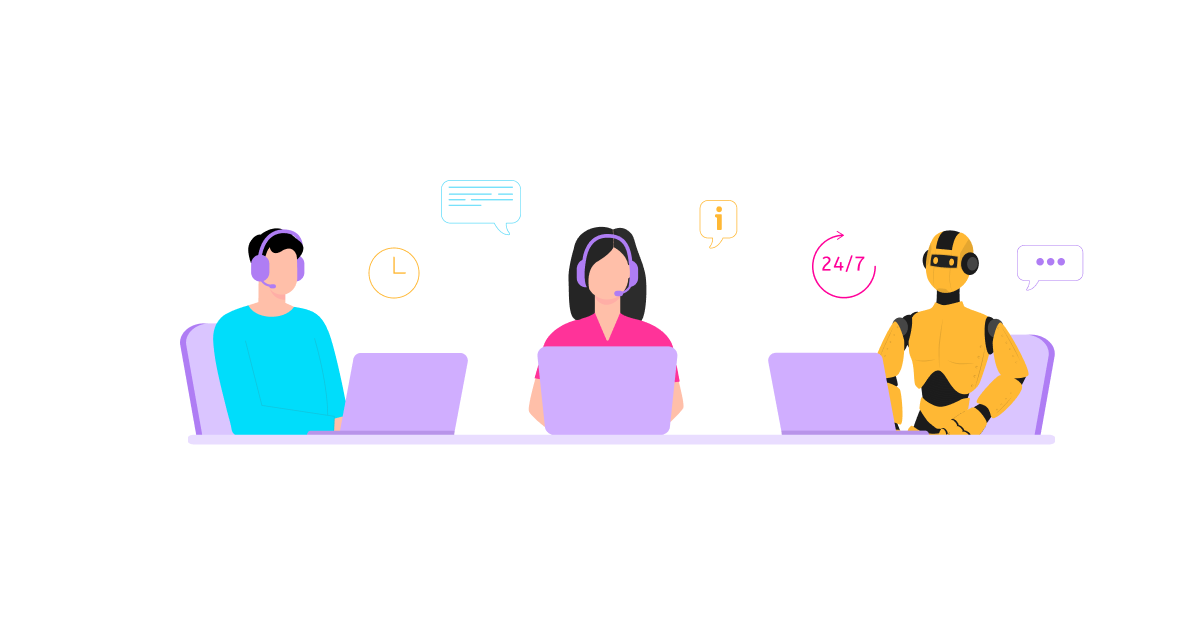 AI-powered voice bots, also known as conversational AI, and chatbots are definitely one of the top call center automation trends that are going to be even bigger in the coming years. E.g., the 'Voicebots Market Report – Forecast (2022-2027)' by IndustryARC found that the voice bot market for customer service communications is anticipated to grow at the fastest rate (21.30%) during 2022-2027. That is mainly driven by the rising customer expectations for speedy support and omnichannel interactions.
Voice bots use Natural Language Processing and Machine Learning along with IVR systems to provide quick and accurate responses to customer queries and are even capable of detecting sentiment to deliver a more seamless and personalized service experience. All in all, voice bots and chatbots allow contact centers to offer a more accessible customer service experience with round-the-clock availability while improving customer satisfaction and reducing support costs.
That said, human support isn't going away any time soon. When it comes to resolving complicated issues, person-to-person interaction is still an ideal, and often the only way to get things done and keep a customer satisfied. But for simple inquiries, such as checking an account balance, getting the latest updates, and anything in between – voice bots and chatbots are valuable contact center automation tools to take advantage of.
4. Predictive Auto Dialing
Predictive auto dialers are powerful contact center technology solutions widely used in outbound call centers to automate the process of making outbound calls to large lists of prospects or customers. And the adoption of predictive dialing solutions in outbound call centers is only going to accelerate at a tremendous pace. A report by Grand View Research states that the global predictive dialer software market size is expected to reach USD 12.2 billion by 2028 (compared to USD 1.03 billion in 2020).
Predictive auto dialers place multiple outbound phone calls per agent simultaneously even before an agent becomes available. The predictive dialing system uses complex ML algorithms that 'predict' agent availability and adjust the dialing pace automatically based on factors like the average call duration, call abandonment rate, the number of available agents at any given time, etc. That helps minimize idle time, enhance agent productivity, and boost operational efficiency of outbound call centers.
VoiceSpin's AI auto dialer featuring predictive dialing, for example, goes even further in automating and optimizing the outbound calling process. The system scores leads and agents and automatically matches the leads to the most suitable agents who are most likely to make the sale based on the given scores. It helps improve the efficiency of outbound calling campaigns and increase sales conversions.
5. Conversational Speech Analytics and Sentiment Analysis
Real-time conversational analytics solutions rely on Natural Language Processing (NLP), Natural Language Understanding (NLU), and ML algorithms to analyze customer interactions as they are happening in real time and provide agents and managers with valuable insights into customer behavior, intent, emotion, etc.
Contact centers can then use these insights to improve interactions, access call quality, ensure compliance, monitor agent performance, and identify agent training opportunities.
To learn more about speech analytics solutions, head over to our article Speech Analytics in Call Centers: Unlocking the Potential of Voice Data.
Modern speech analytics and speech recognition tools also include sentiment analysis capabilities that allow determining the emotional tone and sentiment of the conversation (i.e., positive sentiment vs. negative sentiment), enabling agents to adjust each conversation accordingly. Based on a study by Grand View Research, sentiment analysis is likely to emerge as the fastest-growing technological trend in the call center AI market.
Key Benefits of Using Call Center Automation Solutions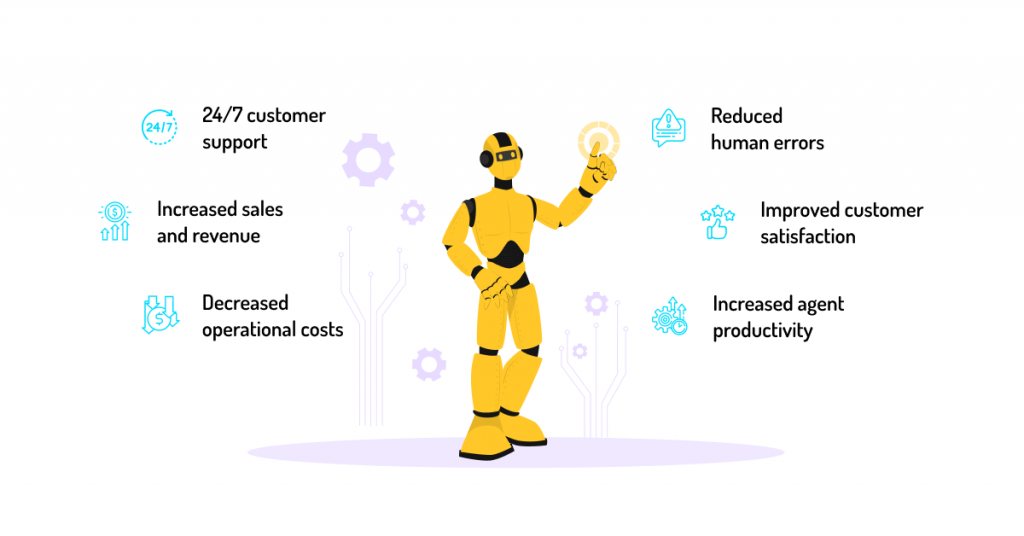 Automated call centers that leverage RPA, Artificial Intelligence, NLP, and Machine Learning technologies can achieve streamlined operations, enhanced customer experiences, and reduced operating costs. Check out some more specific benefits of implementing contact center automation solutions that might mean the difference between growing your call center and lagging behind:
Reduced human errors
Your contact center agents are human beings. If they are required to perform a bunch of mundane and repetitive tasks over and over again, mistakes are inevitably bound to happen, resulting in negative consequences. Luckily, gone are the days when call center agents had to do everything manually. By automating contact center processes, operations, and workflows, automation tools can eliminate human errors and improve efficiency.
Increased agent productivity
With fewer redundant, manual, time-consuming tasks to handle, agents can focus more on dealing with higher-level tasks and complex customer queries where they can put their talents to good use. That not only increases their productivity but also makes them more engaged, empowered, and satisfied at the workplace. This way, you also reduce the risk of burnout and the resulting turnover, which is quite a big issue in call centers.
Improved customer satisfaction
Contact center automation tools can handle customer issues independently at any time of day, catering to the needs of those customers who highly value self-service and the ability to resolve issues on their own. In addition, automation enables agents to handle customer interactions faster and more efficiently, which reduces the Average Handle Time (AHT) and increases First Call Resolution (FCR) rates. That ultimately adds to improving the overall customer experience and customer satisfaction.
24/7 customer support
Today's consumers increasingly demand customer support round-the-clock. While your support agents can only work for a limited number of hours during the day, AI-powered virtual assistants, voice bots, and chatbots may serve your clients 24/7, allowing you to extend your service hours and support your customers whenever they need it. Automated tools may not be as good as your service reps, but at least they can help your customers resolve basic issues or provide them with the necessary information.
Increased sales and revenue
Automation is critical in outbound call centers that rely on outbound calling to generate revenue. By automating and optimizing the tedious process of dialing numbers manually through the use of auto dialers, call centers can improve the efficiency of outbound calling campaigns. Predictive dialers can additionally minimize agent idle times between calls, which means your sales reps can make more outbound calls in a shorter time, engage with more prospects, and convert more leads.
Decreased operational costs
The ultimate goal of any call center is to reduce operational costs while maintaining the same level of service and profitability. This is where automation can make a difference. It can boost call center efficiency on a large scale, helping you cut down on your operating costs. E.g., automated AI-powered voice bots and self-service chatbots can reduce your overall inbound call volume by dealing with customer issues without the need for human agents. That means fewer agents are needed to handle inbound interactions, reducing your staffing costs.
Leverage Automated Call Center Operations with VoiceSpin
If you aren't yet taking advantage of these call center automation trends and automated contact center solutions, you might be missing out on opportunities to serve your customers better, improve agent experience and performance, and achieve the maximum operational efficiency of your call center.
With VoiceSpin's call center automation software, you can automate and optimize many aspects of your call center operations. E.g., an AI-powered auto dialer enables your sales reps to make thousands of outbound calls without any manual input and connects leads to the most appropriate agents, ensuring better call conversion rates, while an AI Speech Analyzer will provide conversational intelligence through actionable real-time insights.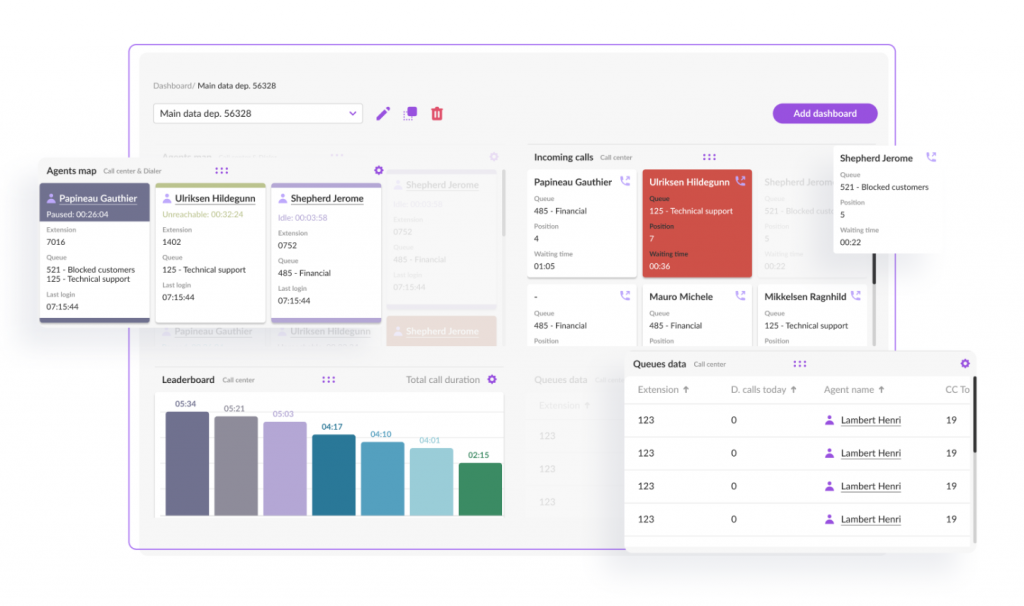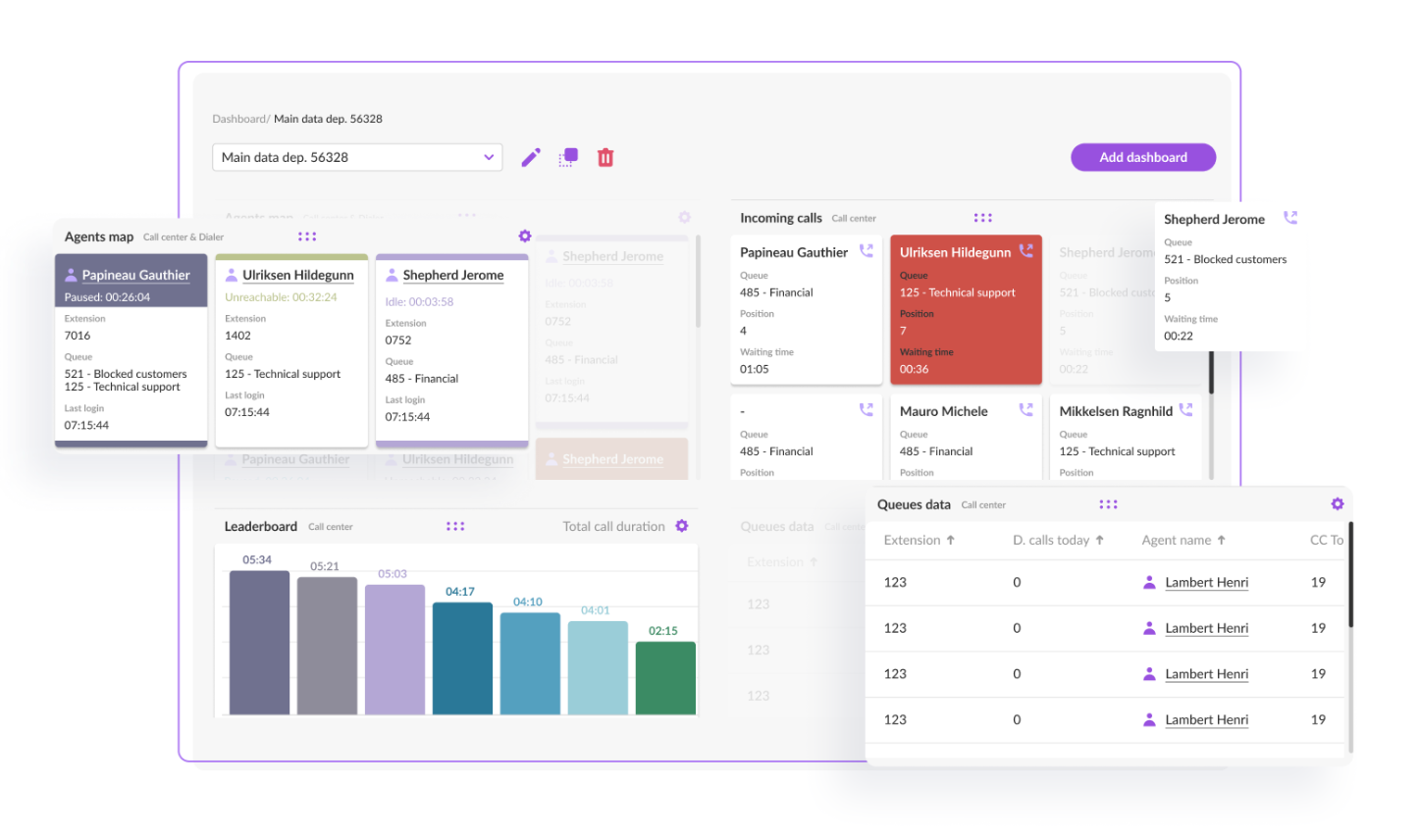 Book a 30-minute demo to learn more about VoiceSpin's omnichannel contact center solutions and how they align with your business needs.