Did you know that (according to Statista's 2023 data) there are currently over 6.92 billion smartphone users across the globe? That means around 86% of the world's population owns a smartphone – and the number of smartphone users is continuously increasing year over year. Moreover, statistically, an average person spends 3 hours and 15 minutes on their phone daily.
Considering these impressive numbers, no wonder businesses are trying to leverage SMS marketing and instant messaging apps like WhatsApp in their customer communication strategies. Whether it's for customer support, sales, or marketing purposes, SMS and WhatsApp are extremely powerful tools, both having high open rates. That enables businesses to effectively use them to get their messages across to their target audiences.
Looking for a contact center solution?
Powerful AI dialer, bulk SMS, and more tools for running an omnichannel contact center.
In this blog, we'll cover everything you need to know about SMS and WhatsApp in business communication, explore key differences between the two channels, and help you figure out which one is the most suitable for your business needs.
Using SMS Messaging and WhatsApp for Business Communication
SMS text messaging has already proved to be a highly efficient way for businesses to connect with their target audience, deliver important information (like appointment reminders, delivery updates, or promotional offers), and boost engagement. With an average SMS open rate of 98%, you can be sure that nearly 98 out of 100 SMS messages you send to your customers or prospects will actually be opened and read, compared to only 20 out of 100 emails. Take a look at some more stats regarding the usage of SMS in business communication:
Around 39% of organizations use SMS text messaging to communicate with their audience.
85% of consumers prefer to receive an SMS over a voice call or an email.
54% of consumers would like to receive promotions via SMS, but only 11% of businesses send them.
66% of consumers would like to receive service notifications via text, but only 23% of businesses send them.
SMS marketing click-through rates can be 10-15% higher than email marketing campaigns.
60% of consumers say they read a text within 5 minutes of receiving it, making SMS messaging one of the fastest ways to reach consumers directly.
Businesses that use SMS marketing say that it accounts for 12.8% of their online revenue.
If you aren't yet using text messaging to connect with your audience, there are numerous business text messaging tools like VoiceSpin's bulk SMS service that can help you reach out to your leads and customers, improve engagement, boost your outreach efforts, and drive more sales conversions through automated and personalized bulk SMS campaigns.
Alongside SMS, instant messengers – WhatsApp being the biggest one among them – have recently seen increased adoption by businesses and organizations across many industries. First launched in 2009, WhatsApp has since become the most widely used instant messaging app globally, with over 2 billion active daily users and around 100 billion messages sent each day as of 2023.
Consumers are also increasingly adopting WhatsApp as a way to interact with brands they are dealing with. In fact, according to a study by Salesforce, 37% of consumers prefer to use instant messaging apps like WhatsApp and Facebook Messenger to communicate with companies, while 31% prefer text/ SMS. Check out some more WhatsApp usage statistics below:
WhatsApp is available across 180 different countries and accessible in 20+ different languages.
WhatsApp Business has over 50 million users.
WhatsApp Business API messages have a 99% open rate.
40 million WhatsApp users view the business catalogs in the app monthly.
Using WhatsApp Business can streamline customer service by 225%
64% of WhatsApp users agreed that WhatsApp fosters a personal connection to businesses.
Key Differences Between SMS and WhatsApp Business
Let's now explore the major differences between SMS and WhatsApp Business in terms of messaging features, limitations, security, and engagement capabilities.
Messaging features
SMS is a basic text messaging service that allows you to send and receive messages on a mobile phone (both iOS and Android devices are supported), but these are only limited to text messages. WhatsApp is an instant messaging application (requiring an internet connection) that supports multimedia messages like images, audio messages, video messages, files, and documents, not to mention the ability to make voice and video calls. That gives businesses much more flexibility in the way they interact with their customers.
By taking advantage of business text messaging services, you can send mass SMS messages to potentially thousands of contacts. With a WhatsApp Business account, you can also send messages to large audiences. But the difference is that with SMS, there's no way to know whether your customers have read those messages as it offers only basic delivery reports, while WhatsApp provides more advanced delivery confirmation features, including read receipts.
Limitations and restrictions
The length of a single SMS text message is restricted to 160 characters, including spaces (but if you add a single emoji, the maximum length will shorten to only 70 characters). When exceeding that limit, SMS messages are broken down into separate messages, meaning additional costs. In contrast, WhatsApp messages can be a maximum of 4096 characters long.
As already mentioned above, SMS allows sending only text messages. Although some mobile carriers support multimedia messages (MMS), these may only include specific file types and would naturally cost more than plain-text messages. With WhatsApp, you can easily send a wide range of multimedia (voice messages, videos, files, etc.) at no extra cost.
Security level
When it comes to security and data protection, SMS has limited security capabilities as messages are generally not encrypted, making them potentially vulnerable to interception and unauthorized access. Though the cellular network itself provides some level of security, SMS isn't considered a highly secure messaging channel.
WhatsApp provides end-to-end encryption by default, which ensures that messages are encrypted on the sender's device and can only be decrypted by the recipient's device. Besides, WhatsApp's two-factor authentication additionally helps to protect user accounts from unauthorized access.
Engagement potential
Compared to SMS, WhatsApp undoubtedly has much more engagement potential, first of all, due to messaging length and rich media format. With WhatsApp Business API, you can also set up interactive template messages and interactive responses to customer-initiated messages, making the entire communication more efficient and engaging.
In addition, SMS is typically one-way and involves limited interaction capabilities. E.g., recipients cannot reply to messages sent from an alphanumeric sender ID, which limits conversational use cases and also requires you to provide alternative ways for users to opt out of your messages. While WhatsApp always enables two-way communication, making it a much more interactive and engaging channel.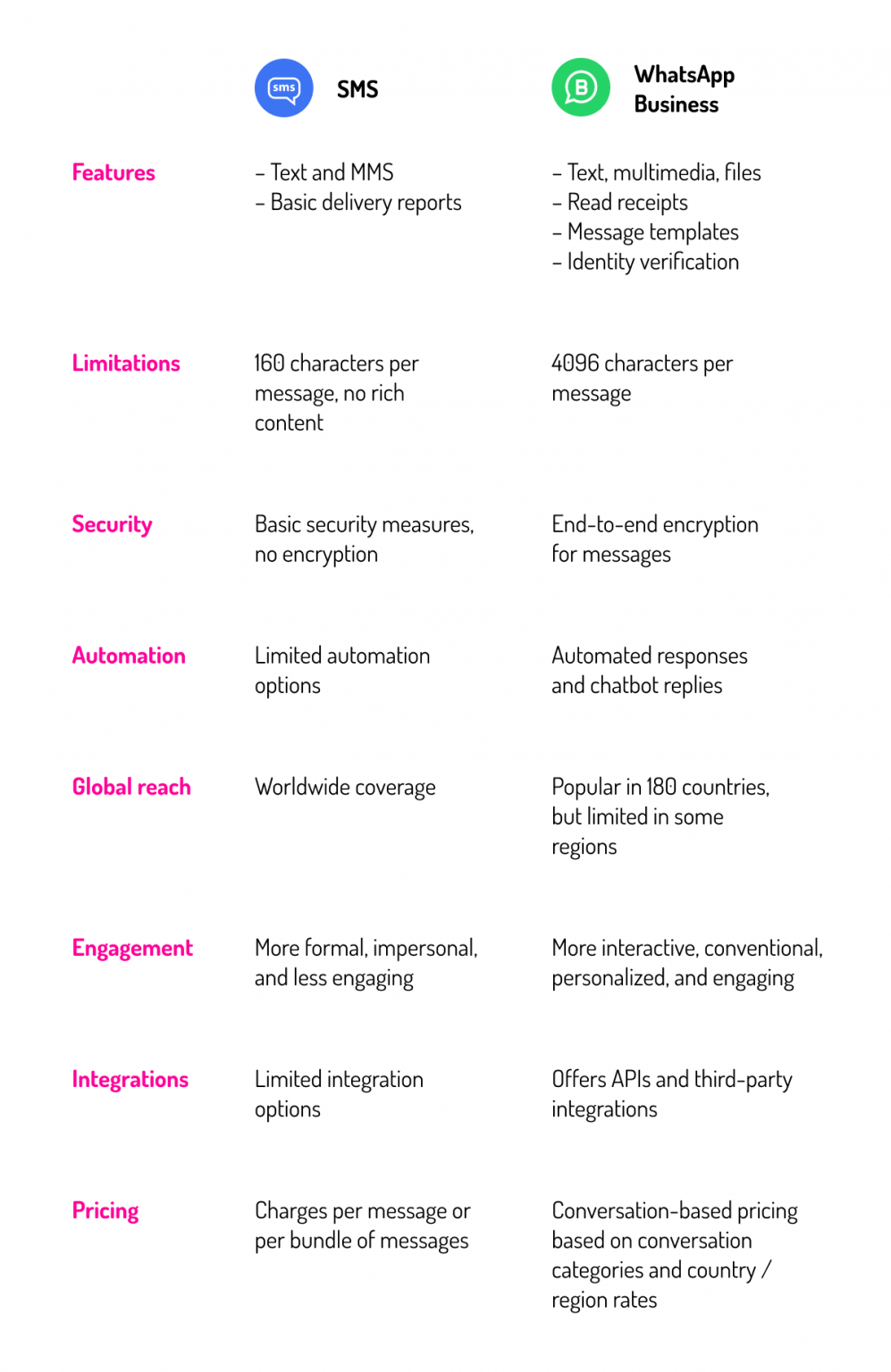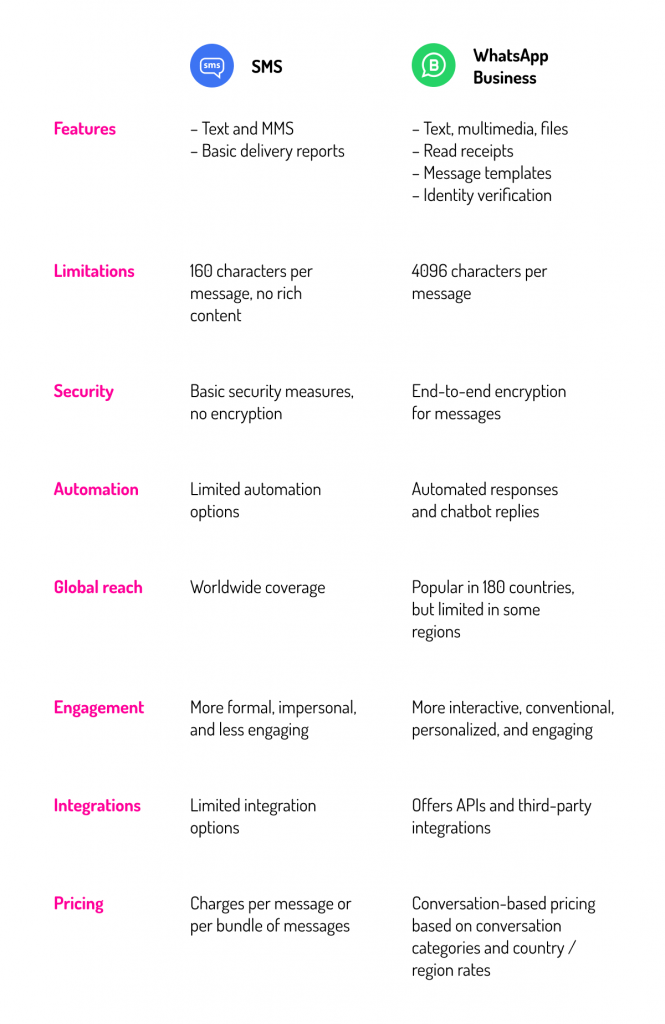 Leveraging SMS and WhatsApp Business App in Specific Business Use Cases
Customer Support
Considering all the limitations, SMS, apparently, isn't the best channel for customer service and support. WhatsApp messaging capabilities make it a much more suitable and convenient option for both consumers seeking support and your customer service representatives. Customers and support agents can easily exchange images, screenshots, files, voice messages, etc. – giving more context and making it easier to resolve issues quickly and efficiently without being charged per each message.
With automated greetings, away messages, and predefined replies to the most frequently asked questions, your team can deliver a better customer support experience. And what's more, by integrating WhatsApp chatbot, businesses can offer self-service support 24/7, enabling your customers to get immediate answers at least to basic questions and resolve simple issues on their own round the clock. That also helps reduce the load on your team while letting your agents spend more time handling more complex requests that require a human touch.
If your customers opt in to service updates through WhatsApp, you can also send them proactive messages such as appointment reminders, parcel tracking numbers, shipping notifications, etc. – offering help and relevant information even before they ask for it. That makes WhatsApp a great tool for proactive customer support.
Read more in our article How to Use Instant Messaging Apps for Customer Service [Best Practices].
Marketing
In regions where WhatsApp isn't widely used or unavailable, SMS marketing can be one of the most efficient ways for businesses to reach their target audiences with clear and concise marketing messages. You can run SMS marketing campaigns to generate interest in your products or services, announce new product releases, advertise special offers, promote events, collect customer feedback, and more.
However, since SMS has a 160-character limit, it makes it challenging to fit all the information and links into a single message. WhatsApp provides much more flexibility enabling you to make your WhatsApp marketing messages a lot more engaging and interactive, leading to better conversions as compared to text-only SMS messages.
Plus, WhatsApp is much more efficient in terms of lead generation, as you can easily generate inbound leads through WhatsApp click-to-chat links, QR codes, WhatsApp chat widget on your site, or WhatsApp buttons on your Facebook or Instagram page.
Sales
Given the limited messaging features and automation capabilities, SMS might not be an optimal channel for sales. Besides, when you send multiple messages back and forth, that might be costly for both parties. WhatsApp Business is a more cost-effective and efficient sales tool that allows businesses to engage customers in conversational selling.
In fact, with powerful WhatsApp API features, you can build a product catalog showcasing your offerings, create WhatsApp template messages, send personalized product recommendations, enable customers to add items to their cart, and handle the payment process directly through the app without having to leave the conversation, track orders, and more. You can also set automated messages based on specific triggers, such as cart abandonment reminders, ultimately helping you increase your sales conversion rates.
SMS vs. WhatsApp: Which One Should You Use in Your Business Communication?
When it comes to deciding between SMS and WhatsApp for your business communication needs, it ultimately comes down to your unique business requirements, budget, specific preferences of your target audience, and the level of security and interactivity you need.
While SMS has a broader reach, WhatsApp might be a better choice if your business operates in regions where it's a popular option. WhatsApp may be preferable if you're looking for a higher level of security and prioritize more interactive and personalized engagement.
In addition, due to its conversational nature, rich media support, and automation capabilities, WhatsApp is suitable for almost any use case, including inbound and outbound marketing, sales, and customer support.
With VoiceSpin Messaging omnichannel communication platform, you can integrate WhatsApp and other IM apps, email, live chat, and social media channels into a single tool and easily manage customer interactions across all these channels form a unified inbox, ensuring a seamless omnichannel experience. Connect to WhatsApp Business API and get started in minutes. Book a demo now to see VoiceSpin Messaging in action.