Instant messaging is a convenient way for consumers to get quick and efficient customer support through communication channels they are already actively using in their daily lives to connect with their friends and families.
While for businesses, it's a highly effective and cost-efficient support channel to connect with their customers, resolve support issues, reach out with proactive notifications, improve engagement, and increase sales.
Looking for a contact center solution?
Powerful AI dialer, bulk SMS, and more tools for running an omnichannel contact center.
In this blog, we'll explore in a bit more detail how instant messaging platforms are currently used by businesses and organizations to support their customers and provide some instant messaging customer service best practices you can immediately employ to give a boost to your customer service efforts.
Why You Should Use Instant Messaging for Customer Service
Since today's consumers are more digitally-savvy than ever before, they also increasingly expect brands to offer customer support through various digital communications channels, including live chat, social media, and instant messaging tools.
According to the State of the Connected Customer report by Salesforce, 37% of consumers prefer instant messaging apps like WhatsApp and Facebook Messenger to communicate with companies (48% Millennials, 36% Gen Xers, and 21% Baby Boomers in particular).
If you want to cater to the needs of these consumers, it might be just the right time to start delivering instant messaging support to your customers alongside your current support channels. There are basically three major ways instant messaging for business can benefit you:
1. Better customer experience
Firstly, IMs are a convenient way for consumers to reach out to brands and have back-and-forth conversations anytime and anywhere, as they are easily accessible on mobile devices, tablets, and computers. Whenever your customers or prospects have questions or seek support with issues, they can instantly message you right from their mobile device without having to call you, waste time navigating through your IVR menus, and wait on hold for someone to respond.
Besides, IMs allow for voice and video calling and enable customers and agents to exchange multimedia such as screenshots, product photos, documents, or other relevant visuals helping your reps to deliver speedy and efficient support. That undoubtedly adds up to improving your customer satisfaction levels and CX.
2. Proactive communication
IMs are also excellent for facilitating proactive communication and driving better engagement with your customers and prospects. If they opt into instant messaging service, you can reach out to them with automated proactive service notifications and inform them about new products, promotions, or personalized offers.
Considering that messaging apps typically have high open rates, that makes IMs extremely efficient tools to engage with your audience at all stages of the customer journey and boost your sales conversions. In fact, WhatsApp is known to have an average open rate of 98%, which is significantly higher than that of email, with just 20%.
3. Increased agent productivity
While agents managing phone support can only handle one call at a time, with IMs, your team members can handle multiple conversations simultaneously due to the asynchronous nature of messaging. Your reps can also automate certain responses for better service efficiency.
Besides, IM platforms often support chatbot capabilities. Chatbots can instantly answer frequently asked questions, freeing up your agents to focus on more complex customer interactions that require personalized human input. Not only does it improve your team's productivity, but it can also reduce your overall support costs.
Top Instant Messaging Platforms for Customer Service and How to Use Them
Let's now have a quick overview of the most popular instant messaging service providers and how businesses can use them to deliver support to their customers.
WhatsApp Business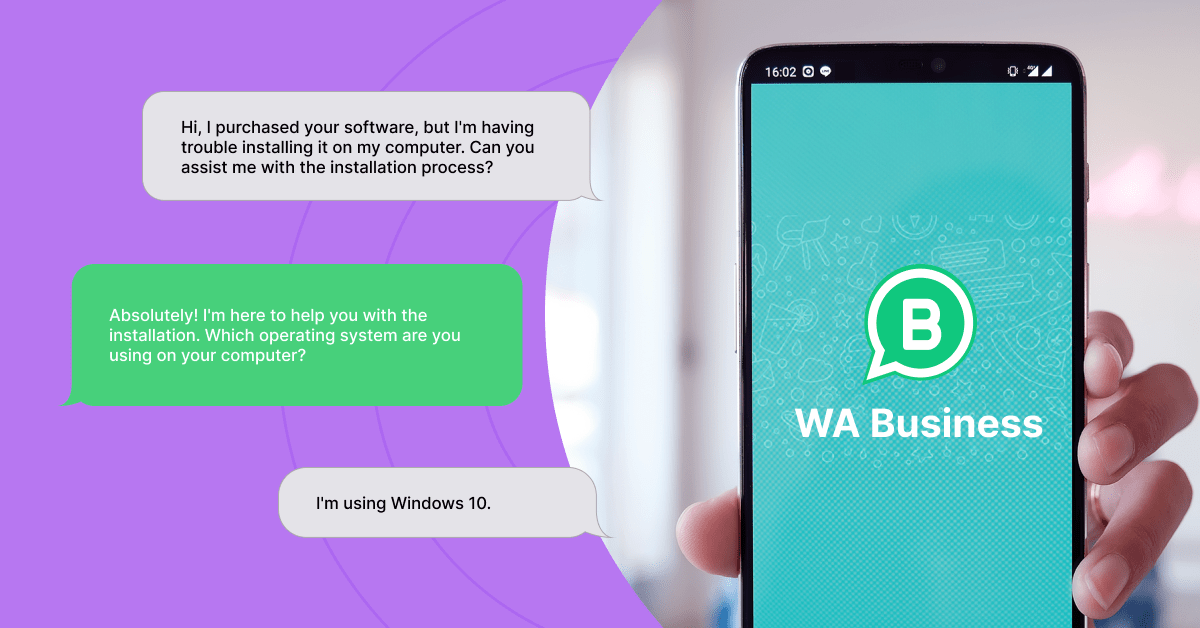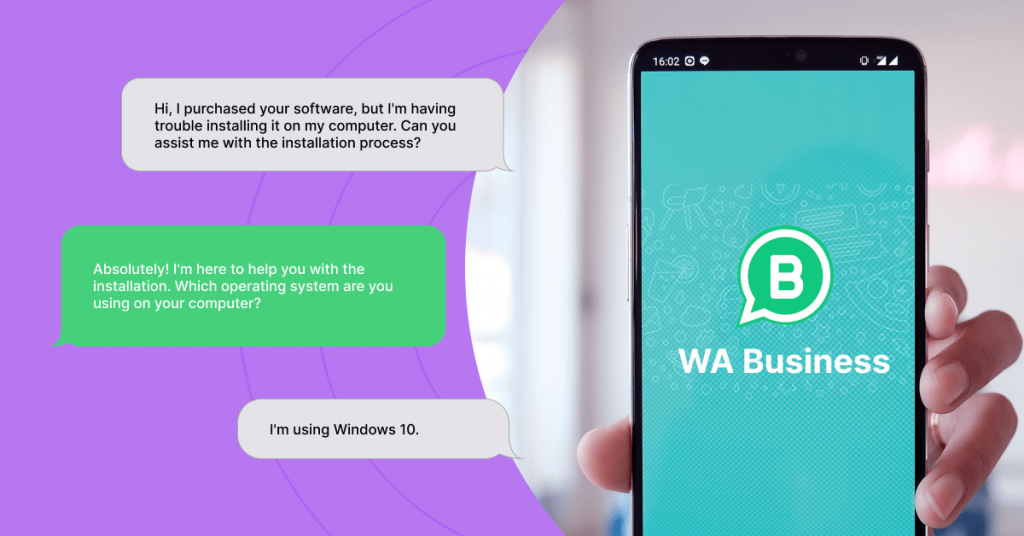 With over 2 billion active daily users and around 100 billion messages sent each day, WhatsApp is the world's most popular instant messaging platform in over 100 countries. According to stats, 175 million people send messages to WhatsApp business accounts daily, meaning that a huge number of businesses and organizations across the globe are already using WhatsApp for their business communications.
WhatsApp Business has all the features that make it an efficient customer support tool allowing you to:
Set automated greetings to welcome customers when they initiate a conversation.
Save and use predefined replies to the most frequently asked questions.
Exchange multimedia-rich messages like audio, video, images, PDF documents, etc.
Create labels and filters to categorize your chats and contacts based on specific criteria.
Integrate chatbot capabilities to provide customer support 24/7.
Facebook Messenger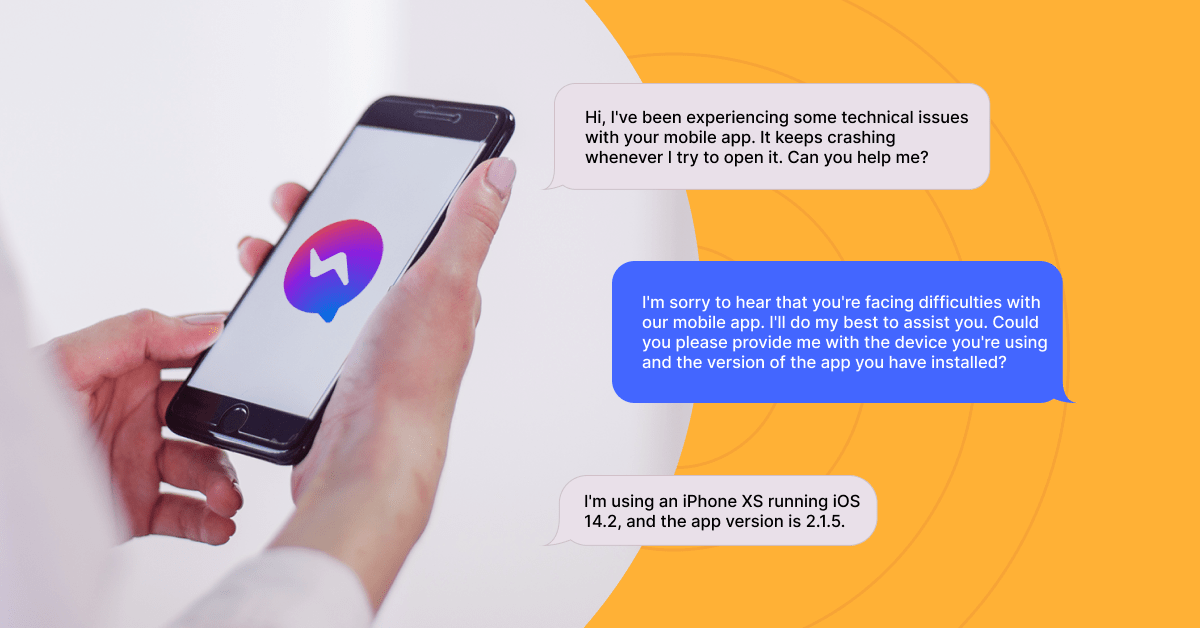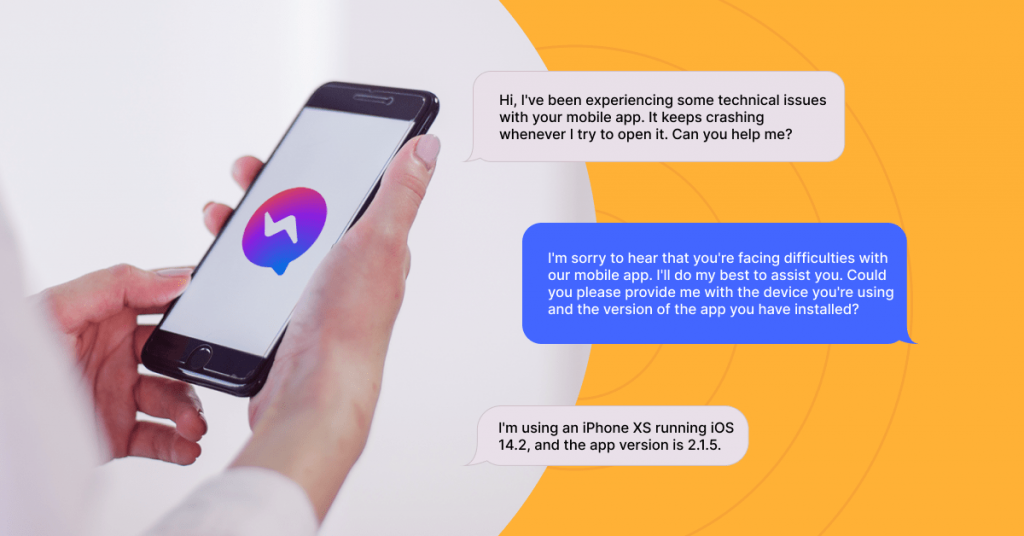 Facebook Messenger steadily remains the second most widely used IM app, with around 260 million new conversations taking place on the Facebook Messenger app every day, 2.9 billion people using the app monthly, and 20 billion messages exchanged every month between businesses and customers. Statistically, around 40 million businesses are already actively using the Facebook Messenger platform.
By offering a wide range of features and capabilities that make it a great tool for supporting customers, it allows businesses to:
Take advantage of labels, notes, and status tagging.
Set greeting messages customers see when initiating a conversation.
Automate responses to the most commonly asked questions.
Send automated follow-ups and appointment reminders.
Integrate a live chat plugin and add a Facebook chat box to your website.
Provide self-service support by integrating chatbots.
Telegram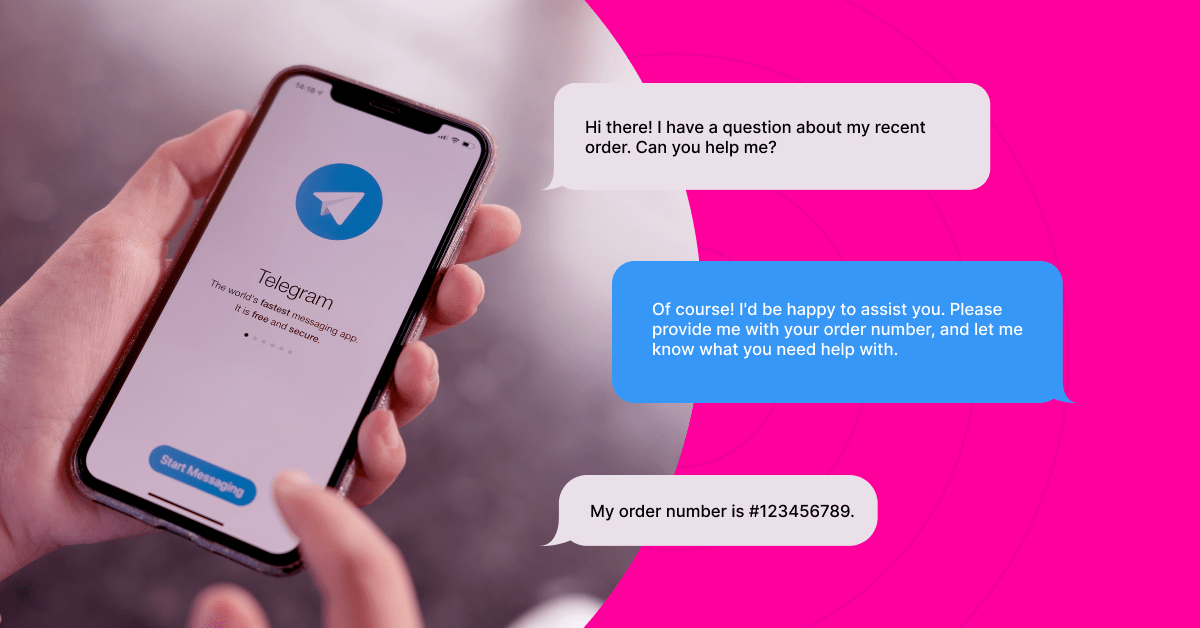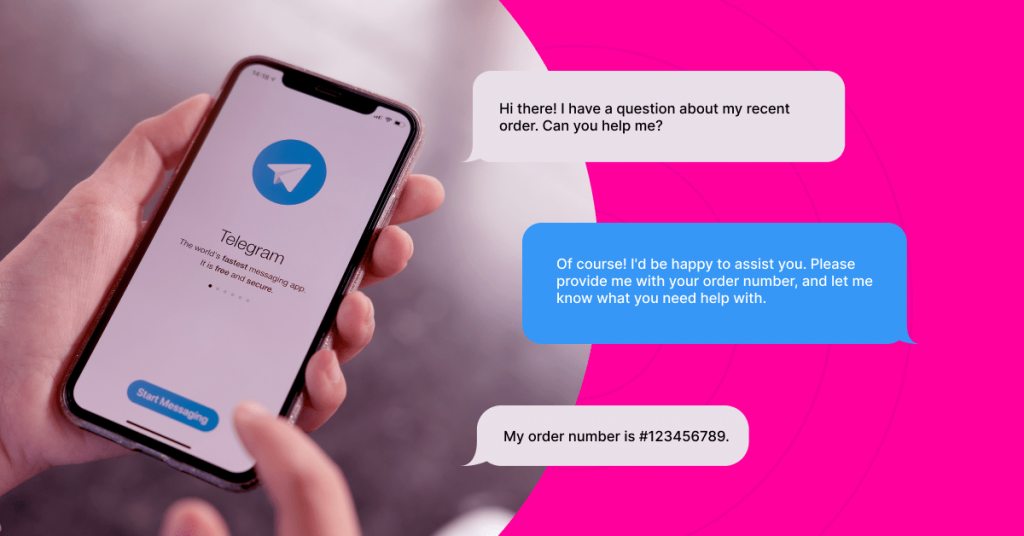 Telegram isn't as huge as other instant messaging services listed above, but it still comes third on the worldwide ranking of messaging apps and appeals to over 550 million active monthly users. This messaging app is known for its privacy and security (e.g., it supports self-destructing messages), making it one of the safest IM apps on the market.
There's no business version of Telegram, but businesses can still take advantage of some features that can facilitate their customer support processes. With Telegram, you are able to:
Create groups and channels with no limitations on the maximum number of people to engage customers, send special promotions, etc.
Use Telegram Bot to answer FAQs, assist customers with common inquiries, provide information, or process orders.
Best Practices on Using Instant Messaging Apps for Customer Service
How can you efficiently implement and use messaging apps to support your customers? Below we've come up with some of the best practices to pay attention to if you decide to expand your customer support offerings with WhatsApp, Telegram, or other messaging apps.
Choose IMs your customers use
With so many instant messaging software apps available, how do you pick just the right one to complement your customer service toolbox? While WhatsApp might seem like an obvious choice as it's currently the most popular messaging app, you should, however, take into account the popularity of the app in your region and your customers' preferences.
Optimize your IM accounts
Make sure to optimize your IM accounts by adding your company logo as your icon so that people can instantly associate them with your brand. Add your company address, description, operating hours, and other relevant information. When interacting with customers, tell them your name so they know they are talking to an actual human.
Respond immediately
When customers reach out to your brand through instant messaging, they naturally expect an immediate response. Aim to reply promptly, preferably in real-time; otherwise, customers might only get frustrated by the poor experience. You can also set internal SLAs (Service Level Agreements) to maintain reasonable response times.
Enable automation
Set automated replies for the most commonly asked questions to speed up your response times or enable chatbot integration to handle customer interactions without even getting your support agents involved. E.g., after introducing a WhatsApp chatbot to answer FAQs, BMW managed to answer around 80% of customer questions immediately.
Deliver a Unified Customer Experience Across All Your Messaging Apps with VoiceSpin Messaging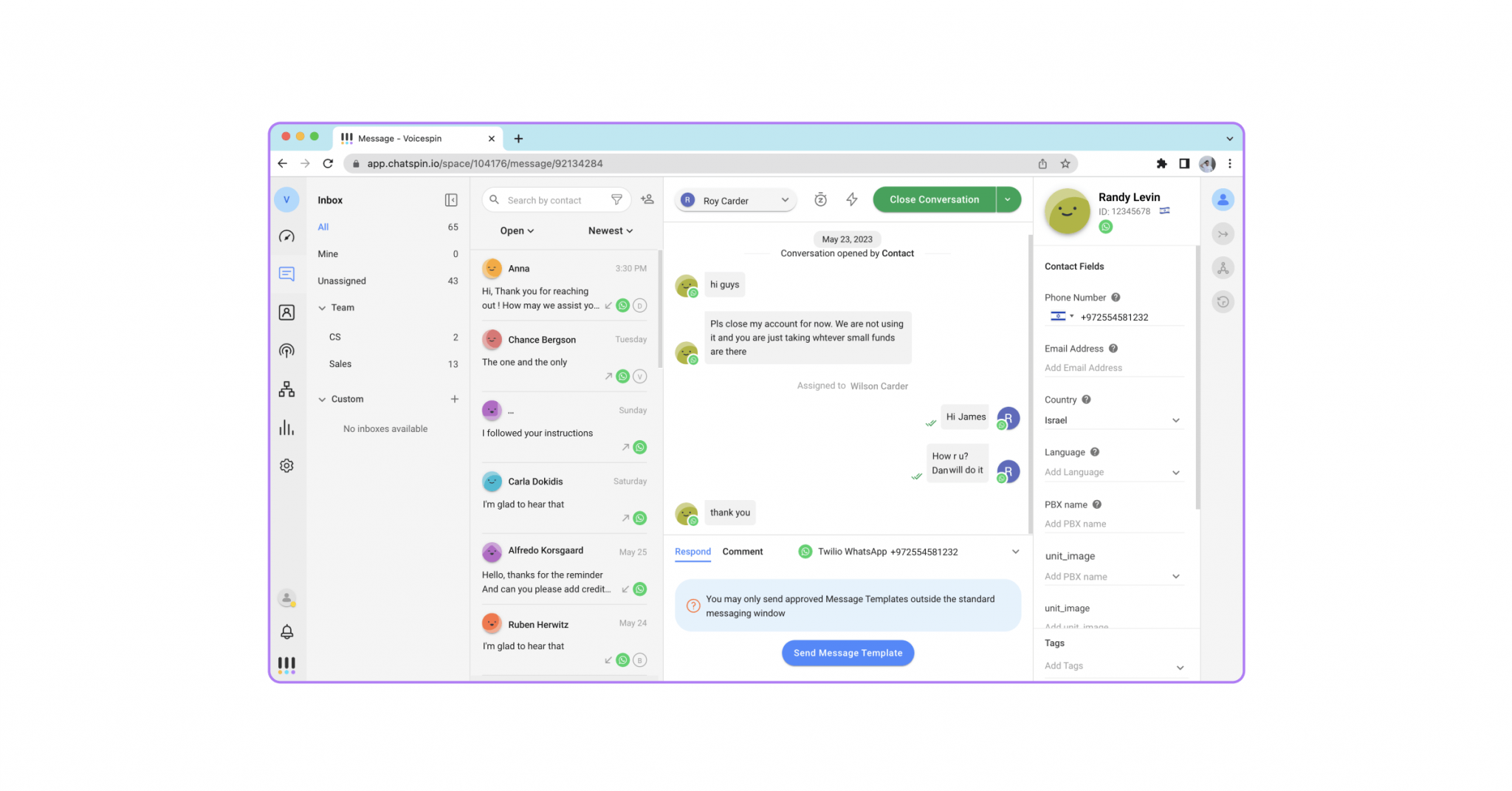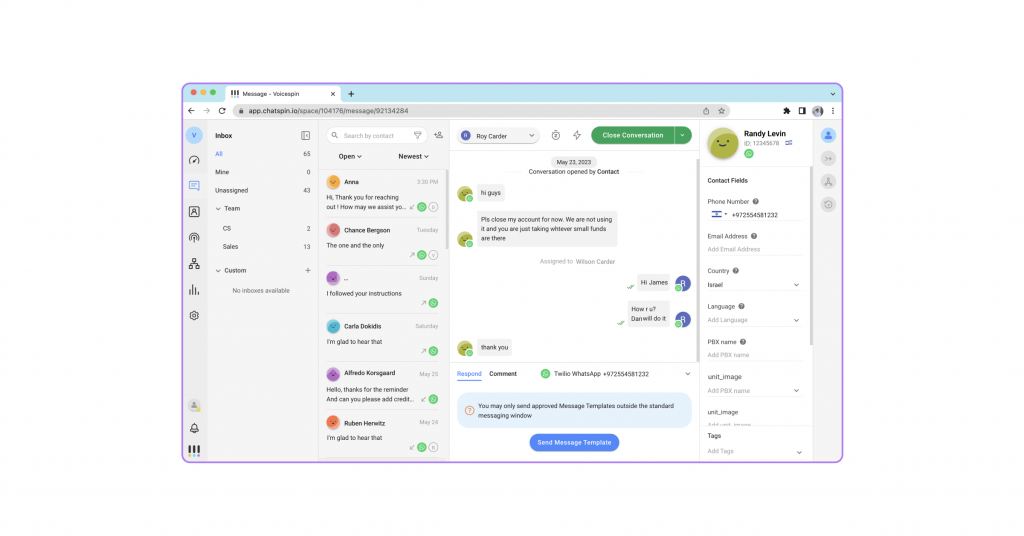 Instant messaging apps are powerful communication tools that are increasingly becoming more expected by consumers due to the convenience and real-time nature of interactions they enable. That is why incorporating IMs into your service strategy can definitely enhance your customer service, boost engagement, and ultimately give your business a competitive edge. The key is to find the right customer service platform that can seamlessly integrate IMs into your business communication.
Luckily, with a ready-to-go omnichannel communication platform like VoiceSpin Messaging, you can easily start supporting and engaging with your customers on the most popular messaging apps like WhatsApp, Facebook Messenger, Telegram, Viber, Line, WeChat, and others. Moreover, VoiceSpin Messaging enables you to additionally connect your email, web chat, and social media channels alongside IMs and efficiently manage all these digital channels from a single business messaging platform.
Leveraging canned responses, scheduled messaging, reporting and analytics, personalized messaging capabilities, and a bunch of other features will instantly streamline processes, improve agent efficiency, and increase customer engagement and satisfaction.
More importantly, a unified view of all customer interactions will give your agents the right context required to resolve issues quickly and efficiently while delivering a seamless, omnichannel support experience in every interaction.
Book a demo now to see VoiceSpin Messaging all-in-one customer messaging platform in action and learn more about how it can help you connect with your customers anytime, anywhere, on the channel of their choice.