WebRTC has been around for over a decade now, and it has already been widely adopted by the majority of modern cloud contact center solutions. Web real-time communication enabled by the WebRTC technology allows cloud-based contact centers to significantly improve customer experience, minimize telephony costs associated with traditional phone systems, enhance the efficiency and productivity of agents, and simplify customer service operations.
In this blog, we'll look into WebRTC in more detail and explore how you can leverage it to optimize your cloud contact center operations.
Introduction to WebRTC in Cloud Contact Centers
The WebRTC (Web Real-time Communications) technology enables real-time voice and video calls, live chat, peer-to-peer file sharing, and screen sharing capabilities to be natively embedded into web browsers, with no need to install any plug-ins or other downloaded software components. It allows users to initiate phone calls and video calls, send messages, and share files directly from their web browsers or mobile apps. Check out our glossary to learn more about WebRTC technology and how it works.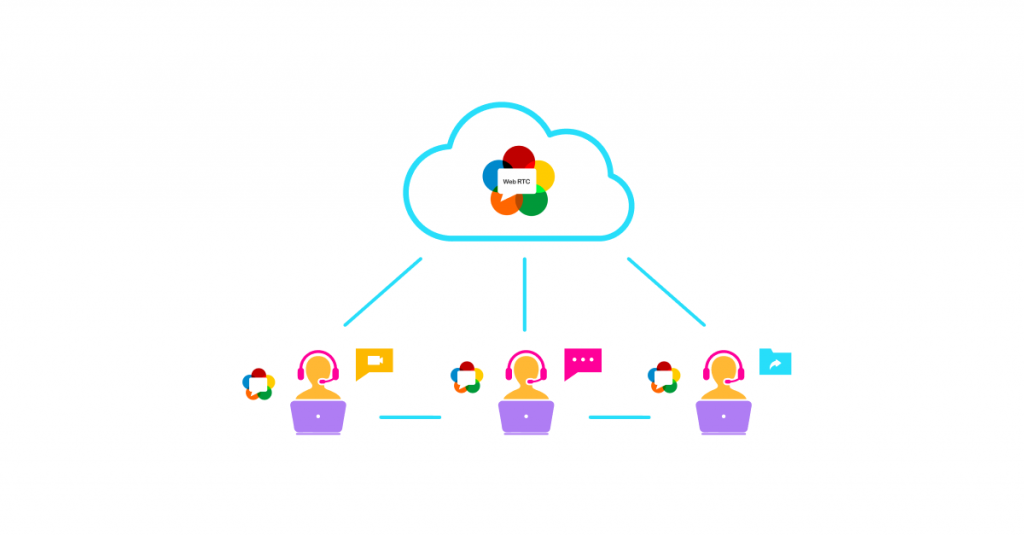 The widespread usage of WebRTC in contact centers started in 2011 – and since then it quickly gained popularity in a wide range of industries. Due to easy implementation, scalability, flexibility, and cost-efficiency, WebRTC has become a preferred solution for VoIP contact centers.
Any contact center aims to handle customer service interactions smoothly and efficiently, ensuring a flawless customer experience while keeping operational costs to a minimum. WebRTC enables just that, providing a seamless communication experience for both customers and call center agents.
The Importance of WebRTC Technology in Cloud Contact Centers
Besides high-quality browser-based voice and video calling, WebRTC can also be used to enable other call center features and capabilities, such as call routing and web-based IVR systems to better route incoming calls, call queueing, call recording, real-time analytics tracking, and screen sharing.
On top of that, WebRTC supports encryption and various security features (such as authentication and access control) to ensure customer data remains private, secure, and protected, which helps build trust with customers and comply with regulations. This is why more often than not, advanced CCaaS solutions rely on WebRTC as the underlying communications platform.
Another important advantage of using WebRTC technology in contact centers is its scalability. WebRTC can be easily integrated with other web-based technologies and cloud-based services, which allows contact centers to scale their communication capabilities and quickly adapt to rapidly changing customer needs and preferences.
Benefits of WebRTC in Enhancing Customer Experience
With WebRTC, customers can easily connect with agents through the 'click-to-call' button right while they are browsing a company website, with no need for additional third-party apps or hardware, and enjoy high-quality connection without even having to pick up their mobile phone. That reduces communication errors, improves the overall quality of interactions, and ensures a seamless experience.
In addition, with co-browsing capabilities available through WebRTC, contact center agents have a better understanding of the context that led the customer to click the 'click-to-call' button. This way, they can deliver a more personalized, contextual customer experience and improve overall customer satisfaction.
To sum it up, WebRTC can enhance CX by means of:
High audio and video quality and stable connection
Real-time interaction capabilities
Effortless communication, initiated with a button click
Personalized customer service experience
How WebRTC Helps Improve Efficiency and Reduce Costs
Cloud contact center WebRTC solutions can contribute to improving agent efficiency while reducing costs. Firstly, WebRTC-enabled capabilities like chat, video, co-browsing, and instant access to real-time customer information allow agents to handle interactions more efficiently, better respond to customer needs and reduce the Average Handle Time (AHT).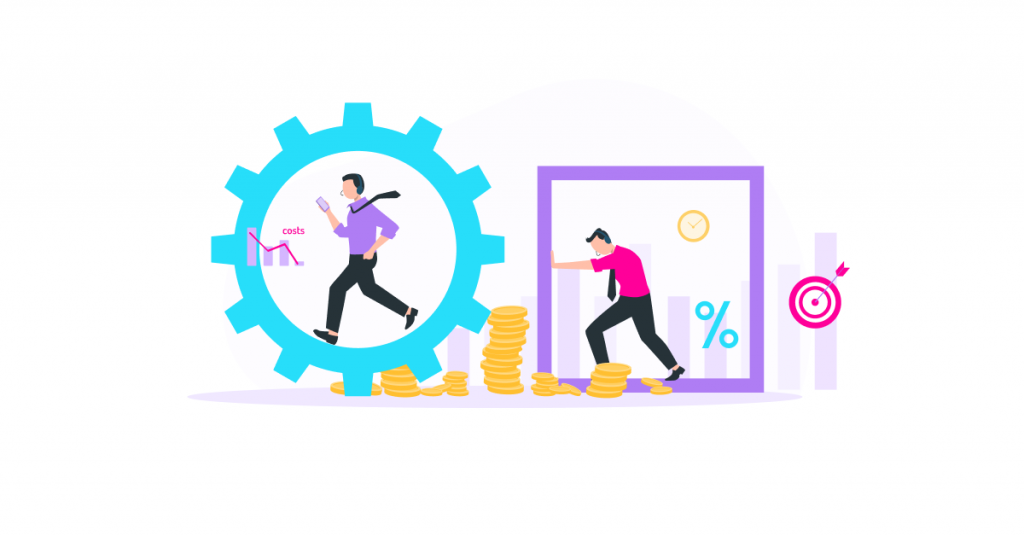 Since WebRTC can also be used to provide self-service options, such as Interactive Voice Response (IVR) and chatbots, it can ultimately help to reduce the number of calls agents need to handle, giving them more time to focus on more complex issues.
Second, in addition to minimized telephony costs, WebRTC eliminates the need to install and maintain downloadable apps or plug-ins on agents' PCs or web browsers or provide them with hardware SIP phones, which enables additional cost savings for a contact center. Furthermore, as more contact centers are shifting to hybrid or remote work environments, WebRTC enables agents to work from home, which reduces operational costs.
It can also improve real-time collaboration between the agents working in distributed environments through features like co-browsing, screen sharing, and data sharing, which can help them provide more efficient support, improve FCR, and reduce the need for follow-ups.
To wrap up, WebRTC enhances contact center efficiency and optimizes costs through:
Reducing average call handling time
Providing real-time customer information
Enabling customer self-service options
Improving agent collaboration across remote teams
Eliminating telephony/ hardware/ maintenance costs
The Future of WebRTC in Cloud Contact Centers
The global cloud-based contact center market is projected to reach USD 54.7 billion by 2027 (compared to USD 17.1 billion in 2022), at a Compound Annual Growth Rate (CAGR) of 26.1%, according to the report by MarketsandMarkets. The growth is primarily driven by the growing need for personalized and streamlined customer communications and the increasing popularity of omnichannel contact centers to improve the availability of different communication channels, based on the report.
As more contact centers continue moving to the cloud, WebRTC is poised to play an increasingly important role in the cloud contact center environment. WebRTC provides scalable and flexible communication solutions and can be easily integrated with other services and technologies, including CRM, APIs, chatbots, and other AI-powered applications. By adopting WebRTC and integrating it into your CCaaS platform, you can gain a competitive advantage and improve your contact center efficiency and CX.
Leverage the Power of WebRTC in Your Contact Center
WebRTC drives powerful web calling capabilities and helps contact centers enhance customer experience, optimize IT operations, improve agent productivity, and cut down on operational costs. That makes WebRTC a must-have solution for today's cloud contact centers.
Learn more about VoiceSpin's omnichannel cloud contact center solution powered by WebRTC and how it can be integrated into your business processes to help you improve CX and operational efficiency by scheduling a free demo with our sales team.