Efficient management of incoming calls is key to providing quick issue resolutions, balancing agent workloads, and maintaining high levels of customer satisfaction in inbound call centers. That is why automatic call distribution systems that are capable of routing inbound phone calls to available agents based on certain predefined conditions are essential software solutions in a contact center environment.
What is Automatic Call Distribution?
Automatic Call Distribution (ACD), also known as an Automatic Call Distributor system, is a fundamental inbound call management feature of contact center solutions. An automatic call distribution system sorts and routes inbound calls based on predefined conditions and IVR inputs from callers to the most appropriate departments or agents within a call center.
ACD is designed to streamline inbound call handling, help call centers effectively manage high inbound call volumes, and improve the experience for callers by eliminating unnecessary call transfers and long wait times and routing callers to call center agents who are best equipped to handle specific issues. Along with Computer Telephony Integration (CTI) and Interactive Voice Response (IVR) systems, ACD is the backbone of inbound call centers and the foundation of efficient inbound call management.
How Does an ACD System Work?
Caller identification
To ensure an incoming call is routed appropriately (i.e., to the best-fitting available employee or department), an ACD system collects and analyzes all call-related data to identify an inbound caller's needs. That may include Caller ID, the phone number the caller dialed, IVR inputs or specific information the caller entered into the IVR (e.g., account number), customer data retrieved from an integrated CRM system or a contact center's database (e.g., the caller's location, past purchases, VIP status, preferences, interaction history, recent sentiment scores, etc.).
Call queueing
If inbound callers cannot be immediately connected to live agents, the ACD system sorts customer calls into waiting lists and places them in corresponding call queues. A call queue is a virtual waiting line for inbound calls. For callers, it means being put on hold and wait until a contact center agent becomes available to pick up and handle their call. The order of the queue may be determined by factors like the caller's waiting time, status, or other factors. While in a queue, callers may be informed of their position in the queue and the expected waiting time or even request a callback.
Call routing
When routing calls to available agents, an ACD system takes into account the selected type of call distribution, configured in the ACD system settings. There are many call routing or call distribution methods to choose from. The choice will depend on your preferences and the functional capabilities of a particular ACD software system. E.g., if the system supports skills-based call routing, it will route calls to agents with the most relevant skill set, ensuring that customer requests are handled by the most qualified representatives.
The Difference Between IVR and ACD
Though Interactive Voice Response (IVR) and Automatic Call Distribution (ACD) systems work in tandem to route calls in the most efficient way and ensure customer satisfaction, the difference between the two is that ACD is a telephony routing system – while IVR is a particular routing feature that improves call routing by gaining additional insights from callers, such as caller intent, to connect them to the most appropriate departments or agents.
IVR systems enable inbound callers to interact with IVR menus through a series of menu choices or voice prompts. Some examples of IVR menu prompts are 'For customer support, press 1', 'For account information, press 2', 'For billing, press 3'. Based on a caller's input that determines the intent of the incoming call, the ACD system then directs the caller to the relevant department or a specific agent by placing the call in the corresponding call queue.
Types of Automatic Call Distribution
Fixed order call distribution
Also referred to as linear distribution, fixed order distribution ensures that calls are routed to specific agents in the predetermined order. Thus, incoming calls are initially distributed to the first agent on the list and are only sent to the next agent if the previous one is unavailable to pick up the call. This is a simple and straightforward ACD routing method, yet it might not be the most efficient one.
Round-robin call distribution
With round-robin call distribution, also known as rotary or circular routing, incoming calls are distributed evenly among a group of agents in a continuous loop to ensure everyone gets a fair share of calls to handle. The first call that comes in goes to the first agent on the list, the next one goes to the second agent, and so on. The cycle will then repeat from the first agent once everyone in the list has taken their turn.
Simultaneous call distribution
In the case of simultaneous call distribution, an incoming call is routed to multiple agents within a ring group simultaneously instead of being routed to a single agent. The first agent who picks up will handle the call. This distribution method allows reducing wait times for callers while minimizing the chances of calls going to voicemails. Simultaneous distribution is ideal when the speed of support is a priority.
Uniform call distribution
With uniform call distribution, incoming calls are distributed as evenly as possible among agents, ensuring that certain agents aren't overwhelmed with calls while others remain idle. The ACD system sends an inbound call to the agent that has been available the longest, i.e., the one with the longest idle time. Once an agent handles the call, they return to the queue until they have the longest idle time again to accept the next call.
Talk-time-based call distribution
With talk-time-based call distribution, also known as the load-balancing distribution method, the ACD system monitors the talk time of each agent and routes an incoming call to the agent with the least talk time. It is aimed to distribute workload fairly among agents to ensure each one engages with callers for approximately the same amount of time during the shift.
Skills-based call distribution
Skills-based distribution, also known as weighted call routing, is one of the most efficient automatic call distribution methods in a call center that helps increase FCR and boost customer satisfaction. With skills-based routing, agents are given scores based on factors like product expertise, efficiency, specific language proficiency, etc. An ACD software system prioritizes agents based on these scores, which ensures calls are routed directly to representatives with the most relevant skills.
Location-based call distribution
In the location-based call distribution method, incoming calls are routed to specific agents or a group of agents based on the geographical location (e.g., area code, city, country) of the caller or the agent. That may be the case when a call center has multiple physical locations, distributed teams, or a global customer base. This type of call distribution is typically combined with other routing methods.
Time-based call distribution
When routing inbound calls based on time-related factors, an automated call distribution system routes them to agents according to agent and caller time zones and agent availability during a given period. Similarly to location-based routing, time-based distribution is often used in combination with other routing methods to ensure the maximum routing efficiency.
Priority-based call distribution
Priority-based call distribution routes inbound calls based on predefined priority levels of the issues or customers, ensuring that high-priority calls are handled immediately or before lower-priority calls. E.g., calls from high-value customers, such as those with VIP or premium status, are instantly routed to dedicated agents or placed at the top of the call queue to get priority support.
The Key Benefits of Automatic Call Distribution
Increased First Call Resolution (FCR)
According to SQM's research, 93% of customers expect their call to be resolved on the first interaction. Automatic call distribution software ensures that incoming customer calls are routed to the most appropriate teams or representatives, which helps increase First Call Resolution (FCR) rate in contact centers while also reducing wait times and the Average Handle Time (AHT).
Enhanced customer experience
Advanced call distribution methods, such as skills-based routing, enable callers to reach the right agent quickly without having to dial a different number or being transferred back and forth between departments and agents. That means faster and more efficient issue resolutions, ultimately leading to improved overall customer experience and increased Customer Satisfaction Score (CSAT).
Improved workforce management
By distributing incoming calls fairly and equally among the team members, ACD accounts for improved workforce management in contact centers. Automatic call distributor systems reduce Agent Idle Time while also preventing agents from being overwhelmed with calls by ensuring everyone in the team shares just about the same amount of work.
Better agent performance
With automatic call distribution systems, contact center agents only handle customer inquiries that are specific to their particular expertise and experience, meaning they can put their best skills to use in every interaction and resolve issues quickly and efficiently on the first call. That results in increased agent performance and productivity.
Essential Features of ACD Systems
Interactive Voice Response (IVR)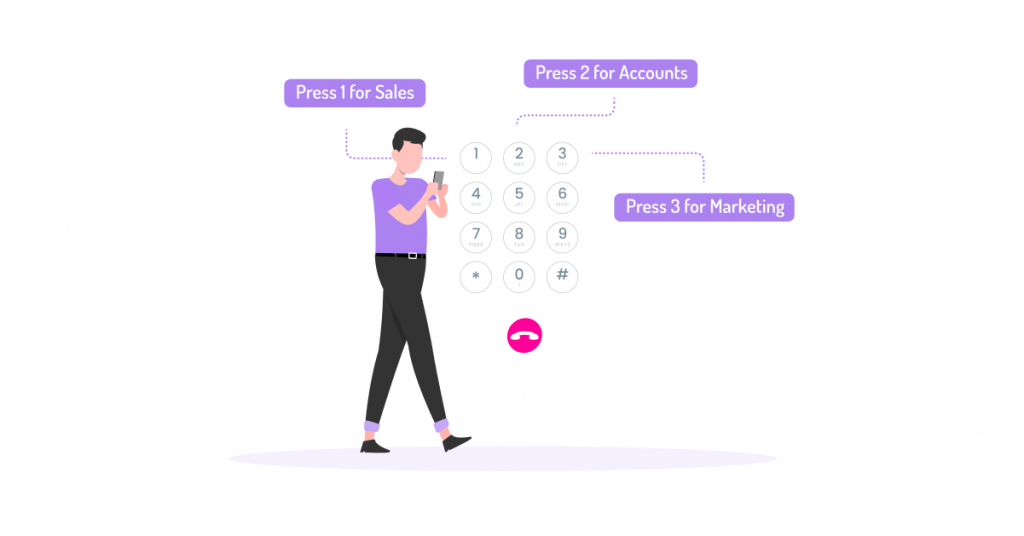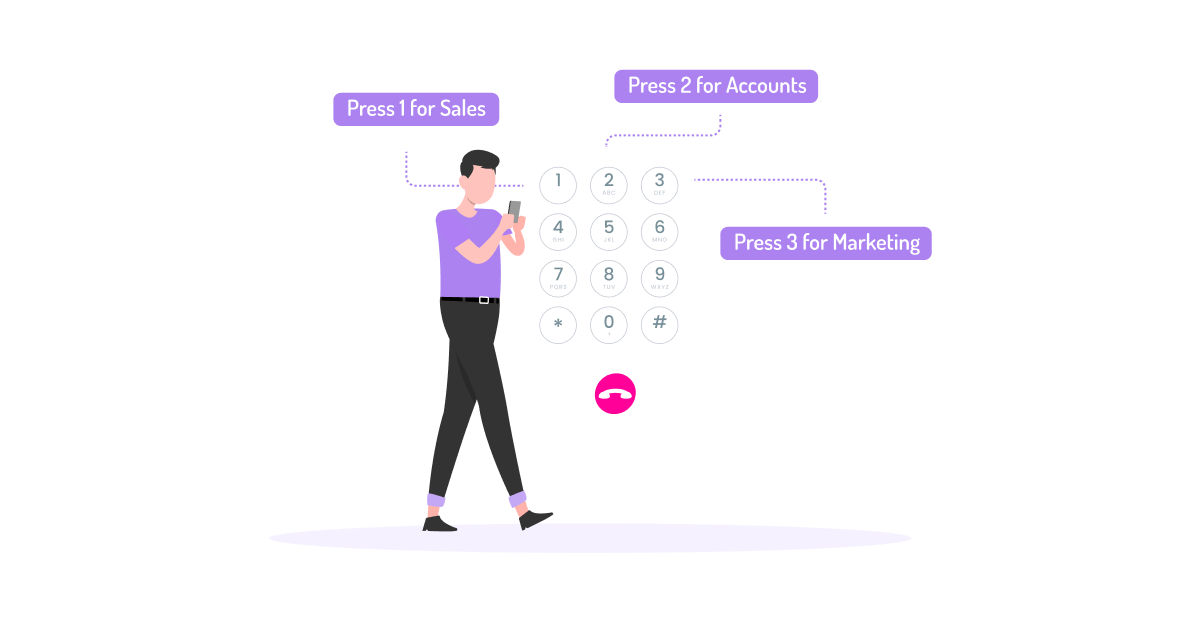 An integrated Interactive Voice Response (IVR) system helps collect caller data to inform the automatic call distribution software on how to best route incoming calls to the most appropriate departments and available agents. IVR self-service menus also empower customers to find the information they are looking for (such as accessing account information or checking account balance) and resolve inquiries independently without needing to interact with an agent, reducing the inbound call volume in a contact center.
Call queue management
Call queue management is an essential capability of ACD software solutions. Enabling call centers to manage multiple inbound call queues assigned to different departments or teams of agents based on certain predefined routing rules makes it easier to handle large inbound call volumes. When incoming calls are accurately organized in queues and routed to the most relevant teams or departments, calls are handled faster and with much greater efficiency.
Queue callbacks
Queue callback, also referred to as automatic callback, is a valuable call-handling feature of ACD call center software solutions. It enables callers waiting on hold to hang up while keeping their place in the queue and receive an automated callback from an agent when their turn arrives. This way, callers don't have to waste time waiting on hold listening to hold music. Instead, they can request a callback when the expected wait time is too long, which helps improve customer experience.
Call monitoring
Call monitoring is a common feature of ACD software systems that enables call center supervisors to monitor customer-agent interaction in real time. They can either listen in to live calls without intervention or actively engage in conversations through features like call whispering, call barging, or call takeover. That empowers supervisors to evaluate call quality and agent performance and identify agent training and call coaching opportunities.
Reporting and analytics
Reporting and analytics capabilities of automatic call distributor software systems enable managers to track call center performance through real-time and historical reports and monitor critical metrics such as the Average Speed of Answer (ASA), First Response Time (FRT), the Average Handle Time (AHT), First Call Resolution (FCR) rate, Call Transfer Rate, Call Escalation Rate, and other metrics and KPIs. Based on this data, managers can make more informed decisions about call center staffing levels, adjust the call routing strategy, and make meaningful improvements in processes and operations.
CRM integrations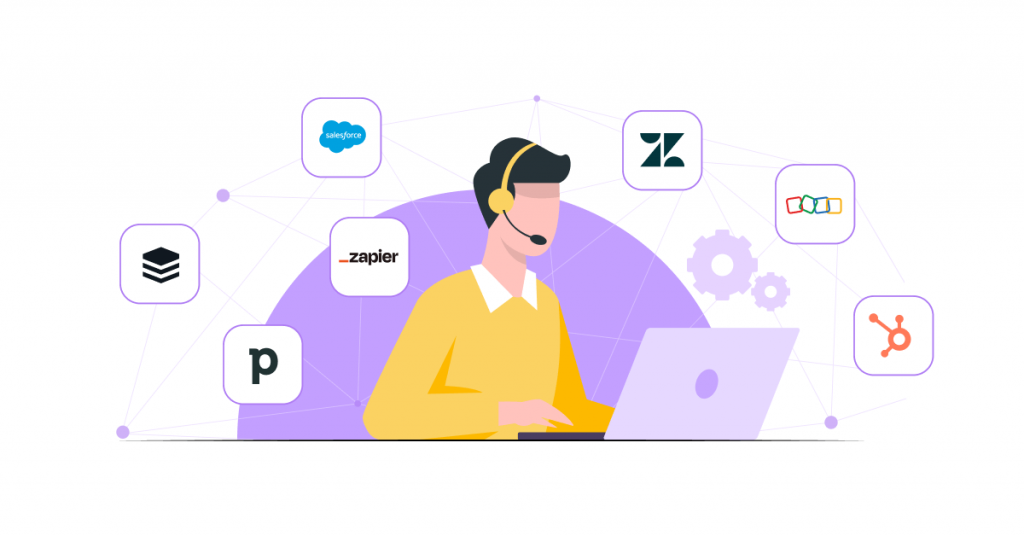 Many ACD phone systems can be seamlessly integrated with third-party software, including Customer Relationship Management (CRM) systems, databases, helpdesk tools, and other business applications. E.g., VoiceSpin's omnichannel contact center software integrates with 50+ popular CRM systems like Zoho, Salesforce, HubSpot, and others, which allows the ACD phone system to instantly access and retrieve caller information from the CRM and enable a more efficient call routing.