Automated phone systems that allow placing automated phone calls and delivering pre-recorded voice messages or text messages to large groups of prospects or customers have become widely used by businesses across various industries. These systems help improve efficiency and productivity by automating the entire process of making outbound calls and sending messages without requiring any human input other than crafting these messages and setting automated calling campaigns.
What is an Automated Calling System?
An automated phone system (also known as an automated calling system or a mass calling system) is a telephony software solution that enables businesses and organizations to place hundreds or thousands of automated calls at once to large lists of phone numbers and deliver pre-recorded voice messages to prospects or customers without agent assistance. The only human input required is to create automated voice messages, select the group of contacts, and initiate the calling session.
Types of Automated Phone Calling Systems and How They Work
Inbound automated phone calling systems
In the context of inbound communications, an automated calling system can manage incoming calls through ACD (Automatic Call Distribution) and IVR (Interactive Voice Response) systems. With an integrated IVR, callers can navigate through and interact with an IVR menu using voice or keypad inputs.
The system can play pre-recorded messages that might provide callers with the necessary information, direct them to other communication channels, or enable them to resolve basic queries, such as checking their order status or account balance, setting or changing passwords, processing bill payments, scheduling appointments, etc. Callers can also choose to be connected to a live agent if they cannot find the information they are looking for or cannot resolve their issues through an IVR self-service menu.
Inbound automated calling systems can also route inbound calls to the most appropriate departments or agents based on pre-defined call routing rules and IVR inputs from callers. Some systems may also offer a queue callback option, allowing callers to request a return call from an agent at a later time instead of waiting in a call queue. Thus, when used in an inbound call center environment, automated calling system solutions help reduce inbound call volumes, manage call queues, and improve customer satisfaction.
Outbound automated phone calling systems
Outbound automated call systems are used in outbound and blended call centers to send pre-recorded messages or texts to all contacts from a pre-uploaded contact list. The system initiates an automated phone call and leaves a pre-recorded voice message once the call is answered by the recipient. The message could be either a voice recording or a text message voiced by the text-to-speech feature of the software system.
If the call reaches a voicemail system, it may deliver an alternative pre-recorded message based on campaign settings. An automated phone system can also be configured to send out automated text messages. These systems are often part of outbound calling software solutions that offer automated calling capabilities alongside other call center features.
Automated voice messages can be used for various purposes, including sending critical notifications and appointment reminders to customers, qualifying leads, promoting new products, services, special offers, or events, collecting feedback, conducting surveys, etc. Therefore, any business that wants to get its mass messages delivered to the target audience can benefit from using automated call systems.
Key Features of Automated Calling System Software
Bulk voice message broadcasting
This is a fundamental feature of outbound automated call systems that enables businesses to make simultaneous calls and leave pre-recorded messages to a large number of recipients. That may be the case when a business needs to deliver mass emergency notifications in a short time.
Bulk text messaging
Some automated call systems enable businesses to send bulk text messages to prospects or customers. These messages can typically be customized, allowing for greater personalization and increased engagement. Bulk text messaging can be used for sending mass notifications, reminders, or proactive sales outreach.
Scheduled calls and messages
An ability to schedule outbound campaigns and set specific dates and times for phone calls or text messages is a valuable feature of automated call systems and bulk text messaging tools, which is particularly helpful when running campaigns across multiple time zones.
Voicemail drop
Voicemail drop enables you to automatically leave pre-recorded messages when an automated call system reaches a voicemail when calling recipients. Thus, even if a call isn't answered by a real person, the system can still deliver important messages to the recipient's voicemail.
Text to Speech
Text to Speech (TSS) is an advanced feature of an automated calling system that converts written text into spoken language. With Text to Speech, agents don't need to record messages – the system will synthesize spoken words instead of playing back a pre-recorded message once the call is connected.
Do-Not-Call list management
To ensure businesses comply with relevant regulations that govern the usage of automated call center tools when using an automated calling system, advanced solutions provide compliance management features, such as the ability to manage Do-Not-Call lists and exclude DNC list numbers from outbound calling campaigns.
Local caller ID
People aren't likely to answer calls from unknown numbers, making it challenging for businesses to reach out to prospects. Being able to initiate outbound calls from local numbers through local presence dialing helps improve Call Answer Rates, as people are more likely to pick up when they see a local number on their caller ID.
Reports and analytics
Through reports and analytics capabilities of automated calling system solutions, managers can gain insights into various metrics (like the number of calls answered or messages delivered) to gauge the efficiency of their calling or text messaging campaigns. Based on this data, managers can adjust campaign settings to drive better performance.
Transferring automated calls to agents
An ability to connect automated calls to appropriate agents extends the capabilities of automated calling systems. Connecting call recipients to live representatives in case they need additional information or would like to speak to an agent can help improve the experience and the efficiency of outbound campaigns.
Interactive Voice Response (IVR)
IVR capabilities of automated calling systems allow for more streamlined inbound call management by enabling callers to interact with IVR self-service menus or get connected to the most relevant representatives who are best equipped to handle their support requests quickly and efficiently.
CRM integration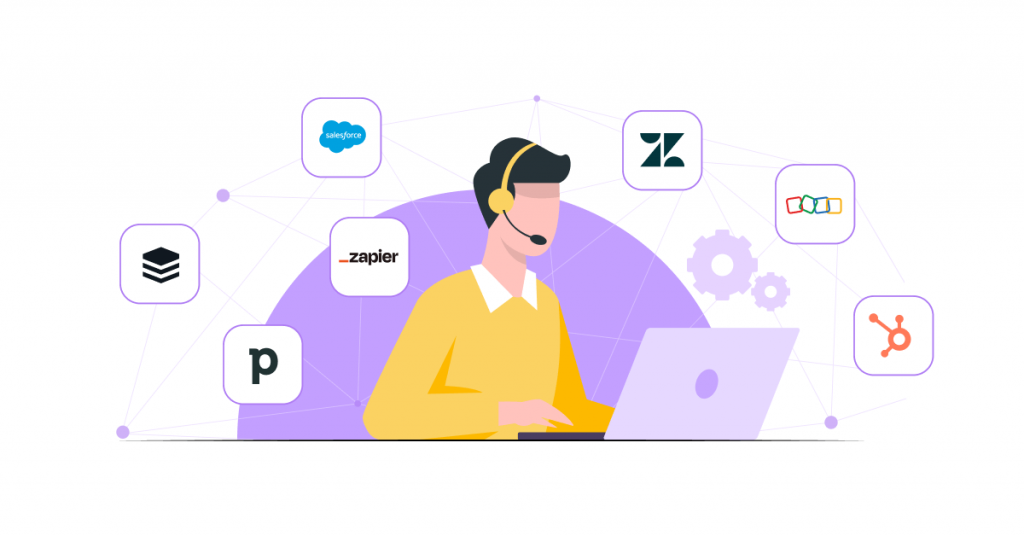 Many automated calling software solutions can be integrated with Customer Relationship Management (CRM) systems, databases, and other business tools. That allows for seamless data synchronization and simplified contact list management and enables agents to automate workflows, increasing their productivity.
How are Automated Call Systems Used?
Self-service customer support
Inbound automated call systems featuring Interactive Voice Response (IVR) can be used in inbound call centers to enable self-service support through IVR self-service menus. Pre-recorded messages that callers will hear while navigating through the IVR menu can provide them with basic information and help them address issues without needing to escalate to live agents.
Proactive notifications
Businesses and organizations across various industries can leverage automated call systems whenever they need to quickly send out proactive notifications to their customers. These could be, for example, emergency notifications, weather alerts, school closures, customer service notifications to proactively inform customers about service issues, scheduled service updates, delays, renewal deadlines, etc.
Sales and telemarketing
Besides customer service, automated phone calls can be used by businesses for sales and marketing purposes. In addition to running outbound cold calling campaigns, businesses can use automated call systems to send out mass voice or text messages to promote new products or services to prospects or existing customers.
Appointment reminders
Healthcare providers and other service-based businesses typically use automated phone call systems to send out their clients reminders about upcoming appointments, which could be either pre-recorded voice messages or texts. This way, they can reduce no-shows without having to allocate agents to call clients personally.
Surveys and research
Another common use case for automated call systems is collecting customer feedback and conducting customer surveys and research. With an automated call system, businesses can gather valuable feedback from customers and use this data to improve customer support, products, marketing strategies, etc.
Debt collection
Financial institutions, banks, lending services providers, and debt collection agencies, in particular, can utilize automated call systems for debt collection to remind clients about due payments through voice messages or texts. Such debt collection automation can help them streamline and optimize the debt collection process.
Benefits of Using Automated Call Systems
Using an automated calling service promises the following benefits:
Increased agent efficiency
With an automated voice message system that requires minimal human input, agents don't have to waste precious time dialing numbers and interacting with prospects or customers. An automated call system can place hundreds or thousands of outbound calls and leave voice messages, freeing up agents to engage in higher-level activities and increasing your team's overall efficiency.
Quick and efficient outreach
By leveraging automated calling services, businesses can reach out to prospects or customers and get their messages delivered in a quick and efficient way without having to call each number manually. That is especially the case when it's critical for a business to deliver proactive mass notifications (such as emergency alerts) to their customers in a timely manner.
Lead nurturing and engagement
Automated call systems can assist businesses in running outbound marketing and customer engagement campaigns by sending pre-recorded messages that promote a company's products, services, or events. That helps them improve engagement and nurture relationships with leads while maintaining consistency in brand communication.
Lowered operational costs
An automated calling system can help call centers automate routine communication tasks like making automated calls, delivering messages to clients, and sending mass text messages to thousands of contacts, with no need to hire additional staff or even involve current employees. Not only does it allow them to save on labor costs, but they can also reduce expenses associated with making outbound calls.
Improved customer satisfaction
An automated call system that can handle inbound customer inquiries works as a self-service channel for customers, allowing them to get the information they need or even resolve issues independently without needing to interact with a human agent. Since today's consumers highly value self-service as it enables them to get quick and efficient support whenever they need it, utilizing automated phone systems for inbound self-service helps improve customer satisfaction.
Automated Call Systems vs. Auto Dialing Systems
Automated call systems are often referred to as auto dialing systems; however, these software solutions operate in a different way. While automated calling software places outgoing calls and delivers voice or text messages to recipients without requiring any human interaction, automated dialer software systems initiate outgoing calls and connect recipients to live agents once the call is answered by a human. Below is a short overview of the types of auto dialers that can be used in outbound call centers:
Power dialer
Power dialers automatically dial numbers from a designated list of contacts, eliminating the need for agents to dial numbers manually, saving their time, and improving efficiency. The power dialer automatically calls the next number when the agent completes the current call. If the number is busy, disconnected, or the call is not answered, the system will dial the subsequent number on the list. Power dialers are useful in high-volume outbound calling campaigns; however, call centers must comply with relevant laws and regulations when using power dialing systems.
Predictive dialer
Predictive dialers utilize Artificial Intelligence (AI) and Machine Learning (ML) algorithms to predict when a call is likely to be answered. The system dials multiple phone numbers per agent simultaneously, even before an agent becomes available, and adjusts the dial rate automatically based on agent availability, the average call duration, call abandonment rate, and other metrics. This way, once the agent completes their interaction, they are instantly connected to the next call, minimizing Agent Idle Time between calls and boosting agent productivity.
E.g., VoiceSpin's AI auto dialer that employs predictive dialing technology allows agents to make outbound calls with minimal human intervention, ensuring that leads are connected to the best-fitting sales agents based on a probability of making a successful sale through intelligent lead and agent scoring and matching system. That helps improve the efficiency of outbound calling campaigns.
Progressive dialer
Progressive dialers automatically dial the next number on the list only when an agent finishes their current interaction, and unlike predictive dialers, they only dial one number per agent. That ensures that an agent is immediately available to handle the interaction as soon as the recipient picks up, minimizing the occurrence of abandoned calls. However, compared to power and predictive dialers, progressive dialers are less efficient in terms of increasing agent productivity.
Preview dialer
Preview dialers allow agents to view the recipient's details before dialing the number. Upon reviewing the record, the agent decides whether to call the prospect or customer or skip it and move to the next number. Similarly to progressive dialers, there is no delay in connecting calls, which means no dropped calls. Preview dialers are particularly recommended for complex sales campaigns where it's critical for agents to research customer information before placing the call, which helps personalize the interaction and improve conversions.