In a highly competitive industry like real estate, where timing and a business's ability to reach potential clients at the right moment with the right message can make or break the deal, SMS marketing can become a trick up your sleeve, helping you stay on top of the fierce competition. While there's a wealth of great opportunities to market your real estate business, drive more leads, and win new clients – from email marketing to SEO and paid ads – SMS real estate marketing, when done right, can turn out to be your most efficient marketing channel.
In this blog, we'll explore in detail why SMS real estate marketing is an incredibly powerful tool for real estate professionals and share some proven best practices for leveraging SMS text messaging and maximizing its impact, based on accumulated knowledge and experience of our own customers from the real estate industry.
Looking for a contact center solution?
Powerful AI dialer, bulk SMS, and more tools for running an omnichannel contact center.
The Basics of SMS Marketing: What Makes it So Effective?
Before we jump into the benefits of real estate SMS marketing, let's first take a look at some stunning statistics of text message marketing, in general, to understand what makes it such an effective marketing tool for nearly any business. To start off, SMS messages have a 98% open rate, literally meaning that nearly 98 out of 100 text messages businesses send out to their prospects or customers are likely to be opened and read (compared to only 20 out of 100 emails).
SMS messaging is one of the fastest ways to reach the target audience directly, with 60% of consumers saying they read a text within 1-5 minutes of receiving it. Moreover, 85% of consumers actually prefer to receive an SMS over an email or a voice call. Yet, a whopping 61% of marketers still don't use SMS marketing to their advantage, making it one of the most underutilized marketing channels and the one with the highest potential.
Why SMS Marketing is a Game Changer in Real Estate
In real estate, unlike many other industries, potential clients often start researching their options when they are already ready to purchase. Getting your message through to prospects at the right moment is the key to success for real estate agents – SMS marketing allows them to do just that. Thus, you can send real estate SMS messages to promote your property listings, warm up cold leads and follow up on hot leads, send open house invites and price reduction alerts, schedule and confirm appointments, etc.
Beyond that, SMS marketing isn't just an excellent tool to proactively reach out to your prospects. It's also a highly efficient channel to engage and connect with existing customers. In fact, according to the National Association of Realtors (America's largest trade association with over 1.5 million real estate professionals), 93% of realtors prefer to communicate with current clients via text messaging, exceeding phone calls (90%) and email (89%).
Benefits of Using SMS Marketing for Real Estate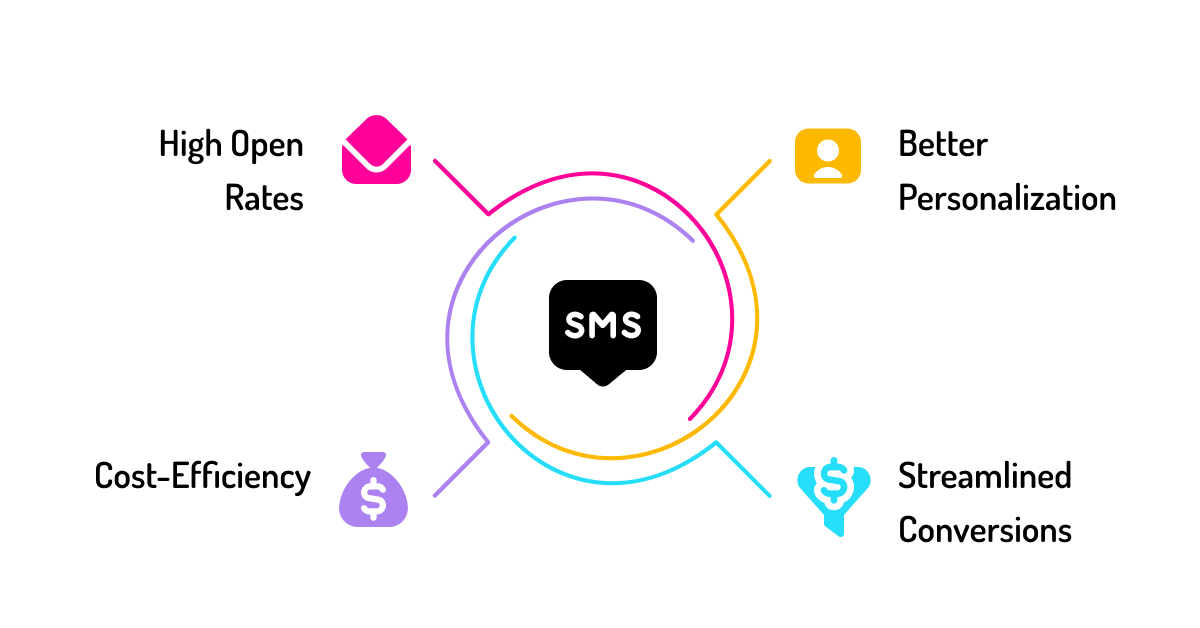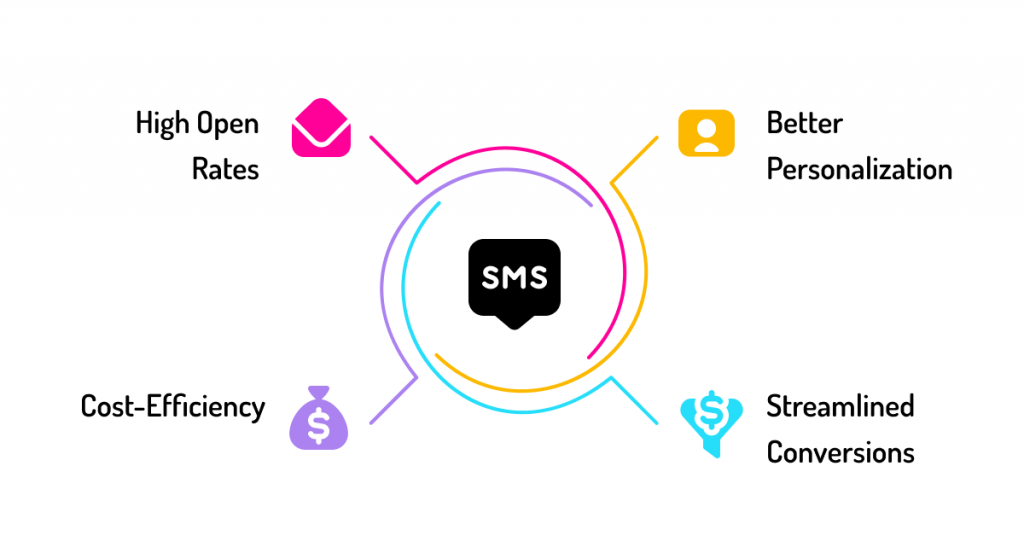 High open and response rates
As mentioned earlier, text messages have typically high open and response rates. Statistically, around 90% of people read a text message within the first three minutes of receiving it. Moreover, consumers are 4.5x more likely to reply to an SMS marketing message than a marketing email. For real estate businesses, that presents a great opportunity to get a hold of interested buyers faster (ideally, ahead of competitors) and more efficiently.
Better personalization
People get used to receiving texts from family, friends, and everyone they know well enough to share their number with. That is why getting an SMS, even though it comes from a business, naturally feels more personal than receiving an email (often associated with spam). That makes SMS texting a much more efficient communication channel for real estate organizations. Besides, text messages can be customized to the target audience, allowing for better personalization.
Streamlined conversions
By utilizing bulk SMS text messaging software, you can literally reach hundreds or thousands of contacts at once and get your messages delivered almost instantly, which is especially critical for time-sensitive offers. So, the moment a property hits the market, potential buyers can immediately get the details on the home they've been looking to buy, helping real estate agents convert leads and close deals faster.
Cost-efficient marketing channel
Compared to other marketing channels like Facebook or Google ads, SMS real estate marketing is exceptionally inexpensive. Even if you send bulk SMS messages to large audiences, it might cost you only cents per message, making it an affordable, low-investment alternative for small real estate businesses or those on a tight budget. That also means lower cost of acquisition and better ROI.
Best Practices for Using SMS Marketing for Real Estate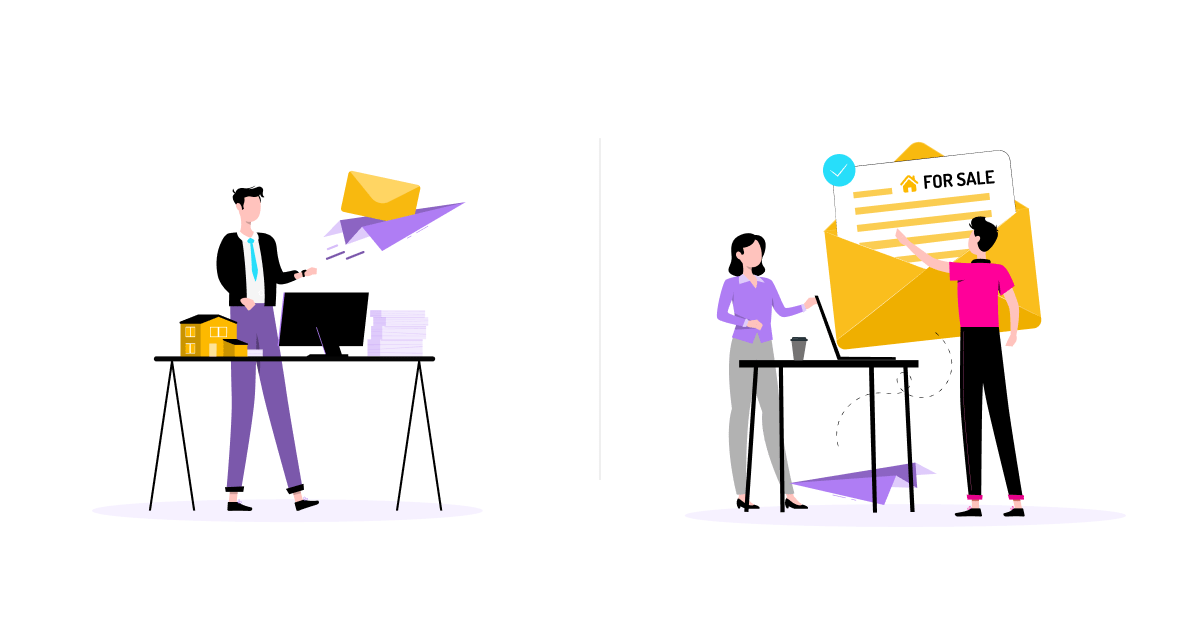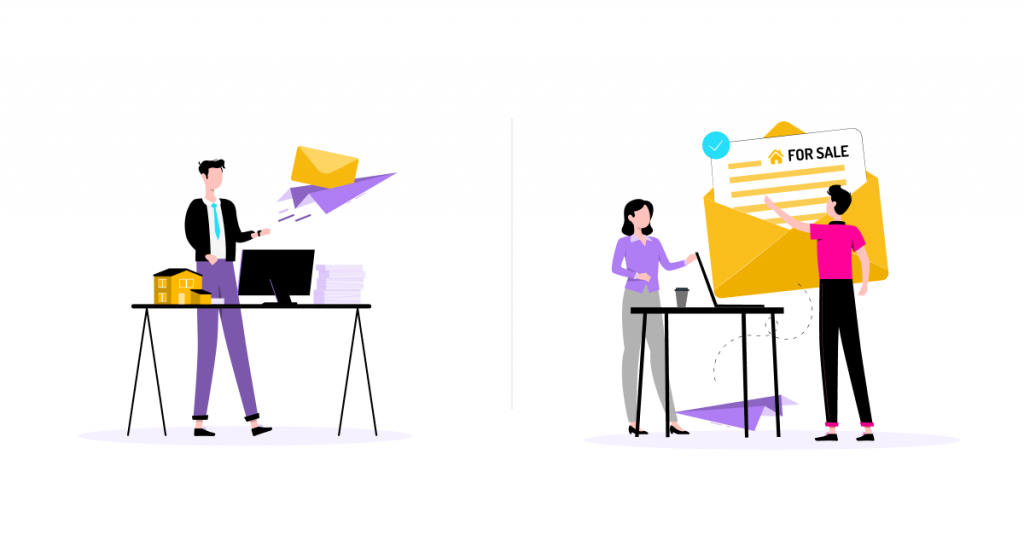 Now that you most probably realize the value SMS real estate marketing can bring to your business, let's take a closer look at some proven best practices you can implement to ensure your SMS marketing efforts result in what you are hoping to achieve.
Adhere to SMS marketing regulations
Since business SMS text messaging is permission-based, first and foremost, it's crucial to get yourself familiar with the local laws and regulations that govern SMS messaging in your specific country and region. Understanding these regulations and adhering to them will ensure compliance and save your business from infringements, heavy lawsuits, and hefty fines that can put a strain on your budget. These are, for example:
Telephone Consumer Protection Act (TCPA) and CTIA in the United States
Canada's Anti-Spam Legislation (CASL)
General Data Protection Regulation (GDPR) in the European Union
Privacy and Electronic Communications Regulations (PECR) in the United Kingdom
Based on these regulations, in general, businesses can send SMS messages only to people who have expressed their consent to receiving them. That can be done, for instance, by providing an opt-in shortcode and a sign-up link on your website. In addition to that, people must be given an opportunity to easily opt out of receiving your messages and be removed from your list.
Find a reliable text messaging service provider
With a wide range of SMS platforms out there, choosing one may seem challenging. You might want to explore providers that offer features and capabilities like bulk texts, customized templates, scheduled messaging, advanced analytics, etc. While the final choice will depend on the exact features you're looking for and your budget, it's also important to make sure the platform can be integrated with your existing business tools, such as your CRM system.
Use relevant opt-in keywords
This SMS real estate marketing strategy is one of the most cost-efficient and low-effort to implement. By creating shortcodes that prospects can text you to opt in to receiving your messages, you can easily expand your list of contacts and generate new real estate leads. These SMS keywords can be included in your ads or sale signs, encouraging leads to text you in order to get more information. In fact, you can choose different keywords for different properties or neighborhoods – that will allow you to immediately segment your lists and send them only relevant information, increasing your chances of successful conversions.
Craft compelling messages
Since SMS messages are limited to only 160 characters, each word in your message should count. When crafting messages, keep them concise and engaging and include a clear CTA (call to action) that provides recipients with an easy way to get more information or schedule a viewing. Thus, your message can include, for example, information about a new property listing that is about to go on the market, price reduction alerts, or details about upcoming opening hours, etc. Check out some of the examples:
Exciting news, [Name]! Check out our stunning new property in [Neighborhood]: 3 beds, 2 baths, and top-notch amenities. Check it out here: [link]. Reply 'YES' to schedule a showing.
Hot Deal Alert, [Name]! The price for the property at [Address] you showed interest in has been reduced by [amount]! Don't miss out on this incredible offer. Reply 'VIEW' for more info.
Hi [Name]! We're hosting an open house today for a property I think you'd be interested in. [Address] from 12 PM to 3 PM! Would love to see you there!
Create SMS message templates
To improve the success of your SMS marketing campaigns, make sure to create multiple unique real estate SMS templates, tailored to prospects at various stages of their customer journey. Do the A/B testing and track the KPIs for each template to see which ones work better than others and convert more leads. You might want to experiment with wording and style and try different CTAs to see what resonates best with your audience and proves to be more effective.
Choose the right timing and frequency
No one likes to get bombarded with dozens of business text messages a day, even if those contain relevant information. When you send real estate messages way too frequently, your audience might get frustrated, causing them to opt out of receiving your messages at all. That's why you might also want to figure out the right frequency and timing when your contacts best engage with your messages and adjust your SMS campaigns accordingly. Research data shows that the best days to send SMS are Tuesday and Saturday, while the best time is between 12 PM and 1 PM.
Segment your audience to maximize impact
To maximize the efficiency of your SMS campaigns, segmenting your audience is absolutely vital, as you don't want to send the same SMS campaigns to everyone. The more segmented your audience is, the more relevant messages you can craft, improving your SMS click-through rates and conversions. You might take into account such factors as demographics, specific location (city, neighborhood, zip code), property type preferences, preferred price range, buying stage, and other variables.
Automate your SMS marketing workflow
Gone are the days when SMS marketing meant you would have to manually create and send SMS messages to leads or customers individually. Luckily, most SMS business messaging platforms allow you to set up and schedule automated messaging campaigns based on specific trigger conditions, such as when someone signs up for your updates, texts a specific keyword, schedules a property tour, etc. You can also automate texts like out-of-office messages, appointment reminders, and answers to FAQs.
Avoid the common pitfalls
Neglecting compliance, not providing opt-out options to recipients, and sending too many messages in a short period and at inappropriate times (such as early mornings or late nights) when people aren't likely to enjoy receiving texts from a real estate agent are some of the most obvious pitfalls to avoid in your strategy. On top of that, the worst thing you can do is to send too generic, too formal messages that aren't personalized (with at least a recipient's name) and feel impersonal, leading to poor engagement.
Measure success and adjust your strategy
Last, but not least, you should consistently pay close attention to how well your SMS real estate campaigns are performing by tracking delivery rates, open rates, click-through rates, conversions, or whatever metrics are relevant to your campaigns. Your SMS provider should make it easy to keep track of these insights so you can instantly see what is working, what isn't, and where you should adjust your real estate text messaging strategy to ensure it brings the maximum value to your business.
Empower Your Real Estate Business with VoiceSpin Contact Center Software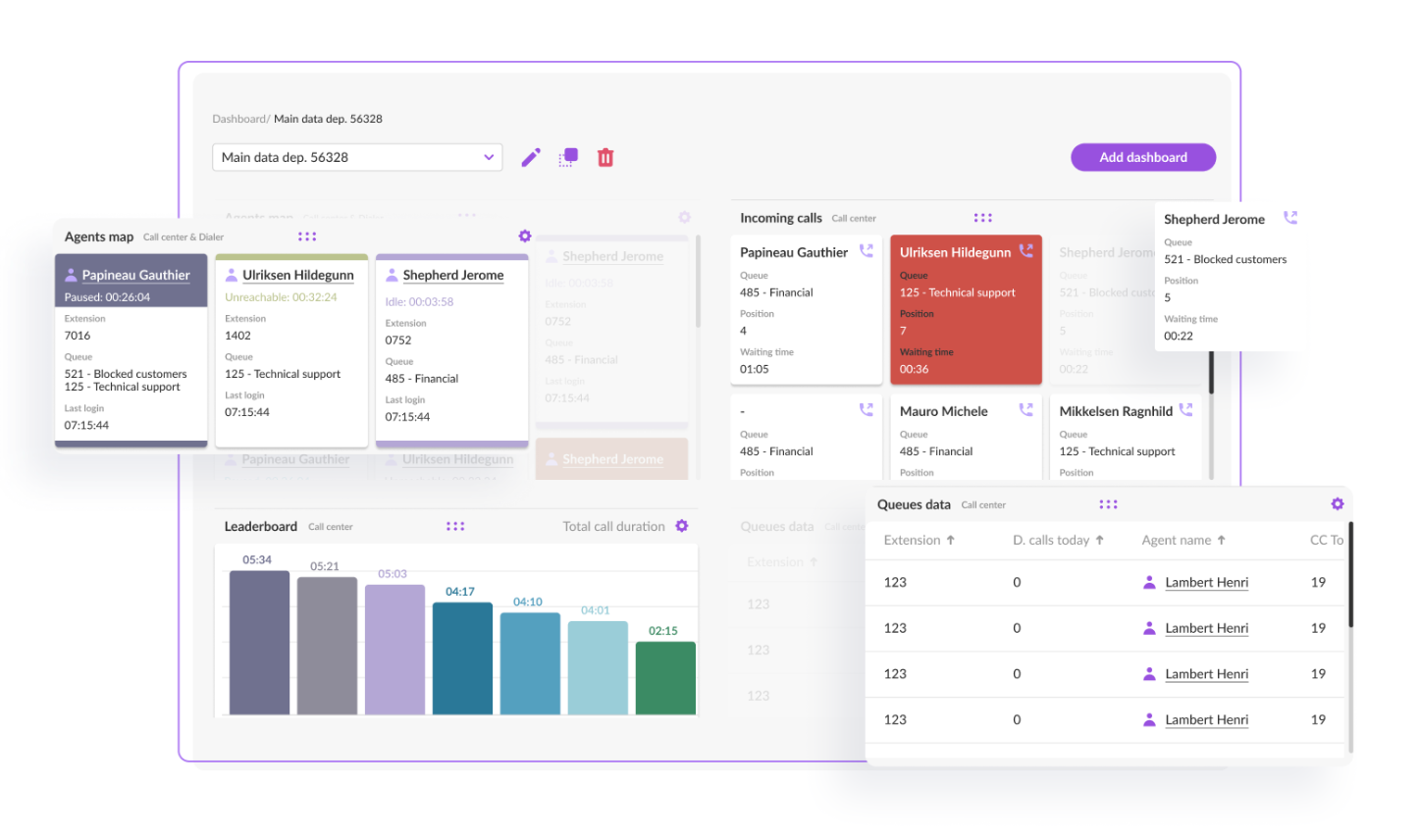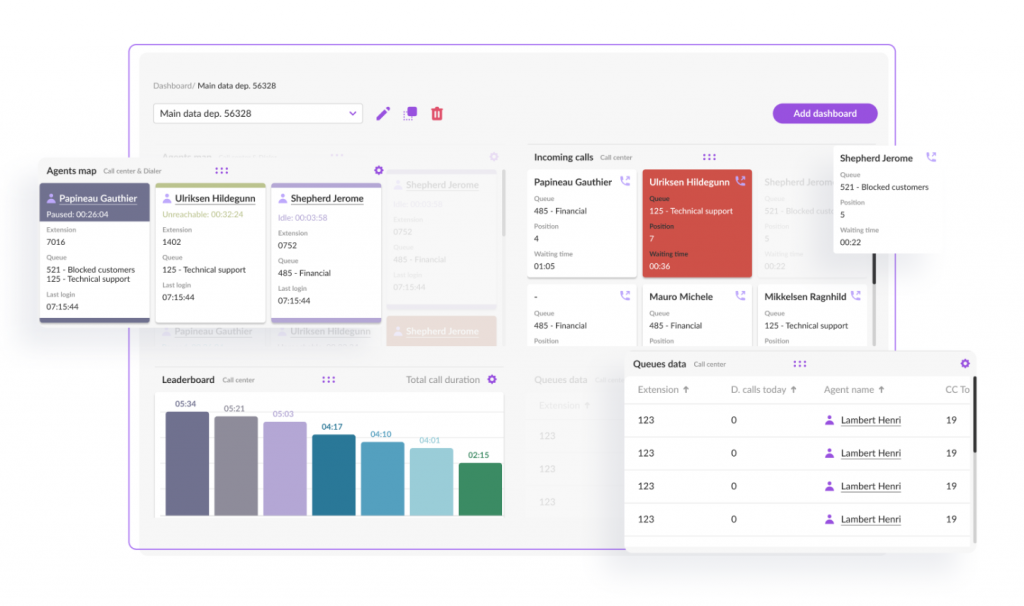 SMS marketing is an extremely effective and valuable channel to add to your overall marketing strategy. Seamlessly integrating it with other outbound marketing tactics can bring unparalleled results and fuel your business growth and success. VoiceSpin offers a full range of products and solutions to help you in achieving just that.
By leveraging our bulk SMS text messaging service, you can instantly reach out to your leads and existing clients with new offers, re-engagement campaigns, and follow-up notifications. Customize your messages for specific audiences to create a more personalized experience and schedule campaigns at the optimal times.
Equip your team with an auto dialer for real estate agents to maximize the impact of your outreach efforts. Enable agents to make hundreds or thousands of outbound calls, boost your call answer rates with Local Caller ID, and ensure leads are routed to the best-fitting agents through the intelligent lead and agent scoring and matching system.
Book a demo call now to learn more about the tools and solutions VoiceSpin has to offer for real estate businesses and how exactly you can take advantage of them to connect with more prospects and close more real estate deals.