Improving call center performance and agent productivity is the primary goal for anyone running a call center. It eventually comes down to having the right set of call center tools, practices, expert management, and highly skilled and properly trained call center agents – all making a powerful impact on your call center's growth and overall success.
In this blog, we'll cover what call center productivity is, why it matters, how to measure agent productivity, and some actionable tips you can implement to take your call center's efficiency to the next level.
What is Call Center Productivity and Why Should You Care?
In the context of inbound call centers, call center productivity is tightly related to agent performance and how efficient your agents are at handling customer interactions and resolving customer issues while maintaining consistently high customer satisfaction levels. In terms of profitability, increased call center productivity that leads to improved customer experience ultimately means more profits. According to a study by SalesForce, 66 % of customers are willing to pay more for a great experience.
When it comes to outbound call centers, the link between call center productivity and profitability is even more obvious. Highly productive agents can reach out to more prospects or customers, handle more outbound calls, and turn more conversations into sales conversions, which adds to your bottom line.
What Affects Call Center Agent Productivity?
Agent productivity may be affected by numerous reasons – and if you want your call center team to stay consistently productive, you need to pay attention to and eliminate all the factors that can negatively impact agent performance and overall call center efficiency.
That said, these are some of the most common causes of low agent productivity in a contact center:
Outdated call center technology
Inadequate agent staffing levels
Poor agent training and onboarding
Inefficient processes and workflows
Poor management and leadership
Lack of communication and collaboration
Unsupportive workplace culture
Low engagement and employee morale
How to Measure Call Center Productivity?
There are numerous call center productivity metrics and Key Performance Indicators you can measure to assess agent productivity and the overall efficiency of your call center. It's also important to mention that inbound and outbound call centers should track different metrics and KPIs, considering the nature of inbound and outbound operations.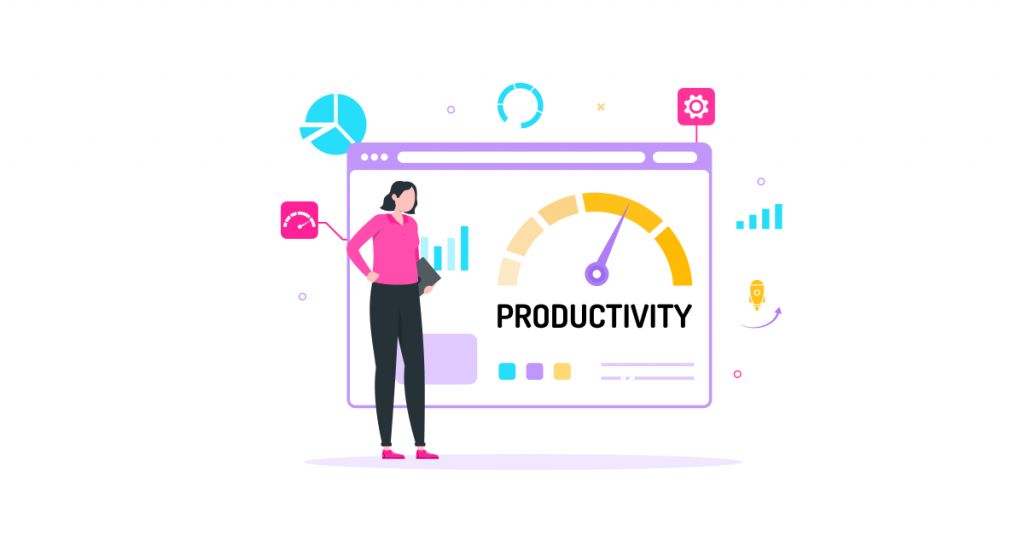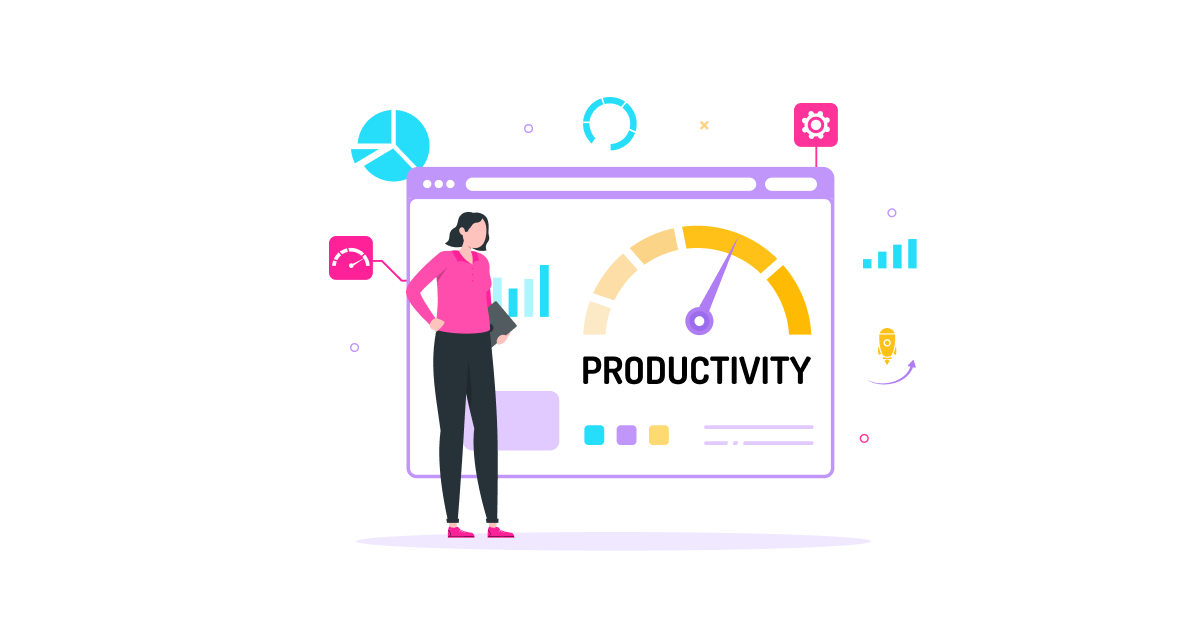 Let's look at some of the most critical ones and how to measure them.
1. First Call Resolution (FCR)
If your contact center agents mainly handle incoming calls, chances are they are aiming to resolve issues on the first customer interaction, making First Call Resolution (or First Contact Resolution) one of the key metrics to measure in inbound call centers.
FCR = (Total number of calls resolved on the first contact / Total number of received calls) x 100%
FCR shows how efficient your call center reps are at resolving customer queries during the first call, which not only indicates a high level of agent performance but also drives customer satisfaction by eliminating the need for customers to call you back regarding the same issue.
2. Average Handle Time (AHT)
Average Handle Time (or Average Handling Time) is another indicator of agent productivity in a call center. A low Average Handle Time typically means your agents spend less time on each customer call, which enables them to handle more calls within the same period while also improving customer experience – a win-win for both call center agents and customers.
AHT = (Total Talk Time + Total Hold Time + After-Call Work) / Total number of calls
If you're struggling with high Average Handle Time, feel free to check out our article that lays out a few helpful tips on How to Reduce Average Handle Time (AHT) in Your Call Center and Improve Efficiency.
3. Customer Satisfaction Score (CSAT)
Customer Satisfaction Score shows how satisfied customers are with their call center experience, usually measured through a post-call survey after interacting with an agent. A high CSAT score generally demonstrates that your agents deliver a high-quality customer service experience, satisfying customers' needs.
CSAT = (Number of satisfied customers / Total number of survey responses) x 100%
Not only does it show your agents are doing their jobs great by efficiently resolving customer issues, but also helps to retain customers since satisfied customers tend to be more loyal, meaning more profits in the long run.
4. Call Abandonment Rate
Call Abandonment Rate shows the percentage of customers who hang up before being connected to a live agent. That usually happens when callers have to wait in call queues for a significant amount of time with no queue callback option, which creates a frustrating experience and prompts them to hang up.
Call Abandonment Rate = (Number of abandoned calls / Total number of incoming calls) x 100%
While it isn't directly linked to individual agents' productivity, a high Call Abandonment Rate may indicate inadequate staffing, meaning there aren't enough agents to handle the inbound call volume efficiently.
5. Occupancy Rate
Call center Occupancy Rate is an essential metric to measure for both inbound and outbound contact centers. It shows the percentage of time agents are actively engaged in handling calls or doing after-call-related work compared to the total time they are available to take calls during the shift.
Occupancy Rate = (Total call handle time / Total logged-in time) x 100%
A high Occupancy Rate in outbound call centers means your reps spend more time actually interacting with prospects or customers, less idle time, more calls per hour, and improved call center productivity.
6. Conversion Rate
Conversion Rate directly reflects the productivity, efficiency, and profitability of outbound call centers and is one of the most vital metrics to track when running outbound calling campaigns. Conversion Rate measures the percentage of outbound calls that result in a sale or other desired outcome based on the objective of a particular outbound calling campaign. Naturally, the higher Conversion Rate is, the more productive and efficient your agents are at converting calls into successful outcomes.
Conversion Rate = (Number of successful outcomes / Number of outbound calls) x 100%
If you'd like to get a deeper insight into what other metrics and KPIs are critical to track in outbound call centers, head over to our article on the Top 10 Outbound Call Center Metrics Your Call Center Should Measure.
Best Practices for Improving Call Center Productivity
If your call center efficiency and agent productivity are less than desirable based on the call center metrics and KPIs mentioned above, it clearly indicates that there are certain inefficiencies in your call center processes, policies, and technologies that must be addressed. Let's explore some of the best strategies contact center managers can implement to improve call center productivity and agent performance, ensuring customer satisfaction and consistent profitability.
1. Upgrade your call center tech stack
Using outdated call center technology is one of the top reasons your agents aren't performing the way you'd expect them to. Considering that over 48% of workers think using the right tech makes them more productive, equipping your team with the right call center technology is a must-have.
Here are some of the most valuable call center software features that can help your agents stay productive and efficient.
Advanced reporting: With advanced reporting capabilities and real-time dashboards, managers can track critical metrics and KPIs and gain comprehensive insights into how their call center is performing and what needs to be improved to ensure better operational efficiency and agent productivity.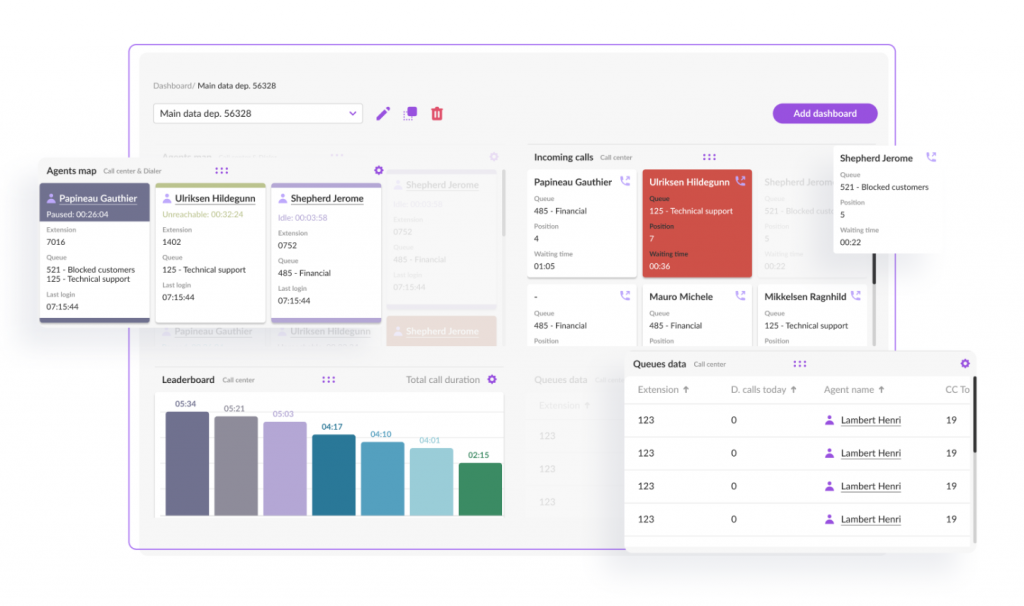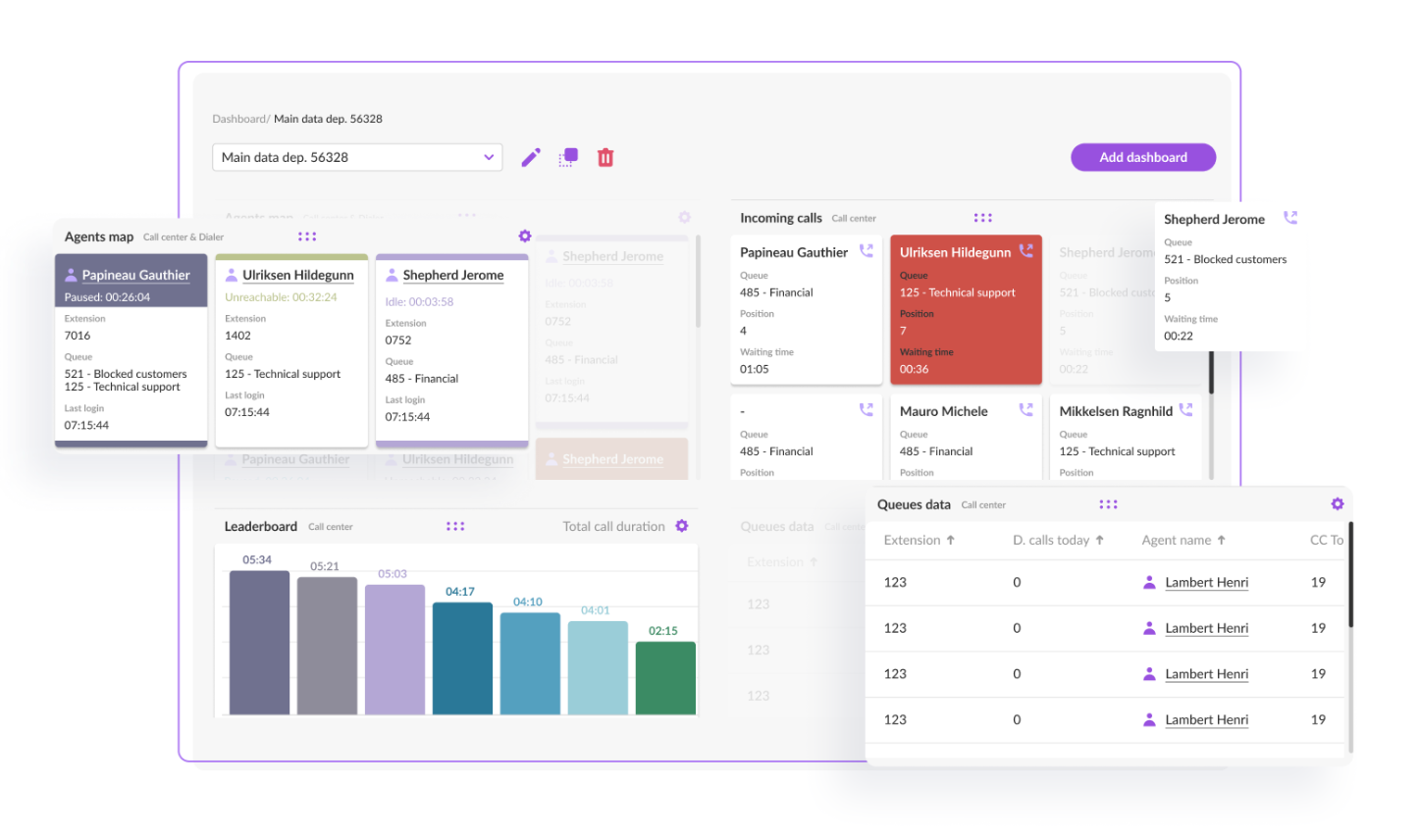 Real-time call monitoring: Call monitoring features allow managers and supervisors to easily monitor agent calls right as they are happening and provide real-time feedback and assistance through different call monitoring modes, such as call whispering or call barging. These tools are also tremendously helpful in agent onboarding, training, and coaching processes.
Predictive dialing: Predictive dialing systems can make your outbound call center agents tons more productive by increasing their talk times by up to 300% and reducing agent idle time. Predictive dialers enable agents to reach more leads or customers in a shorter time, engage in more conversations, and improve conversion rates.
Speech analytics: Using AI-driven speech analytics software tools, you can improve your quality assurance management process, enhance agent coaching, improve customer experience, and prevent non-compliance issues that might cause significant revenue loss for contact centers.
2. Rethink your hiring and staffing practices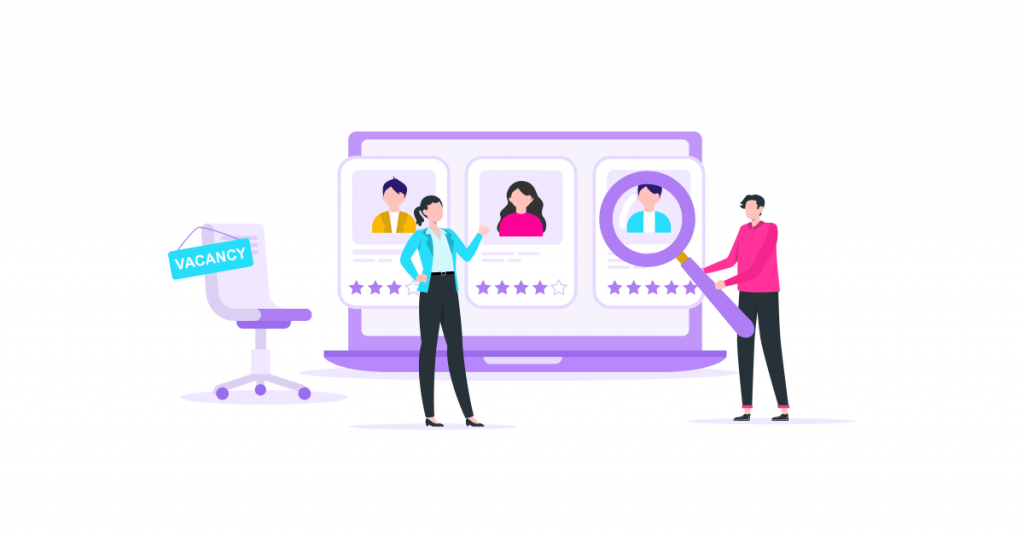 While low agent productivity and overall call center performance may stem from various reasons, one of the not-so-obvious but crucial things to pay attention to is who you hire. Call center jobs are challenging by nature. They are typically associated with high levels of stress and burnout and are definitely not for everyone. Though certain skills can be developed to ensure agents can efficiently handle calls, you obviously can't change personality and attitude. That's why it's fundamental to hire the right people in the first place.
Another aspect to consider is your call center staffing practices and workforce management. Do you have enough agents to handle your inbound call volumes effectively with minimized wait times? What about expected and unexpected call volume spikes? Managers should be able to accurately anticipate staffing needs and plan ahead to optimize the workload and maintain productivity while also preventing agent burnout.
3. Set the right performance metrics
Keeping track of call center metrics and KPIs is a surefire way to maintain high performance and agent productivity in a call center. However, if you measure too many metrics, you might just end up drowning in endless data and statistics, making it hard to interpret them and make the right decisions. Be sure you only measure what matters to your call center.
You should also avoid setting conflicting performance goals, like increasing First Call Resolution while reducing the Average Handle Time simultaneously, as it can be challenging for agents to prioritize them. Metrics aside, agents should focus on call quality foremost; otherwise, if they're rushing through calls in order to reduce the Average Handle Time without resolving issues effectively, customer satisfaction might suffer.
4. Enhance agent training and onboarding
Needless to say (but still worth reminding) that agent training and coaching is an ongoing process that should start with proper onboarding. In fact, according to a Glassdoor study, a strong onboarding process can improve employee productivity by over 70%. In a call center, onboarding is a particularly long and complicated process, but the long-term outcome of proper onboarding and its impact on agent productivity and efficiency is enormous.
Call recordings, real-time call monitoring, and speech analytics are all highly efficient call coaching tools to enhance your agent training process to ensure agents are well-prepared to handle all types of inquiries and deal with complicated issues and difficult customers.
5. Build a positive and engaging workplace culture
Workplace culture plays a crucial role in agent productivity. Building a positive and supportive company culture where everyone feels valued, cared for, and appreciated is a great way to keep call center agents motivated, engaged, and committed to delivering excellent customer experiences. The Eagle Hill Consulting Workplace Culture survey actually revealed that workplace culture strongly impacts employee performance, with 76% of respondents believing it affects their productivity and efficiency. What does it mean in practice?
Building a psychologically safe environment
Ensuring agents feel comfortable expressing their opinions
Exchanging feedback through regular 1-on-1 meetings
Offering rewards for excellent performance
Providing development and career growth opportunities
Promoting mental health and physical wellbeing
Supporting an adequate work-life balance to eliminate burnout
6. Provide self-service options
Considering that 68% of consumers would rather use self-service channels like knowledge bases or customer portals for simple questions or issues, whether you should be offering self-service options to your customers is no longer a disputable question. Consumers have become increasingly self-reliant; they value their time and highly appreciate immediately available support 24/7, enabled by self-service capabilities.
With tools like self-service IVR, AI chatbots, extensive knowledge bases, regularly updated FAQs, and self-service customer portals, you not only eliminate avoidable inbound calls by letting customers easily find answers to their questions on their own without having to call your support line. You also reduce your agents' workload, freeing them up to handle more complex issues and engage in other productive tasks.
Level up Your Call Center Productivity with VoiceSpin
For over a decade, VoiceSpin has been equipping contact centers with fundamental agent productivity tools for both inbound and outbound calling. E.g., VoiceSpin's AI-powered auto dialer is a powerful tool for sales-oriented outbound call center agents.
By leveraging predictive dialing and an intelligent lead and agent scoring system, it connects the most promising leads to the most appropriate agents based on the probability of making a successful sale. That can significantly improve the efficiency of your outbound calling campaigns, taking agent productivity to a whole new level, not to mention other efficiency-boosting features like local presence dialing, speech analytics, and seamless integrations with CRM systems.
Schedule a 30-minute demo call now, and one of our product experts will advise you on how VoiceSpin's contact center solutions can help you optimize your call center productivity, improve agent performance, and enhance the overall efficiency of your call center.