DNIS (Dialed Number Identification Service) plays a crucial role in the contact center environment, enabling call centers to develop an efficient call routing strategy based on the number dialed by a caller. When customers dial numbers to reach a support center, DNIS helps identify the actual phone number they dialed. Along with other critical call center technologies, that allows call centers to route incoming calls in the most efficient way, ensuring customers are served quickly and effectively.
What is DNIS?
DNIS (stands for Dialed Number Identification Service) is a service offered by telecom providers to commercial customers, including inbound call centers, which helps them properly identify the originally dialed phone number for each incoming call they receive. This information is then used to provide the accurate call routing of incoming calls to the most appropriate departments, teams, or agents (or to a specific Interactive Voice Response (IVR) menu before connecting a call to an agent).
Mid-sized and large corporations that typically have multiple lines to handle the inbound call traffic are those who benefit the most from leveraging the Dialed Number Identification Service (DNIS). They may have dozens or even hundreds of toll and toll-free numbers that may be associated with different product lines, specific locations, and marketing campaigns. 
Along with IVR inputs and caller identification (caller ID) information, DNIS helps ensure each incoming call is routed to the most relevant team or representative so that agents don't have to transfer calls back and forth until the caller reaches the desired destination.
How Does DNIS Work?
Once the number is dialed by the caller, the DNIS data is sent as a series of the dual-tone multi-frequency digits and interpreted at the destination by a company's PBX (Private Branch Exchange) system, enabling the PPX to track the call. From there, the DNIS information is sent to the call routing engine or an IVR system for further use to ensure the inbound call is routed to the appropriate destination based on the number the caller dialed.
Besides routing incoming calls to the right recipients, the DNIS information can be used to trigger specific IVR menu scripts when callers are connected to the IVR system. Overall, for contact centers, it's an effective way to enhance the customer experience and improve some of the most critical call center metrics, such as FCR (First Call Resolution) rates and CSAT (Customer Satisfaction) scores.
How can DNIS be Useful in Call Centers?
Enabling multilingual customer support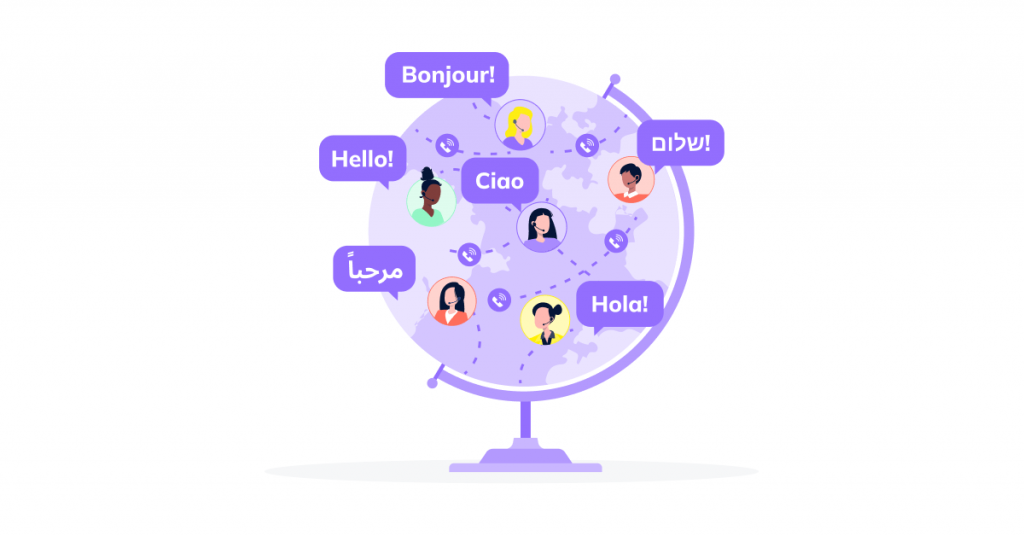 Call centers offering support to customers in multiple geographic locations may offer different language-specific numbers to support customers in their preferred language. Based on the DNIS, incoming callers will be routed to representatives capable of speaking in their native language, even though agents may not be based in the same region as the caller. That enables call centers to deliver efficient service and support no matter what language customers speak.
Supporting multiple product lines or services
Another common use case of DNIS in inbound call centers is enabling efficient support for multiple products or services a company provides. By having separate phone numbers for each product line or service, call centers can route callers accordingly, eliminating the need to transfer calls to the right department or team of agents manually.
Streamlining call center operations
Thanks to efficient call routing enabled by DNIS and other call management features of contact center solutions, businesses can streamline call flows and optimize their call center operations in general. By automatically routing calls to an appropriate department or agent group, call centers can reduce call transfer rates and wait times for callers, lower the Average Handle Time, and increase the First Call Resolution (FCR) rate. That means improving the overall efficiency of a call center.
Improving customer experience and satisfaction
In tandem with IVR, DNIS enables call centers to provide more personalized customer experiences to callers. By understanding the nature and the reason of the call even before the caller is connected to a representative, agents can better anticipate customer needs, personalize interactions, and offer tailored service – all contributing to increased customer satisfaction and improved CSAT scores.
Increasing the efficiency of call center agents
DNIS helps improve the experience for call center agents, too. When inbound calls are coming in, agents don't have to waste time and effort asking callers multiple questions and trying to understand each caller's intent. Instead, they can instantly jump into conversations and resolve requests they are best suited for. E.g., along with skill-based routing, DNIS helps route inbound calls to the agent group with the most relevant skill set required to handle specific types of issues. It empowers agents to resolve customer issues effectively, ultimately making them more efficient and productive.
Measuring the effectiveness of marketing campaigns
DNIS also enables companies to measure the success of their marketing efforts. E.g., when running marketing campaigns or advertisements on different channels, you can assign unique numbers to different campaigns or specific channels. Your marketing team can then analyze the effectiveness of each campaign based on DNIS and determine which campaigns generated the highest inbound call volumes and had the highest conversion rates via inbound phone sales. Armed with this information, businesses can maximize their marketing spend.
Enabling efficient multi-client support in BPO call centers
DNIS is particularly helpful for BPO call centers that typically handle customer support on behalf of multiple businesses. In such call centers, a single agent might be assigned to manage several client accounts. Identifying the call purpose through DNIS and the caller's IVR inputs before answering the call enables agents to deliver efficient multi-client support.
What is the Difference Between DNIS and ANI?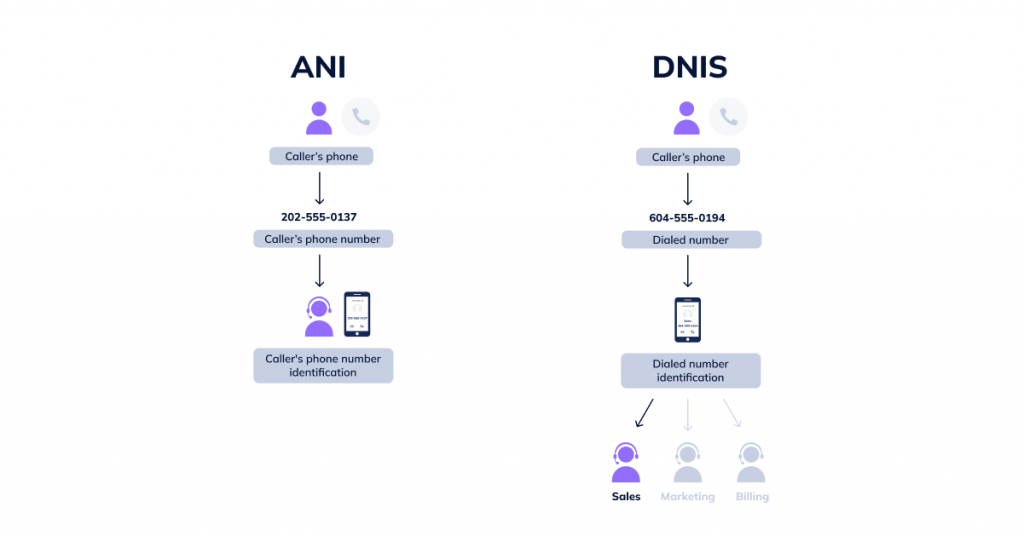 Both DNIS and ANI (stands for Automatic Number Identification) are telecom network features involved in tracking of inbound calls. The key difference between the two is in what they identify. While DNIS helps identify the original destination number dialed by the caller to reach the recipient, ANI tracks the number associated with the caller.
ANI was originally created by AT&T, an American telecom company, for billing purposes (for internal long-distance toll call charging, in particular) to eliminate the need for phone operators to manually request the number of the calling party. It basically allows the receiver of a phone call to view the number of the caller. In the call center context, it can be used to enable a more efficient call routing based on the area code or origination of the call coming in.