As communication technologies continue to evolve, VoIP phone systems are becoming increasingly popular and widely used across businesses of sizes and industries. A growing number of today's call centers are also switching to VoIP as an alternative to outdated traditional landline phones due to cost-savings, increased flexibility, scalability, reliability, and advanced communication features VoIP offers.
What is VoIP?
VoIP (stands for Voice Over Internet Protocol) is a technology that enables users to make and receive phone calls over the Internet instead of using the traditional landline Public Switched Telephone Network (PSTN). VoIP phone systems are also referred to as IP telephony, internet telephony, virtual telephony, online phone systems, or cloud-based phone systems.
Looking for a contact center solution?
Powerful AI dialer, bulk SMS, and more tools for running an omnichannel contact center.
VoIP systems can be implemented by means of using VoIP phones, softphones, or by connecting traditional analog phones to a VoIP system through an analog telephone adapter. To handle VoIP calls, you need a stable, uninterrupted internet connection and a VoIP phone service provider.
How Does VoIP Work?
VoIP technology converts voice audio signals into data packets, which are then compressed and transmitted to the recipient over the IP network (a Local Area Network or online). Once these data packets reach their destination, they are decompressed and converted back into audio signals at the receiving end, enabling real-time communication through voice calls.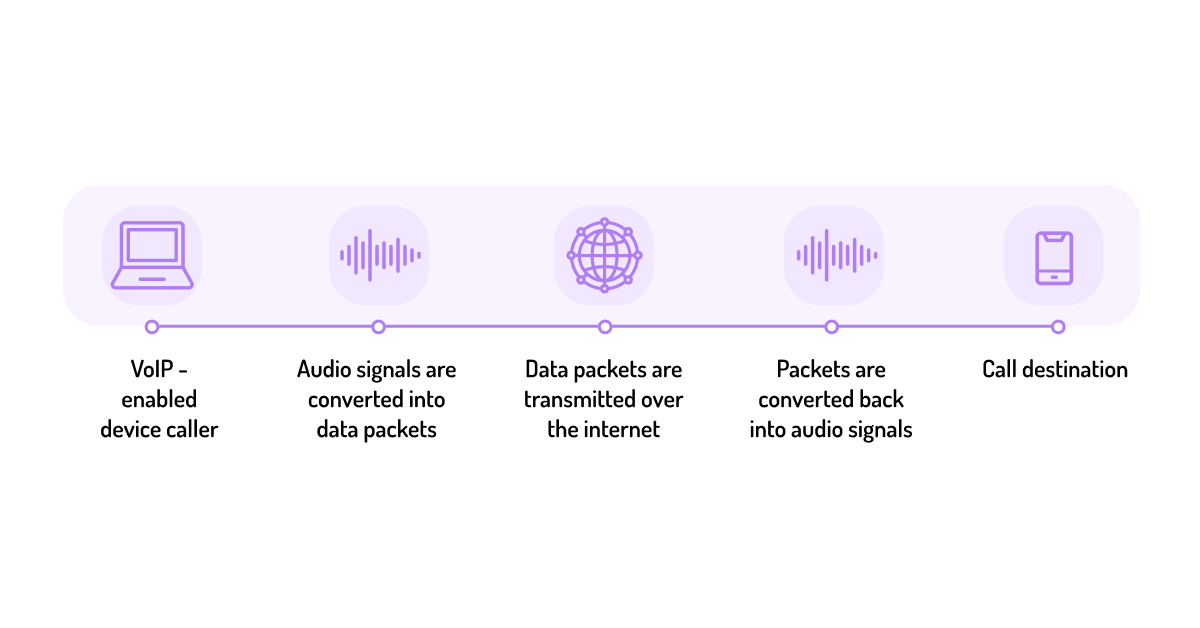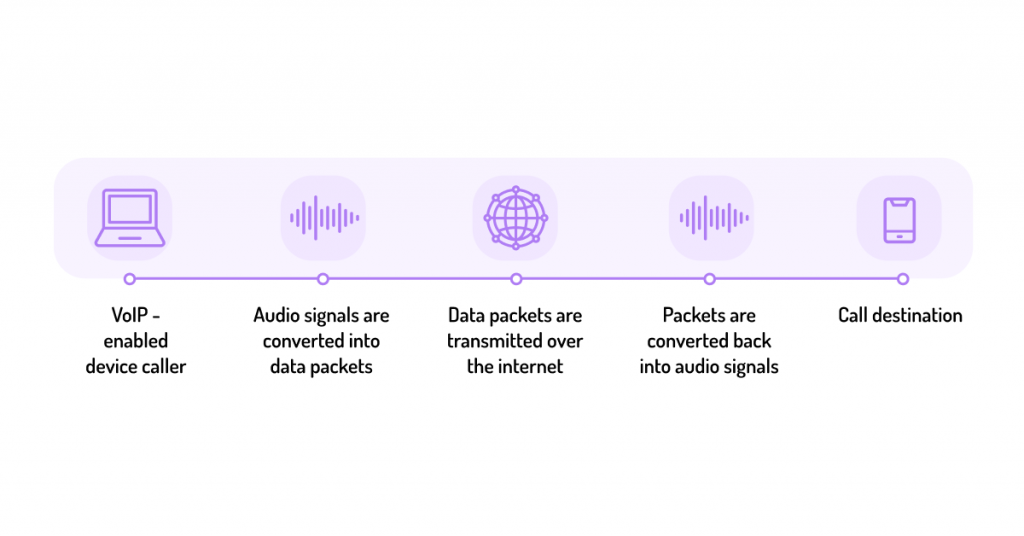 VoIP calls can be made between VoIP-enabled devices, such as hardware-based VoIP phones or software-based VoIP phones called softphones (these are programs or apps installed on a computer or mobile device). Besides, VoIP calls can also be made between VoIP-based devices and traditional landline phones through VoIP gateways or VoIP service providers offering connections between VoIP and PSTN.
Benefits of VoIP Phone Systems
Businesses primarily favor VoIP technology because it can deliver better voice and overall call quality as compared to landline phones as long as there's a strong, uninterrupted internet connection. That allows for clearer sound and more natural-sounding conversations. Other key benefits include:
Cost savings
VoIP offers significant cost-savings, which is one of the most significant advantages for businesses. It has been estimated that after switching to VoIP, businesses can benefit from an average savings of 25% to 40% on telecom charges. There is much less startup cost involved because there is no need to purchase expensive equipment. And since VoIP allows businesses to make telephone calls over the internet, they can save on international and long-distance phone calls.
Advanced features
VoIP systems often come with a wide range of features that are not commonly available with traditional landline phones. These may include features like virtual numbers, IVR and auto attendant, call routing and forwarding, call queue management, call recording, video conferencing, voicemail, etc. VoIP systems also typically provide call analytics and reporting capabilities, allowing businesses to track critical metrics and KPIs.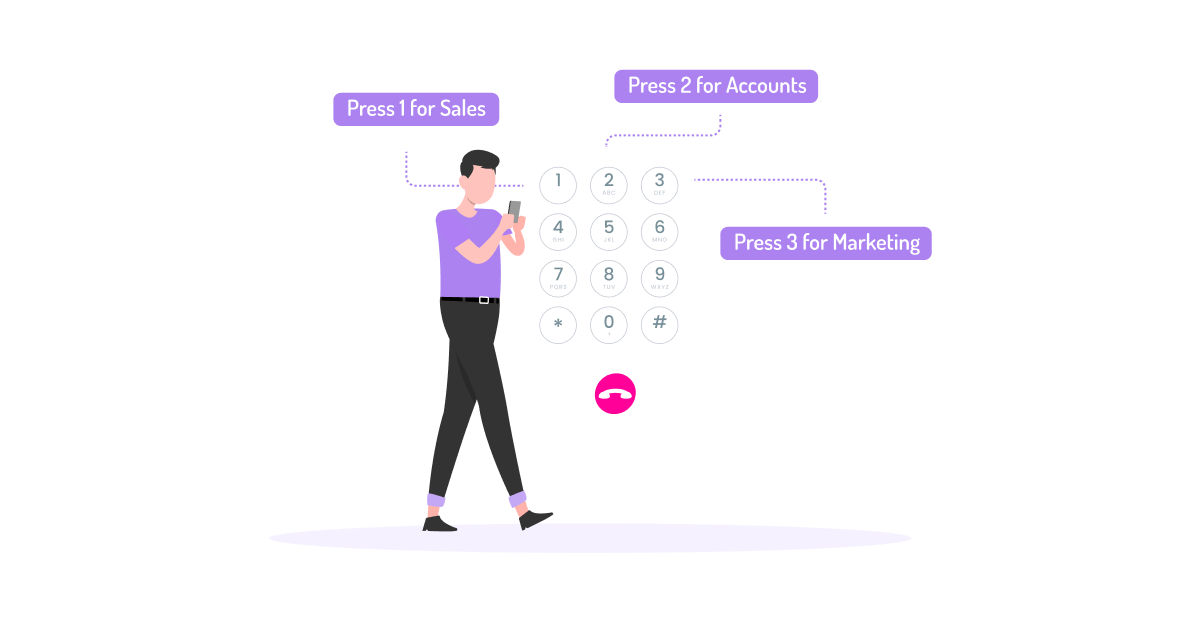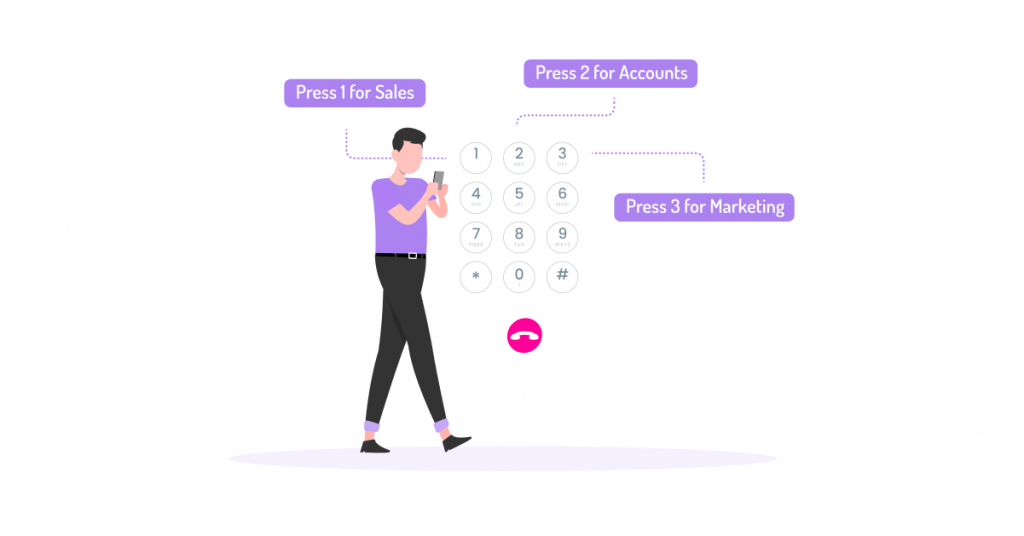 Flexibility
VoIP offers considerably more flexibility than traditional phone lines. As long as agents have a computer or a mobile phone and a broadband internet connection, they can handle incoming calls or make outbound calls regardless of their physical location. This is a significant advantage for businesses with geographically distributed teams and remote employees, enabling them to stay connected and collaborate effectively no matter where they are located.
Scalability
Unlike a traditional phone system, VoIP systems are easily scalable, allowing businesses to add phone numbers as their team grows or remove them as needed, instantly adapting to the changing requirements of an organization. Any changes in the number of users, phone lines, or features can be done seamlessly, without significant disruptions or complex modifications of the call center's infrastructure.
Integration capabilities
VoIP services can be integrated with various business systems and applications, including Customer Relationship Management (CRM) systems, help desk and ticketing systems, team collaboration tools, web conferencing tools, etc. That helps businesses improve the efficiency of their support teams, streamline agent workflows, and enhance communication and collaboration within teams.
Key Features of a VoIP System
Call routing
Call routing is a basic feature of VoIP call center software providers that distributes incoming calls to appropriate departments or agents based on certain pre-defined criteria. There are different types of call routing options that can be set based on a call center's specific needs.
E.g., with skill-based routing, inbound calls are routed to call center agents with the most relevant skill set and expertise to handle certain types of requests, enabling them to handle customer requests quickly and efficiently while minimizing call transfers. That helps reduce the Average Handle Time, improve the First Call Resolution rate, and increase customer satisfaction.
Call forwarding
Call forwarding allows redirecting inbound calls to another phone number associated with the same agent or department, enabling greater accessibility and flexibility. For example, if an agent receives an incoming call to their desk phone and the call goes unanswered after a set number of rings, it can be forwarded to the agent's smartphone, directed to the voicemail, or sent to another agent. That VoIP feature is especially valuable for remote agents as it eliminates the need for them to be tied to a single location to handle inbound calls.
IVR and auto attendant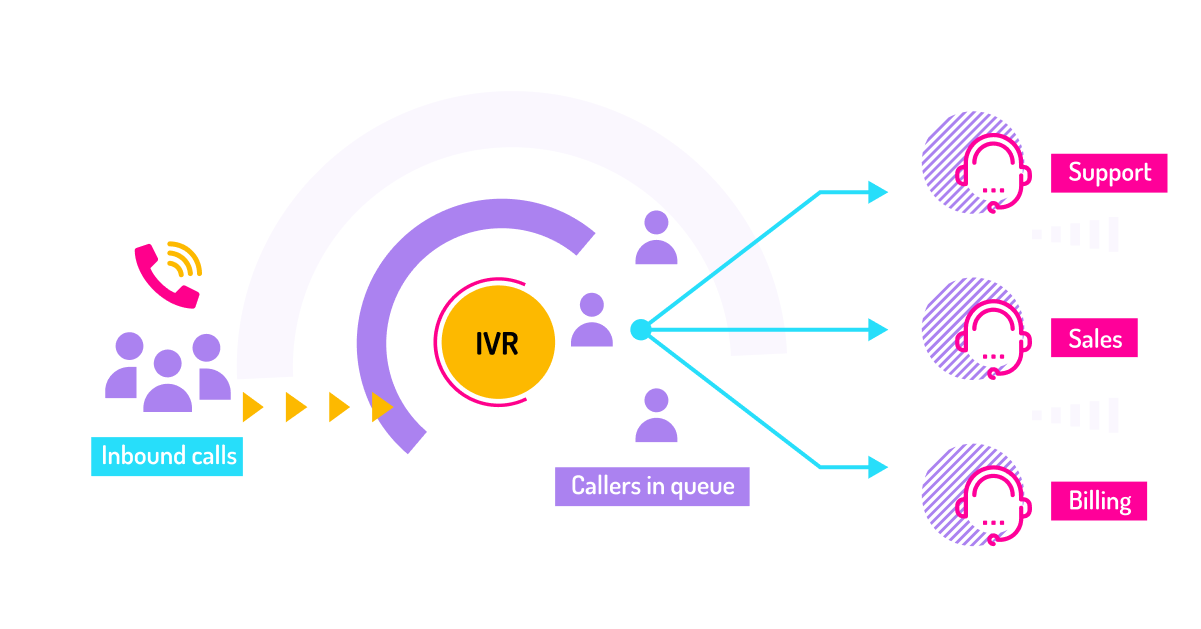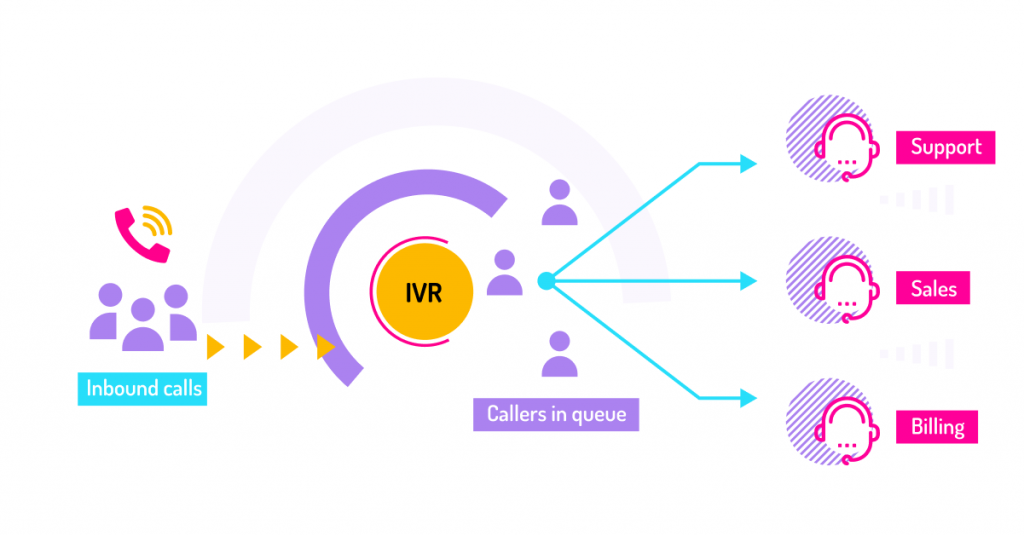 IVR (Interactive Voice Response) is a fundamental feature available with most VoIP providers. When a customer dials a company's number, the IVR system or an auto attendant interacts with the caller through the pre-recorded voice prompts, speech recognition, and IVR menu options.
Based on the caller's input and the gathered information (such as desired department or agent and the reason for the call), the IVR system routes the call to the relevant department or specific agent, helping call centers improve FCR and CSAT scores. IVR systems also allow callers to get information and perform basic actions (like checking their account balance, tracking order status, or scheduling an appointment) through the IVR self-service menu, without interacting with a human agent.
Call queue management
Call queueing enables efficient inbound call management, specifically for call centers managing typically high inbound call volumes. When a call center receives a large volume of inbound calls, callers are placed in a virtual call queue in an organized manner and wait on hold until a relevant agent becomes available to handle their call. That helps reduce wait times, Call Abandonment Rate, and customer frustration. In addition, with a queue callback enabled, callers can opt for receiving a callback from an agent, instead of waiting on hold, which also helps reduce overall call center costs.
Call recording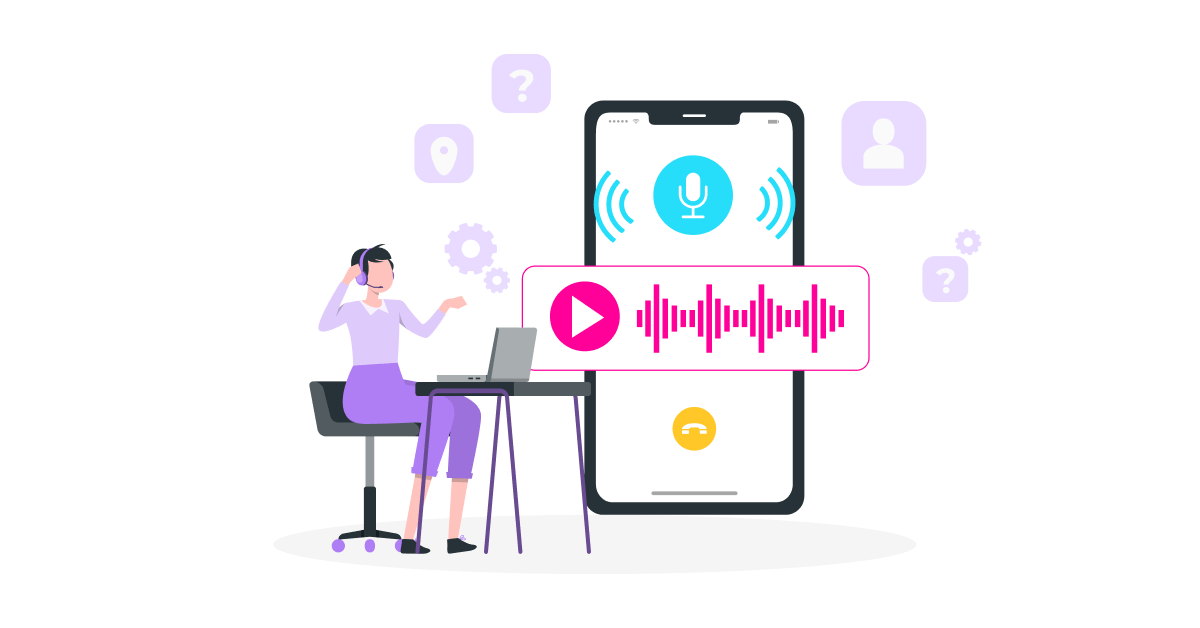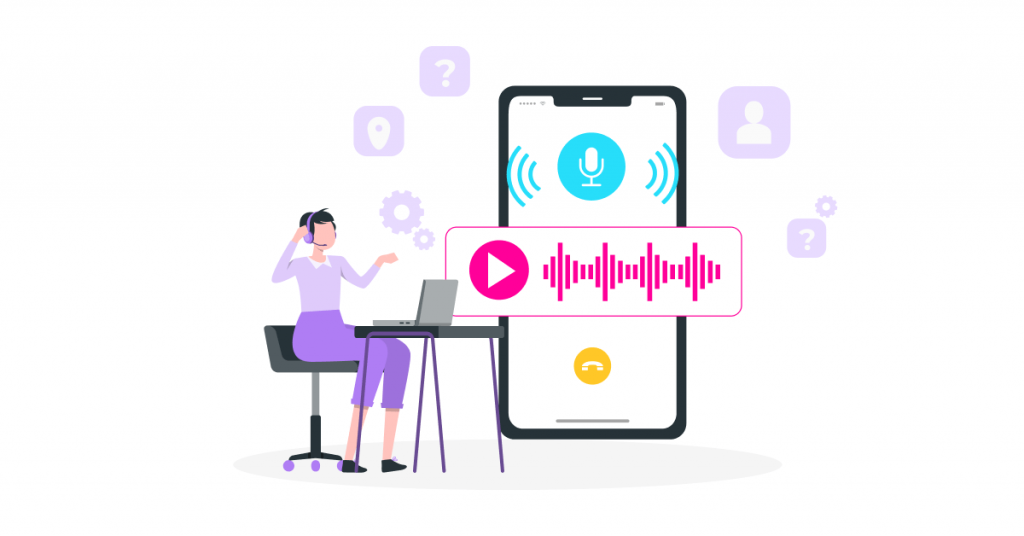 Call recording enables call centers to record calls between agents and customers either automatically or on demand. Managers can evaluate call recordings to assess agent performance, for call center quality assurance purposes, and identify agent training gaps and coaching opportunities. When integrated with AI Speech Analytics tools, call recordings can also be automatically transcribed, translated, and analyzed, providing managers with valuable insights.
Call analytics and reporting
Basic call analytics and reporting are typically available with most VoIP service providers as a built-in feature, while some also offer advanced analytics as an add-on for higher-tier subscription plans.
Call analytics capabilities allow monitoring call volumes, the Average Handle Time, FCR rate, Call Abandonment Rate, and a number of other call center metrics and Key Performance Indicators (KPIs) and visualize them through reports and dashboards. That helps managers and leaders make more informed decisions about improving their call center process, operations, and customer service quality.
Auto dialers
VoIP telephony is often utilized in auto dialer software solutions, which are essential tools for sales-oriented outbound call centers making large volumes of outbound calls. Auto dialing software systems automatically dial numbers of prospects or customers from the list of contacts in the database. That eliminates the need for agents to dial numbers manually and saves them time and effort by ensuring agents are connected to calls only when an actual person is on the other end and ready to talk.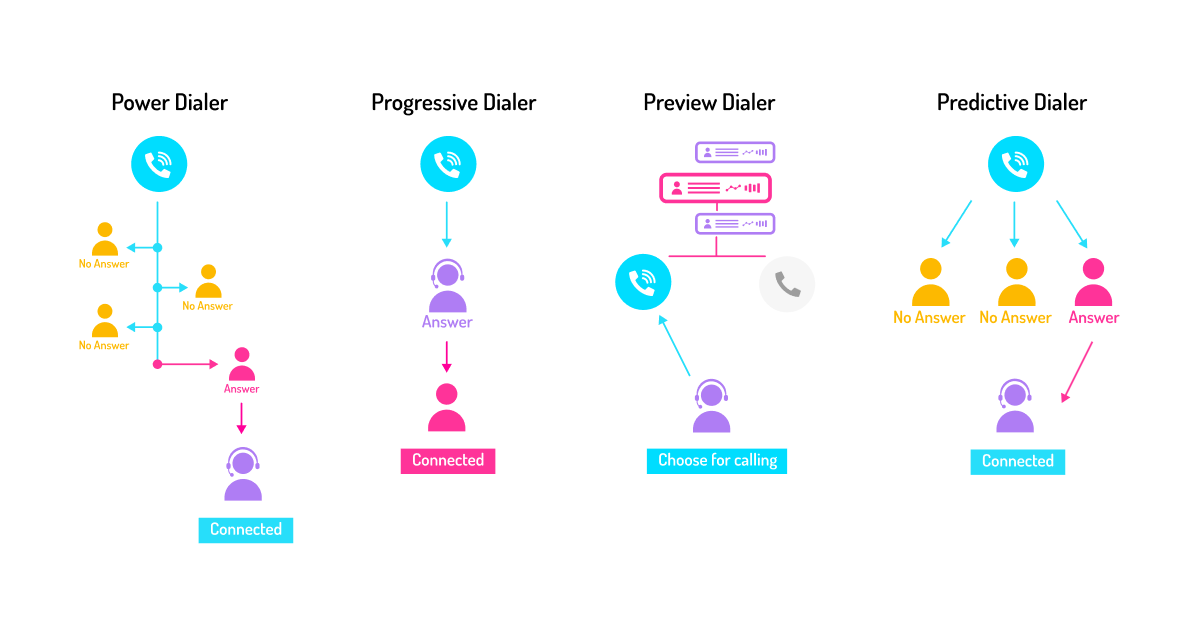 By using different types of auto dialers, such as predictive dialers, power dialers, preview dialers, or progressive dialers, call center agents can make more outbound calls, improve their performance through increased talk time, and generate more successful outcomes (such as actual sales, closed deals, booked appointments, etc.).
Text messaging
Business text messaging may come either as a default or an add-on feature of VoIP service vendors. It allows sending and receiving individual SMS texts and bulk text messages. By leveraging text messaging, businesses can scale their engagement efforts, deliver proactive service notifications, run outreach marketing campaigns, and improve conversions. E.g., with VoiceSpin's bulk SMS text messaging, you can send personalized bulk SMS messages, customized to your audiences and scheduled to be sent at specific times.
How to Get Started with a VoIP Phone System
The most important thing to get started with a VoIP phone system is a high-speed internet connection and a router to connect your VoIP devices to the internet. To function properly and maintain high call quality, VoIP systems usually require a minimum bandwidth of 90-156 kbps. If you want to connect your existing analog desk phones or other on-premises devices to your VoIP network, an analog telephone adapter (ATA) is required.
In general, getting up and running with a VoIP phone system, the following steps are necessary:
Identify your objectives, required features, and integration needs.
Select a reliable VoIP provider offering features that match your needs.
Ensure your current internet connection has sufficient bandwidth to handle VoIP calls.
Choose the appropriate VoIP devices for your setup (physical phones or softphones).
Set up your VoIP devices and configure them to work with your selected VoIP provider.
Integrate your CRM system or other business applications with the VoIP telephony.
Set up call routing rules to route inbound calls to relevant departments or agents.
Provide training to agents to ensure they use the system effectively.
Conduct regular monitoring and quality assurance and optimize the system as needed.
How to Choose a VoIP Service Provider
When choosing a VoIP provider, businesses should take into account many factors, including a set of features and technical specifications, the system's flexibility and scalability, integration options with third-party business systems and applications, the level and availability of service and support provided, customer reviews, etc. The most critical factors to consider are:
Available features
Most importantly, a VoIP provider must offer excellent call quality and stability and reliability of the system to ensure your call center operations run smoothly, efficiently, and with minimal downtime and disruptions. Consider if the following features are available:
Advanced call management features
Interactive Voice Response (IVR)
Reporting and analytics
Security and data protection
Compliance with relevant regulations
Focus on whether or not the provider offers features that are essential to your specific business needs. E.g., if you are operating an outbound call center, look for providers offering outbound dialing capabilities.
Scalability
Scalable VoIP telephony solutions allow businesses to easily scale up or down their VoIP plans whenever their needs change. E.g., if a business grows and expands its operations, it should be able to add new users and/or features without requiring major adjustments. Scalable VoIP systems allow for more flexibility and cost-efficiency because they prevent you from paying for features that your business doesn't need. You may also want to consider providers that allow you to add more communication channels as your business evolves.
Integration capabilities
To ensure efficient operations and streamlined agent workflows, prioritize VoIP platforms that can be seamlessly integrated with third-party business systems and applications, such as CRM systems, team collaboration apps, and helpdesk tools to extend their capabilities.
For example, VoiceSpin's VoIP call center software integrates with CRM systems like Salesforce, Zoho, HubSpot, Pipedrive, and others. It allows agents to easily pick up inbound calls and place outbound calls right from the CRM system, without switching between the two interfaces. It also provides agents with easy access to customer information, enabling them to deliver more personalized experiences. When calls are coming in, a screen pop appears, displaying the caller's customer profile and all the available details of previous interactions, giving agents more context for more meaningful interactions.
Customer support
Evaluate the level of customer service and support offered by the provider. Instantly available, responsive, and reliable customer support is crucial for resolving issues quickly and efficiently and ensuring smooth operation. Some of the key points to find out when researching VoIP providers are:
How many support channels are available?
Is customer support available 24/7, or are there specific support hours?
What is the average response time for customer support requests?
Are there premium support options?
Is there an additional cost for premium customer support?
How does the provider handle requests during holidays or weekends?
What user training materials and self-help resources are available?
Can the vendor provide references from existing customers regarding their support quality?
Asking these questions will give you insights into the efficiency, responsiveness, reliability, and overall quality of support offered by the VoIP provider to its customers. It's also crucial to choose a provider that offers uninterrupted uptime and is committed to high-security standards to assure customer data is protected.