Low agent motivation and engagement has always been a challenge for contact centers, considering the highly stressful nature of the job. Poor productivity, low retention and high employee turnover rates, less-than-stellar customer experience, lost sales opportunities, and the resulting financial losses are all the hard-hitting consequences that follow. If you aren't yet taking agent motivation seriously, it might be just the right time to rethink your employee motivation and engagement strategy.
Let's take a deeper insight into what drives employee motivation in a call center and what you can do to properly motivate your outbound contact center agents to drive more sales.
Why Call Center Motivation Matters
Low employee engagement and morale are often the main culprits behind poor engagement, low employee retention, and high employee attrition rates, which is a real concern for many businesses in various industries and contact centers in particular.
While contact centers have historically had 30 – 45% average annual agent attrition, the data from the Reducing Ramp Time & Agent Attrition in Contact Centers report by Cresta shows that contact center agent attrition has jumped to as high as nearly 80% since the pandemic.
When it comes to inbound contact centers, where customer service agents mainly deal with incoming support requests, low inbound call center motivation means lower productivity, poor agent performance, and decreased customer satisfaction. In sales-oriented outbound contact centers, where agents are involved in outbound calling to generate leads and convert prospects into customers, low outbound call center motivation means agents aren't likely to hit their sales targets, which leads to lost profits for your call center.
On the other side, highly motivated and engaged call center agents aren't just focused on doing their job right; they are more efficient, more productive, and more committed to delivering excellent service experiences or reaching their sales goals. They are also more satisfied with their jobs and likely to stick around for the long haul.
Related article: Why Your Call Center Productivity is Falling Short (How to Measure and Fix it)
8 Call Center Motivation Ideas and Best Practices
It generally takes more than offering competitive compensation to motivate call center employees and keep agents motivated for the long term. Below we've come up with eight call center agent motivation best practices that aren't hard to implement but can dramatically improve agent motivation and engagement levels in your call center.
1. Set SMART goals for your call center team
Setting SMART (Specific, Measurable, Achievable, Relevant, and Time-bound) goals is a proven way to boost employee motivation and productivity that is widely used by businesses across the board. Call centers are no exception. When you set clearly defined goals that are quantifiable, making it easy to track the progress, attainable, highly relevant, and time-based, that sets your team up for success from the get-go and keeps everyone on the same page. It also helps agents to better plan their day-to-day activities needed to achieve the goal and keep the focus on what matters.
S: Specific – Set a specific, clearly formulated, and meaningful goal
M: Measurable – Include a metric with a target that defines success
A: Achievable – Make the goal challenging yet realistic and attainable
R: Relevant – Ensure the goal is aligned with your higher-level goals
T: Time-bound – Set a deadline for when the goal should be achieved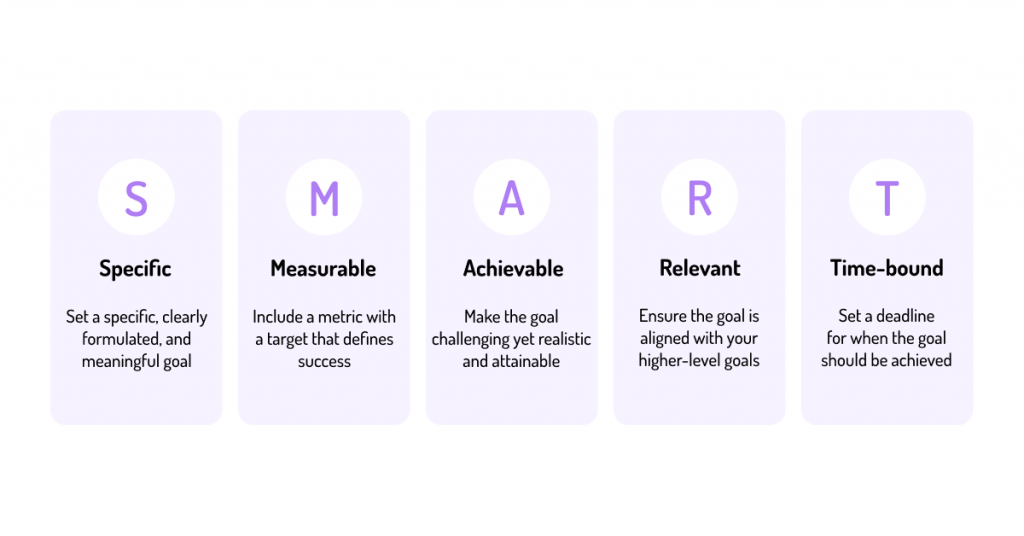 When creating SMART goals for your call center employees, avoid setting too generic and unrealistic goals, as it might only discourage your reps. Make sure to involve everyone in the goal-setting process, which creates a sense of shared responsibility. The more buy-in there is from your agents, the more likely the goal will be achieved. Additionally, managers should track the progress towards reaching their goals and make adjustments whenever needed.
In fact, you can go even further and split your long-term goals into smaller Objectives and Key Results (OKRs), often set quarterly. In a nutshell, OKRs include a specific Objective accompanied by 3-5 quantifiable Key Results that help you measure the progress towards reaching the Objective. An example of OKRs for an outbound call center team would look like this:
Objective: Boost the efficiency of the outbound call center sales team and drive more sales this quarter
Key Results:
Increase the number of outbound calls by 20%
Increase the conversion rate of outbound calls by 10%
Increase the first call close rate by 20%
2. Equip agents with the right call center technology
Having to use outdated and inefficient call center software and constantly switch between disjointed systems might be a huge demotivating factor for your call center team, creating a poor employee experience. Outbound call center agents specifically rely on advanced call center technology to run outbound calling campaigns efficiently and convert cold calls into successful sales. This is where the right call center dialer software becomes critical.
E.g., VoiceSpin's AI auto dialer software employs predictive dialing algorithms and an intelligent dynamic lead, agent scoring and matching system. The dialer's AI and Machine Learning part scores both leads and agents and automatically routes the most relevant leads to the agents who are most likely to make the sale. That increases the chances for agents to engage in more meaningful conversations and potentially close more deals, contributing to improved motivation and increased sales.
When choosing the ideal tech stack for your team, it's also essential to consider how well the contact center software integrates with your CRM and other existing business systems you are already using to ensure streamlined contact center operations and workflow automation.
3. Foster and maintain a positive call center environment
Building and maintaining a positive work environment that encourages teamwork, collaboration, mutual support, and open communication in a call center plays a significant role in improving employee motivation and morale, especially if you have remote employees on your team. That can also help agents build better relationships within the team, mitigate conflicts, reduce workplace stress, eliminate burnout, and increase engagement.
In brief, here's what you can do to keep a positive, inviting, and supportive workplace environment and increase agent motivation:
Create a physically comfortable workspace
Maintain a psychologically safe environment
Build an employee-first company culture
Set clear and realistic goals and expectations
Avoid excessive employee micromanagement
Encourage cross-team and cross-department communication
Give and collect feedback through regular 1-on-1s
Provide flexible scheduling and remote work options
Hold regular team-building events in and out of the office
Incorporate gamification to inspire competition
Acknowledge the importance of a healthy work-life balance
Help agents deal with stressful work situations
4. Provide career growth and development opportunities
Call center jobs may often be monotonous. Doing the same things over and over again every day without a chance to develop, learn something new, and improve, agents aren't likely to stay motivated and enthusiastic about their jobs. That's why it's critical to provide them with opportunities to grow professionally and advance in their career development. That can be done by offering agents ongoing training and coaching, allowing them to consistently develop and learn new skills they can apply in their work.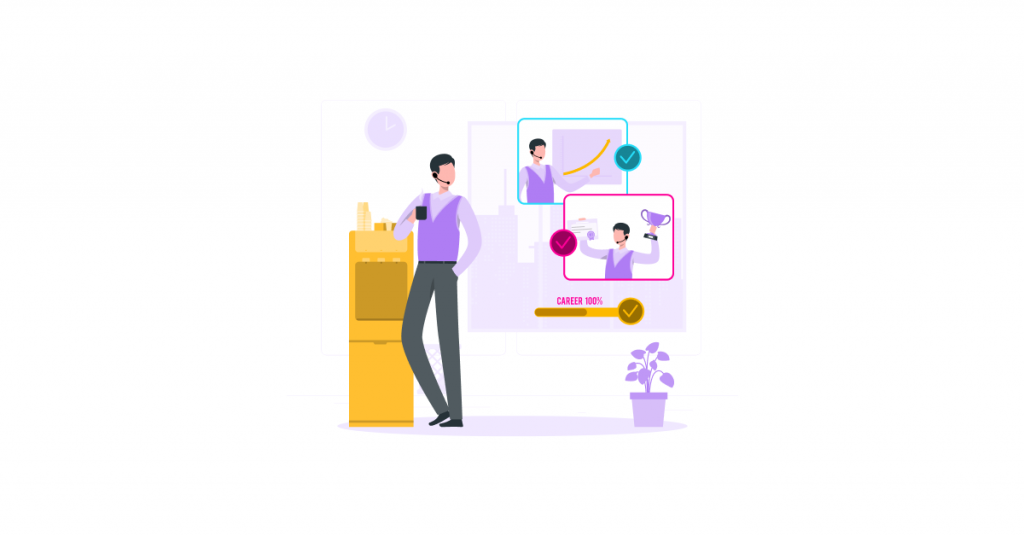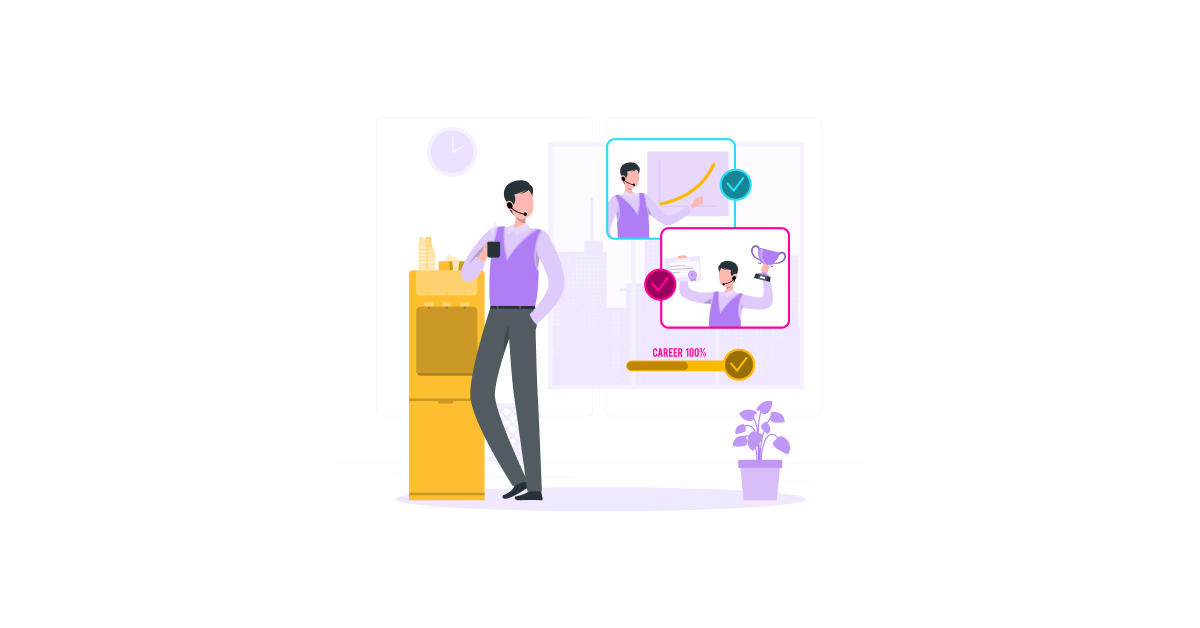 It's also essential to have a clearly outlined plan for career advancement for every employee, ensuring there is a long-term vision to look forward to. Not only does it maintain high levels of motivation in the workplace, but it also improves employee retention. A Pew Research Center survey found that 63% of employees quit their jobs because of a lack of opportunities for advancement.
5. Prioritize employee mental and physical well-being
Up until recently, well-being perks like better health insurance, wellness programs, paid fitness classes, mental health support, and flexible work arrangements were only nice-to-haves offered mainly by most people-focused organizations. But they have now become increasingly important as more employees expect support for their mental and physical well-being, along with financial well-being, as part of their benefits packages.
According to research conducted by Paychex and Future Workplace, 62% of employees surveyed identified employee well-being benefits as a priority when evaluating new job opportunities, which is especially true for Gen-Z employees (67%). Given typically high levels of workplace stress, agent burnout, and turnover rates, call centers should prioritize agent well-being and find ways to help agents achieve a healthier work-life balance by providing physical and mental health support benefits. That could include, for example:
Balanced work schedules
Shorter days, longer breaks, holidays
Remote work opportunities
Physical wellness activities
Paid gym membership, fitness classes
A healthy eating environment
Wellness training and coaching
Health insurance and health cash plans
Employee Assistance Programs (EAP)
6. Take employee recognition to more meaningful levels
Regular recognition is an essential source of motivation for call center agents. It's very easy for agents to start feeling apathetic when they are not recognized or even thanked for their contribution, whether outstanding or simply the day-to-day output. That can also lead to decreased agent engagement, poor performance, and increased workplace burnout.
The 2023 Employee Engagement Trends Report by Reward Gateway revealed that 74% of employees who frequently experience stress at work and 66% of those who frequently experience burnout rate employee recognition as poor in their organizations.
The same research found that 60% of US employees want their employer to increase their investment in employee reward and recognition, and 66% agree their work well-being would improve if they were simply thanked more for their hard work. That said, while monetary compensation is a vital motivation driver, employee recognition should go beyond offering performance-based bonuses. Here are some of the simple yet efficient ways to reward your agents and show your appreciation for their contributions that can go a long way in increasing their motivation, confidence, and self-esteem:
Introduce the 'Employee of the Month' award
Offer individualized rewards
Provide team-based incentives
Implement a gamification system for rewards
Acknowledge agent achievements in weekly meetings
Have regular employee recognition sessions
Share a shoutout on social media
Write personalized thank-you notes
Hold out of the office events
7. Encourage employee feedback and act on it
Your agents are at the frontline of your call center operations. They know exactly what issues are causing low motivation and disengagement and what can be done to change things for the better. Why not ask them and then use their feedback to improve their workplace experience, your company culture, and processes?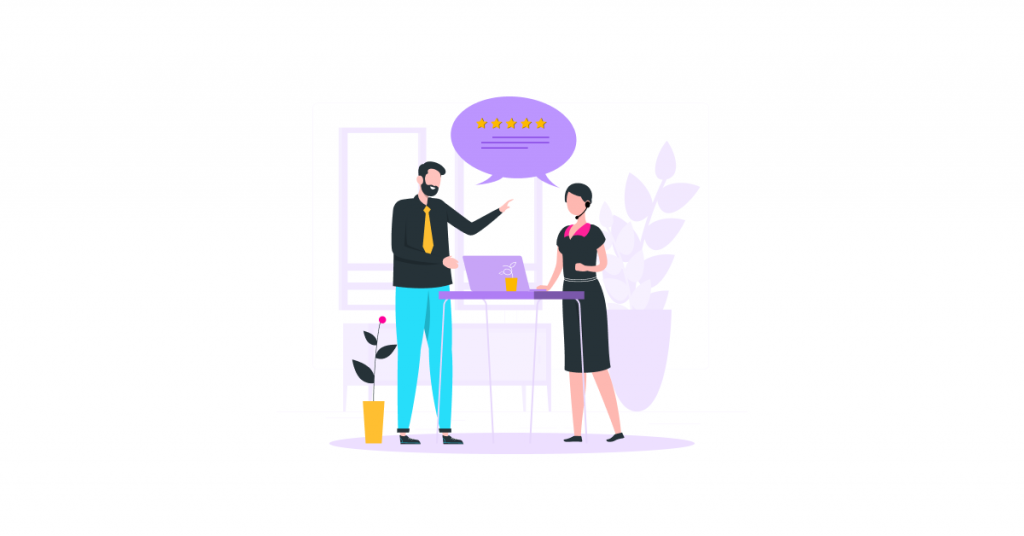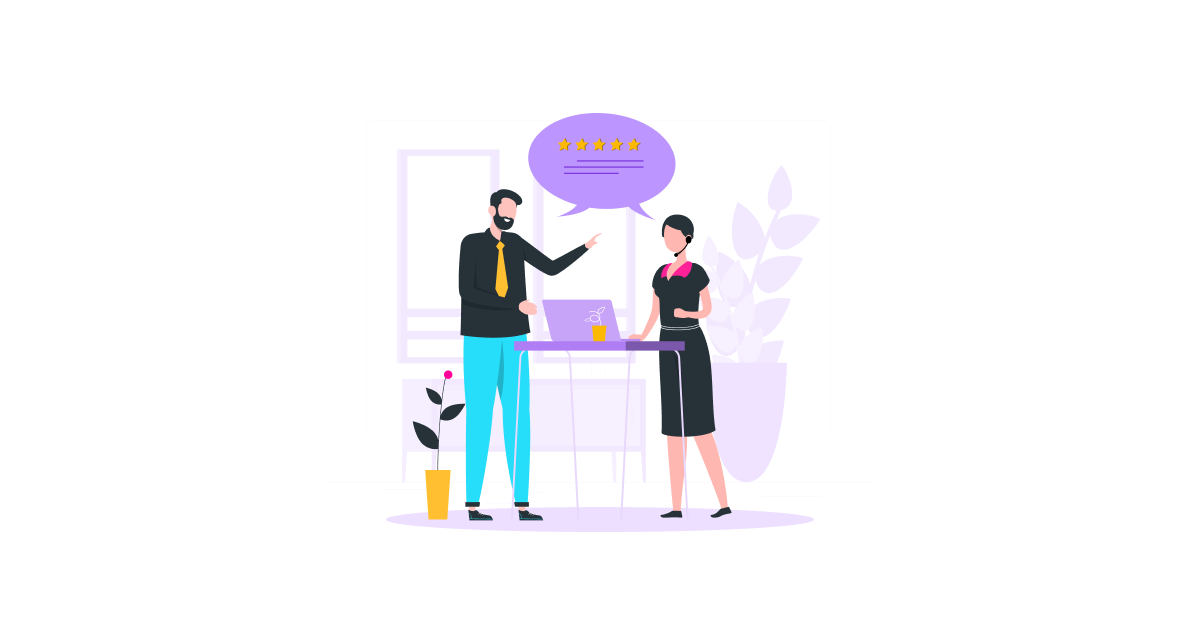 The State of Employee Ideas survey by Sideways6 revealed that 4 in 5 employees actually have ideas to improve the company they are working at, while 36% of employees feel their ideas are ignored, and over half say their company fails to implement good ideas. Here's another alarming statistic to consider. According to The Heard and the Heard-Nots report by The Workforce Institute, 86% of employees feel people at their workplace are not heard fairly or equally, and 40% don't feel their feedback leads to actionable change.
That said, it's important to give your employees a voice and encourage them to regularly share their feedback, not only once a year or during an exit interview. It shows them you care about their opinions., which can dramatically impact their motivation and engagement levels, making them feel more valued and happier in the workplace. On top of that, you can leverage employee insights to actually drive meaningful change within your organization that will pay off in the long run.
8. Conduct regular 1-on-1 meetings with agents
Conducting regular 1-on-1 meetings not only provides an excellent opportunity for call center managers to collect employee feedback and discuss their short-term and long-term goals and professional growth and development opportunities. You can also leverage 1-on-1s to dive deeper into the actual drivers of agent motivation and engagement. Check out some of the specific questions managers can ask their direct reports during one-on-one meetings to assess contact center agent motivation:
What makes you excited about your current role?
What's something your past managers have done that motivated you?
On a scale of 1-10, how happy are you at work?
What can be done to make you happier in the workplace?
What's the least favorite part of your day-to-day routine?
What does an ideal workday look like for you?
If you were the CEO, what's one thing you'd change and why?
What's one thing you'd recommend doing to improve workplace culture?
What professional goals would you like to achieve in the next 12 months?
What's one primary goal that you'd like to achieve this quarter?
Empower Your Agents with VoiceSpin's Contact Center Solutions
By implementing the eight call center motivation ideas described above, you can efficiently motivate your team, improve agent morale and engagement, and boost their efficiency and productivity. While finding the right intrinsic motivation triggers for each call center agent might be challenging and time-consuming, one thing you can immediately do to ensure your sales reps are motivated to hit their sales quotas is equip them with advanced call center tools.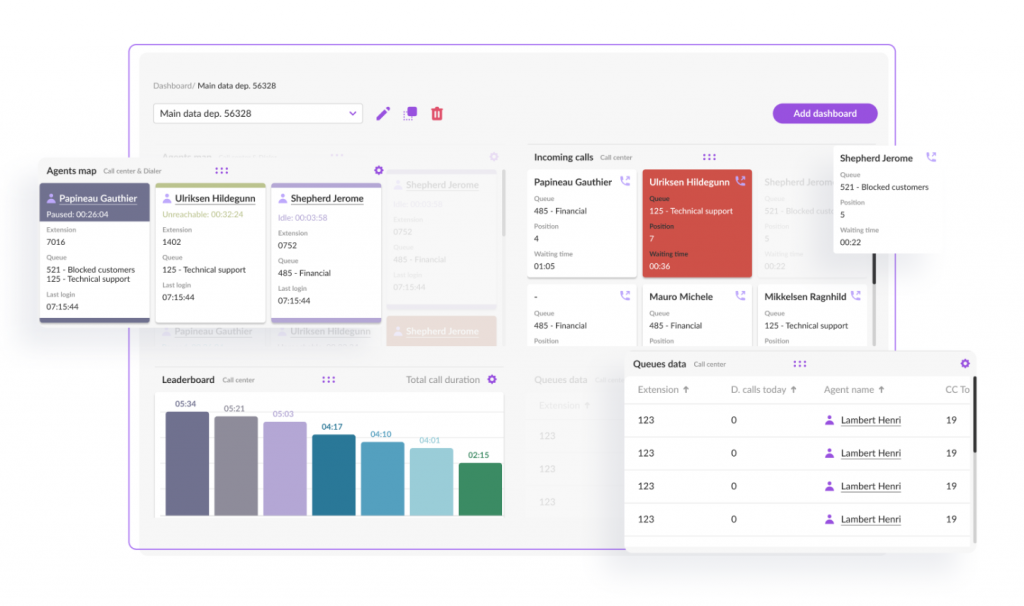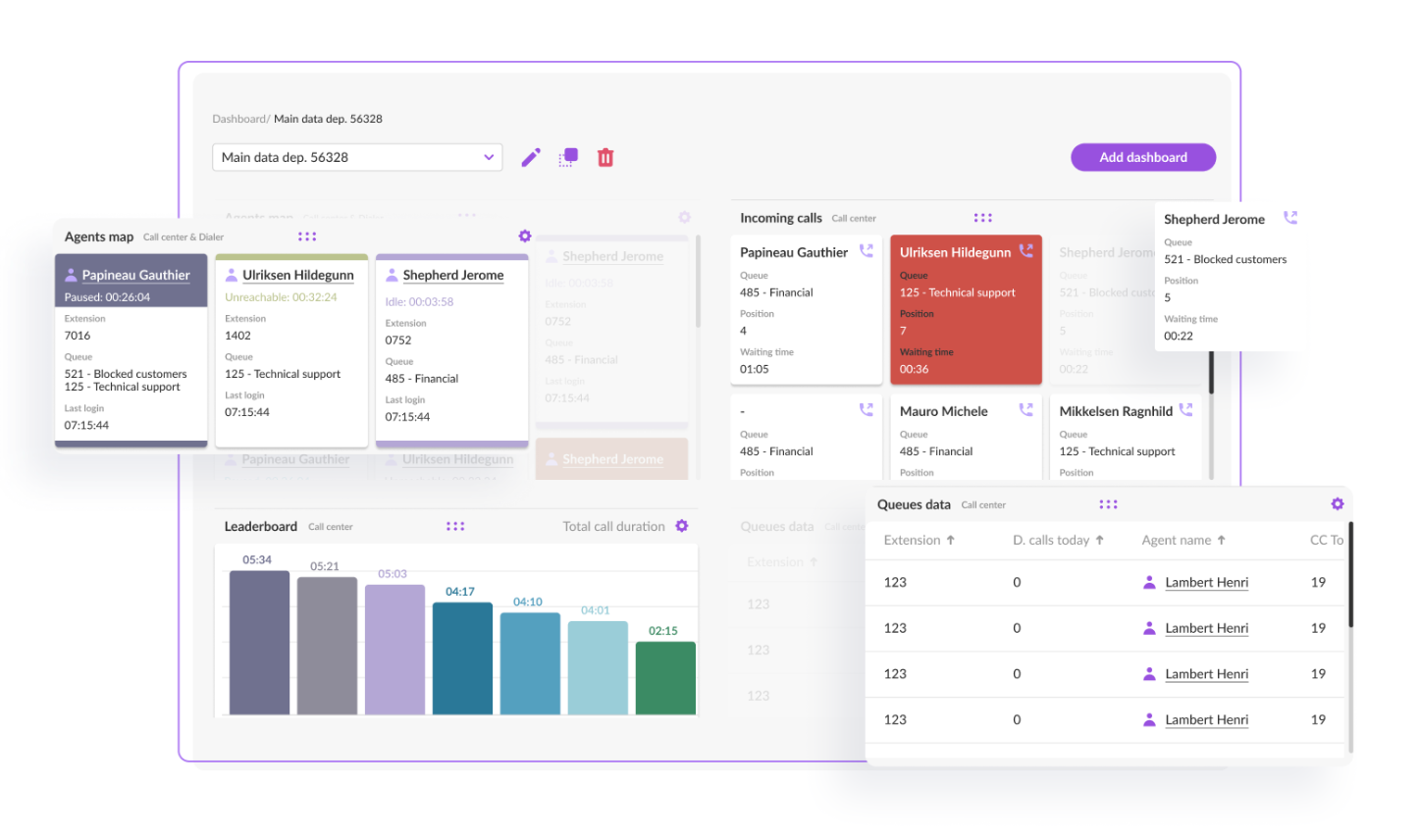 With VoiceSpin's contact center software, your agents can take advantage of call center automation, integrations with the leading CRM systems, and intelligent AI-powered predictive auto dialing to streamline their workflows and help them drive more sales for your business.
Book a 30-minute demo now and have one of our team members guide you through VoiceSpin's contact center solutions and how they can help you improve agent productivity and motivation while increasing sales.