When customers call your business, how easily can they navigate through your IVR system? How long do they have to wait in a call queue before being connected to a live agent? And once they do reach your representative, how quickly and efficiently do they get their issues resolved? That's where a well-thought-out call center call flow can make all the difference between a seamless and enjoyable customer experience and a frustrating one.
To help you get call flows right, we've collected some of the best practices you can implement right away to improve and optimize your call flow to ensure your customers get a satisfying experience each and every time they reach out to your support team via phone.
On top of that, we'll explore why having a well-structured and streamlined call flow process is critical and what an ideal call flow scenario should look like.
What is a Call Flow in a Call Center?
A call flow is a sequence of steps and interactions that occur from the moment a customer initiates a call to your call center to when the call is ended.
You can think of a call flow as a customer service roadmap that defines how incoming calls are routed in your call center, how callers are making their way through your IVR menu, what happens when customers call outside your business hours, how calls are queued, and how your customer service professionals actually handle interactions.
With a clearly mapped and documented call flow process, call center agents understand what customers will experience when they call a business and how customer interactions should be managed to ensure a seamless experience.
Based on the industry and the size and complexity of a business, call flows can be either simple or advanced, designed to handle complex scenarios.
Why is Having a Well-designed Call Center Call Flow Important?
According to Salesforce's report, 84% of customers say the experience a company provides is as important as its products and services, while 56% still prefer phone support over digital channels when interacting with brands. A well-organized and carefully considered call flow is the foundation of delivering a quick and efficient customer service experience and ensuring customer satisfaction.
On the other side, being unable to get through to a live agent, overly complicated IVR menus, long wait times in call queues, and endless call transfers as a result of poorly implemented call flow processes might be killing your customer experience before a customer even starts talking to an agent.
Here's why having well-planned call flows are essential for call centers:
Increased First Call Resolution
When callers are routed to the most appropriate agents who are best equipped to handle their types of issues, it enables agents to resolve issues during the first interaction, which reduces the number of call transfers, escalations, and follow-up calls. That ultimately means increased First Call Resolution, a key metric for inbound contact centers.
Enhanced customer experience
A streamlined call flow process eliminates the frustration for callers that comes with long wait times in queues, allowing them to reach a live representative faster. At the same time, leveraging customer insights and ready-made call flow scripts enables your call center agents to deliver more personalized support, ultimately leading to improved CX and customer satisfaction.
Improved agent performance
A smart call flow process involves routing calls to the right agents, allowing them to play to their strengths, which means they can handle more customer interactions with no confusion, no delays, and less stress. With well-structured call flows scripts, they are also able to navigate each conversation more efficiently – all contributing to enhanced agent performance.
Reduced customer support costs
With optimized routing, automated workflow, better handling of inbound call volume, reduced wait times for callers, increased agent efficiency, and improved call center metrics (like FCR, the Average Handle Time, and CSAT score) comes an opportunity to reduce the overall operational costs of a contact center.
What Does an Ideal Inbound Call Flow Look Like?
Building a successful call flow takes a thoughtful approach to carefully envision and optimize each step of your customer journey, starting from the moment inbound calls land on your IVR all through the way until each call gets resolved. While call flows may significantly differ, let's take a closer look at how an ideal customer service call flow may look like.
1. Inbound call
A customer initiates a call to your contact center. Customers might be calling for various reasons, from simply checking their order status to troubleshooting complex technical issues; that's why you would definitely want to route callers to the relevant departments through IVR.
2. IVR menu selection
The caller hears an IVR greeting and a set of options to choose from. They might be enabled to get general information or perform certain basic steps through self-service prompts, or choose to be connected to a live agent from a specific department (customer support, sales, billing, etc.). If customers call on holidays, weekends, or outside your business hours when no agents are available to pick up the call, the IVR auto attendant might inform them about the times they can reach an agent, offer to leave a voicemail or direct them to the self-service options on your website.
3. Call routing and queueing
Based on the caller's IVR inputs and the pre-established call routing rules, the incoming call is routed to the selected department, agent group, or a particular representative through an ACD system. If there are no agents to pick up the call immediately, callers are placed in a call queue waiting for the next available rep. While in a queue, the caller may be offered to request a queue callback if they're not willing to wait on hold.
4. Interaction and resolution
Once an agent is ready to take the call, the caller is connected, and the interaction is then driven based on the call type. The conversational flow for a customer service call would typically include the following steps:
Greeting: the agent greets the caller and sets the tone for the entire conversation.
Authentication: the agent checks and confirms that they are interacting with the right person.
Issue identification: the agent identifies why the person is calling and what issue they are experiencing.
Empathy statement: the agent expresses understanding and empathy for the customer's dissatisfaction, acknowledging their concerns.
Issue resolution: the agent resolves the customer's issue or escalates the call if necessary.
Closing: the agent summarizes what has been done on the call, thanks the customer for their business, and may ask to take a short post-call survey to gauge client satisfaction.
Call wrap-up: After the interaction, the agent updates the customer record in the CRM, logs the call details, takes additional notes, and plans follow-up steps, if needed (such as calling a customer back if the issue wasn't resolved during the first interaction).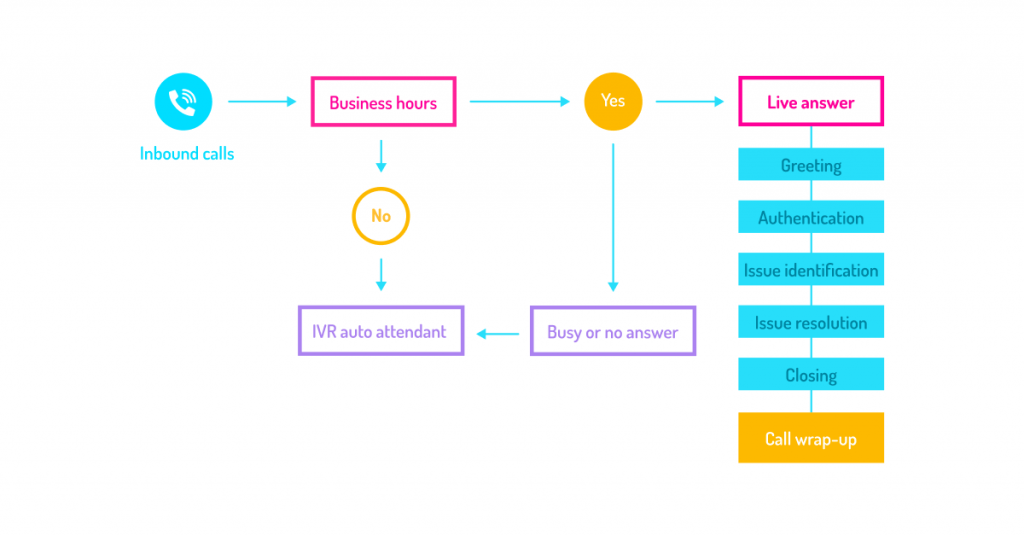 Best Practices to Optimize Your Call Flow Process
Simplify your IVR navigation
While an intelligent IVR (Interactive Voice Response) system is one of the fundamental components in your inbound call flow process as it helps to pre-screen calls and route them to proper departments, you surely don't want to leave callers frustrated by having to go through an endless IVR loop while trying to reach an agent. Make your IVR menu short, straightforward, comprehensible, and easy to navigate to ensure callers have a flawless experience from the get-go.
Take the most of your routing strategy
Based on the capabilities of your call management system, you may try setting different call routing and call prioritization rules to figure out what works best in your call center. Skill-based routing, for example, can undoubtedly add up to your call flow efficiency by routing callers to the right agents with the most relevant skills and expertise to resolve issues with greater speed and consistency.
Leverage call center technology
Besides IVR, routing, and queueing, there's a lot more call center technology you can utilize to improve your call flows and the overall efficiency of your call center. By taking advantage of call monitoring, call recordings, and real-time speech analytics, you can uncover inefficiencies in your call flow processes, identify training opportunities, and adjust your call flows and scripts to deliver better customer experiences.
Allow for flexibility in your call flow scripts
Call flow scripts are extremely helpful in call centers, especially when you have specific compliance requirements your call center agents must adhere to. However, the last thing you want is for your reps to sound robotic and impersonal. Allow some room for flexibility and empower your agents to go off script whenever appropriate to add that little touch of personalization your customers will certainly appreciate.
Ensure consistent training and coaching
While technology adds intelligence and automation to your call flow process, at the end of the day, it's the people who can make or break the entire client experience. That's why investing in ongoing agent training and call coaching is vitally important. Empathic listening, call handling, problem-solving, handling complaints, dealing with different types of clients and complicated scenarios – all of that and more should be part of your training initiatives.
Collect post-call customer feedback
Regularly conduct post-call CSAT (Customer Satisfaction Score), CES (Customer Effort Score), and NPS (Net Promoter Score) surveys to gain first-hand insights into how your call flows are actually performing and where improvements are needed to ensure a better experience at every stage of the caller journey. Then, act on that feedback to drive actionable improvements in your processes, call flows, and procedures.
Over to You
By equipping your support team with an advanced call center tech stack such as VoiceSpin's cloud-based call center software, you can set up highly efficient call flow processes, optimize your call routing and call queue management, and empower agents with real-time intelligence to handle incoming calls faster and more efficiently while delivering a seamless experience to your customers.
You can also add more support channels by integrating VoiceSpin's omnichannel contact center solutions and reduce the incoming call volume by letting your customers reach out to your support team through email, Instant Messaging apps, and social media.
Book a 30-minute demo session and let one of our product experts guide you through VoiceSpin's contact center solutions and help you choose just the right set of tools aligned with your business goals and customer support needs.