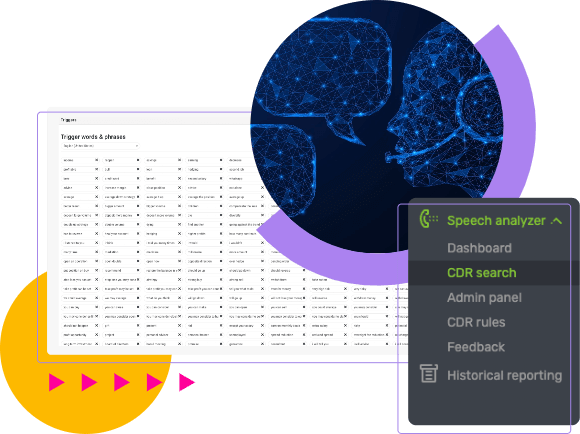 שפרו את חוויית הלקוח של המוקד הטלפוני שלכם בזמן הגדלת כמות המכירות וחסכו בהוצאות עם תוכנת אנליזת דיבור מבוססת בינה מלאכותית של ווייספין. קחו את ביצועי הנציגים שלכם לרמה הבאה עם אינטליגנציה שיחתית.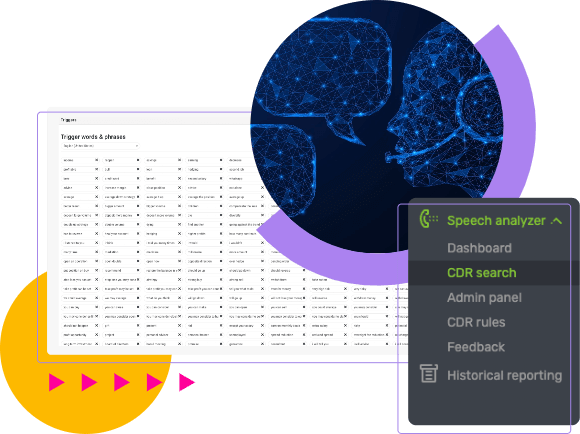 אינטגרציה מהירה וקלה עם מערכת ה CRM שלכם
גלו הזדמנויות לשיפור יכולות
טכנולוגית בינה מלאכותית, למידת מכונה ולמידה עמוקה משולבות במערכת ניתוח הדיבור שלנו המופעלת על ידי בינה המלאכותית, מספקת למוקד הטלפוני מגוון רב של יתרונות:
חסכו שעות רבות על בדיקת איכות (QA) עם תוצאות יותר מדויקות
הנחיות ברורות לשיפור יכולת האימון של הנציגים שלכם
חסכון בהוצאות לצורכי הקמפיין ובדיקות איכות (QA) עם אוטומציה.
איתור מילות מפתח חוסך שעות של חיפוש ידני
החליטו מתי ברצונך לאפשר speech-to-text והאם לתרגם לטקסט רק את שיחת הנציג או גם את צד הלקוח.
התאמת דוחות על פי הצורך – מהצגת המילים שיש לדווח עליהן עד תדירות שיתוף הדוחות.
ניתוח הדיבור מסייע לזהות נקודות חולשה בצוות ולזהות נציגים שזקוקים להכשרה נוספת. וגם, שימוש ב- Machine learning ו AI משפר את יכולות הניתוח לאורך זמן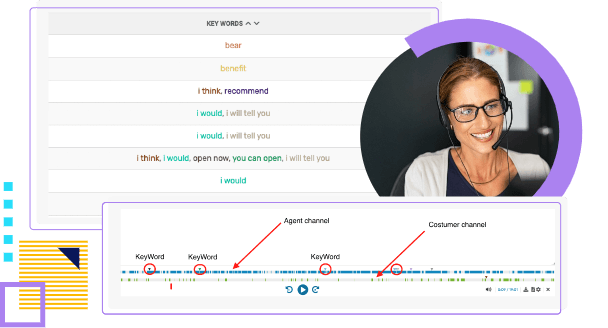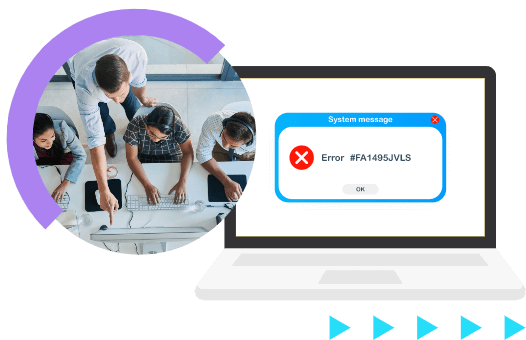 חברות משקיעות מיליוני דולרים בכל שנה כדי לפתור חוסר היענות. כלי ניתוח הדיבור המתאים ימנע מהבעיות הללו עם אזהרות בזמן אמת דרך רשימות עצירה, פונקציות למישוש והתראות למנהלים.
הפתרון לניתוח הדיבור של VoiceSpin יכול אפילו לאתר שיחות טלפון שבהן משפטים ספציפיים נשמטו לגמרי.
ניתוח הדיבור ממשיך ללמוד ולהשתפר דרך למידת מכונה ובינה מלאכותית כדי להיות עוד יעיל יותר בזיהוי מילות מפתח ופספוסים.
דיווח מרובה שכבות וניתוח מתקדם
יצירת דוחות אוטומטי מאפשר קריאה קלה ומהירה של הנתונים ומאפשר פעולה יעילה ומיידית. עשרות שעות של שיחות עם לקוחות מוצגות בתוך טבלה אחת, מעניקות לך עשרות שעות להתמקד במכירות.
מנהלים יכולים לייצר תצוגות אישיות ופאנלים, בו בזמן להגדיר כללים חכמים להודעות בתדירות הרצויה.
נתוני הלקוחות תמיד זמינים במערכת כשרוצים לחקור אותם ולהגיע למספרי הקצה.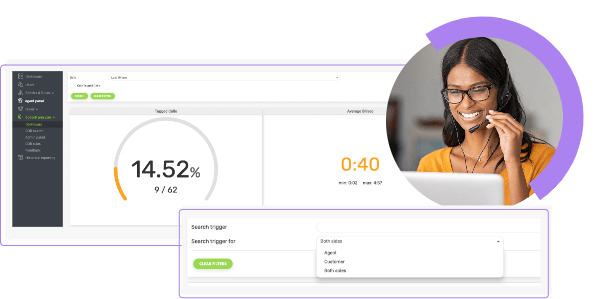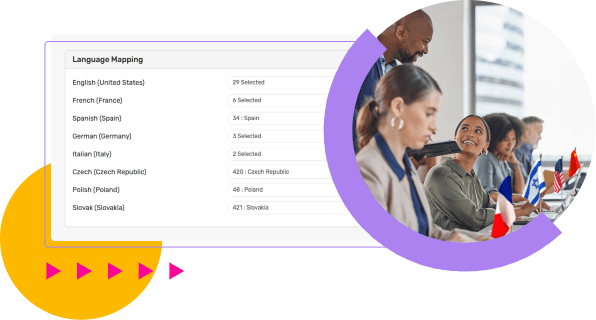 תרגום אוטומטי ל-120 שפות ודיאלקטים.
מנהל אחד למספר מוקדי שפה יכול ליהנות מתרגום כולל של תמלולים ולראות את כל השיחות בשפה אחת.
תמלולים אוטומטיים מדוייקים מסונכרנים באופן חלק עם תוכנת התרגום ושתי השפות מאוחסנות ברשומת הקשר של מערכת CRM וניתן לגשת אליהן בקלות על-ידי מנהלים ונציגים.
תנו למנהלים שלכם את כל הכלים שהם צריכים כדי לאמן את הנציגים בכמה מוקדי שפות שנדרש.
ניתוח
סנטימנט
מעקב תאימות
לתקנות
Predictive
Compliance Issues
מעקב
ביצועים
זיהוי מקרי
הונאה
Multi-Layer
Reporting
שילוב
API
זיהוי מילות
מפתח
QA Monitoring
זיהוי
דיאלקטים
חיפוש
CDR
Flexible Rules
לוח בקרה
לדוחות
התראות
אוטומטיות
Foul Language
Detection
שילוב
עם CRM
תמלול
אוטומטי
Automatic
Translation to 120+
Languages
ניטור היענות
Enable Conversational
Intelligence
Call center speech analytics software enables you to connect with prospects and returning customers and improve customer satisfaction at a much deeper level through a collaborative effort from all your business components.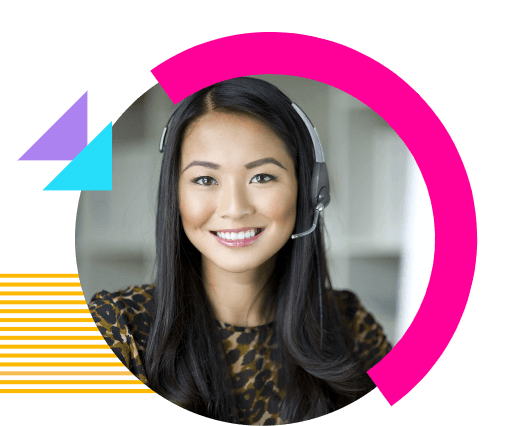 What is speech analytics software?
Speech analytics software, often referred to as voice analytics software, is used to process and analyze human speech to uncover valuable insights. That may include identifying keywords and detecting certain types of language patterns. Speech analytics tools typically use voice recognition, natural language processing (NLP) algorithms, and other AI-based services that allow transcribing speech to text and analyzing spoken conversations.
What is speech analytics in a call center?
Speech analytics solutions are widely used in today's call centers. Speech analytics and speech recognition tools are often part of advanced call center software solutions. They allow analyzing spoken language in customer interactions for various purposes, such as identifying areas for improvement in customer service, agent coaching, tracking sales trends, detecting potential fraud and compliance violations, etc.
What are speech analytics use cases?
In a contact center or call center environment, speech analytics can be used for specific purposes, such as call quality assurance, agent performance monitoring, call center optimization, generating more sales, etc. For example, by analyzing customer-agent conversations, managers can easier identify where agents need additional training to deliver a better customer experience. Speech analytics tools can also help prevent compliance issues, which may result in severe penalties if overlooked.
What is speech to text analytics?
Speech to text analytics, also known as speech recognition, transcribes spoken language into written texts using machine learning and natural language processing technologies. It can also convert the speech in one language into the written script in another language in real-time, which can be particularly helpful when managing a multilingual contact center.
What are the benefits of using speech analytics software in call centers?
Using call center software that includes speech analytics capabilities, like VoiceSpin's AI-based speech analyzer, can give your call center a competitive edge. That enables you to deliver a better customer service experience while boosting your agent performance. You can also save on compliance costs and improve your overall call center's efficiency and productivity.
Compliance was an expense I thought we'd just have to live with forever but when we realized there are solutions to streamline our Quality Assurance process, even since GDPR came into play, I was delighted. We've decreased compliance-related costs by around 30%!
Pizza Hut Israel
Lots of companies claim their support teams are fantastic, but we've been truly impressed by VoiceSpin's support services. Always responsive and quick, usually with a simple solution and I can reach them at any time. Downtime is a thing of the past for us.
Lead Capital Markets
Implementing the AI Dialer has been a game changer for us, we've been able to reduce staff costs and increase sales by approx 35% over the past 12 months. Our call center staff are talking to better leads and generally wasting less time.
MemoGlobal