What is a Hosted Dialer?
A hosted dialer, also known as a cloud-hosted dialer or a cloud-based auto dialer, is a call center solution that automates the dialing process enabling call center agents to make large volumes of outbound calls in less time.
Unlike on-premises dialers, which require special hardware and an in-house IT team to manage the system, hosted dialers operate in the cloud, with all the necessary maintenance done by the hosted dialer provider. Hosted dialer systems are often part of call center and contact center software solutions.
Looking for a contact center solution?
Powerful AI dialer, bulk SMS, and more tools for running an omnichannel contact center.
How Does a Hosted Dialer Work?
Hosted dialer call center software is an auto dialer solution that automates and optimizes the process of making outbound phone calls in call centers. Based on the hosted dialer system used, it can automatically dial numbers from the pre-defined contact list either sequentially (power dialing) or simultaneously (predictive dialing) and connect answered calls to the available agents.
When dialing, the dialer software can screen out disconnected numbers, busy signals, and unanswered calls. It can also detect whether the call has been picked up by a live person or an answering machine through the answering machine detection (AMD) feature. Only connected calls, answered by an actual human are directed to the sales agents or customer service agents.
Types of Hosted Dialer Software
Hosted dialers or auto dialers can have either basic capabilities that help agents simplify and automate the dialing process, or advanced features, powered by Artificial Intelligence and machine learning.
An AI Auto Dialer, for example, can prioritize leads and connect them to the most relevant agents. In general, auto dialers are typically classified into the following types: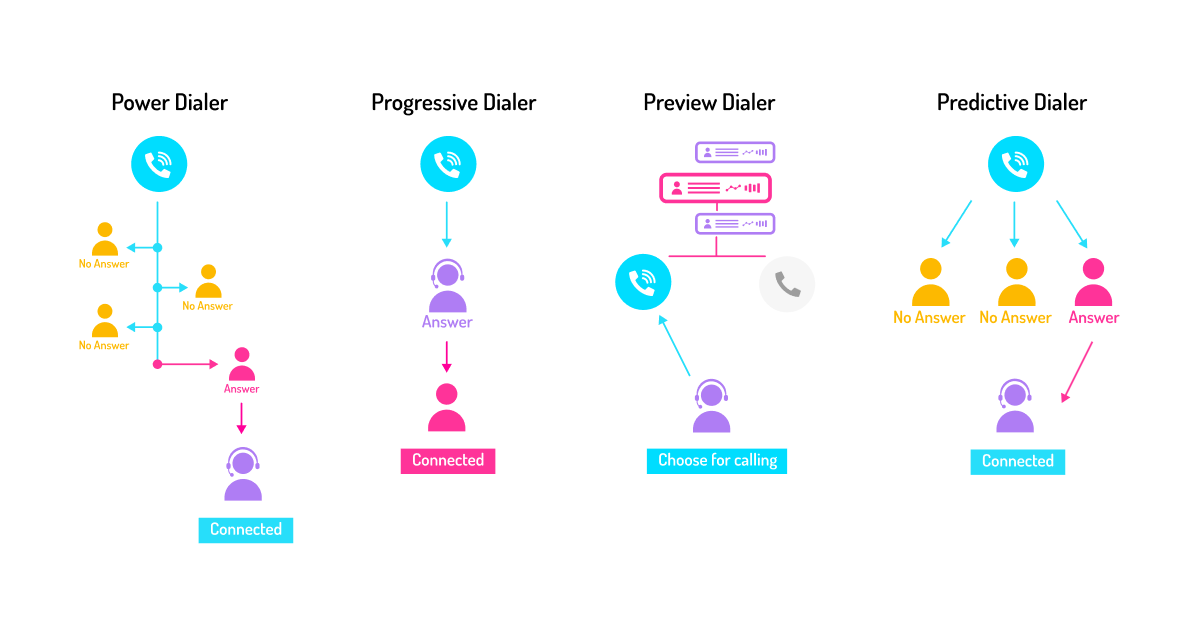 Power dialers
A power dialer dials a single phone number at a time, directs answered calls to the available agents, and automatically dials the next number on the list once the previous call is ended. Power dialers are often used for outbound cold calling campaigns for lead generation and telemarketing.
Progressive dialers
A progressive dialer waits for a call center agent to become available before dialing the next number on the list – and once the call is connected, it directs it to the agent. That ensures agents are not overwhelmed with too many calls at once and have some idle time between calls to better prepare for the next interaction.
Preview dialers
Unlike other types of auto dialers, a preview dialer allows a call center rep to view the customer's information before the call is initiated either automatically or by the agent. That enables agents to better prepare for each call, which can help improve the quality of the interactions in a call center and build better relationships with customers.
Predictive dialers
A predictive dialer uses statistical algorithms to predict agent availability and dials multiple numbers per agent simultaneously before the agent becomes available to take the call, ensuring there is always a call in the queue waiting for an agent to pick up. That reduces agent idle and maximizes agent productivity. Predictive dialers are mostly used by high-velocity sales teams with large outbound call volumes.
Benefits of Hosted Dialer Software
Cost-efficiency:
Unlike traditional dialing solutions deployed on-premises, hosted dialers are entirely cloud-based. It eliminates the need to purchase and maintain expensive hardware infrastructure and have a dedicated IT team to manage the system set-up and ongoing maintenance. Everything is hosted, managed, updated, and supported by a service provider.
Flexibility and scalability:
Since a hosted dialer solution is based in the cloud, call centers can easily scale their operations up or down as needed. In addition, with a hosted outbound dialer, call center reps only need a computer and a stable Internet connection to run the dialer software, which allows them to work remotely from any location.
Who Can Use a Hosted Dialer?
Hosted dialers are suitable for a wide range of businesses in various industries. In general, any business that wants to expand their outreach efforts and efficiently reach out to their prospects or customers through outbound calling can use cloud-hosted auto dialer solutions.
E.g., large-scale organizations and mid-sized businesses can take advantage of using hosted predictive dialer solutions to improve the effectiveness of their outbound calling campaigns through maximized agent utilization.
Small businesses can benefit from using hosted auto dialer tools and preview dialers to reach out to prospects or customers, enhance agent productivity, and boost sales conversions.
Overall, hosted dialers are used for lead generation, telemarketing and sales, appointment scheduling, making follow-ups and reminders, conducting market surveys and collecting customer feedback, sending proactive customer service notifications, running non-profit fundraising campaigns, and political campaigns.
Industries, where hosted call center dialer solutions are widely utilized, include:
Banking, financial, and insurance sector
E-commerce and retail businesses
Real estate agencies
Travel and hospitality businesses
Healthcare organizations
Educational institutions
Non-profit organizations
Why are Hosted Dialers a Must-have in a Call Center?
With a hosted dialer, agents can minimize time spent dialing numbers and focus more effort on actually interacting with leads and closing deals. Since there is no need for manual dialing and no time is wasted on waiting for the calls to connect, dialers significantly reduce agent idle time and increase talk times by up to 200-300%.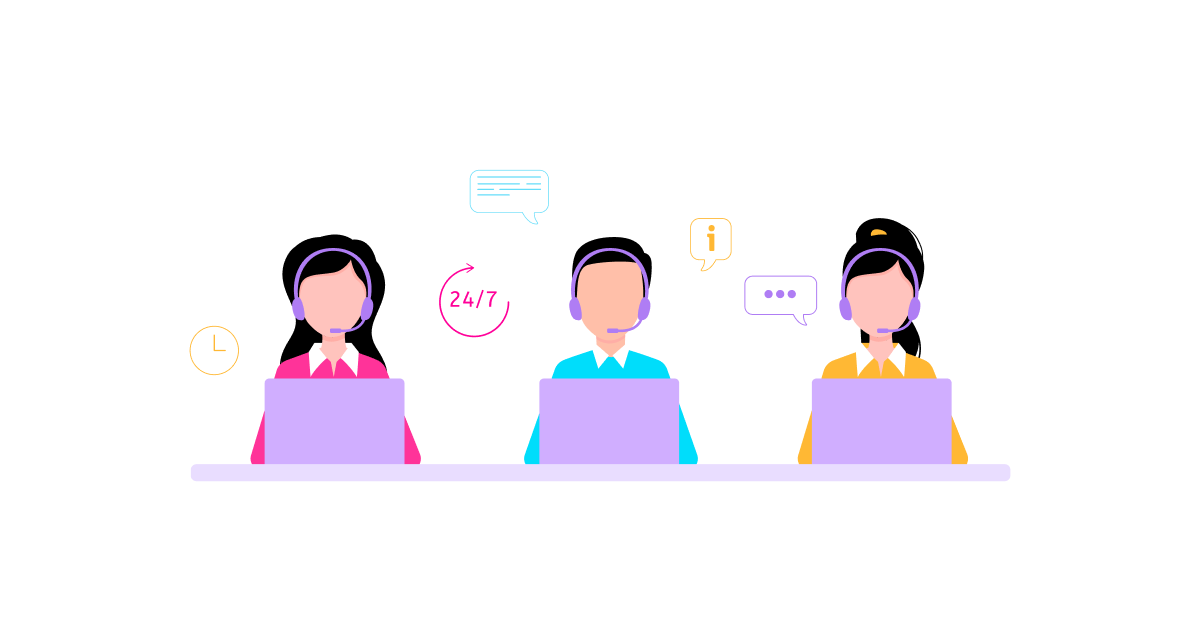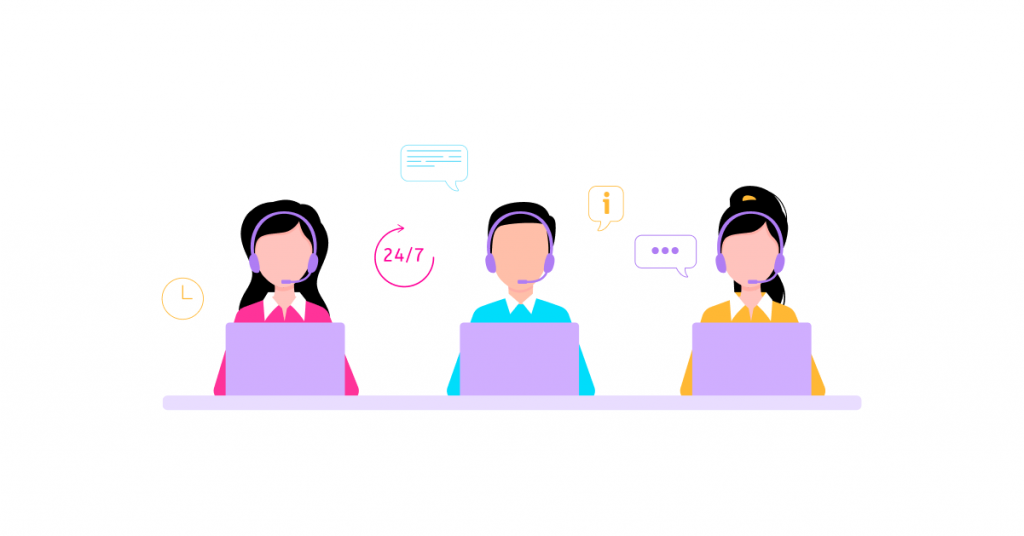 That means improved agent productivity, more sales conversions, optimized call center operations, and reduced operating costs. In addition to the ability to easily integrate with a business's CRM and other cloud-based solutions, hosted dialers are must-have tools for today's call centers and omnichannel contact centers.
FAQs
Are hosted dialers illegal?
Hosted dialers are legal, but businesses using auto dialing systems should be aware of and comply with the specific laws and regulations, which may differ depending on the country or region where they are being used. These are, for example, the Telephone Consumer Protection Act (TCPA) in the United States or the General Data Protection Regulation (GDPR) in the European Union. Otherwise, failing to comply with the regulations may result in legal and financial penalties.
What is the price of hosted dialer solutions?
The price of hosted dialer software may vary depending on the vendor's pricing model and the system's capabilities. Hosted dialer solutions are generally offered as a subscription-based service (billed monthly or annually), with pricing based on the number of users, call volume, functionality, and the level of customer support provided. Some providers may also charge for additional advanced features.